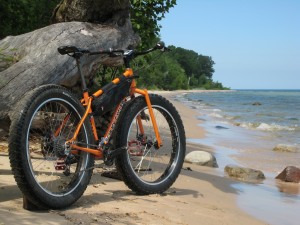 Five Fat Bike Reviews: Cheap options for riding snow & sand
Nothing on two wheels draws looks like a fat bike! They are truly compelling.
With their oversized tires and impressive traction, these bicycles can ride virtually anywhere. And they look incredible.
Since you're probably reading this for the fat bike reviews, I don't really need to spend too much time explaining the appeal.
Why ride a fat bike? I think the real question is why not!
Whether you're riding on snow, mud, slick rock, sand or even ice, these monster rides give you unprecedented traction. And they're more responsive and fun than you might think.
Unfortunately, they also tend to be expensive. So for this article, I want to focus on five cheap fat bikes that review nicely and will serve you well.
For each bicycle, I'll go over the features, capabilities, pros and cons, along with a short verdict on what it's best suited for. Hopefully this info will get you rolling in no time.
Ready for some reviews of inexpensive fat tire bikes? Let's get started!
Updated! Bike models come and go. Thanks for your patience!