Best Bike Lights For 2023
You've got your bike and important accessories sorted, such as a helmet. But you're not done yet. If you want to ride, you're going to have to invest in some cool bike lights.
What kind of bike lights are there?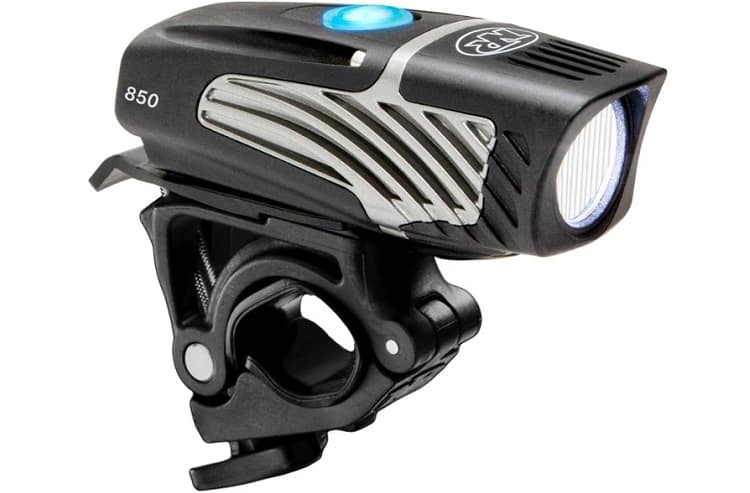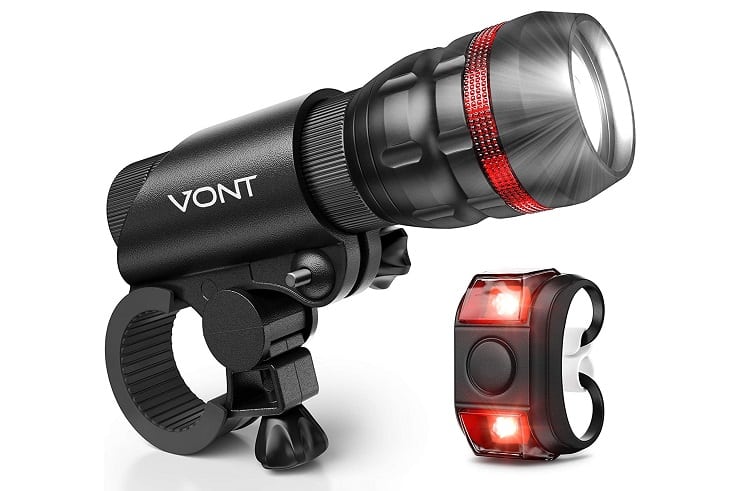 Size
Headlight: 3.4 oz Tail light: 1 oz
Lumens
Headlight: 600 lumens; tail light: 50 lumens
Mount Method
Handlebar for the headlight and the seat for the tail light
Size
Headlight: 3.4 oz Tail light: 1 oz
Lumens
Headlight: 600 lumens; tail light: 50 lumens
Mount Method
Handlebar for the headlight and the seat for the tail light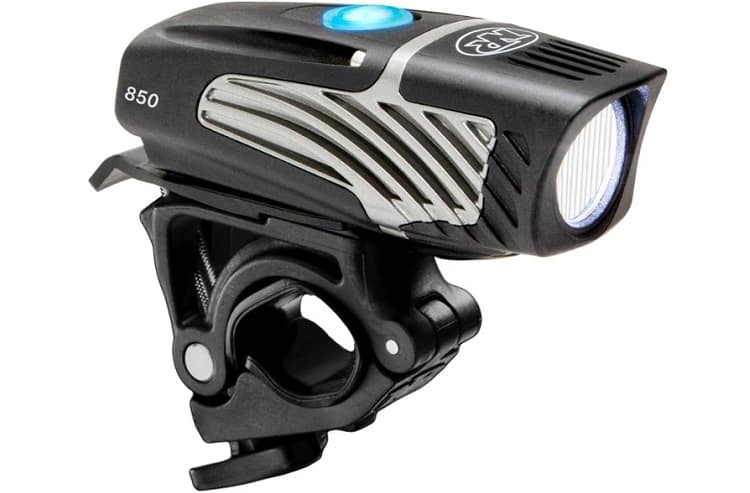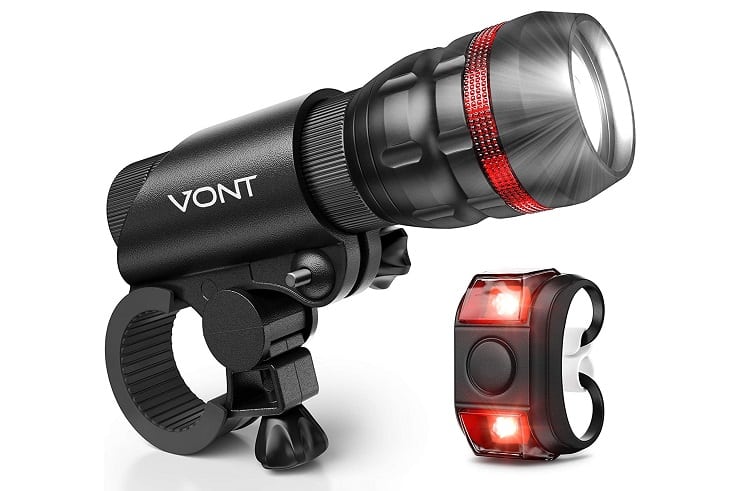 There's a headlight that usually gets mounted onto your handlebar and a tail light that you will likely attach to your seat. Both are important to help you see and be seen when you're out on the road.
Finding the right bike lights is about taking lots of different factors into consideration, such as how many lumens you need and where they will be attached on your bike. We've done the hard work for you!
Here's a rundown of five of the best bicycle lights on the market.
Our Recommendations For The Best Bike Lights For 2023
Best Overall Winner: Cygolite Dash Pro 600 / Hotrod 50 Bike Light Set

When you install lights onto your bike, one of the features you should look for is that the lights will be able to be adjusted depending on various conditions. That's one of the best features about the Cygolite Dash Pro 600.
Featured Specs
LED bulbs
Rechargeable via USB
Mounts easily, on either standard or aero handlebars
Eight modes on headlight and six modes on tail light
Both lights have extra-wide beams
Benefits
There are eight different day/night modes you can choose from, with a total of eight headlight modes and six tail light modes. This enables you to cycle during the day or at night, and in any type of visibility. The modes include "High Steady," "Steady Pulse," and "Group Mode," which emits a steady but low-profile beam for when you're riding in a group.
Both lights make sure you will be seen because they make use of flashing light so you will be spotted even in bright sunshine.
You can swiftly and easily recharge both with your USB.
The batteries last for a long time. You're looking at 70 hours of light for the headlight and 100 hours for the tail light.
Extra Features
The headlight is resistant to water.
When your lights are getting close to running out of juice, they make use of a low-battery indicator so you'll never be left in the dark.
Drawbacks
One of the hassles you might encounter with these bike lights is that when their batteries need to be replaced, you'll have to have them replaced by Cygolite as they aren't able to be replaced by consumers. This might also cost you.
Buying Advice
These lights cost around $80. They have some amazing features that you'll really enjoy making use of. They're also sure to make you feel safer when you're out cycling, whether on your own or in a group.
Runner-Up: NiteRider Lumina Micro 850 Front Bike Light

This is a handle-bar mounted bike light that packs a whopping 850 lumens, so it's much stronger than the previous product we mentioned, which makes it perfect for riding at night. Here's why it's one of the best road bike lights.
Featured Specs
4 light modes
Daylight Visible Flash for increased visibility
Rechargeable via USB
Water and dust resistant
Benefits
This headlight is really easy to attach and detach from your bike's handlebar, thanks to its quick-release tab.
You can use this light on a variety of handlebar sizes, even large 35mm ones.
If you don't want to attach it to your handlebar, you can attach the light on your helmet instead. However, the helmet mount is not included with the light.
In case you're wondering if it will be too heavy for your helmet, you can rest assured it won't because it's really light. The light only weighs four ounces.
It comes with a battery indicator that warns you when there's about 20 percent of battery left, and it does this by changing the power button from blue to red. That means you'll know at a glance when you need to recharge it.
Extra Features
You don't have to worry about rain or dust from damaging this cycling light because it is resistant to both.
It has a nifty lock mode so that it won't get damaged during storage. To activate it, you only need to hold the power button for a few seconds.
It comes with a lifetime warranty that not only covers defects during production but also LED defects.
Drawbacks
Although you get nice bright light from this bike light, it doesn't last that long. You can expect the brightness to last only about an hour and a half, while on lower settings it will last you about nine hours.
Buying Advice
This NiteRider headlight costs around $70, and it's one of the best cycling lights on the market. It's got everything you need to stay safe on the road and navigate cycling trails even in the darkness.
It's a must to purchase as long as you don't mind having to charge it quite often. Luckily, it's USB charging feature makes that a breeze.
Alternative 1: Vont 'Scope' Bike Light

This light is said to be 10 times brighter than many other lights you can purchase. But how great is it, really? Let's look at its features to find out.
Featured Specs
Cree LED technology (Cree is an innovator of LED lights)
Rotates from spotlight to floodlight
Easy to install without tools required
Benefits
This bike light attaches to your handlebar and makes use of lots of technology to meet your various needs. It has different modes of brightness, an adjustable beam so you can point it to where you want it, and it can brighten up the road in front of you at a 1,000-foot distance.
The light is waterproof.
It's durable, thanks to how it's been made with military-grade materials. According to the manufacturer, you can throw this light so that it drops 10 feet, run it over a truck, or even throw it into water and it will survive. That's pretty cool!
It can last up to six hours with continuous use.
Extra Features
The mounting bracket of the light is strong and durable, even on the roughest rides so you don't have to worry about it breaking off.
It has three light modes: high, low, and flash.
Drawbacks
It requires 3AAA batteries that are not included with the light.
Some people have reported that the power button is sometimes a little too sensitive, which can prove frustrating when you need to toggle between the different light modes by half-pressing the power button.
Buying Advice
You can expect to pay around $20 for this bike light, so it's quite cost-effective. It's excellent construction and various light modes make it very useful when you're out on a ride.
Alternative 2: Ascher Ultra Bright USB Rechargeable Bike Light Set

When attaching lights to your bike, you might worry about them snapping off and leaving you in the dark. That's where these Ascher rechargeable bike lights come to the rescue.
Featured Specs
USB rechargeable
Four light mode options
1800mAh rechargeable battery (headlight)
330mAh rechargeable battery (tail light)
Silicone mount strap
Benefits
This set of good bike lights gives you front and back lights to use on your bike, both with rechargeable batteries.
You have four different modes for the lights, including full and half brightness.
You can change the light modes by making use of a one-touch switch.
It comes with silicone mount straps to securely fasten the tail light onto the seat, while the headlight has a mounting bracket.
Extra Features
The lights are waterproof.
The flexible mounting strap means that it can fit most bike handlebars.
The headlight gives you five hours of full brightness, while the tail light offers up to nine and a half hours of full brightness.
While the headlight is white, the tail light is red so it's even more noticeable.
It comes with the two lights and their mounting brackets, as well as two USB cables.
Drawbacks
Some people who have purchased this bike light have said that the front light tends to wiggle around while riding, especially over bumpy terrain. That's something to consider if you're going to be using this light for a lot of off-road biking.
Buying Advice
This bike light set costs around $20. While it might have some concerns, it's got everything you need from bike lights, along with some nice extra features.
Alternative 3: BrightRoad Pro Rechargeable

This bike light by Bright Road comes with a headlight and tail light, and will illuminate your path during night rides, thanks to its whopping 800 lumens of brightness. Let's jump into its specs.
Featured Specs
Provides 650-foot visibility
Can rotate up to 360 degrees
Up to 18 hours of working time
Headlight has five modes; tail light has three modes
USB chargeable
Benefits
The tail light has three safety modes so that you can alert cyclists and motorists behind you, which is especially important to do during periods of low visibility.
The headlight has five safety modes. These include strobe and flashing lights.
The headlight comes with a latch included to make it easier for you to attach it to your bike.
Both the headlight and tail light are made to last, thanks to being encased in aluminium. So, if you drop them or ride through summer storms, they'll be pretty durable.
Extra Features
The headlight has an 85-degree light angle while the tail light has a 220-degree angle. These ensure that you'll have a greater field of vision in front of you and to the sides.
You only need to charge the light for three hours to get a full charge. You can connect it to any charging device, such as your cell phone charger or power bank.
Drawbacks
The battery life is quite poor. You'll get about an hour and 20 minutes of use on high brightness (800 lumens) with the headlight. However, that's pretty standard for many bike lights on the market. The great thing about it is that you can charge it easily with your power bank, so that's something worth carrying with you if you're going to be out on the road for long periods at a time.
Some people who have purchased this bike light set have complained that it's difficult to ensure that the headlight stays securely fastened onto the front of the bike.
Buying Advice
These lights cost around $30. It's great to have a bike light that will illuminate your path at night with more brightness than what you'll find in other bike light sets. It's also a bonus that you get both a headlight and tail light in one kit.
Bike Lights FAQ
Now that we've looked at the best bike lights on the market, let's move on to some commonly-asked questions about bike lights.
What Is The Best Bike Light For Night Riding?
When choosing a bike light that you'll use when riding your bike at night, it's important to ensure that you have a high number of lumens – this is how bike light brightness is measured.
While there's not often a rule when it comes to how bright your night lights should be, we can take the example of a car's lights to gauge how much we should have when riding a bike at night.
A single car's low-beam headlight is approximately 700 lumens. Now, you know that on a dark road that can be pretty bright, and honestly?
700 to 900 lumens is all you need on a bike. If you had to make it more than that, you could risk your lights being too bright, which can blind oncoming traffic.
Remember that the light should also be comfortable for you to look at the road in front of you while obviously helping you see everything. If it's too bright, it can create glare that is very uncomfortable.
What Type Of Bike Lights Should You Have?
General biking guidelines specify that if you ride your bike at night you should have a white light on the front, a red light at the back, and a reflector on the back too.
LED lights are the recommended bike lights because these will give you a much brighter result. Here are other tips:
Make sure you tilt your bright light so that it's not in the eyes of oncoming drivers, as that can be annoying for them as well as dangerous.
Consider battery life so that you can ensure your bike lights will last for as long as you need them, especially if you're cycling for longer periods of time. However, bear in mind that the stronger a light is, the more likely that it will have a larger battery. This will, therefore, make the overall size of the light much larger and that's something to bear in mind when it's attached to your bike.
Choose a light that flashes. It's important to be able to switch to a flashing mode on your light to get the attention of other cyclists or motorists. It's especially vital in emergency situations. Luckily, the flashing mode isn't difficult to find as many bike light sets will offer them.
Which Is Brighter, HID Or LED?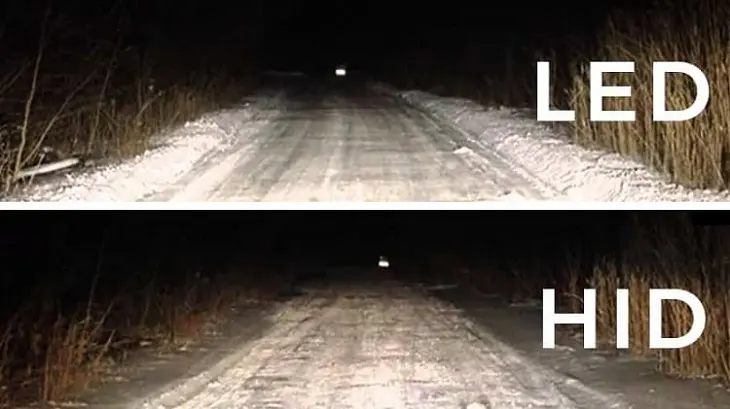 You might wonder if it's better to install HID (High Intensity Discharge) or LED (Light-Emitting Diode) lights on your bike. LED lights seem to be a better choice. This is down to several factors:
LED lights, when used as headlights, last longer than HID lights. Generally, LED lights can sometimes last for 100,000 hours while HID bulbs will last up to a maximum of 25,000 hours.
LED lights offer instant illumination. Yes, both LED and HID lights give you wonderful light output, but HIDs take a few seconds to give you the highest level of brightness that you're after. If you need light quickly, those few seconds can feel like a lifetime in which to wait when you're out on a ride.
LED lights perform better when helping you to see road signs. Although HID lights are usually chosen because they're so bright, this brightness can reflect off things such as road signs and cause a glare.
Is It Legal To Ride Without Bike Lights?
If you've never used bike lights to ride your bike, you're breaking the law. In all U.S. states, it's illegal to ride a bike without having bike lights or reflectors on it.
New bikes that you purchase will have reflectors on them, but you must buy lights to make you more visible on the road.
According to the U.S. law, all new bikes that are sold in the country need to have reflectors on them, as this has been specified by the Consumer Products Safety Commission.
Older bikes might not have reflectors, so make sure you purchase lights, such as those we've featured in this guide.
Whatever type of light you want to use on your bike is up to you, but make sure that the light is visible for at least 500-600 feet from the bike's front. This might vary from one state to the next, so always check your state laws.
When it comes to the use of flashing lights, you should also check with your state regarding the laws for this as some states declare that only vehicles such as school buses, emergency vehicles, and tow trucks can have flashing lights on them. An example is Washington.
How Many Lumens Do I Need?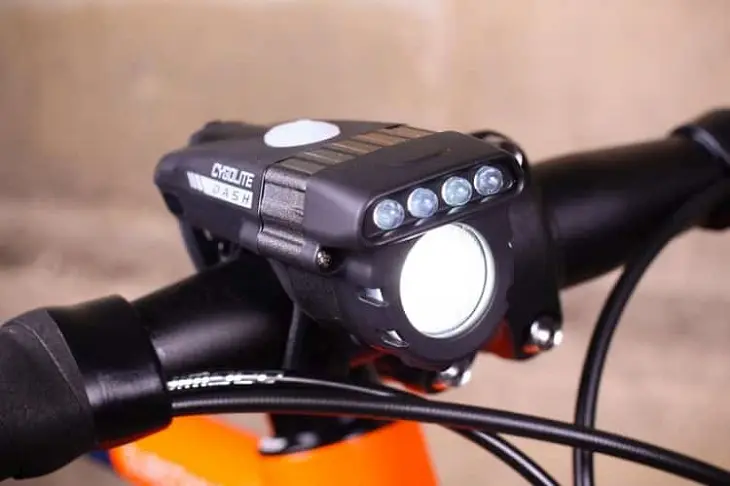 When it comes to choosing lights for your bike, you need to ensure they have enough lumens so that the light will be seen from far and so that it will properly light your way.
A good way around lumens is to choose the bike lights and their lumens according to where you'll be riding, because that plays a huge role in determining how many lumens you need.
A general guideline is that your lights should have at least 100 lumens in order for your lights to be seen in the day, but things become tricky when we consider if you're riding in urban or rural areas.
In urban areas, you should have bike lights with at least 200 lumens, while in rural areas you should have up to 600 lumens. If you're riding on trails, you should choose bike lights that are at least 600 lumens, but preferably more.
So, a light such as the Cygolite one that we featured in our bike light review would be adequate to offer you 600 lumens on its headlight, but if you're riding on trails, the NightRider would probably be better because it offers a whopping 850 lumens.
Conclusion
You have a bike and you love cycling, but one of the most important accessories you should invest in is a good set of bike lights.
This helps to keep you safe when riding in poor visibility, and can also alert car drivers to your presence, which is important. There's nothing scarier than if you're on a quiet, pitch-dark road and your bike isn't visible.
In these bike light reviews, we've featured some of the best value bike lights you can find on the market as well as answered some important questions regarding bike lights, such as how many lumens bike lights should have and if it's legal to ride without bike lights, so you're all set to purchase the right lights for your bike.
Happy cycling!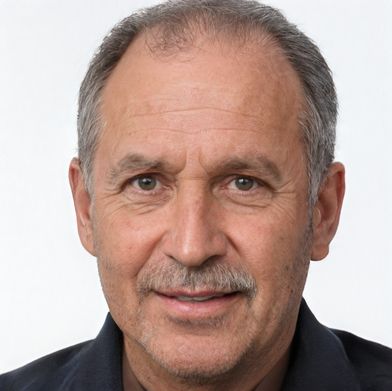 Steve Beck is a passionate cyclist and experienced writer covering the cycling industry for over a decade. He has a wealth of knowledge and expertise in all bike-related things, from the latest products and technologies to the best routes and trails. His articles are well-researched, informative, and engaging, and he has a talent for explaining complex cycling concepts in a way that is easy to understand. Steve can be found on the road when he's not writing about bikes, putting his knowledge and skills to the test.