Best Bike Trainer for Home Workout in 2023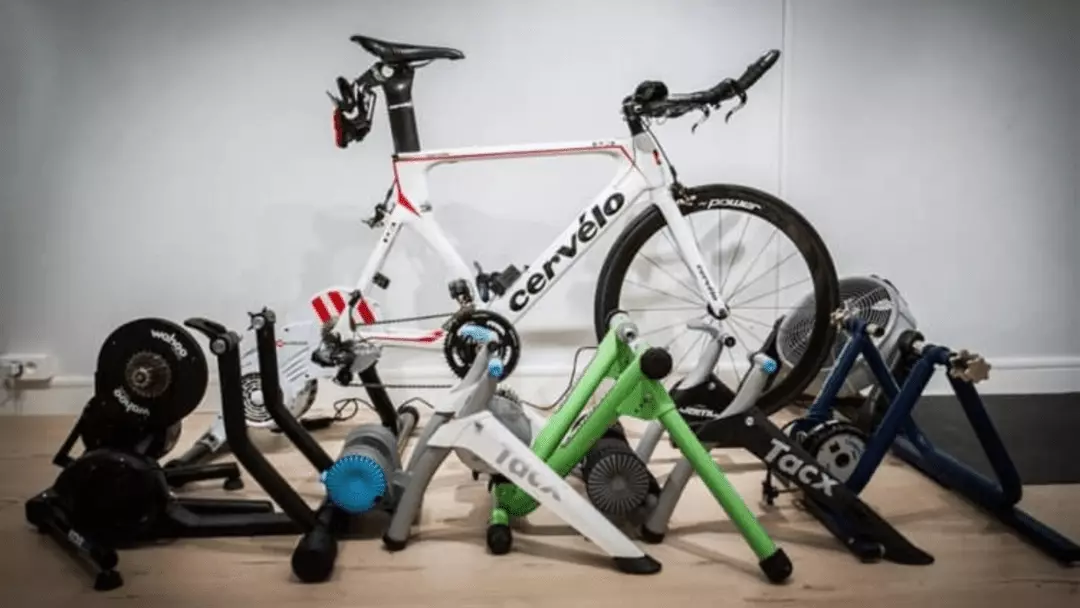 What do you do when you can't ride outside? You know, on those days when the weather is crummy or maybe your favorite trail is closed for the season.
Sure you could go to the gym or ride a stationary bike, but the best way to stay in condition for better days is to ride your bike. But what about when the weather is bad? Well, that is where a bike trainer comes in.
Resistance Levels
From 5 watts to over 2,000 watts, 6.25-pound flywheel enhanced with Kinetic's inRide 3 power sensor
Progressive magnetic resistance by turning the knob
Resistance Levels
From 5 watts to over 2,000 watts, 6.25-pound flywheel enhanced with Kinetic's inRide 3 power sensor
Resistance Levels
Progressive magnetic resistance by turning the knob
Bike trainers allow you to ride your regular bike, indoors, without needing to buy an indoor bike like a stationary or exercise bike. A bike trainer allows you to continue riding your favorite bike, even when you can't be outside.
Combine your bike trainer with a host of mobile and TV apps that allow you to access virtual rides, and the dread of pedaling for hours with nothing but your music, your thoughts, and a blank wall is a thing of the past.
Today's bike trainers provide you with a variety of options for drive types and resistance. These features mean that you can vary the conditions of your ride to be similar to your daily ride outdoors.
For many of us, this can be the difference between wanting to ride at home, and just sitting on the couch.
Buying a trainer isn't the easiest task, however. There are lots of choices, and how do you decide which trainer is right for your bike and your riding style? We've helped you out with this quandary by doing the research, so you don't have to.
In this review, we will examine some of the best bike trainers on the market, and give you our thoughts on each. We'll tell you what we like and what you need to look out for.
Then, we've answered your burning questions about bike trainers. We've compiled all of the best information into one place, to make researching bike trainers easier for you.
Best Bike Trainer
Kinetic Road Machine Smart Bike Trainer
Max. Load Capacity: 285lbs
Overall Dimension: H23″ x L19″ x W32″
Folded Overall Dimension: H10.5″ x L19″ x W32″
Resistance Levels: From 5 watts to over 2,000 watts, 6.25-pound flywheel enhanced with Kinetic's inRide 3 power sensor
The Kinetic Road Machine Smart is our winner for a host of reasons, it's very solidly built, is easy to use and the inRide sensor for wireless power workouts works flawlessly.
Indoor cycling trainers are the most affordable way to train indoors combined with your favorite apps. With the use of a Smartphone synced up with top biking apps, you can enjoy cycling training programs and get excellent benefits.
The steel-coated frame is durable and very stable and the trainer knobs and the feet are made of ABS plastic material with rubber. This ensures ergonomic touchpoints and a perfect grip so you can be sure of an exceptional performance-enhanced training session.
The Kinetic Fit training app truly keeps you on track with the built-in workouts. You can measure power, speed, cadence, distance, and more with this model.
Its reasonably priced, sturdy build, and life-like road feel make it one of the best choices for bike trainers Kinetic also tosses in a lifetime warranty on the frame and a 2-year warranty on the inRide sensor for your peace of mind.
Featured specs: 29lbs
Benefits: Large diameter roller, Stable, durable frame, progressive fluid resistance.
Drawbacks: Higher-end price range, bulky.
Extra features: Includes an inRide sensor for wireless power-based workouts and fitness tests using the Kinetic inRide app.
Buying advice: Lifetime warranty on frame, 2 years on inRide sensor.
Yaheetech Premium Stationary Trainer Stand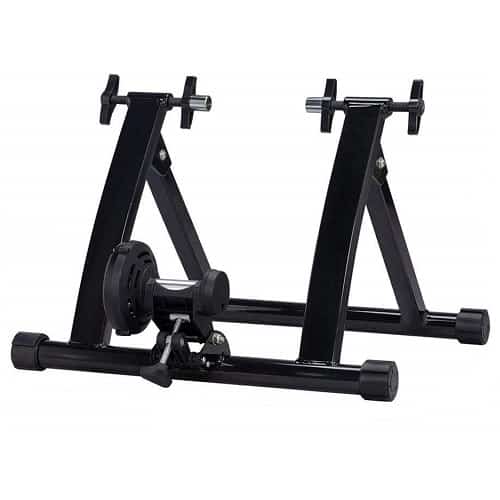 Max. Load Capacity: 265lbs
Overall Dimension: 21.5 x 23.8 x 14.8'
Folded Overall Dimension: 21.5 x 7 x 17.3''
Resistance Levels: Progressive magnetic resistance by turning the knob
Want to keep up your bike training schedule but the weather conditions outside are not cooperating? Or do you think an indoor cycling bike stand is not within your budget?
Then the Yaheetech Premium Stationary indoor bike trainer might be the practical solution.
This indoor bike trainer is constructed of a quality magnetic, corrosion-resistant alloy roller and powder-coated high carbon steel stand, with progressive resistance and the ability to support up to 265 lbs.
It features a sturdy mounting system and comes with a quick-release skewer for the rear wheel hub and front-wheel support for added stability and safety. This trainer fits 26" to 28" and 700C wheel sizes and its foldable size makes it easy to store and carry.
Featured specs: Suitable for 26" to 28" and 700C wheels;
Benefits: Value price, lightweight, transportable.
Drawbacks: No front wheel raiser, resistance not as fluid.
Extra features: None, very basic design.
Buying advice: FYI – does not come fully assembled.
Sportneer Bike Trainer Stand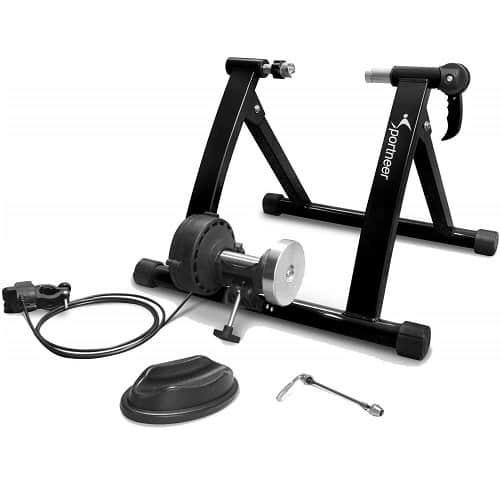 Max. Load Capacity: 300lbs
Overall Dimension: 22 x 22 x 15.5 inches
Folded Overall Dimension: 22 x 18 x 6 inches
Resistance Levels: 6 resistance settings
The Sportneer magnetic bike trainer is specifically designed to give you a dynamic, challenging exercise session without all the racket.
The incorporated noise-reduction wheel and seamless design make it possible for you to watch a movie comfortably, without the need to turn the volume all the way up.
To allow you to push yourself as far as you desire, this bike stand comes with six resistance settings and the press-down lever clamp creates a very easy solution when you're ready to unhook your bike when you are done training.
This value-priced bike trainer is light, stable, and does the job very well making it a great alternative to the higher-end bike stands.
Featured specs: Fits any road or mountain bike with a 26-28″ or 700c wheel and with rear-wheel axle between 4.92′-6.57″.
Benefits: Light at 19 lbs, remote-controlled resistance, stable.
Drawbacks: A little noisy with MB tires, only red or black color choice.
Extra features: 5 adjustable anti-slip rubber feet, front-wheel block, and remote.
Buying advice: This is a value-priced beginner bike stand that gets the job done.
Alpcour Bike Trainer Stand
Max. Load Capacity: None
Overall Dimension: H16.5″ x L19″ x W21.5″
Folded Overall Dimension: H7″ x L19″ x W21.5″
Resistance Levels: 6 levels of incline resistance
Reach your ultimate performance in any season. Cycling is an exhilarating sport, but it's limited by weather conditions and other seasonal factors. With the Alpcour Fluid Bike Trainer Stand, you can exercise, condition and perfect your pedaling technique no matter what's going on outdoors!
Unlike typical magnetic trainers, which have a fixed resistance, or rollers, which require a lot of balance, a fluid bike stand gives you definitive control, as the faster you pedal friction progressively increases.
Featuring built-in noise reduction, smooth progressive resistance, and a secure dual-lock stability system, this stand is easy to set up and even simpler to operate. Best of all, its powerful fluid-based flywheel provides for unlimited pedaling power, making it a great choice for proficient cyclists.
Whether you're training for an upcoming event or in search of some awesome aerobic exercise, this Bike Trainer Stand simulates the intensity of a real outdoor ride—all from the comfort of home.
Featured specs Compatible w/ Most 26-28 In & 700c Wheels
Benefits Quick set up, good resistance, compact, quieter than others
Drawbacks No 29'ers
Extra features FREE sturdy carry bag for ultimate ease of travel.
Buying advice at only 20lbs this is a great travel trainer
Popsport Fluid Bike Trainer Stand
Max. Load Capacity: 330lbs
Overall Dimension: 22 x 8 x 26 inches
Folded Overall Dimension: 8 x 8 x 26 inches
Resistance Levels: Up to 750 watts max
The Popsport Fluid Bike Trainer Stand is a perfect solution for indoor riding on any type of bike from the road to the mountain to CX during inclement weather.
It has a maximum load capacity of 330 lbs, the greatest weight of the stands we tested. It fits wheels with a size of 26 to 29 inches and boasts high tech flowing resistance with up to 750 watts. This powerful resistance element allows for a more realistic road-like feel.
What's more, the stand includes wheel blocks to keep the bike's wheels locked and steady as you ride so you can set it near your TV or stereo, allowing you to enjoy movies or music as you train. The portable design of this trainer makes it easy to set up and store when you have finished.
This Popsport Fluid Bike Trainer provides the closest road-like feel of all trainers tested but was a bit louder, as well.
However, unlike cheaper magnetic external variable resistance trainers, with this fluid bike trainer – the harder you pedal, the more resistance you will experience, giving you the most realistic real-world cycling experience.
Featured specs: 24.5lbs
Benefits: Easy to set up, very stable, gives plenty of resistance.
Drawbacks: Kind of noisy.
Extra features: Includes wheel blocks to keep the wheels locked in place.
Buying advice: Fits most road 700C and 26″~29″ bikes.
---
Bike Trainer FAQ
Now that we've shown you a bit about the bike trainers that we like. It's time for us to answer those questions you might have about using a bike trainer. Especially if you've never used a bike trainer, you probably have plenty of questions about how they work and how to use a trainer.
We researched the most frequently asked questions about bike trainers, and we've compiled all the answers here. We've done all the work, so you don't have to.
Do Trainers Damage Your Bike?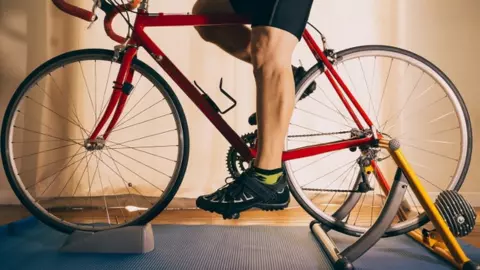 This is a really good question. And, if you've spent a good bit of cash on your bike, you probably are concerned that this crazy indoor trainer might mess with your bike.
Bike trainers are designed with the intention of incorporating your bike into the trainer. Most bikes have a similar rear sprocket and wheel configuration, so unless you have something special and unique, your bike should fit easily into a bike trainer.
When you are riding, the trainer will take the place of your back wheel, and in theory, if you have set up the trainer correctly, you shouldn't have to worry about the trainer damaging your bike.
This doesn't mean that the trainer can't damage your bike. If you don't set your bike in the trainer correctly or if your trainer isn't the right size for your bike, you can cause issues with your bike.
Trainer manufacturers don't want the responsibility of damaging your bike, so they give detailed and specific instructions on how to assemble their trainer and how to attach your bike.
If you follow these instructions carefully and take your time, your bike should be safely attached to your new trainer.
How Does A Bike Trainer Work?
How a bike trainer works, really depends on the type of trainer that you buy and the type of resistance that it is equipped with. Understanding how these different types of trainers work can determine the type of trainer that you buy.
There are four types of trainers: Direct drive, tire drive, rollers, and complete bikes. Each of these trainer types can come with one of four types of resistance: Magnetic, electronic, wind, and fluid. Together, these two factors will make different trainers better for different riding types.
To better understand how trainers work, we'll discuss each of the different types, and how they work, so you can better decide which options are best for you.
Direct Drive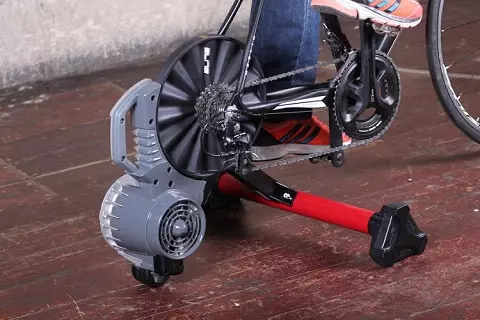 Direct drive trainers attach to the back hub of your bike. Direct drive bikes use a separate gear cassette that is installed directly to the trainer and the removal of your bike's back tire.
The back hub of your bike and the cassette slip into the trainer and are connected to the hub. Direct drive bikes come with fluid, magnetic, or wind resistance systems, so you should know which you prefer if you are going to be purchasing a direct drive trainer.
The upsides of a direct drive trainer include reduced wear and tear on your bike's tires and gear cassette. They are heavier than other trainers, so once you find a spot for a direct drive trainer, you might just want to leave it. Direct drive trainers are also the most expensive option.
Tire Drive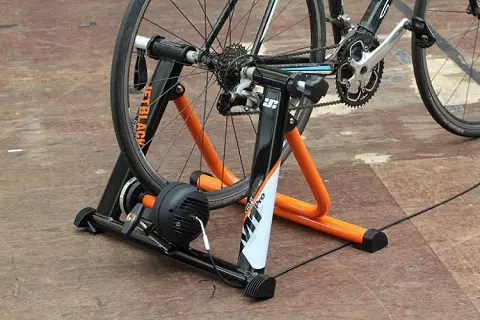 Tire drive trainers are similar to direct drive trainers, in that they connect to the back hub of your bike. However, tire drive trainers do not require the removal of your bike's existing gear cassette or wheel. Tire drive trainers have a roller that your back wheel sits on, that turns as you pedal.
This roller provides resistance to the trainer. Your front wheel will sit in a block or rail that will hold it steady. Like the direct drive system, the tire drive system comes with one of the four resistance types.
The upside of the tire drive system is that they are more compact and lighter than the direct drive trainer, so you can move them around easily.
The downside? You'll get tire wear on your rear tire and cassette. You can try a rim drive, as an alternative to the tire drive, if you want to reduce tire wear.
Rollers
Rollers are the most basic of trainers, and they are the ones that have been around for the longest time. These trainers function by setting your bike wheels on a set of turning drums, and riding. The resistance for these trainers comes from the size of the roller drum.
Many riders prefer the roller trainer because they can give a more realistic riding experience. You'll have to work to balance and stay steady, but this is the same work you would do if you were riding outside.
The upside of these trainers is that they provide a realistic experience, and they are a great workout for your core. The downside, you have to concentrate when you're riding these, and they take up a lot of space.
Complete Bike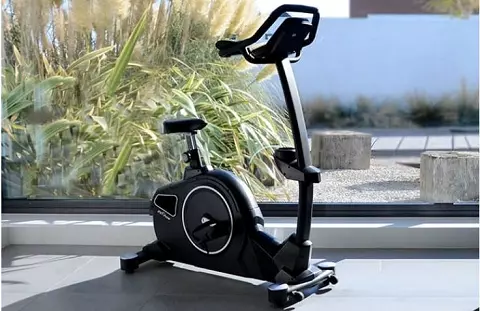 If you don't want to invest in a trainer that attaches to your bike, your other option for indoor riding is a complete bike, otherwise known as a stationary bike.
These don't require attachment to your existing bike, and you can just hop on and ride. However, they are expensive, take up a bit of space, and are heavy.
Now that we've discussed the types of drives for bike trainers, you should understand a bit about the way resistance is created on the four kinds of trainers.
Fluid Resistance: Uses a fluid, usually silicon or other viscous fluid to create resistance as you pedal faster. This type of resistance gives the most "road-like" feel and the best power. They are expensive and heavier than other trainers, however.
Magnetic: A magnetic flywheel is used to create resistance. However, the resistance is fixed and you will need to shift gears on your bike or make adjustments on the trainer to change the resistance. These are relatively affordable but can be a bit more tedious to change resistance on.
Rollers: Resistance with rollers is created, as previously mentioned by the size of the roller drum. The larger the drum the more resistance. You can also vary resistance by shifting gears while you are riding.
Wind: Resistance is created using a fan that is powered by your back wheel or built into the trainer (direct drive). The harder you pedal, the more resistance you create.
These are the least expensive of the options and are a great option for those who are new to trainers. They are however noisy, so they are best combined with a smooth tire.
Many bike shops will have demonstration trainers that you can try out before you buy them. Trying out a variety of trainers before you select one, will allow you to decide on the right drive style and resistance type you prefer.
Buying the right product the first time will mean that you'll actually want to use your trainer, and you'll get the biggest value for your money.
What Type Of Bike Is Best For A Bike Trainer?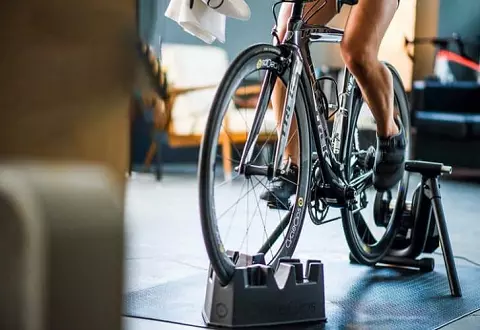 In reality, a bike trainer can be used with any kind of bike. It really depends on what bike you have, and what bike you want to spend time riding on your trainer.
If you're using your trainer for a wintertime alternative to riding outside, you'll probably find it best to ride your normal bike on your trainer.
If you're using a trainer as a way to get in a cardio workout when time is tight, or as a substitute to going to the gym, you might want to consider using a bike that isn't your normal rider.
Besides personal preference, and reasons for using a trainer, the bike that you put on your trainer will depend on the wheel size of your bike.
If you want to spend your winter riding your normal bike, you'll want to make sure that the trainer that you purchase will accommodate the wheel size of your normal bike.
Some trainers are made for specific types of bikes. This is another thing that you'll want to look for when you are shopping for the right trainer for your needs. If you only ride mountain bikes, make sure that your trainer will accommodate your bike.
This means looking at tire/wheel fit information for each trainer you are considering. Some trainers are made just for road bikes. If you buy one of these for your mountain bike, you'll have a hard time getting it to fit.
Can You Put A Mountain Bike On A Trainer?
Yes, you can! Many mountain bike riders love using a trainer in the winter when trails are snowy or when it gets dark early, and after-work rides aren't an option.
As we mentioned above, if you are considering using your mountain bike on a trainer, you will want to select a trainer that is made to accommodate a mountain bike.
This may mean finding a trainer that will fit standard mountain bike wheel sizes. Or, you may want to select a direct-drive bike where you can take the wheel off and fit your bike directly to the trainer.
One factor that may steer you away from using your mountain bike on your trainer is noise and smoothness.
If you are using a tire drive or roller style of trainer, you may find that the knobby tread of your mountain bike tires creates extra noise and may be less smooth than if you are using a road bike for your trainer.
Especially with wind resistance trainers, which can be noisy anyway, if you add in a mountain bike tire, you might find that you create more noise than you want. This might mean that you'll need to increase the volume of your television or stereo, to be able to hear while you are riding.
If you live in a house, this might not be an issue. However, if you are an apartment or condo dweller, your neighbors might not appreciate the added noise.
Are Bike Trainers Good Exercise?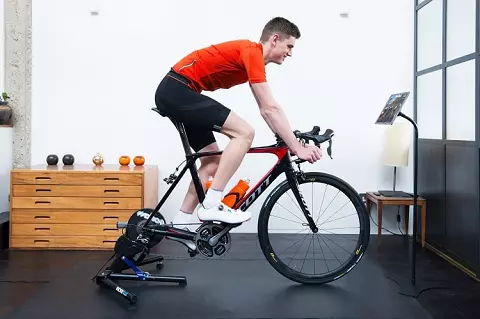 Because bike trainers attempt to mimic the actual feel of riding your bike, they are a great way to get exercise. If you find that you dislike going to the gym, but need a reliable way to get in a good cardio workout on bad weather days, a bike trainer is a great option.
The added benefit of using a bike trainer is that they do provide resistance to your ride, so not only will you get a good cardio workout from your trainer, but you will also get some resistance and strength training while you're doing your cardio.
For an added core workout, you might want to consider a roller style trainer. These trainers support your bike, as is, and provide the most realistic riding experience.
This means that to stay on your bike, while on a roller trainer, you will need to use your core muscles and work on your balance. Select a roller trainer with larger drums, and you have a great, full-body workout, thanks to just one piece of equipment.
Do Bike Trainers Wear Out Tires?
The reality here is yes, bike trainers can wear out your tires, and in some cases your rear cassette. However, this has a lot to do with the type of trainer that you select, how often you're riding your trainer, and the type of tires you have on your bike.
Let's examine each of these factors a bit more deeply to understand how tire wear can occur with a bike trainer.
Type Of Trainer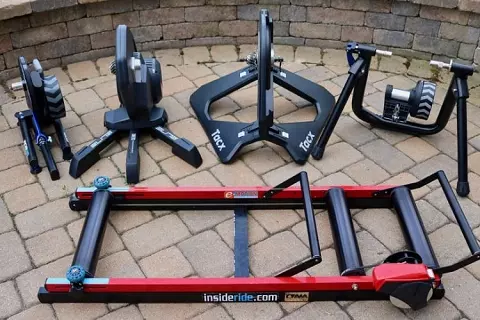 This is the greatest factor in determining if your trainer will cause tire wear. The two types of trainers that will cause tire wear are the tire drive trainer and the roller trainer. Both of these trainers utilize the back wheel to "move" the trainer.
Because you will be turning your wheel on a roller, over time you can expect that your tire will begin to show signs of wear.
However, this may be slower than if you are riding on the road or on the trail, simply because the surface of the rollers for both the tire drive and roller type of trainer is smoother than pavement, concrete or dirt trail.
If you select a tire drive trainer, you can also expect that your back tire will wear, while your front tire won't. This is because only your rear wheel moves with a tire drive trainer.
Ride Frequency
If you are using your trainer, only occasionally to get in a ride when the weather is crummy, you probably won't see a ton of wear on your tires from the trainer.
However, if you are riding your tire drive or roller trainer daily, you can expect to experience some tire wear. It likely won't be as significant as if you were riding outdoors every day, however.
Type Of Tire
This is sort of obvious, smooth tires on a smooth surface won't wear nearly as quickly as your knobby mountain bike tires, even on a smooth surface. This is one of the factors that often keep riders from using their mountain bike on a tire or roller style trainer.
Tire wear combined with a bumpier ride, caused by knobby tires, make these two types of trainer less than ideal for mountain bikes. Also, running knobby tires on your trainer can be noisy, which isn't a great feature for some riders.
Can You Change Gears On A Bike Trainer?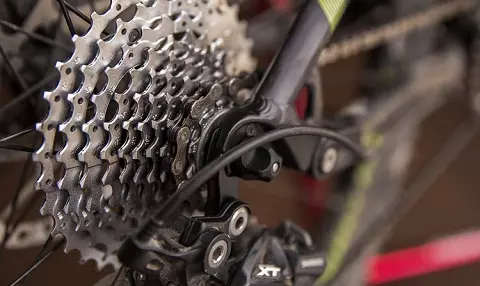 Absolutely, you can change gears on your bike trainer. As a matter of fact, as we've previously mentioned, changing gears is often the only way that you have, when riding some types of trainers, to change resistance. 
Changing gears while you are riding can give you the feeling of riding up and down hills or in a variety of different terrain types. Changing gears is particularly important if you are riding a trainer with magnetic resistance.
This is the only way that you will get changes in resistance to this style of trainer. Many riders like to use training apps that give you different rides to participate in each day.
These apps will encourage you to switch gears during the ride to give you the feeling of riding up and downhills. If you are planning on using one of these apps (like Strava, Zwift, TrainerRoad, Rouvy, Sufferfest, etc).
Conclusion
Bike trainers are a great way to get in a ride, when the weather is crummy, when you're short on time, or when the sun goes down too fast. Your daily ride bike becomes a stationary bike with these handy tools.
Hopefully, our review of bike trainers has given you a good place to start when you are shopping for a trainer and all the information you need to make an educated decision on what type of trainer is best for your riding needs.
With a bike trainer, you get the benefit of a good cardio workout without having to go to the gym or leave the comfort of your home.
Is there a trainer on the market that you love, or that you think is great? Did we miss something in our FAQ section?
Tell us your thoughts in the comment section.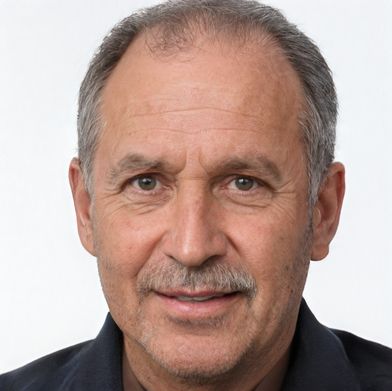 Steve Beck is a passionate cyclist and experienced writer covering the cycling industry for over a decade. He has a wealth of knowledge and expertise in all bike-related things, from the latest products and technologies to the best routes and trails. His articles are well-researched, informative, and engaging, and he has a talent for explaining complex cycling concepts in a way that is easy to understand. Steve can be found on the road when he's not writing about bikes, putting his knowledge and skills to the test.