Best Bike Tool Set – Repair Your Bike With Ease
Accidents happen when you're least prepared for them, at least that's how it sometimes feels.
When you're out on the road with your bike, far away from home, that's when you might find yourself with something that requires repairs.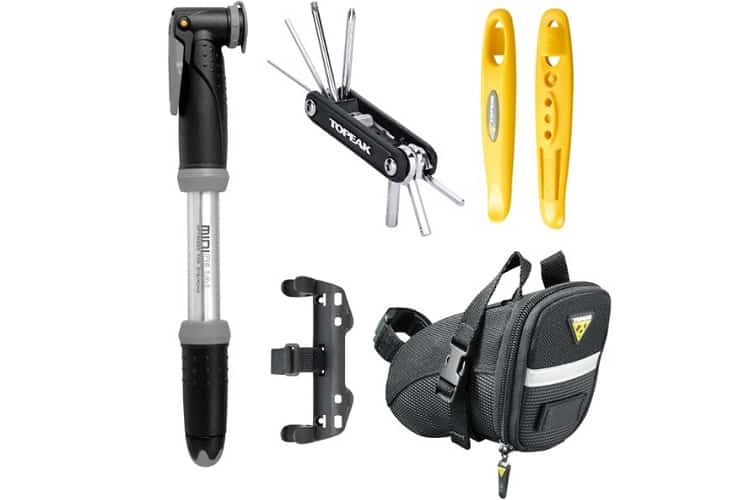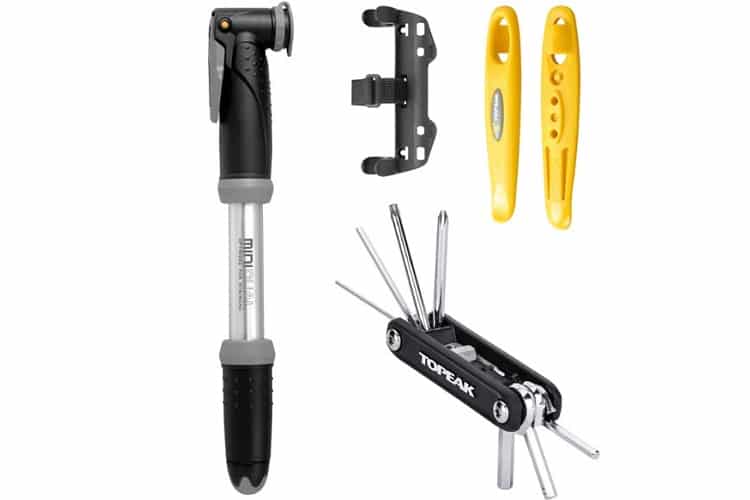 List of Tools
2, 2.5, 3, 4, 5, 6 and 8mm hex wrenches, two Phillips and two flathead screwdrivers, chainbreaker, four sizes of spoke wrenches, 8 and 10mm open wrenches, Torx T25
mini pump, 2/2.5/3/4/5/6/8mm hex wrenches, T20/T25 Torx, #2 Phillips screwdriver, X-tool, 1.1 tire lever, small saddle bag
2/2.5/3/4/5/6/8mm hex wrenches, T20/T25 Torx, #2 Phillips screwdriver, Torx T20 L-type wrench, two levers, X-Tool+
List of Tools
2, 2.5, 3, 4, 5, 6 and 8mm hex wrenches, two Phillips and two flathead screwdrivers, chainbreaker, four sizes of spoke wrenches, 8 and 10mm open wrenches, Torx T25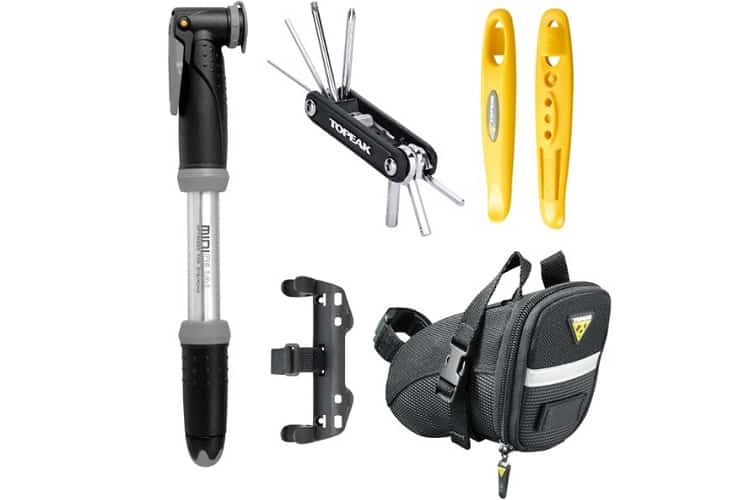 List of Tools
mini pump, 2/2.5/3/4/5/6/8mm hex wrenches, T20/T25 Torx, #2 Phillips screwdriver, X-tool, 1.1 tire lever, small saddle bag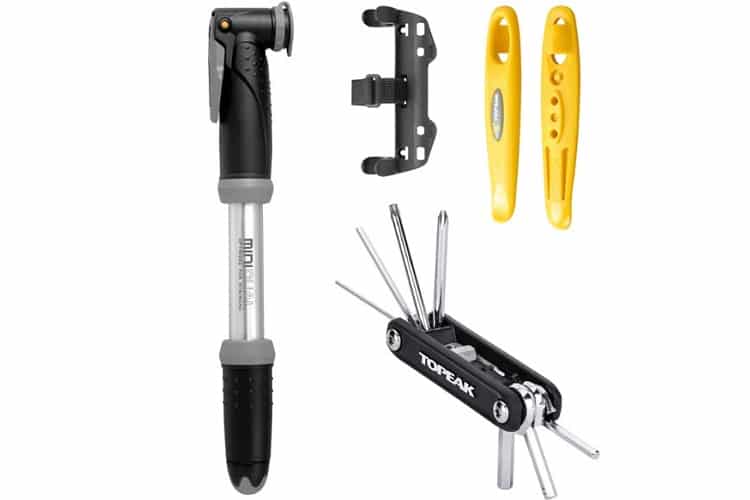 List of Tools
2/2.5/3/4/5/6/8mm hex wrenches, T20/T25 Torx, #2 Phillips screwdriver, Torx T20 L-type wrench, two levers, X-Tool+
So, you want to ensure you're equipped with the right tools to take yourself out of the sticky situation.
Can you really fix your bike yourself?
Although you might not be able to fix every bike issue you encounter, there are many DIY repairs that you can do, such as fixing a flat tire and busted chain.
What follows is the best bike tool set followed by four alternative bike tool kits that will help you repair your bike wherever you are.
Later on in this article, we'll also look at what you should know about repairing your bike so you can get the job done quickly and easily. Let's get started!
Our Recommendations For The Best Bike Tool Set For 2023
Winner: crankbrothers M-19 Multi-Tool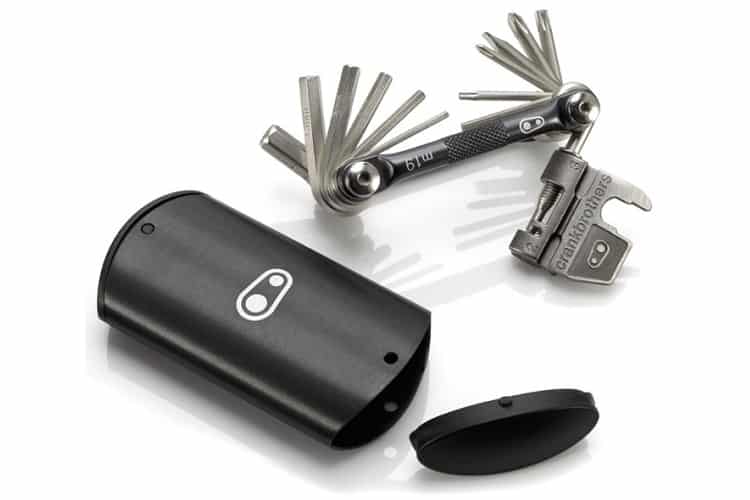 This Crankbrothers set has a whopping 19 tools in it that you can use to fix your bike. It also comes with a nifty case for storage.
Featured Specs
Aluminum side plates
Lightweight yet durable
Stainless-steel chain breaker
Benefits
This multi-tool has aluminum side plates that are textured so that you can grip them better when whipping out a tool to use on your bike. This is important because the last thing you want to have to do when you've got to repair your bike is fuss with trying to pull a tool out of its holder.
The tools are attached to these textured plates and fold neatly, sort of in the same principle as tools in a Swiss Army knife.
This tool contains a stainless-steel chain breaker and steel tools, so they'll last a long time.
What you can expect from the tool set: open wrenches, Torx T25 for disc brakes, hex wrenches, two Phillips screwdrivers, two flathead screwdrivers, and four-spoke wrenches of various sizes.
Extra Features
Even though it carries a lot of tools, this kit doesn't feel heavy, which makes it user-friendly when you're on the move. It also means it's easier to carry the tool kit with you on your bike, which makes it the best portable bike tool kit on offer.
Drawbacks
Some people who have purchased this tool set have complained about their tools becoming rusty, even though they're said to be made of stainless steel.
Others have stated that the plastic container for the tools isn't such a great fit for them. The tools are supposed to slot back into the container easily, but it's not such a smooth fitting.
Buying Advice
This best bike tool kit costs around $35, but it's worth the cost because it will give you more than what you need. If you're not happy with the plastic case, use something else, but you'll definitely want to ensure you have this set handy when you're out on the road.
Runner-Up: Topeak Deluxe Accessory Kit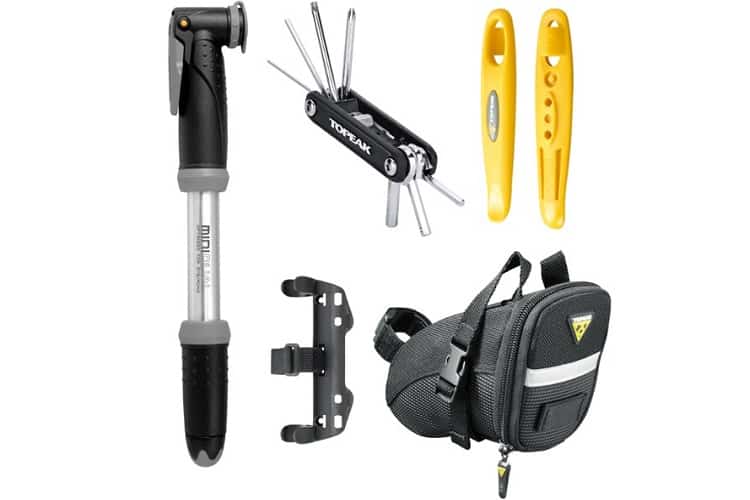 This cycling kit is focused on giving you the essentials, like a mini pump! While that's one of the best items in this kit, there are others that make this set a must-have, especially if you bike often and cover long distances at a time.
Featured Specs
Versatile pump for standard inner tube valves
11 tools included
Folding X-tool
Benefits
This tool set folds up easily and conveniently.
There's a mini pump included in the kit that can accommodate a variety of inner tube valves, and it also comes with a side-mount bracket.
The pump makes use of dual-action pumping to quickly fill your tires, which is advantageous during times when you have to work fast, like when you're stuck on the side of the road.
The pump, which seems to be the star of the kit, has a barrel made of aluminum as well as a dual-density polymer handle, so it's built to last.
The kit contains 11 tools. These include handy hex wrenches, a Torx wrench, and a screwdriver.
The tools are made of chrome vanadium steel, so they're also going to be durable.
Extra Features
With this kit, you also get a bag that's made of polyester and has a reflective strip on it. It's also got a clip that you can use to attach a safety light to it. These are fantastic features that will especially appeal to you if you cycle regularly or at night.
Drawbacks
If you love having lots of tools in the same place, you might feel like this kit doesn't give you everything you'd possibly need, unlike the previous product we featured. Still, there's enough to cover the basics.
Buying Advice
This bicycle tool kit is unfortunately out of stock from some online retailers, but you can expect to find it for approximately $40 on other sites, such as Bike24.
It's a valuable kit that every cyclist should have, whether you're a beginner or a pro. You might buy it just for the mini pump, which is a fantastic item to have in an essential kit, but you'll no doubt love having all the extra bits when you find yourself in a bind.
Alternative 1: Topeak Essentials Accessory Kit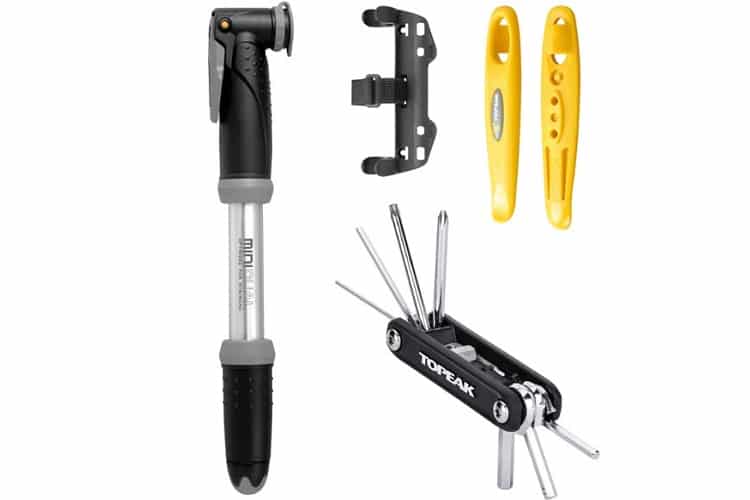 Maybe you don't want a ton of tools in your bike kit. Maybe you just want the bare essentials. If that sounds good to you, you'll love the Topeak Essentials Accessory Kit.
Featured Specs
Standard pump with dual-action pumping
High-quality and durable materials
Benefits
The mini pump included in this kit is versatile enough to accommodate all standard inner tube valves. Just like the pump we saw in the previous product review, it has dual-action pumping.
The kit is constructed to be durable. The pump has an aluminum barrel and the rest of the kit is made with chrome vanadium steel as well as engineering-grade polymer. The levers that are included in this bike kit are constructed out of engineering-grade plastic.
Extra Features
The mini pump is meant to get installed onto your bike, which is a great way to keep it handy without it getting in the way.
Drawbacks
It's worth noting that for pretty much the same amount of money to purchase this kit, you could instead buy a bike repair kit that contains a wider variety of tools.
Buying Advice
This best bike repair kit costs around $35. It's the perfect basic tool kit if you want to fix your bike without breaking the bank.
It's a kit you should consider if you're not the type of person to fix your own bike as this will ensure you have the basic repairs and maintenance covered and can leave the rest to the pros.
Alternative 2: Vibrelli Bike Multi Tool

This is a compact multi tool that has 19 tools in it, such as hex screwdrivers, a universal chain breaker tool and spoke wrenches.
Featured Specs
Constructed with Cr-V steel
Non-slip grips
Benefits
This Vibrelli Bike Multi tool kit is a really slim one, with a length of three inches and a width of two inches. This makes it nice and easy to take with you wherever you go.
The tool has non-slip sidebar grips, making it easy to use.
It's made out of hardened high-tensile Chromium-vanadium steel (Cr-V steel).
Extra Features
A small carry case is included in the kit.
Drawbacks
Some people who've purchased the tool kit have reported that some of the tools tend to move around a lot when one tool is used. This makes it a bit frustrating to use, especially for fiddly repairs.
Buying Advice
This best bicycle tool kit comes with many tools you'll need to repair your bike at some point. It's been said that it's just as great as more expensive tool kits, and it only costs around $25 for all the bicycle tools you get in it.
Alternative 3: Topeak Alien II Multi Tool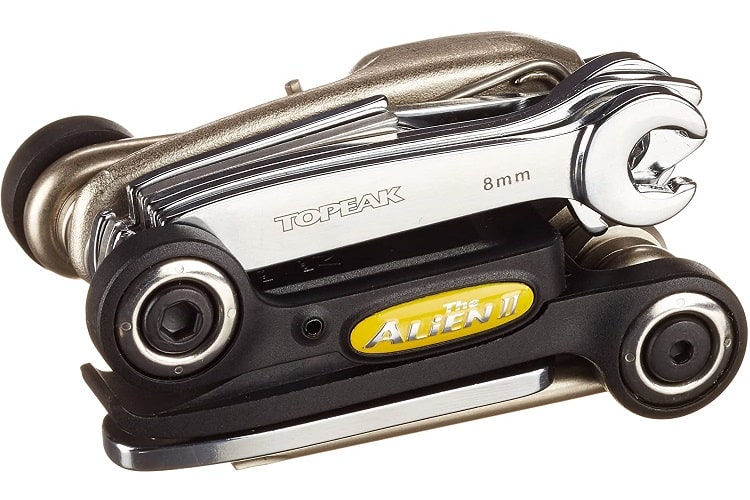 A bike tool kit that's called "Alien II?" What could be cooler than that, right? The Topeak Alien II Multi Tool is a durable kit with a range of tools every cyclist should have in their backpack, plus a few extra ones you'll love.
Featured Specs
31 tools included in the two-piece body
Made from hardened steel and engineering-grade plastic
Benefits
This tool can be taken apart to make it easier to use.
It comes with a variety of tools included, such as a chain tool, chain hook, pedal wrench, tire levers, wrenches, and screwdrivers. It even comes with a serrated knife.
The chain tool in this kit is compatible with both single and multi-speed chains that are up to 12-speed varieties.
Extra Features
The tool kit comes with a nylon bag that's got a clip on it so you can attach it to your bike.
It also has a bottle opener attached. This is a fun extra tool that you probably won't need when you're on an off-road adventure, but it shows how versatile this kit can be around the home.
Drawbacks
Some people who have purchased this tool kit have reported that it's heavy and bulky, which is probably as a result of it having so many tools. This sometimes makes it a bit difficult to use.
Buying Advice
This tool kit costs around $50. It's packed with everything you could possibly need, which makes it the best mountain bike tool kit to own.
As a bonus, it's not just useful when you're out on your bike. It's sure to make you feel like a modern-day MacGyver who can fix anything!
Bike Tools FAQ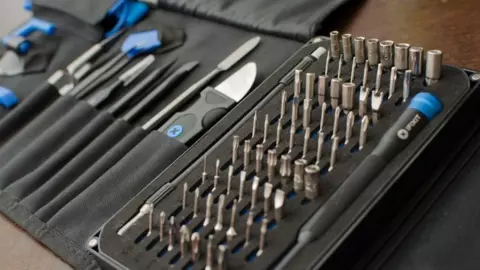 What Bike Tools Do I Need?
If you want to stay safe when you're on a ride, you'll want to ensure you have some important tools that will help you fix your bike wherever you are.
But you might be wondering what tools are the most important to own. Here's a rundown of some of the most essential bike tools you need if you own a bike as they will enable you to do routine maintenance and repairs on the fly.
Allen keys. These come in handy when you need to tighten bolts and screws. The following Allen or hex keys will cover almost every type of repair you'll have to do on your bike: 1 1/2-, 2-, 2 1/2-, 3-, 4-, 5-, 6-, 8-, and 10-millimeter keys.
Tire levers. These will help you remove and install your bike's innertube, and that's something you'll need to learn to do very soon after purchasing your bike so you want to ensure you have tire levers to help you out with it.
Torque wrench. This is used to tighten bolts and protect your bike's parts, and it's valuable to own because most bikes are constructed out of carbon fiber. If you use other tools, such as a hex wrench, on a part of your bike that's made of carbon (such as your handlebars) you could cause damage to it.
Mini pump. This is one of the most important tools to have in your repair kit as it's perfect for pumping up your tires on the side of the road or repairing a busted tire in the middle of nowhere.
It's great to have a range of them, but some of the most common ones you'll need when fixing your bike include the flat-head and Phillips No 2, which are common tools found in many bike repair kits such as those we've featured in our reviews.
Chain tool. Repairing your bike's chain is easy when you have a chain tool. This is pretty standard in bike repair kits, and it's a valuable item that will make your life so much easier because it enables you to break a bicycle chain so that you can mend it with the same tool.
Microfiber cloths. These are important items to have in your kit because they will help you remove dirt and grease, while also ensuring a super-clean frame.
How To Use Your Bike Tools?
Now that we've looked at some of the most essential bike tools you need in a repair kit, you might be wondering how to use them. Here are ways in which to use the above-mentioned tools.
Allen keys or hex keys. When using an Allen wrench, you'll put the short end of the "L shape" into a bolt head and then push it down on the longer side so that you can turn the bolt.
Tire lever. When using a tire lever to replace your inner tube, you'll have to deflate the tire and then engage the tire lever underneath the tire's bead. You'll also have to put a second lever about an inch away from the first one. Pull both levers in the direction of the spokes to gently lift the bead off the tire rim. Then, disengage one lever. Push it about two inches along the tire rim and engage the lever in the bead. Pull the lever so that you can pull the next section of the bead off the rim, as Park Tool You'll want to keep doing this until the bead becomes loose. Then you'll slide the lever all along the rim underneath the bead. This enables you to pull the inner tube from the tire and remove the tube from the wheel.
Torque wrench. You'll use your torque wrench to tighten things like your seatpost and handlebars while avoiding over-tightening them as this can damage your bike's components. Some bikes will have a torque listing on the bike so that you know how much torque to use when using this wrench on bolts.
Mini pump. Some mini pumps have dual heads that are compatible with common types of bike valves. Other pumps require you to remove the nozzle and plastic so the pump will fit your bike's valve. Once you've located the valve, you'll open the valve and ensure your pump is in an unlocked position, which you'll most likely be able to do with the use of a lever. Gently slide the pump onto the valve. Lock the pump with the lever or by twisting the pump so that when you fill the tire with air pressure you ensure a stable feel and leak-free experience.
Your flat-head and Phillips no 2 screwdrivers will come in handy to tighten screws wherever there are screws holding the bike's components together.
Chain tool. If your bike has a chain with standard links, a chain tool will allow you to remove an old pin and insert a new one to reconnect and repair the chain.
What Can Be Achieved With A Set Of Bike Tools?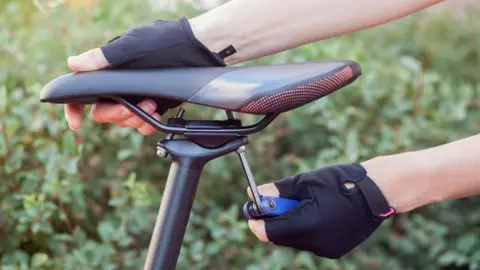 You can achieve many bike repairs by having a good set of bike tools. Not only can you fasten screws and bolts, but you'll be able to check and adjust your tire pressure, fix your chain, repair your bike's inner tube, and more.
Basically, tool kits that have essential tools in them will cover the basic repairs you need to do on your bike. You can also use these tools to maintain your bike, such as by using the mini pump to check your tire pressure.
Your trusty set of bike tools can come to the rescue when you need to fix a common problem on your bike, saving you money and the hassle of having to bring your bike to a shop to get it repaired.
That's just not always practical, especially if you're on an off-road adventure. Instead of calling someone to come and pick you up, you can fix many problems yourself right away and then get on with your ride.
Are Bike Multi-Tools Any Good?
Now, having lots of bike tools is great, but it's not always easy or practical to carry them around with you when you're cycling. That's where bike multi-tools come in.
These multi-tool kits ensure that you have all the essential tools in one small container.
Many multi-tool kits we've featured in our buying guide use a similar design principle to that of a Swiss Army knife, giving you the chance to use different tools when you need them but they're all attached to the same body for greater convenience and ease of use.
There are a variety of bike multi-tools available. Some have just the essential tools you'll need, while others have a larger variety of tools – some even offer items like bottle openers, which have nothing to do with bike repairs but definitely do come in handy!
These days, bike multi-tools have evolved to give you a range of benefits even when you're not using them on the road.
When choosing how many tools your bike repair kit should have, make sure you factor in what types of repairs you feel comfortable doing so that you will actually have lots of use for the bike tools.
In addition, bear in mind that all-in-one tool kits are often larger, and might end up being bulkier to use and carry, than minimalist ones.
How To Repair Your Bike?
Now that you're sorted with your bike tools, you need to know how to use them. Here are five easy repairs you can do on your bike, even if you don't consider yourself a DIY person.
How To Repair A Broken Bike Chain
Take the chain tool from your bike tool set and put the pin through the link of the chain that's snapped.
You want to clamp it hard until you break the chain. Keep the pin about halfway into the link, though, as removing it will make it harder to re-insert it later.
Now you can remove the chain's busted links. Got spare links? Great! Use the chain tool to attach these onto the chain, pushing the pin into the links. If you don't have any spares with you, you can actually just remove the broken chain link and then link the rest of the chain together. Of course, your chain will be a bit shorter now, which will make your ride less comfortable, but at least you'll be able to get home!
Right, a few more steps to finish mending your chain. You want to take the chain and thread it back over the bike's crankset. Move it through the derailleur. Make sure the pin is sticking out towards the bike's exterior. With your nifty chain tool, push the pin through both sections of the chain, as Greatist
How To Repair A Punctured Tire
If you own a road bike you'll probably have a bicycle wheel quick release so you can easily pull the wheel out of the frame. Here's how to repair a puncture without calling a pro.
Open the lever, take out the wheel, let any excess air out of the valve, and then gently push the valve up into the tire.
Take your tire levers and push them underneath the tire's edge, making sure that it comes out of the rim.
Now you can remove the bike's inner tube. Take a new tube and inflate it enough to give it a bit of shape. Slide this tube into the outer tire.
Make sure you stick the tire's edge back into the rim properly.
Then, use your bike mini pump so you can inflate it.
Close the quick-release valve.
Tighten A Crankarm
Crankarms tend to get loose quite regularly, so you want to keep checking and tightening them. You'll need a hex wrench to tighten the crank bolts, which tend to be eight or 10 mm.
You're likely to find a hex wrench in a bike multi-tool that will be the right fit. But what if yours doesn't have one?
Then you can follow this tip, courtesy of Active: take two smaller wrenches and put them into the bolt. Together they should make up its size so that you can tighten the bolt.
This is an easy tip to ensure you can ride back home instead of being stuck in the middle of nowhere because the bike's crank fell off!
Clean Your Drivetrain
This is part of regular maintenance that will prevent you from having to fix sprockets and chains at a later stage because it keeps everything nice and lubricated.
So, to clean everything and remove dirt, you want to get some clothes, bike oil, a degreaser, and a flat-head screwdriver, which you'll find in many bike tool sets.
Once you have those items, you want to remove dirt from the sprockets, chain wheels, and chain. Use the screwdriver to remove larger pieces of dirt that have accumulated in the rear derailleur, chainrings, and jockey wheels.
Once it's all clean, slowly turn the bike's cranks backward. Dab a bit of bike oil on the inside of your chain.
Tighten Loose Bolts
This is a really easy bike repair you can do yourself. You just need a torque wrench. Your bike will probably have a torque setting and this should be followed so that you don't over-tighten bolts as this can damage your bike.
You'll find that many bike repair kits will contain a torque wrench, but some have pre-set torque keys. These come in handy for beginner riders. Here are some easy tips to follow when using a torque wrench on your bike:
Don't use a torque wrench to loosen bolts. They are meant to be used as a measurement tool for tightening them.
Always prepare the fastener threads with lubrication.
Ensure the bolt you want to tighten has been threaded properly. If it's been cross-threaded, it won't get tightened properly, no matter how much you try.
If you're using a click-type torque wrench, you want to add the correct bit to the wrench socket and select the torque setting you want. Tighten the fastener until you hear a "click."
If you're using a beam-type torque wrench, you should add the right bit to the wrench socket. Then, put your hand on the handle and tighten it until the reading that is on the pointer's end matches the recommended torque specifications.
Conclusion
A functional and practical bike tool set is a must for every serious cyclist to own. Imagine riding in poor conditions and not being able to fix or replace something as important as a bike light…
Not only does it ensure that you can do maintenance on your bike when you're at home, but it makes it possible for you to repair some problems when you're out on the road and there's no one in sight to help you.
From pumping your tires with a mini pump to repairing a broken chain, you can do many repairs on your bike without the need for calling a pro, thus keeping you safe and helping you minimize obstacles when all you want to do is enjoy your ride.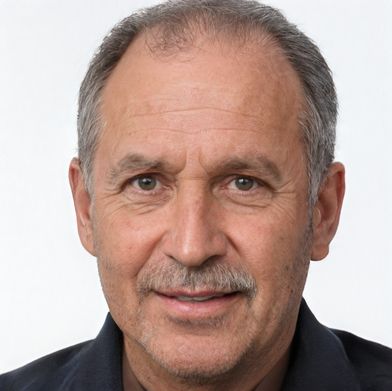 Steve Beck is a passionate cyclist and experienced writer covering the cycling industry for over a decade. He has a wealth of knowledge and expertise in all bike-related things, from the latest products and technologies to the best routes and trails. His articles are well-researched, informative, and engaging, and he has a talent for explaining complex cycling concepts in a way that is easy to understand. Steve can be found on the road when he's not writing about bikes, putting his knowledge and skills to the test.