Best Gravel Bikes – Top Picks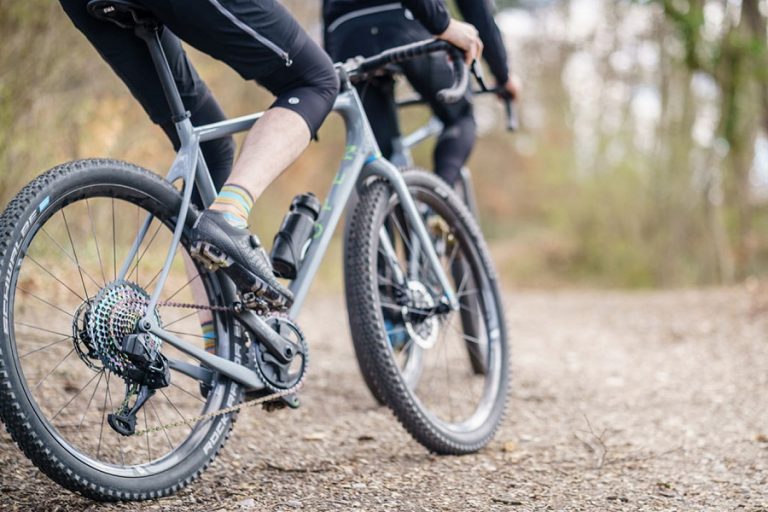 You want to get more adventure out of your bike, because your roadie just isn't cutting it anymore.
Maybe your regular road bike just doesn't feel comfortable when taken off the tarmac, or it just doesn't give you enough power for tackling that rougher terrain when you stumble upon it out of the blue.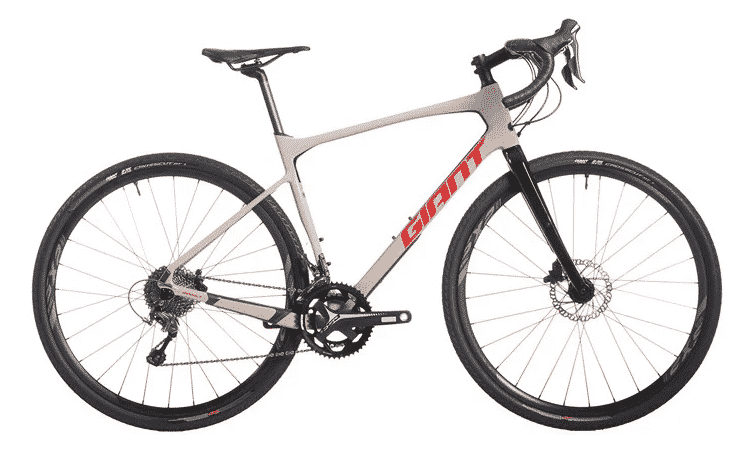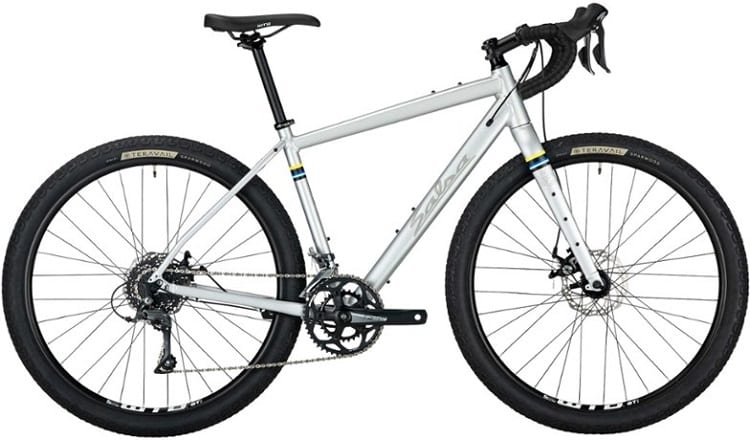 Drivetrain
2X 10 speed Shimano Tiagra
27-speed Shimano drivetrain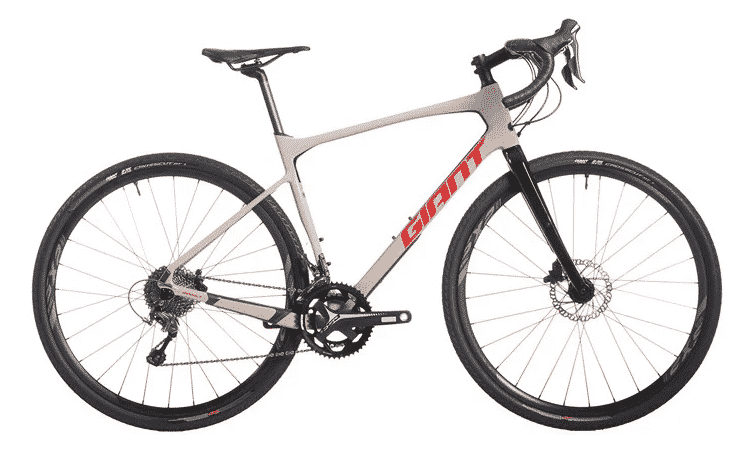 Drivetrain
2X 10 speed Shimano Tiagra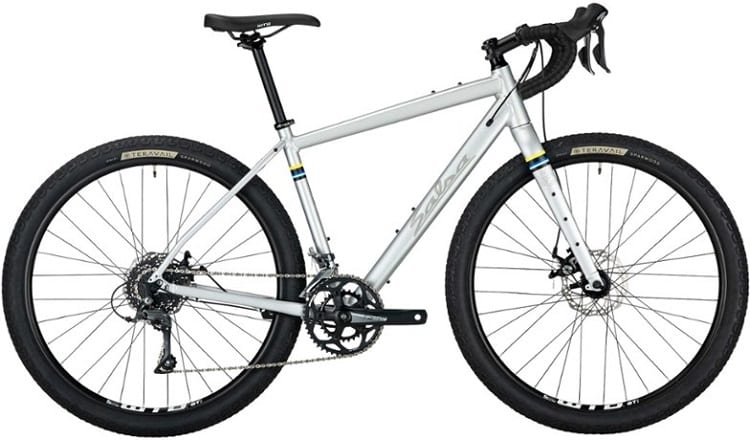 Drivetrain
27-speed Shimano drivetrain
You need a gravel bike.
What are the benefits of a gravel bike?
These bikes are built to be tough and durable, while still offering lightweight construction to make riding them easy and fun, whether you're on the road or enjoying rougher terrain.
There are many different types of gravel bikes available, so it's not always easy to know what features are important to look for.
We've got everything you need to know about the best gravel bike: top picks to take you on an off-road adventure.
Now that we've looked at the general specs of the best gravel bikes, let's take a deeper look at their benefits, features, and drawbacks.
Our Recommendations For The Best Gravel Bike For 2023
Best Overall Winner: Giant Revolt Advanced 3 Complete Bike 2020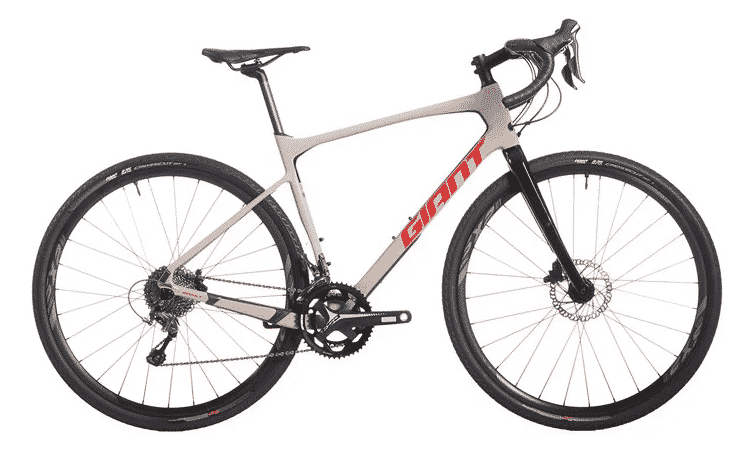 If you need to take your bike on longer, tougher roads, you'll need to ensure you have a high-quality gravel bike that won't leave you in the dirt. This bike by Giant Revolt helps you navigate rough terrain without getting tired.
Featured Specs
D-fuse component absorbs vibrations
OverDrive Fork Technology
Strong hydraulic brakes
Benefits
One of the biggest problems with taking your ordinary bike out on rough terrain is that it won't be able to handle all the bumps and their vibrations. Not only does this cause stops and starts in your ride, but it can weigh you down and exhaust you. To counteract that, this gravel bike has D-fuse technology which absorbs shocks and vibrations so they can't get to you.
The custom frame is made of raw carbon in Giant's own factory, and it's meant to provide a good stiffness-to-weight ratio.
It's got what's known as OverDrive Fork Technology that boosts steering performance. It has large headset bearings and a tapered steerer tube. These give you the best steering fitness you need to remain steady out there.
This bike's equipped with strong hydraulic disc brakes that will make you feel more in control when riding it as well as keep you safe, especially when the terrain is dodgy.
One of the most exciting features about this gravel bike is that it's got a tubeless system. This means that you gain much better traction and less rolling resistance. Riding the Giant will make you feel that it's very smooth and fast.
Extra Features
You can easily add accessories to this gravel bike, as it's highly compatible with third-party accessories as a result of its integrated mounting system. So, if you want to add some fenders or racks, you can go ahead to make your gravel bike as unique as you are. Adding fenders will make it even more of a powerhouse, such as when tackling curbs with ease.
Drawbacks
The tires on this gravel bike have a round profile that is most suitable to smooth, packed dirt as well as pavements. When it comes to corners and loose conditions, the bike has been found to experience a bit of a lack of traction.
Buying Guide
This Giant gravel bike costs aroound $2000. It's filled with lots of excellent features that will ensure you get the most out of riding it, thanks to how it reduces shocks on the ground as well as offers a powerful steering experience.
Runner-Up: Salsa Journeyman Claris 650 Bike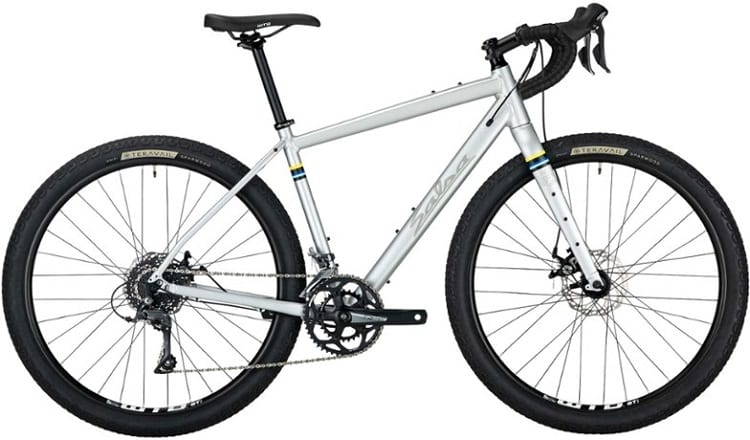 This bike is versatile enough for your daily commute, while also giving you the extra features you need in a bike to navigate rougher terrain, like when you want to go on an off-road adventure on the weekends. It's that versatility that really makes it more of a hybrid.
Featured Specs
Aluminium bike frame and tubing
All-road bike for greater use and versatility
Drop bar handlebar
Benefits
This gravel bike has a drop-bar handlebar that prevents your hands from getting sore because it enables you to change your hand position during your ride.
The wheels are 65b with a size of 2.1 inches, which helps to make them fast.
If you need to brake suddenly, the Promax DSK-330R flat mount disc brakes will get the job done.
This gravel bike has full-length internal cable routing. This improves your performance when you need to navigate rougher terrain and protects the shifting cables.
Extra Features
This bike has aluminium tubing for light yet durable strength, as well as a fantail aluminium fork for more tire clearance.
Drawbacks
One of the drawbacks with this bike is that it's gearing is said to be a little too high. It performs fine on regular terrain, but if you have to navigate steeper ground, the gears are sometimes not low enough.
Buying Advice
This gravel bike costs around $900, so it's one of the best gravel bikes under 1500. It has some excellent features on display– not just as a gravel bike but a regular one too.
Alternative 1: Marin Four Corners Complete Gravel Bike 2020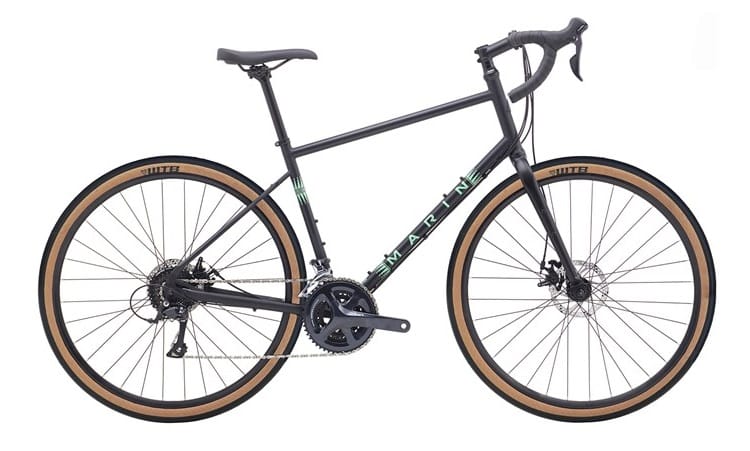 This Marin bike looks striking but it's much more than a pretty bike. Loaded with features such as high bars for a more comfortable ride, you'll love taking this one out on the town.
Featured Specs
Third-party accessory compatible
32-inch stainless steel spokes
WTB Resolute tires
Bottle-cage eyelets
Benefits
The bike's frame is comfortable enough for various terrain that you might dare to set out on. It also comes with various mounts so you can attach third-party accessories.
The 27-speed Shimano drivetrain in this bike offers you the perfect gears you need for any type of road.
The bike has 32-inch stainless-steel spokes that keep your experience feeling strong, but the wheelset is light so you can achieve faster speed whenever you need to.
It comes with WTB Resolute Tires that are considered the all-weather gravel tire.
The bike has high bars for greater riding comfort and also to keep you visible during traffic.
Extra Features
You want to ensure you have enough hydration on long bike rides, and this will be achieved when using the Marin, thanks to its bottle-cage eyelets that can be found on its fork.
The bike looks stunning, with its striking blue and silver touches that are sure to keep you visible when cycling.
Drawbacks
It's said that the Marin can feel a bit heavy when you're on regular roads, thanks to how it carries a lot of weight in its wheels. However, once you go off-road, then it seems to lighten up so it's really made for those off-road adventures because that's where it will shine.
Buying Guide
This Marin gravel bike costs around $1000, so it can be said to be the best value gravel bike.
If you're looking for a gravel bike that you won't want to use much for your daily commute, this one is the best choice for you because when you take it off the beaten path you'll be able to see what it's really made of.
Alternative 2: Cannondale Topstone AL 105 Bike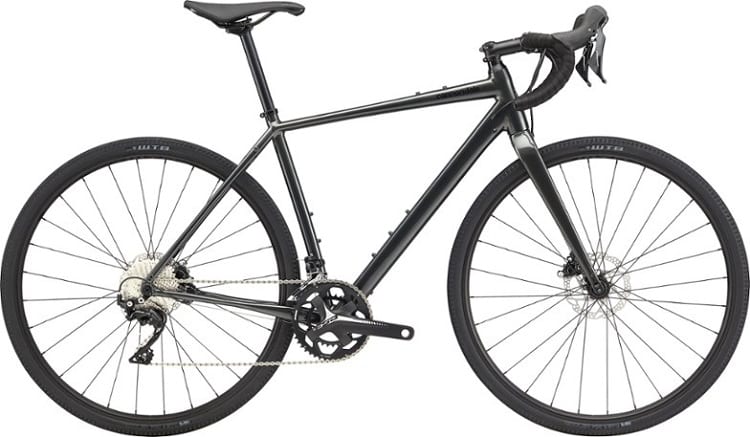 The Cannondale is a gravel bike that's all about ensuring you are most comfortable during your commute or off-road adventure. Need a spot for your water bottles? Worried about getting tired and poor posture?
This gravel bike has thought of solutions to both, and more.
Featured Specs
SmartForm alloy C2 construction
Hydraulic disc brakes
Cannondale C3 16-inch flare drop shifters
Benefits

This gravel bike is equipped with a Shimano 105 2×11 mechanical drivetrain that makes shifting much easier while also working with the hydraulic disc brakes to make stopping a breeze, no matter where you're riding.
It feels really light, which is a bonus to make for more effortless riding. This is achieved thanks to its SmartForm C2 Alloy construction as well as carbon fork.
Like with many other mountain bikes, you'll be able to use an upright posture when riding, so it'll increase your comfort over long rides.
The brakes are said to be as powerful on regular roads as they are off the beaten path, helping you feel in greater control at all times.
Extra Features
With 22 gears available, you'll be able to enjoy them to the max thanks to the presence of Cannondale C3 16-inch flare drop shifters that create a much smoother transition when cycling.
There are nifty holders for three water bottles.
Drawbacks
One of the, perhaps, surprising things about this bike is that it doesn't come with pedals included.
It's also not available in extra-small size.
There are some issues with the paintwork on this bike. It's said to become dirty very easily, and it doesn't come with any mudguards. This is a bit disappointing if you want to be able to ride through rough and dirty conditions.
Buying Guide
The Cannondale Topstone costs around $2000 so it's one of the best gravel racing bikes on the market that won't burn your pocket. It's got a variety of benefits if you want to purchase a solid and versatile gravel bike.
You'll love how it accommodates you for longer bike rides, such as with its water bottle capacity and light yet durable features.
Alternative 3: Co-op Cycles ADV 1.1 Bike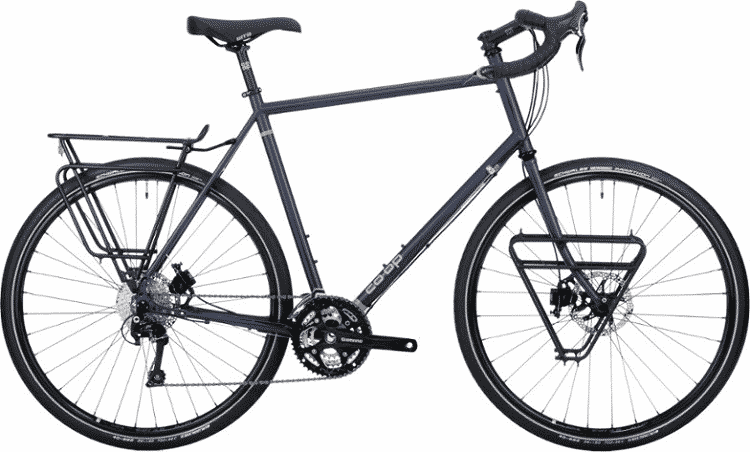 If you're looking for a budget-friendly gravel bike that doesn't skimp on quality features to make your ride comfortable, then this bike is perfect for you.
Featured Specs
Made of steel for greater durability
Puncture-resistant tires
Handles lower gears beautifully
Benefits
This gravel bike is a machine, thanks to its strong steel frame that can withstand any condition you put it in.
You'll love mountain biking with this bike: it can make the most of low gears, thanks to its 36T rear cog.
There's nothing worse than experiencing a puncture when you're on an off-road adventure. This gravel bike minimizes the risk of that happening to you because it's fitted with Schwalbe Marathon tires that are resistant to punctures. This is thanks to the tyres' layer of latex underneath their tread.
The bike is focused on DIY, helping you to handle repairs on your bike even when you're far away from home. This is thanks to features such as its bar-end shifters that are easy to maintain as well as the two extra spokes on the chainstay.
Extra Features
It can accommodate up to 300lbs in a rider's weight, which is quite cool.
The frame can be installed with front racks, rear racks, and fenders. You also get front and rear racks included in the purchase.
Drawbacks
Pedals are sold separately.
It's a bike that's slightly heavier than others, thanks to its steel construction. It comes in at 30 pounds of weight, which is the highest weight out of all the bikes we've featured in these reviews. However, the bonus of steel is that it makes for greater durability.
Buying Guide
This bike costs around $1500. It's decently priced with tons of benefits if you're serious about cycling.
Gravel Bicycles FAQ
Now that you know a bit more about the best gravel bikes available on the market, let's look at gravel bikes in general and why you need to get one.
What Is A Gravel Bike?
The term "gravel bike" provides a clue as to what it is: a gravel bike is a bike that's suitable for tougher terrain than an ordinary bike. You can ride it in the dirt and sand, without worrying that it'll give up on you.
A gravel bike is usually built to be bigger, tougher, and have beefier tyres as compared to a regular bike, which are just some differences you'll encounter.
Sometimes gravel bikes are known as adventure bikes because they're appropriate for taking off road and having outdoor adventures.
They're all about giving you the freedom to be able to take your bike everywhere. If you have a regular road bike, you'll know that this is something it just can't achieve.
Gravel bikes have become quite versatile. You'll find that many gravel bike manufacturers are focused on making gravel bikes suitable for a variety of different rides, not just those when you want to hit the dirt path.
Many gravel bikes on the market will have a range of features, some that are like road bikes and others that are taken from mountain bikes, to give you a more all-round bike that can work on tar roads during your daily commute as well as off-road paths when required.
On the topic of a gravel bike being versatile, you'll find that these bikes sometimes have many extra accessories included, such as mudguards and racks, as well as fenders.
Although these aren't always included, they can be added on without a problem at a later stage. Many gravel bikes also focus on the extra gear you'll need when cycling on off-road adventures, such as by providing you with water bottle storage.
What Are Gravel Bikes Good For?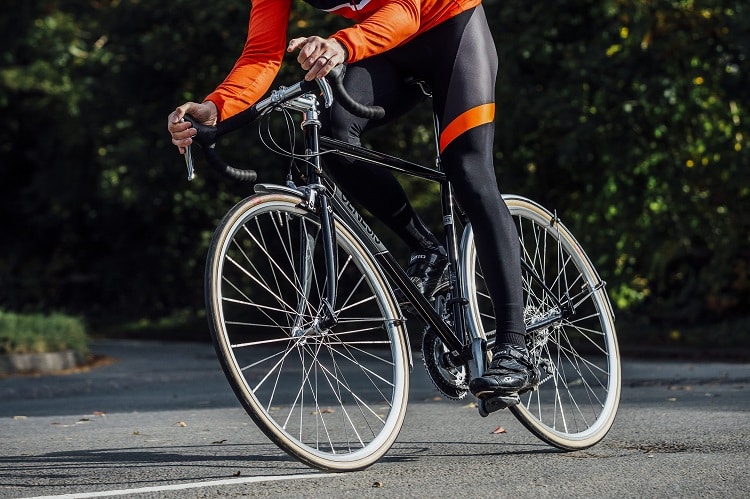 Gravel bikes are exciting to consider because they are excellent for a range of different terrain. You can use them for gravel tracks, as their name suggests, but also towpaths, forest roads, and more.
They can even be used on tarmac and pavements, which makes them really versatile if you're in the market for a new bike.
You might love your regular bike, but you know that sometimes it struggles to deal with terrain changes.
One of the reasons for this is because it tends to have narrower wheels than those you can fit on a gravel bike, which is what makes gravel bikes such a valuable piece of cycling equipment to have.
Even if you don't really go off the beaten path, having the option thanks to your gravel path can be wonderful.
You can also just stick to using the road with your gravel bike. In fact, you'll love that it has larger tires to make the journey much more comfortable.
In addition, some bikes come with puncture-resistant tires, to further make your urban crawls so much more appealing.
In addition to the comfort, you can pop on some fenders and make your gravel bike an even beefier ride. Potholes and curbs won't be bothering you anymore.
Are Gravel Bikes Worth It?
If you're the type of person who loves to cycle and you're interested in trying out different types of terrain, you'll want to purchase a gravel bike because it will give you the chance to cycle off-road and explore the outdoors in a much more comfortable way.
Similarly, maybe you regularly find yourself in terrain that's slightly off the beaten path and you've found yourself wishing you had a more rugged bike to deal with it and make the experience nicer. In such circumstances, owning a gravel bike can definitely be worth it.
If you're selling your road bike to purchase a gravel bike instead, you might worry you're making a mistake, but you're not. Many gravel bikes can handle a daily commute in urban areas.
They're usually equipped with strong, responsive brakes for quick stopping. They have sturdy wheels and extremely durable tires to handle a range of cycling conditions.
Some even come with tires that are resistant to punctures, which makes traveling over potholes a much less frightening experience.
If you travel a lot by bike, a gravel bike will make your travels so much more comfortable.
This is because you can find bikes that are built in such a way to encourage better posture when you're cycling to relieve pressure on your back which can lead to aches and pains.
An example of such a bike is the Cannondale Topstone bike that we've featured in our best gravel bike reviews.
Then, there's the Salsa Journeyman that has a drop handlebar that helps to prevent your hands from becoming sore after cycling for a long time because you can easily switch your hand position.
Should I Buy A Gravel Bike Or Road Bike?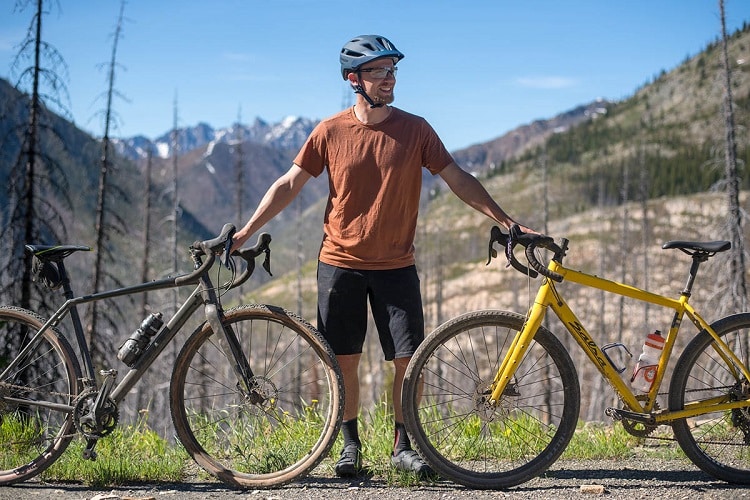 If you're interested in purchasing a gravel bike, you might want to use it on the road so that you can get to work every day. But shouldn't you then just buy a road bike?
To help you figure it out, we've got some important differences between gravel bikes and road bikes for you to consider. Let's look at them according to different factors.
Tires
Road bikes have minimal rolling resistance, which makes them faster on the road. That said, you're sure to feel every speed bump and uneven terrain.
Gravel bikes have more tread for greater traction. They can easily absorb any vibrations from bumps in the road. So, if your daily commute includes some gravel roads, a gravel bike could come in handy to make the journey a little more pleasant.
Durability
Gravel bikes are said to be much more durable than regular road bikes. As a bonus, they can also give you the chance to attach accessories to them, such as bags or racks, without you feeling the extra weight.
This is a fantastic reason to purchase a gravel bike, especially if you'll have to use it regularly.
There's no doubt that buying a gravel bike can be very useful even if you don't want to take it off-road all that often – with various potholes, bumps, and other uneven surfaces on the road, a gravel bike can help you meander them all much easier than a regular road bike.
Increased Comfort
There's no doubt that gravel bikes will be more comfortable, such as because of their longer wheelbases as well as taller headtubes. These features help to make you sit straighter on the bike, while feeling more relaxed, as Active reports.
Again, if you're going to need your bike regularly, and for long journeys at a time, you'll appreciate having a gravel bike.
Speed
This is something you might be wondering about if you love having the chance to zip through traffic on your way to work in the mornings.
The truth is, a road bike will usually be faster than a gravel bike. This is because, while you'll have lots of gears on your bike, your bike won't be able to reach those high gears when you're traveling very fast, like 30mph or even faster than that.
Bear in mind that even 20mph is considered to be very fast, as many riders will probably stick to around 15mph or slower.
Are Gravel Bikes More Comfortable?
Earlier, we mentioned how using a gravel bike is great to prevent tiredness and body aches because these bikes usually come with features to make your riding much more comfortable, such as construction that ensures better posture while riding and drop bar handlebars that ensure your hands remain pain-free.
Those aren't the only ways in which gravel bikes can be comfortable to ride. There are other features that often make gravel bikes more comfortable than regular road bikes. Let's take a look at them.
They're light. Gravel bikes are usually built to be really lightweight, which makes controlling them much easier to do, therefore preventing strain in your muscles. While they're usually light, weighing around 20 to 30 pounds, they are constructed to be durable to withstand lots of force.
They're shock-absorbent. They also have technology that helps the bike to absorb vibrations, such as when you ride over hills or speed humps. An example can be found in the Giant Revolt bike that made the number-one spot in our review guide, as it has D-fuse technology that absorbs shocks so that they don't reach you and make the ride uncomfortable.
They have stability features. Gravel bikes are usually constructed to have longer wheelbases to keep them stable on any kind of terrain that you're using, even when the terrain changes suddenly. The geometry of a gravel bike can be said to be relaxed, with features such as taller head tubes (which hold the bearings) being a common feature.
They can be fitted with larger tires. When you choose the tires for your gravel bike, you can make a more comfortable choice by opting for wider tires so that you provide greater cushioning on the bike. This will make using the gravel bike even more comfortable.
Are Gravel Bikes Faster Than Mountain Bikes?
Some people like to use their gravel bikes to explore mountain passes, and you can find some gravel bikes that even enable you to go on these, such as the Co-op Cycles ADV 1.1 Bike that we've previously mentioned in our gravel bike reviews.
But are gravel bikes faster than mountain bikes.
Gravel bikes can be much faster than mountain bikes – but they shine when it comes to smooth riding surfaces. The reason for this is because gravel bikes that have drop bars make the bike more aerodynamic, so they can move faster.
And, since drop bars can make your hands feel more comfortable, that will help you to reach faster speed.
A gravel bike also creates less drag than a mountain bike. As Outside reports, a mountain bike can produce 5,000 grams of drag, while a gravel bike will create 3,500 grams. That's over 30 percent less drag!
Gravel bikes are lighter. We've seen that gravel bikes tend to weigh around 20 or so pounds, but mountain bikes can be quite a bit heavier, and that's as a result of their strong frames. These bikes also have harder gears.
This enables you to continue to pedal on your gravel bike when you've hit faster speeds. On a mountain bike, which has easier gearing, you're better suited to technical climbs and steeper rides.
That said, earlier we mentioned that gravel bikes will only be faster than mountain bikes when it comes to smooth surfaces. That's the catch.
So, if you're going on a steep or slow climb, a mountain bike will make more sense because it will be more effective on this terrain.
Before purchasing a gravel bike, ask yourself how often you'd need to go on mountain trails with your bike. If that's not something you'll do very often, and speed is important to you, a gravel bike will probably make more sense.
Conclusion
If you're tempted to purchase a gravel bike, you'll probably wonder which one you should get and if you really need one.
This buying guide has featured reviews of some of the best gravel bikes on the market, as well as answered some important questions regarding gravel bikes and road bikes so you can choose the perfect one to cater to your biking needs.
By now you can see how valuable the gravel bike is and why it's been gaining popularity, so you'd do well to consider purchasing one for yourself, whether you want to mainly use it for urban roads or your off-road adventures that are calling you.
The gravel bike is smart enough to accommodate you in both activities, and more.