Best Smartphone Bike Mount For 2023
Your phone is one of the most important items you carry around. It's specifically important to keep you safe when you're on a cycling trail so that if you need help, you'll get it fast.
How can you carry your phone when cycling?
A smartphone mount attaches to your bike, usually on its handlebar, so that you can place your smartphone on it securely.
If you're lost and need to use a map on your phone, a smartphone mount will keep it steady so that it doesn't interfere with your cycling. There are many different types of cell phone mounts.
Here are some of the best handlebar mounts on the market.
| | | |
| --- | --- | --- |
| Custom HTML 1: | Custom HTML 1: | Custom HTML 1: |
| | | |
| | | |
| | | |
| | | |
| | | |
| | | |
| | | |
Custom HTML 1: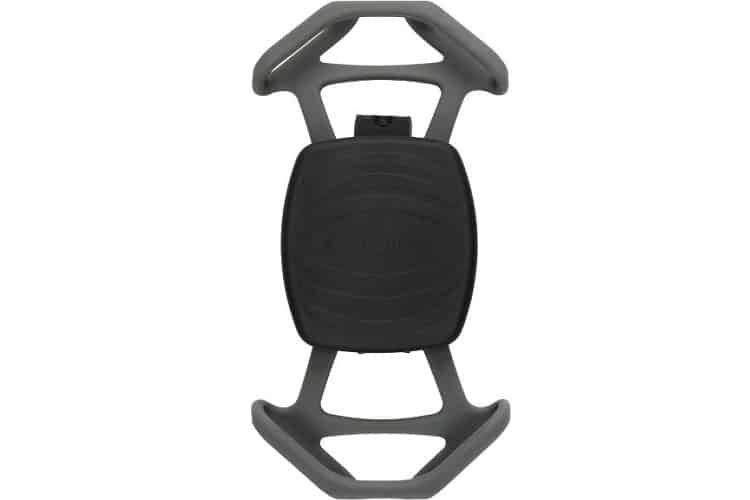 Custom HTML 1: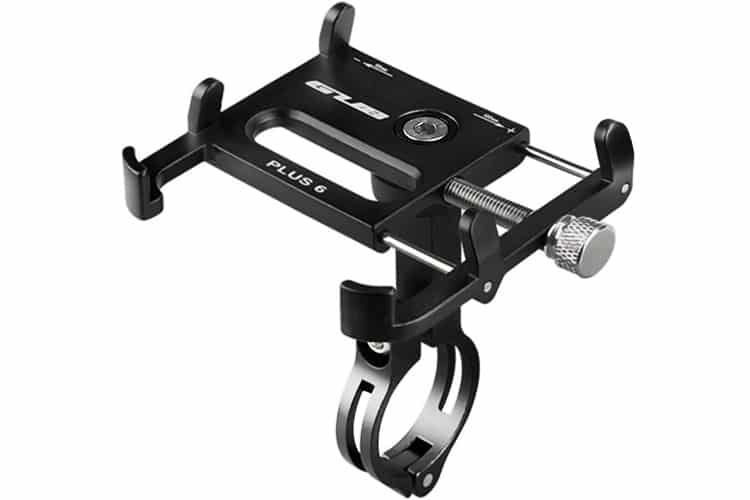 Custom HTML 1: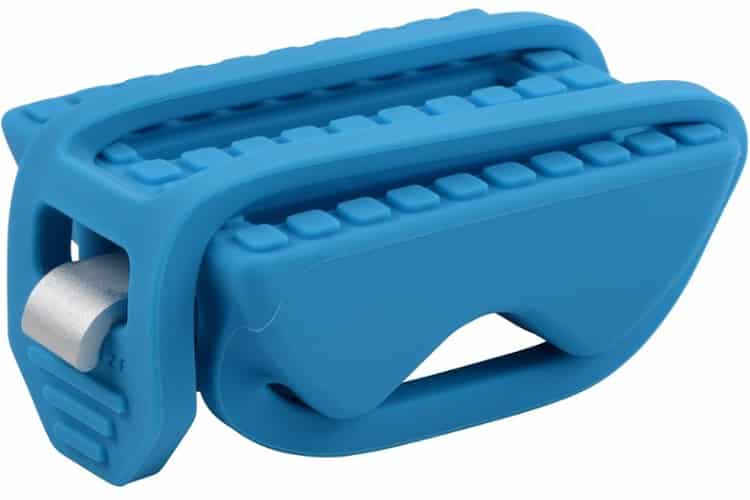 Now that we've looked at five of the best phone mounts to attach to your bike, let's take a deeper look at their benefits and features, as well as drawbacks, in greater detail.
Our Recommendations For The Best Smartphone Bike Mount For 2023
Best Overall Winner: Nite Ize Wraptor Rotating Smartphone Bar Mount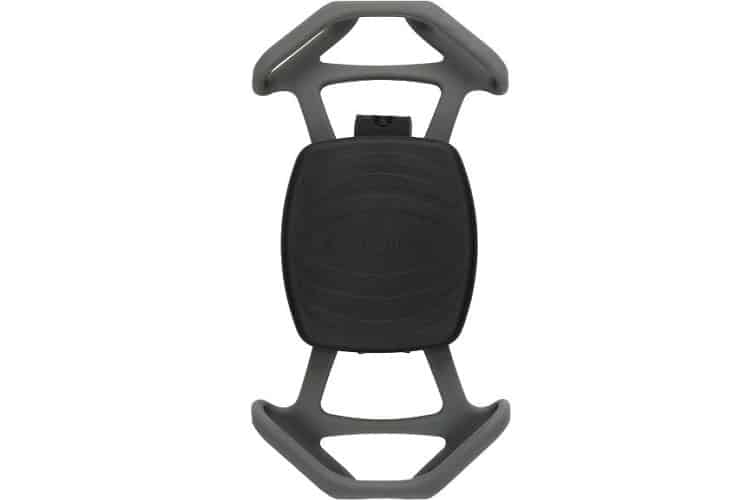 Featured Specs
Weight: 1.8 oz
Tool-free installation
360-degree rotation
Durable silicone harness
Benefits
This smartphone mount is strong enough so that it won't budge when you're cycling over bumpy terrain, thus preventing your phone from moving around too much.
It offers 360 degrees of rotation so that you can move it from portrait to landscape, like when you need to check a map on your phone.
It gives you screen-to-screen visibility, without obstructing your view.
This phone mount comes with a harness that can fit most phones and their cases. It also fits many bike handlebars.
This is a versatile enough product that you can use on many different surfaces, not just your handlebars. It can fit in your grocery cart, for example.
Extra Features
You don't need any tools to mount the strap, and it's really easy to take off when required, which makes using it a breeze.
Don't want to attach it to your handlebar? You can easily do so on the stem instead, so it's a versatile product that will help you find the most comfortable way to use it.
Drawbacks
Some people who have purchased this product have complained that the straps are not as secure as they should be, however, this could be a result of trying to use it on a phone that's not compatible with the mount. In addition, to prevent the phone from moving around when it's strapped to your handlebar, you might have to place some friction tape on your bike to keep the phone more secure, which is a bit of a letdown but not a big deal.
Buying Guide
This smartphone bike mount costs $20. For its price, it's the best bike phone holder that gets the job done.
It also has some nice perks, such as when it comes to giving you full access to your phone when out on a ride, but it could be improved on when it comes to some features, such as its straps.
Runner-Up: GUB Bicycle & Motorcycle Phone Mount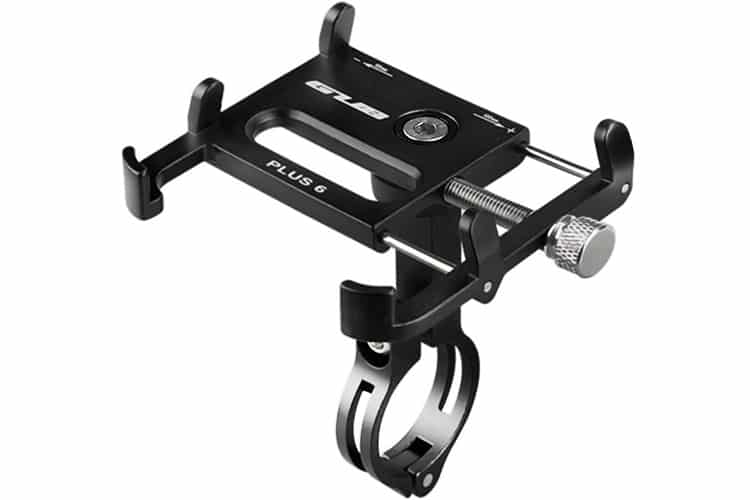 This is a versatile product that fits both your bike and motorcycle. Here's what you need to know about it.
Featured Specs
Weight: 5.6 oz
Fits phones between four and seven inches
Made with aluminium alloy material
Benefits
This smartphone mount is versatile for a range of different phones. This is because you can adjust the width of the mount from 50mm to 100mm.
The mount is strong yet light, thanks to how it's made with aluminium. It's also got a sponge that will protect your phone and prevent it from getting scratched over time.
It's got an improved design that will prevent your cell phone screen from being obstructed, so now it can cater to large-screen phones such as the Samsung S8 and Huawei Mate 20 Pro.
This mount also works on various motorbike handlebars, as well as road bikes, e-bikes, and folding bikes.
Extra Features
Like the previous mount featured in this guide, this phone can be rotated up to 360 degrees.
Drawbacks
Some people who have purchased this smartphone mount have reported that it's quite difficult to attach it, due to how the Allen wrench that is included with the mount doesn't fit properly into the bolts.
If you take your phone out of it but leave the mount on, it makes a lot of noise because of how much it rattles.
Buying Guide
This GUB bicycle mount for smartphones costs around $25. It's got some fantastic features, such as 360-degree rotation and versatility with a bunch of different bikes.
Its solid aluminium alloy construction also makes it built to last and makes it one of the best bicycle phone mount products on the market.
Alternative 1: Nite Ize HandleBand Universal Smartphone Bar Mount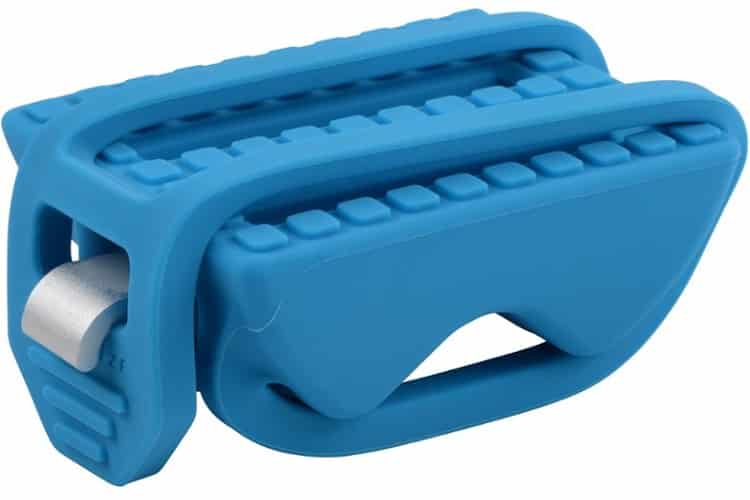 This phone mount by Nite Ize has a clever strap design that will keep your phone in place, so you don't have to worry about your expensive smartphone getting scuffed.
Featured Specs
Weight: 4 oz
Split-strap design
Made of strong aluminium and silicone
Benefits
This is versatile enough for use with a range of bicycles and smartphones, and you can also attach it to your jogging stroller.
It has a split-strap design that ensures your phone will be secured during your trip, without compromising your screen view.
It can attach to the most common diameters in horizontal or perpendicular bars.
If you want to make it even more secure, you can easily attach cable ties or zip ties to it, but these aren't included with the mount.
Extra Features
The aluminium base can also be used as a bottle opener, which is pretty neat.
The silicone material of the HandleBand means that it can be used to attach other items to your bike, such as bike pumps.
Drawbacks
With some smaller phones, the HandleBand doesn't fit as snugly as one would like.
Although your phone will stay securely fastened to your bike, some people who have purchased this mount have stated that their phones did start to tilt downwards after a while, which makes using your phone for GPS during your ride a little awkward.
Buying Guide
This Nite Ize universal phone mount for bike handlebars costs $18.00. Buy it simply because it's versatile, easy to use, and you can use the HandleBand for other items if it's not suitable for your phone.
Alternative 2: SYOSIN Bike Phone Mount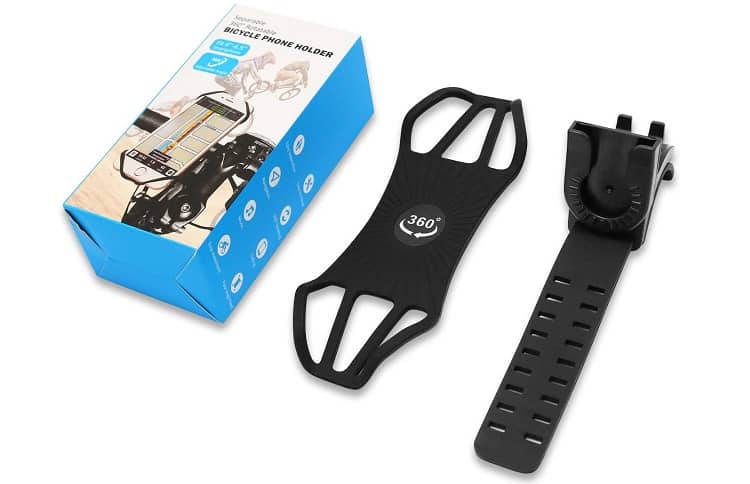 You want an easy-to-use mount that won't scratch or nick your phone. The Syosin achieves both and more and has a cool removable body. Let's jump into its specs.
Featured Specs
Weight: 1.58 oz
360-degree rotation
Made of durable yet flexible silicone
Versatile for use on many wheels
Removable body from bracket
Benefits
Whether you need to take a call or check a map, this Syosin bike phone mount makes it easy to take your cell phone from the bike without a hassle, so you don't have to remove the whole mount every time. The main body of the mount easily detaches from its bracket.
The use of flexible silicone in the production of this mount means that the holder can deal with a lot of vibration while you ride without your phone getting damaged. It's therefore a great mountain bike phone mount.
This cell phone mount can be used on a variety of different items, from your bike and motorcycle to strollers, treadmills, and wheelchairs.
Extra Features
This cell phone mount is compatible with face and touch ID, so you won't battle to have access to your phone while it's in its mount. This is a nice touch from the manufacturer to make using the mount all the more convenient.
Drawbacks
Some people who have purchased this bike phone mount have reported that it's probably more suitable for smaller-sized or average phones as larger phones are not held as well by it.
Buying Advice
With its excellent design and user-friendliness, it's quite surprising that this phone mount only costs around $20. It's such a great alternative product to consider that it'll probably become your essential must-have the next time you ride your bike.
With all its useful features, it's definitely one of the best bike phone mount products you can find.
Alternative 3: Bovon Bike Phone Mount

This is another phone mount that wraps around your phone, but it has some cool features that give it an edge.
Featured Specs
Weight: 2.47 oz
Fits smartphones with screens of 4.5-6.5 inches
Made of durable and flexible silicone
Strap with adjustable belt
Benefits
One of the downsides of some smartphone mounts for your bike is that their loose adjustable holes can cause a lack of proper fitting. This mount is a game changer: it has an adjustable belt with a nut design and close thread to lock the handlebars, thus preventing wobbling when cycling over rough ground.
This bike mount is made out of flexible silicone that protects your phone from scratches while acting as a shock absorber when you cycle over speed bumps and rocky terrain.
Extra Features
It can be used on a variety of bikes, as well as treadmills, shopping carts, wheelchairs, strollers, and more.
Bonus: you can use it on your desk as a phone stand, such as when having video chats with loved ones or watching movies.
Drawbacks
On some cell phones, this mount covers the home button on the phone, which can make using it a bit frustrating.
Other people have reported that the phone mount doesn't rotate properly, so if you're looking for a mount that specifically rotates, this could be a deal-breaker for you.
Buying Guide
This Bovon Bike Phone Mount costs around $20. It's cost-effective, has some nice features, and ensures a secure spot for your cell phone when you're on the move.
It's nice to have a cell phone mount that you can also use at home as a stand, as it means you'll always have a good use for it.
Bike Smartphone Mount FAQ
Have a better idea about the type of smartphone bike mount you should purchase. You can often find them with optional mounts for bike lights.?
Great!
You might also want to check out the following FAQ about bike smartphone mounts so that you use yours correctly.
Where To Position Your Phone On Your Bike?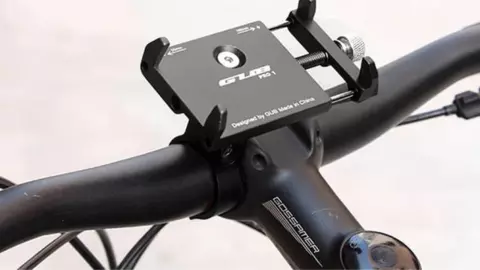 As you know after reading these smartphone bike mount reviews, there are some smartphone mounts that can attach to the stem of your bike and others that attach to the handlebars.
You might be wondering which one is best. It's really up to you to decide what feels most comfortable, and in order to do that it's worth trying the smartphone mount in different spots on your bike so that you can see what's most accessible for you.
Where you place the phone mount also depends on whether you're left- or right-handed. The last thing you want is to have to do jerky movements just to use the phone when you're cycling, such as when reading maps, as that's unsafe as well as highly frustrating.
When it comes to choosing between handlebar and stem mounts, also consider the stem cap. Some cell phone mounts will enable you to switch your bike's stem cap with one that connects your phone.
This is considered worth doing because it frees up space on your handlebar. But there is a catch: your phone will be lower down, which will mean that you'll have to move your head down a bit to see it, which might not be practical for you.
You should opt for a handlebar mount if you like the idea of having your phone's screen in your peripheral vision at all times, without having to look down to see it.
As long as you don't mind the mount taking up a bit more space on your handlebars, then this type of mount will work well for you.
What Type Of Bike Mount Should You Get?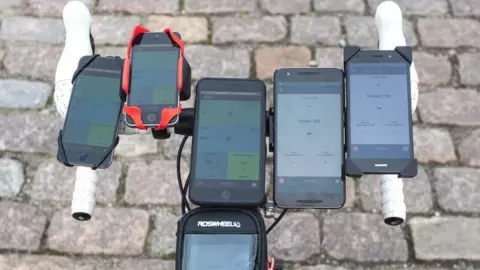 The type of mount that you use to attach your phone to your bike will vary depending on your preferences. But, there are some things to look for in a mount so that you'll be pleased with your purchase.
How accessible the phone is. This is probably the most important feature, or at least it's on the same level as safety because it can make using your phone when you're on a bike so much safer! You want to be able to quickly and easily reach for your phone, such as if you receive an important call or you need to check your GPS. It's not safe if you're looking down at your phone too much because you can't easily view or access it in its mount.
How well is the phone secured to the bike? You need to look for a cell phone mount that will keep your phone safe. You don't want it to crash to the ground and break, after all. Many secure cell phone mounts will have harnesses or straps to ensure that your phone won't move around while you're cycling. A phone mount such as Nite Ize HandleBand Universal Smartphone Bar Mount is worth considering for purchase as it has a split-strap design that keeps your phone safe.
How it's made. The mount's construction is obviously one of the most important features to which to pay attention. Some mounts are made of aluminium, that's both durable and lightweight, while others are made from silicone. These are both popular materials in mounts these days. However, silicone has an added benefit: it's gentle on your phone, preventing scratches from occurring.
If it has a low-profile design. If your phone mount is chunky, heavy, and gets in the way of your handlebars too much, this is off-putting. But, a low-profile and sleek design is also important for another reason: if you happen to crash while on your bike, you don't want the mount to catch onto anything and damage your phone. The sleek design is a must.
Is Your Phone Safe On Your Phone Mount?
When you decide to use a cell phone mount on your bike, chances are you worry about your phone getting damaged or falling out of the mount.
While you can't say that every phone mount will be safe for you to use, high-quality phone mounts such as those we've featured in this buying guide do have security features in place.
These include silicone straps that wrap around the phone and keep it in place when it's mounted onto your bike.
An example of a phone mount with this feature is the Syosin phone mount which has a silicone body which snugly wraps around your phone, and this can easily be snapped off the bracket when you want to make a call.
Another example of a safe mount is the Bovon bike phone mount, which provides you with a strap to keep your phone safe.
However, the strap doesn't have holes in it which you have to use in order to tighten it around your phone, which enables you to tighten it much more than other phone mounts, ensuring greater security for your phone.
When it comes to protecting your phone, it's not just about ensuring that your phone doesn't fall out of the mount but also protecting the phone from nicks.
Choosing a phone mount that's made out of silicone is a good way to prevent scratches from forming on your cell phone.
If your cell phone mount doesn't have silicone, then at least choose one with a sponge that protects your phone, such as the GUB Bicycle & Motorcycle Phone Mount.
That said, always make sure that the dimensions of your phone are appropriate for the type of cell phone holder you want to purchase. This will ensure a nice and snug fit when you cycle and can minimize the risk of your phone getting damaged.
Are All Phone Mounts Universal?
Although it might make sense to assume that all phone mounts for your bike would be universal, this isn't the case. There are just too many different phone styles out there!
However, with so many phones out there, more and more phone mount manufacturers are making products that can be versatile enough to be used with various types of phones.
This is important to look for when you're in the market for a phone mount.
You might think it's a good idea to choose a mount specifically made for your phone, in the same way, you'd choose a case specifically for your phone model, but you want your smartphone mount to last you a long time.
If you happen to change phones within a few months, you want to ensure that you'll still be able to use them with your new phone.
Many of the phone mounts we've featured in this review can be used with a large variety of phones, such as phones that have larger screens and smaller-sized phones.
There's also one that's a universal phone mount: the Nite Ize HandleBand Universal Smartphone Bar Mount, which attaches to most bike bar diameters in horizontal or perpendicular styles.
Conclusion
You can't leave the house without your phone.
You never know when you'll need to make an important call when you're out with your bike, such as if you have an accident. But even in non-emergency situations, your phone is an essential item.
Just think of how you need it to guide your way if roadworks or other situations cause you to have to find a different way to work. One of the most important items you should buy for your bike is a smartphone mount.
In this article, we've featured some of the best and most effective smartphone mounts for your bike.
From ones that can rotate up to 360 degrees to those that securely strap your smartphone in for the ride so you don't have to worry about it falling to the ground, bike smartphone mounts have tons of great features so that you can stay on the move while staying safe – without the hassle of a smartphone mount that gets in the way of your ride.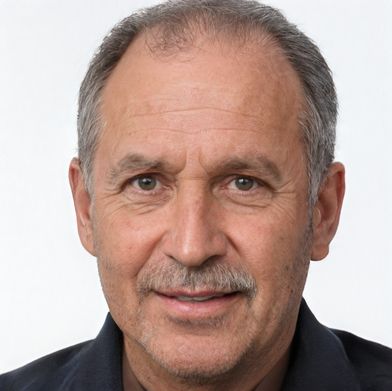 Steve Beck is a passionate cyclist and experienced writer covering the cycling industry for over a decade. He has a wealth of knowledge and expertise in all bike-related things, from the latest products and technologies to the best routes and trails. His articles are well-researched, informative, and engaging, and he has a talent for explaining complex cycling concepts in a way that is easy to understand. Steve can be found on the road when he's not writing about bikes, putting his knowledge and skills to the test.