Best Mountain Bike Helmets for 2023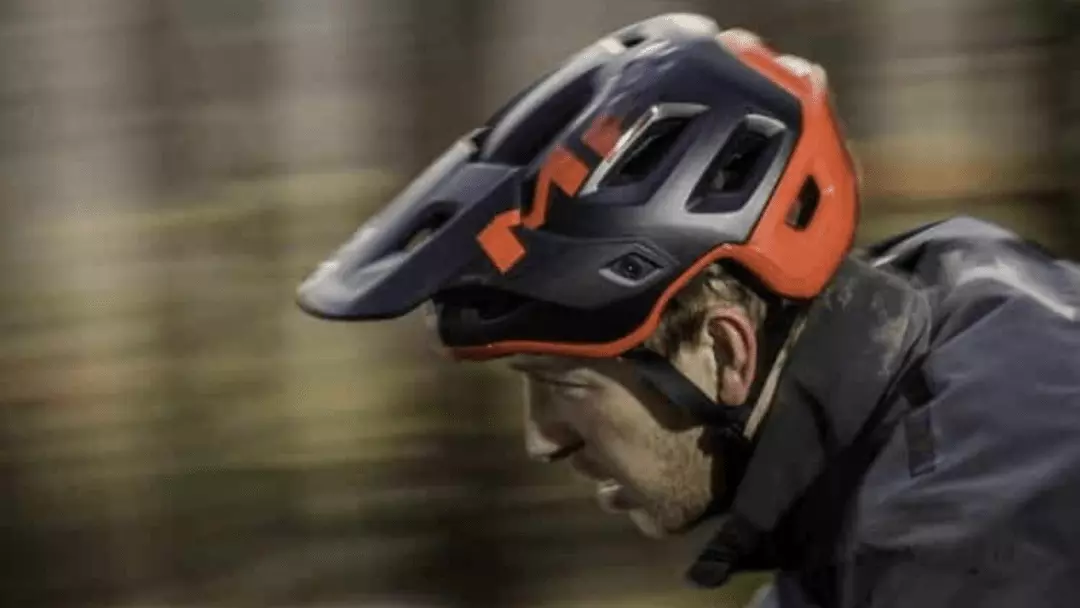 It's often said that it isn't a case of if you're going to fall off your bike, but when.
On the plus side, most spills involving mountain bike riders aren't particularly serious. Shy of a few scratches and scuffs, you're ready to get back on the trail pretty quickly.
Unfortunately, it only takes a single more serious fall to cause much more serious (and perhaps permanent) damage. We all like to think it will never happen to us, but there's no realistic way of predicting the future.
Even if you're the most capable and confident competition-level cyclist out there, you never really know what's around the next corner.
This is precisely where the best mountain bike helmets come into the equation.
Each and every day on a global basis, mountain bike helmets are saving lives and preventing potentially catastrophic injuries. If you take your health and safety seriously, picking up a quality helmet should be your number one priority, especially before getting mountain biking gloves.
Not to mention, ensuring you never leave for even the simplest of cycling excursions without it.
How to Choose a Mountain Bike Helmet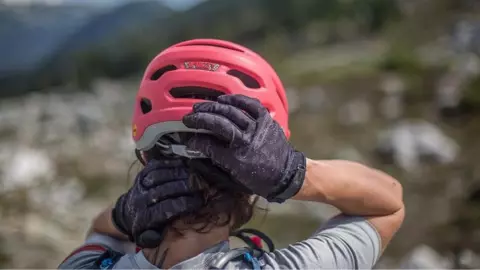 Choosing your ideal mountain bike helmet can seem like something of a minefield. With literally thousands of models to choose from and prices that range from the sublime to the ridiculous, even knowing where to start can be tricky.
Given that you're literally putting your health and safety in the hands of the helmet you wear, it's not a decision to be made lightly.
Whether shopping online or heading out to your preferred store, these are the key points that should be prioritized when picking up a mountain bike helmet:
Bike Helmet Sizing & Fit
First and foremost, even the highest-quality helmet the market has to offer is of little to no use if it doesn't fit properly.
If your helmet is too loose or too tight, it will not provide the protection you need for a safe and enjoyable ride. In addition, it could also prove downright uncomfortable or dangerously distracting.
The key to choosing the right size lies in first measuring your head to get an accurate idea of your requirements. All you need to do is wrap a soft measuring tape around your head approximately an inch above your ears and eyebrows.
Alternatively, you can simply use a piece of string and then measure the length accordingly. You'll find most mountain bike helmet circumferences are advertised in centimeters or inches, so make a note of both.
Try Before You Commit
If you plan on buying a mountain bike helmet online, you'll want to make sure that it can be returned and exchanged if it doesn't fit properly.
Unless you're 100% confident in the comfort, fit, and safety of your helmet, you could be taking a risk by wearing it. Hence, ensuring there is a fair returns policy in place before placing your order is important.
After which, it's a case of trying the helmet on and seeing how it fits. Irrespective of the fastening system, you're looking to achieve a comfortable fit that doesn't choke you, but at the same time isn't too loose.
You should comfortably be able to get one of your fingers between your neck/chin and the strap. If it's necessary to secure the strap excessively tightly to keep the helmet in place, chances are the helmet itself is the wrong size.
The 'Wiggle' Test
It's one thing for a helmet to sit comfortably in place while stationary, but how about when you start tackling rough terrain? This is where the 'wiggle' test comes in – simply shake your head relatively vigorously in all directions to see what happens.
There's a good chance it will slip at least slightly in one direction or the other, after which you'll be able to adjust the retention system to compensate accordingly. If your adjustments made no difference, your helmet could be the wrong size.
Likewise, if the only way to keep it in place is to secure it uncomfortably tightly, it may not be the helmet for you.
If possible, it's worth popping to a bike store to try on a few helmets and get an idea of the sizes available – even if your intention is to then place an order online.
Ventilation & Cooling
Safety and a comfortable fit should be your priorities, but ventilation and cooling are not to be overlooked. Badly ventilated helmets (and those with no ventilation whatsoever) quickly become uncomfortable, distracting, and potentially dangerous.
What's more, helmets that become excessively moist from sweat during challenging rides are more likely to slip out of place.
Contrary to popular belief, you can't accurately gauge the quality of a helmet's ventilation and cooling system by looks alone. You'll need to see what the manufacturer says about the helmet's design specifications, while also consulting customer feedback for verification.
Removable Interior Lining
This is technically optional, though makes it significantly easier to keep your mountain bike helmet clean, fresh, and comfortable.
As the name suggests, these are helmets that feature a removable interior lining, which may or may not be machine washable. If nothing else, it will be easy enough to hand wash and dry between rides.
For obvious reasons, helmets with a fixed interior lining can be somewhat more difficult to clean and refresh. This isn't necessarily considered a dealbreaker, but some riders find it a convenient optional extra.
Bike Helmet Styles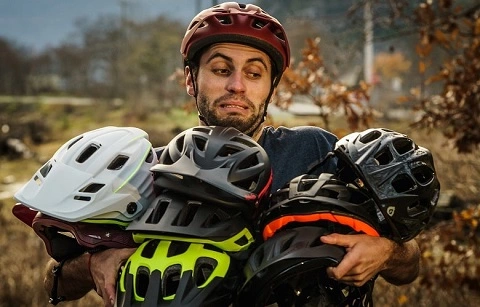 Mountain bike helmets are available in (literally) thousands of different shapes, sizes, and styles. However, the vast majority can be categorized into two primary types – half shell and full face:
Half Shell

. This is the type of helmet that covers the top of the head and the upper back

, which tends to be the preferred design for road biking and less demanding off-road trails. Half-shell helmets are also comparatively lightweight and often have superior ventilation than their full-face

counterparts.

Full Face

. Though somewhat heavier (and often more expensive), full-face mountain bike helmets provide the ultimate in 360° protection. These are considered the only realistic option for dealing with challenging off-road trails and competition-level mountain biking, where maximum protection around the entire head is essential.
Be sure to think carefully about the level of protection you require in accordance with your preferred style of cycling, before placing your order.
Recreational Bike Helmets
At a glance, it can sometimes be difficult to differentiate recreational bike helmets from those designed for more serious riders. Beneath the surface, however, the construction of a recreational bike helmet may be entirely different to that of a pro-grade mountain bike helmet.
In terms of comfort, ventilation, and impact protection, high-end mountain bike helmets are an entirely different product. Hence, it's important to base your decision not only on the way the helmet looks but on its protective properties.
A lower-cost helmet may be fine for everyday recreational riding, but you'll need something more durable and capable when tackling off-road terrain.
Helmet Care & Replacement
Interestingly, comparatively few cyclists know if and when a mountain bike helmet should be replaced. It's generally assumed that just as long as you've taken care of your helmet and never had a crash, it's fine to keep using it indefinitely.
Common sense dictates that a helmet should be replaced following any kind of accident or impact, which may have affected its integrity and protection. But what if you've never been involved in an accident?
As a general rule of thumb, it's important to replace your mountain bike helmet every 3 to 5 years at the very least.
This is because exposure to the sun, rain, and other elements on a regular basis will slowly but surely impact the effectiveness of any helmet. Even if it looks 100% fine on the surface, you can't be sure what's happening with the materials beneath.
Keeping your helmet clean and hygienic will maximize its lifespan, but all helmets across the board need to be replaced sooner or later.
Best Mountain Bike Helmets 2023
Once you've decided on the type of mountain bike helmet you need, it's simply a case of pairing your requirements with a product of quality. This means not only checking the helmet's specifications and recommended applications but also the feedback and ratings of real-life customers.
Having taken into account everything that matters most, we've assembled a shortlist featuring some of the best mountain bike helmets money can buy in 2023. All of the following are delivering the ultimate in both quality and value for money:
1. OUWOR Mountain Bike MTB Helmet

Overview
First up, this OUWOR Mountain Bike MTB Helmet is an absolute steal. Made from the highest-quality EPS foam with a robust PC shell, the helmet features a removable visor and is, therefore, suitable for mountain biking and road biking.
The adjustable chin straps and dial to the rear make it quick and easy to obtain a comfortable fit and the whole thing is kept cool and fresh with a total of 16 precision-designed vents.
Features and Benefits
Comprises a premium quality PC shell with an advanced EPS foam interior for maximum comfort and protection on the trail.

Adjustable in sizes from 56-61 cm (22-24 inch) and therefore suitable for the vast majority of youths and adults alike, with quick and easy adjustments.

Features a removable visor that can be detached and reattached in seconds – ideal for both mountain biking and road biking.

Features 16 precision vents for a cool and fresh feel on challenging and prolonged rides, along with a comfortable chin pad to prevent chafing.

Comes complete with a convenient bag to store the helmet when not in use.
Verdict
Price isn't everything, but is by far the most surprising aspect of this quality helmet. From top to bottom, you generally would not expect this kind of quality, comfort, or performance for $35.
In fact, you'll probably find a fair few helmets priced at $100 or more that aren't nearly as good as this. As an added bonus, the OUWOR Mountain Bike MTB Helmet also looks the part and comes complete with a convenient bag as a handy extra.
Overall, superb value for money and a versatile helmet for a variety of applications.
Pros
:
Quality materials and construction

Excellent ventilation system

Easy to adjust and comfortable

Supplied with storage bag

Removable visor for versatility

Exceptional value for money
Cons
:
None at its current price
2. Bell Super 3R MIPS Adult MTB Bike Helmet

Overview
Jumping straight to the top of the scale now with something ultra-premium, the Bell Super 3R MIPS Adult MTB Bike Helmet is for serious riders tackling equally serious trials.
Every inch of this thing has been precision-designed to maximize both comfort and protection, while the removable protective chin bar significantly expands the versatility of the helmet.
Available in three sizes and featuring a seamless camera mount, the Bell Super 3R MIPS Adult MTB Bike Helmet is a competition-level protective product of epic proportions.
Features and Benefits
No-Twist Tri-Glides & X-Static and XT2 Padding provide maximum comfort, while the inner materials woven with silver fiber maximize hygiene and inhibit bacteria.

The advanced Multi-directional Impact Protection System ensures that any impact sustained in any direction is efficiently distributed throughout the helmet, providing unbeatable protection for the wearer.

All aspects of the ventilation system have been precision-designed to maximize air circulation while in use, keeping the interior of the helmet cool, comfortable, and fresh.

The chin bar can be quickly and easily removed, significantly increasing the versatility of the helmet for everyday rides and other sports.

Available in three fully adjustable sizes – Small (52-56 cm), Medium (55-59 cm), and Large (58-62 cm).
Verdict
Serious riders who prioritize safety and comfort over everything else will be in their element with this thing.
The Bell Super 3R MIPS Adult MTB Bike Helmet may pack a premium price tag, by justifying every penny with the exceptional 360° protection it provides. It's also a comparatively lightweight helmet in its class, which unlike many doesn't add too much extra size to the head when in use.
Pros
:
Slender and lightweight design

Dozens of precision air vents

Unbeatable 360° protection

Removable face guard

Multi-Directional Impact Protection System

Aggressive exterior styling

Materials woven with silver fibers
Cons
:
Could use an XL-size option
3. Giro Fixture MIPS Bike Helmet

Overview
According to the manufacturer, it's practically impossible to pick up a better-value mountain bike helmet than the Giro Fixture MIPS Bike Helmet.
Currently on sale at a discounted price, this thing has been designed with all types of leisure rides and competition-level downhill trails in mind. Lightweight, comfortable, and backed by hundreds of glowing customer reviews, this matte black beauty could be the ultimate mid-range helmet for the serious cyclist.
Features and Benefits
Made with 100% synthetic materials of exceptional durability, built to withstand even the heaviest impacts.

Features the latest Multi-Directional Impact Protection System technology to evenly distribute energy in the event of a crash.

Outstanding ventilation is provided by 18 wind tunnel vents and an intelligent internal air distribution system.

Suitable for the vast majority of youths and adults, providing quick and easy adjustments to fit most head shapes and sizes.

Beautifully put together and presented in a sophisticated matte black finish for added appeal.
Verdict
Simple yet effective, the Giro Fixture MIPS Bike Helmet focuses on maximum protection with no unnecessary frills or extras.
Lightweight, comfortable, and protective in the extreme, it's a great choice for rugged off-road trails and everyday commutes alike. The only slight issue is that one size usually does not fit all, so you may struggle if you have a particularly small or oversized head.
Pros
:
Sophisticated ventilation system

Ideal for teenagers and adults

Multi-Directional Impact Protection System

Durable materials and build quality

Superior comfort and protection

Suitable for all types of cycling

Excellent overall value for money
Cons
:
Available in one size only
4. DEMON UNITED Podium Full Face Mountain Bike Helmet

Overview
The DEMON UNITED Podium Full Face Mountain Bike Helmet is a rugged and imposing-looking specimen, which has earned a strong following among mountain bikers and BMX riders alike.
It's also been put through its paces in any number of accidents that have been documented in customer reviews and write-ups.
Available in nine different colors to suit all tastes and preferences, the DEMON UNITED Podium Full Face Mountain Bike Helmet features the latest Multi-Directional Impact Protection System technology and 13 strategically placed vents for superior air circulation.
Not to mention, a removable and washable liner for maximum freshness.
Features and Benefits
Multi-Directional Impact Protection System technology guarantees the ultimate 360°protection from heavy impacts.

Features a removable and washable liner to keep the helmet clean, fresh, and hygienic at all times.

Fitted with 13 strategically positioned air vents to ensure consistently superior circulation in warmer conditions and during heavier rides.

Lightweight construction for improved comfort and convenience, weighing approximately 2 lbs.

Supplied complete with a hand-carrying bag for easy transportation and storage when not in use.

Available in a variety of sizes and priced from as little as $80 – unbeatable value for money for such a high-quality helmet.
Verdict
As proclaimed by the manufacturer, the DEMON UNITED Podium Full Face Mountain Bike Helmet really does take value for money to the next level.
It's far from the cheapest mountain bike helmet on the market right now, but you honestly cannot put a price on this kind of protection. The fact that it looks seriously cool is simply the icing on the cake, as is the inclusion of a storage bag as a neat added extra.
Pros
:
Beautifully designed and manufactured

Exceptionally durable materials

13 strategically positioned vents

Removable and washable interior liner

Multi-Directional Impact Protection System

Comfortable and easy to adjust

Comparatively lightweight

Adjustable visor
Cons
:
The largest size is a little snug
5. Exclusky Mountain Bike Helmet MTB Bicycle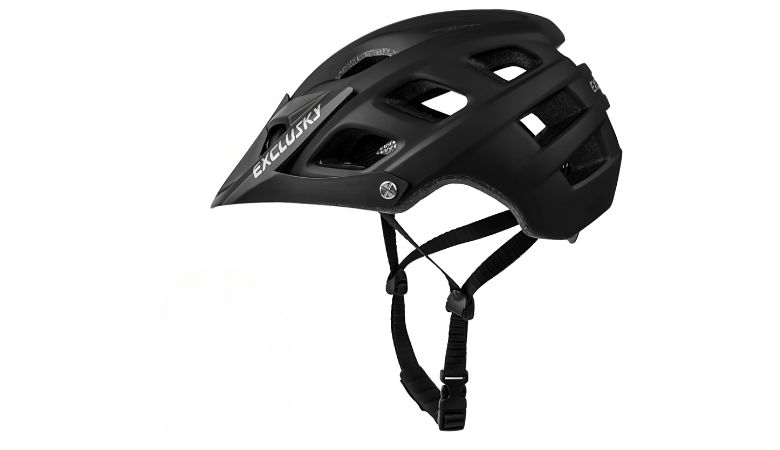 Overview
CPSC-certified and approved for competition-level cycling, this Exclusky Mountain Bike Helmet is up for grabs at an almost impossibly low price. Weighing in at just over 300g and featuring both a detachable visor and a removable liner, this thing ticks all the right boxes from top to bottom.
It even has one of the better rear adjustment dials that actually works as it should, along with a one-size-fits-all design that's suitable for most head shapes.
Features and Benefits
Manufactured using thickened multi-density EPS foam inside the helmet for maximum protection, exceeding US CPSC standards and ideal for more challenging rides.

Exceptionally lightweight and comfortable to wear, with 18 precision-cut air vents to maximize ventilation and air circulation.

The interior liner can be removed and washed to maintain freshness and hygiene.

Features a convenient rear adjustment dial to conform the interior of the helmet to almost any head shape and size, suitable for adults and teenagers alike.

Includes a reinforced and oversized sun visor to the front, improving visibility while contributing to aerodynamics and airflow.

Supplied complete with a 100% satisfaction guarantee from the manufacturer for total peace of mind.
Verdict
It's really hard to find fault with this helmet – particularly when considering its almost impossibly low purchase price. In terms of comfort, protection, convenience, and overall styling, it's right up there with some of its far more expensive counterparts.
If anything, the only downside is that one size rarely fits all, so you'll need to ensure your head size is suitable for this Exclusky Mountain Bike Helmet before placing your order.
Pros
:
Beautiful manufacturing quality

Lightweight and comfortable design

Very impressive rear adjustment dial

Reinforced sun visor to the front

Versatile and highly protective

Exceptional overall value for money
Cons
:
Suitable for head circumferences 22.05-24.01 inches only
6. MOKFIRE Mountain Bike Helmet

Overview
With the MOKFIRE Mountain Bike Helmet with USB Safety Light, the inclusion of a USB safety light takes what would already be a superb protective product to an entirely higher level.
Providing exceptional protection, superior ventilation and a comprehensively comfortable fit, this is an all-action, all-purpose helmet of impeccable quality at an unbeatable price. The detachable sun visor is a nice added touch, as is the GoPro camera mount.
Features and Benefits
Strong focus on durability and protection, with extended rear coverage and Energy Optimized Multi-Density EPS foam that manages the energy from impacts more effectively.

Features a series of 15 strategically positioned vents to improve air flow and optimize both temperature and moisture control at all times.

Includes a rechargeable USB safety lead to the rear which can be activated in three different modes – steady, slow flashing and fast flashing.

Available in a single size to fit most head shapes and sizes, offering easy adjustments and a comfortable chin strap to prevent chafing.

Also comes with a removable visor and a GoPro camera mount – perfect for recording every ride and capturing some unforgettable shots.
Verdict
This thing has looks and performance for days. The matte black styling of the helmet is great, for the whole thing is surprisingly lightweight and the in-built LED safety light to the rear is a fantastic added touch.
It even comes with built-in rechargeable batteries and a USB charging cable included in the kit, along with a carrying bag for added convenience. Once again, an affordable helmet that combines quality construction, comfort and protection with an almost impossibly low price.
Pros
:
Lightweight and comfortable

Padded chin strap

Detachable sun visor

Rechargeable rear safety light

Extended rear coverage

GoPro camera mount
Cons
:
7. BASE CAMP NEO Mountain Bike Helmet

Overview
Putting its own unique twist on the classic mountain bike helmet design, the Base Camp Bike helmet targets serious cyclists and leisure riders alike.
Designed with a robust unibody shell with minimal seams for maximum protection, the Base Camp Bike helmet also features 18 oversized air vents for freshness and comfort.
There's also a removable interior liner that be taken out and washed for improved hygiene, along with an SH-18 adjustable retention system to suit most head shapes and sizes.
Features and Benefits
Affordable yet packed with cutting edge features, the Base Camp Bike helmet is ideal for trail riding and challenging off-road adventurers.

Every aspect of the helmet has been meticulously designed to provide maximum 360° protection, distributing energy evenly in the event of an accident.

A series of 18 oversized air vents improves ventilation and air circulation at all times, reducing the weight of the helmet and maximizing comfort for the rider.

The interior lining of the helmet can be removed and washed with ease to maintain freshness and hygiene.

Suitable for head circumferences from 22.5 to 24.5 inches, with quick and easy adjustments using the SH-18 adjustable retention system.

The visor to the front is also adjustable and removable, making the Base Camp Bike helmet suitable for a wide variety of rides.
Verdict
Weighing in at approximately 283g, the Base Camp Bike helmet is one of the most lightweight and comfortable helmets in its class right now. Considering its low price, it also provides exceptional all-round protection with its durable unibody shell.
The SH-18 adjustable retention system ensures the helmet fits most head shapes and sizes, with easy adjustments to ensure a safe and comfortable fit. The adjustable and removable front visor is also a nice added touch – something you don't usually see for this kind of price.
Pros
:
Detachable front visor

Excellent all-round protection

Very lightweight and comfortable

Suitable for most head sizes

Easy to adjust

Removable interior lining

Impressive value for money
Cons
:
Suitable for head circumferences from 22.5 to 24.5 inches
8.
Lixada Adult Bike Helmet

Overview
Last in our list comes the Lixada Adult Bike Helmet with USB Rechargeable Rear Light, which brings a whole bunch of innovative features to the table for as little as $35.
Along with full coverage EPS material and a convenient size regulator, this impressive piece of protective gear also features a removable sun visor, a magnetic removable goggle and a USB rechargeable safety light to the rear.
The whole thing complies with both CPSC and CE.EN1078 and ships complete with a 100% satisfaction guarantee from the manufacturer.
Features and Benefits
The

Lixada Adult Bike Helmet

with USB Rechargeable Rear Light has been fitted with a neat in-built safety light to the rear, which can illuminate in three modes and lasts for more than 30 hours from a single charge.

A series of 22 precision air vents contribute to both the lightweight design of the helmet and interior air circulation, ensuring maximum coolness and freshness at all times.

Weighing in at just 281, the helmet has been designed with prolonged use and more challenging rides in mind.

The high-density imported PC case has been extensively tested against an extensive range of impacts and potential accidents, providing total confidence when out on the trail.

Features magnetic goggles and a removable sun visor for maximum convenience and versatility, providing impressive UV400 protection to prevent eye damage.

Available in one size only, with a convenient rear adjustment dial to accommodate head circumferences 22-24 inch (57- 61 cm).
Verdict
Judging by the feedback this thing has accumulated to date, there's little else on the market that comes close for this type of money. In terms of comfort, safety and versatility, the Lixada Adult Bike Helmet with USB Rechargeable Rear Light scores top marks on all fronts.
And that's before taking into account that seriously cool rear safety light, which is a great added touch with any helmet. As always, just be sure to accurately measure the circumference of your head before ordering, as one size never fits all where mountain bike helmets are concerned.
Pros
:
Safety tested and verified

Exceeds formal safety standards

22 precision air vents

USB rechargeable rear light

Magnetic goggles and removable sun visor

Easy to adjust

Cool and comfortable to wear

Impressive exterior design
Cons
:
Suitable for head sizes 22-24 inch (57- 61 cm)
---
Buyers Guide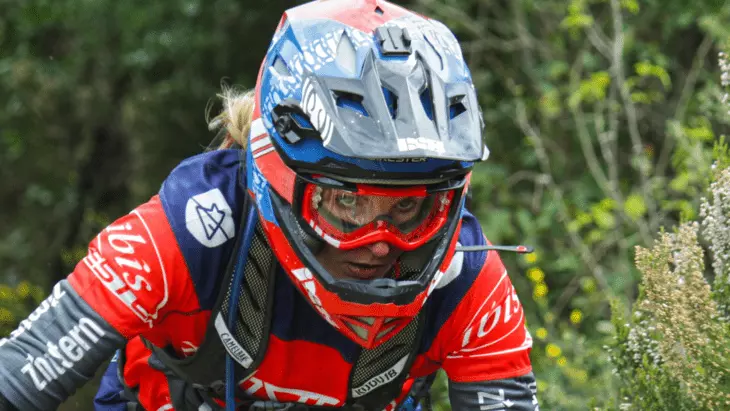 A mountain bike helmet is incredibly important to your safety and enjoyment while riding down the most daunting of trails. There are countless stories out there on just how valuable a helmet was to a cyclist when they found themselves in a dangerous situation.
The extent of your injuries could come down to the helmet you choose for your ride. So, it's incredibly important that you do your research before committing to a purchase. We hope that this buyer's guide can help you with your research.
Protection Certification
Bike helmets should all come with certification showing that they have been crash tested, or at least been made following strict criteria to ensure that the helmet is protective. This is the bare minimum, so if the helmet you're looking at should be certified to give you peace of mind.
Padding
Your helmet should come with thick padding that is sufficiently dense to give your head some shock absorption if you were to get into an accident. Padding can also absorb your sweat so that it doesn't fall into your eyes and cause a compromised situation.
Helmets should have a structure of EPS foam within the casing. This acts as a crumple zone would in a car, protecting your head from impact collisions. Different helmets have EPS foam of different densities which can be more effective than others, so make sure that you look for this.
Multi-Impact Protection System (MIPS)
A helmet with MIPS is considered safer than one without. A MIPS is a protective liner that moves with your head as it hits the ground, stopping as much force from impacting your head. This can prevent a concussion and brain injury, protecting you from life-threatening injuries.
Many brands use MIPS within their helmets, although they might be using different names or abbreviations for the system. However, the concept is the same, and you should consider a helmet with a multi-impact protection system.
Adjustability
The best helmets will be adjustable so that you can fit it perfectly to your head. The majority of helmets on the market will be adjustable with the help of a dial that can alter the tension on the helmet. Dials tend to be more effective as you can alter the size more efficiently to the exact size of your head.
Alternatives are press studs and sliding clips. These are sufficient, although less effective in their own ways. Press studs are predetermined sizes, so you might be left with a too-large or too-small helmet. Sliding clips are more adjustable than press studs, although they can easily come loose while riding.
Exterior Casing
The exterior casing of your helmet will cover all of the EPS and MIPS that we looked at earlier. This is made of plastic and is often not enough to protect you from any kind of impact, which is why the foam and padding are more important.
The plastic exterior casing will be the first point of contact with the ground. This is commonly what you see shattered in images of cycling incidents.
While the shell might not be the best protection for you, it's worth considering a brightly colored shell so that you can be seen by other cyclists, drivers, or people. If you found you were in an accident a brightly colored shell could help the emergency services locate you and get you help quicker.
Ventilation
Sufficient ventilation in your helmet can keep your head cool while you're riding. This can prevent heatstroke and keep your head clear while riding. The more vents there are in the helmet, the better the airflow will be.
However, too many vents can also take away from the overall protection. You need to find a good balance between being comfortable and remaining as safe as possible.
Additional Protection
A visor can also protect your eyes and some of your face from impact. This can be very helpful for mountain bikers who deal with flying debris hitting them in the face when enjoying a trail. A visor will also protect you while leaving your vision unaffected.
A peak on top of the helmet will help to keep the sun away from your eyes, which can alter your vision and leave you feeling less in control of your bike. A peak on your helmet can also protect your head from hitting the ground forehead first and harming your nose or jaw.
---
Frequently Asked Questions
1. Do mountain bikes need a specific helmet?
It might not be essential that you opt for a mountain biking helmet, but they are made for good reason. Mountain biking helmets are different from road bike helmets as they have a visor to protect your eyes.
Many cyclists still use road biking helmets on mountain trails, which is considered fine as your head will still be protected. You will want to wear a cycling cap underneath to give your eyes some protection from the sun and dirt flying up from the trail.
If you don't want to purchase a separate helmet for each type of riding you do, you should opt for a mountain bike helmet with a detachable visor.
2. Do more expensive bike helmets protect better?
Safety certification standards require all helmets, no matter the price, to be as safe and protective as one another. If the helmet you choose is certified then it has passed the tests to be deemed safe for cyclists.
However, the higher price tag will often come from higher quality materials being used in the manufacturing process, making them more durable and reliable. They might also have better ventilation and be of a lighter weight.
These attractive features can aid you better while cycling than a lower quality cheaper helmet.
3. Why do mountain bike helmets have a visor?
The visor will help to protect your eyes and vision from the sun, as well as water should it begin raining. It will also stop mud, sand, and debris from flying into your eyes after it has been thrown up from the front wheel.
4. Are full-face helmets safer than MTB?
A full-face helmet will undoubtedly offer you better protection from flying debris or should you fall off of your bike. A full-face helmet will cover the entire back of your head, have a long visor to protect your eyes from sun and dirt, as well as a chin strap to protect your jaw.
Full-face helmets are heavier and more cumbersome to wear, making them annoying for some riders. However, if you're getting ready for an insane trail and want to keep your entire head and face protected, it is a good idea to opt for a full-face helmet.
---
In Summary
At its core, every mountain bike helmet is designed and manufactured with the same primary purpose in mind – the health and safety of the rider.
It's just that some manufacturers take health and safety more seriously than others, which is important to consider when buying anything. For example, you don't always want to get budget mountain bikes if you prioritize safety.
It's important to remember when shopping for a mountain bike helmet that you don't necessarily need to spend a fortune to sufficiently protect yourself. That said, it's just as important to be mindful of where, when, and how you intend to use the helmet you buy.
If you're taking on the most challenging trails and cycling at a competition level, then yes – you'll want to push the boat out with something upmarket.
But if you're more of a casual weekend rider who doesn't venture further than the local park, you'll probably get away with something simpler and cheaper.
When in doubt, direct your questions and concerns to the experts. And again, never place an order without first checking the seller's refunds and returns policies, just in case.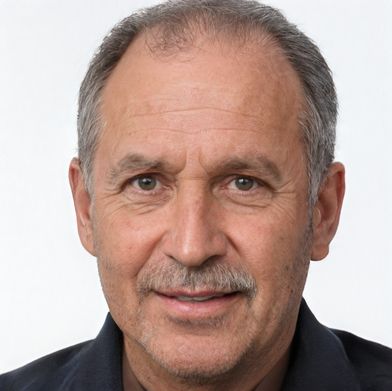 Steve Beck is a passionate cyclist and experienced writer covering the cycling industry for over a decade. He has a wealth of knowledge and expertise in all bike-related things, from the latest products and technologies to the best routes and trails. His articles are well-researched, informative, and engaging, and he has a talent for explaining complex cycling concepts in a way that is easy to understand. Steve can be found on the road when he's not writing about bikes, putting his knowledge and skills to the test.