My Fav Fixies, Reviewed for 2021
The first time I saw a fixie, I thought, "That is one beautiful bike." I instantly fell in love with the clean chain line and minimalist look.
Fixed gear bikes are everywhere, and they're here to stay. I can't remember the last time a bicycle style hit the scene so hard. Riders everywhere are getting into the simplicity and visceral experience of riding without gears or a freewheel (or, in some cases, brakes!)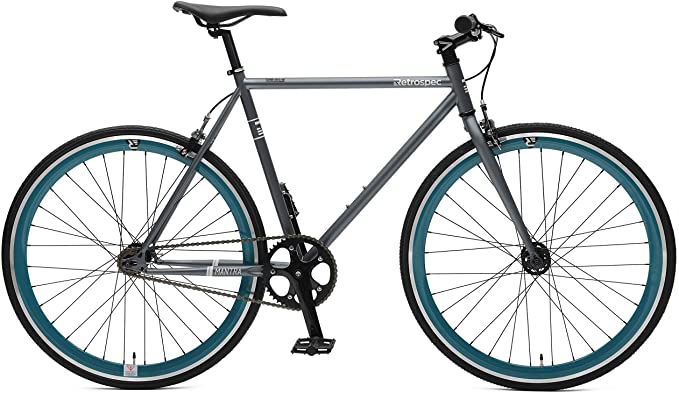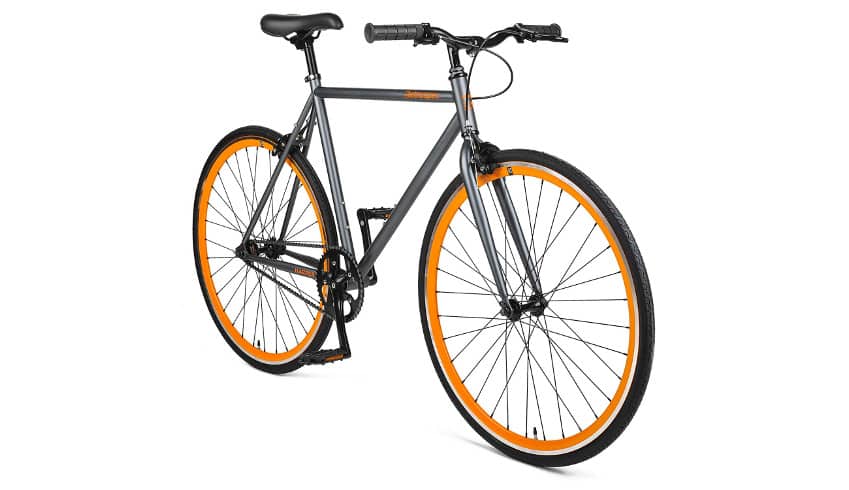 Frame & Fork
High-tensile strength steel frame
Drivetrain
Pure Fix Drivetrain, KT Quando hubs
Components
Big Shot Bikes, Bullhorn bars
Kenda Kwest 700 x 28C tires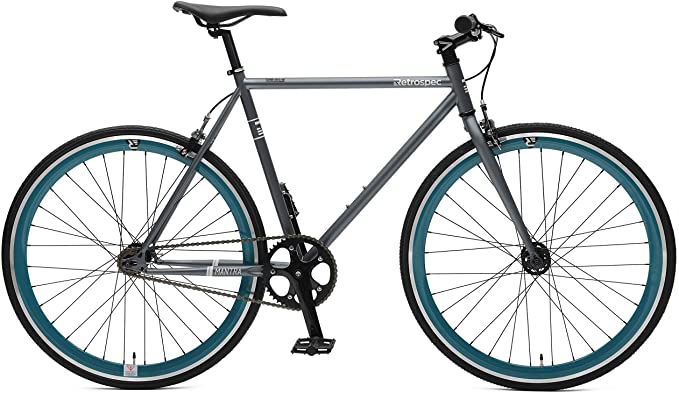 Drivetrain
Pure Fix Drivetrain, KT Quando hubs
Components
Big Shot Bikes, Bullhorn bars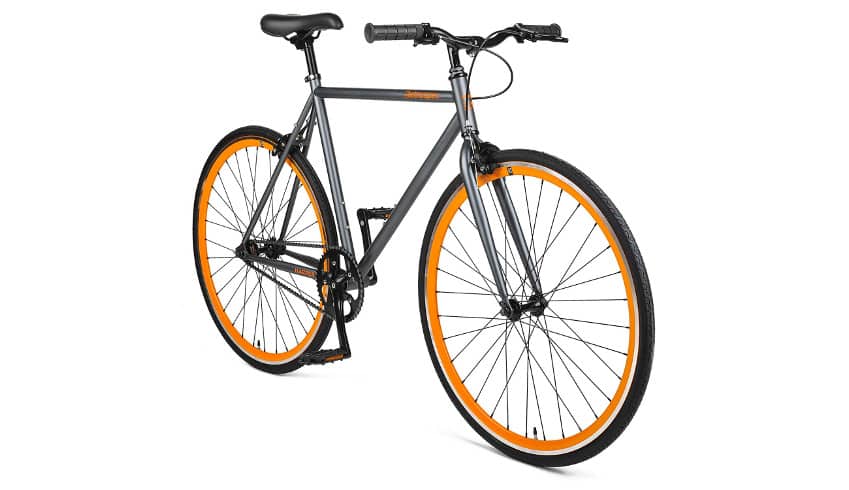 Frame & Fork
High-tensile strength steel frame
Components
Kenda Kwest 700 x 28C tires
Best Fixed Gear Bikes
One gear, one speed, it's a blast.
The good news is fixies are very affordable. The bad news is that, because they've become so popular, there's a lot of cheap junk on the market—nameless brands made from garbage components.
So if you're on a cheap budget, what are the best fixed gear bikes?
I've built them professionally for years now, so I feel qualified to review eight of the top, affordable fixed gear bicycles for sale today. I'll give a brief overview of the components, build quality, and noteworthy features.
Price range? We'll specifically look at the best fixed gear bikes below $500.
Hopefully by listing the pros and cons of each ride, you'll find a top quality fixie to fit your budget. Read on!
 What does a good, inexpensive fixed gear bicycle look like?
The best budget-priced fixie bikes are simply those which are well designed and properly fitted. They should have decent components, and the frame should be well constructed.
I mean, track bikes like this are already noticeably cheaper than their geared cousins. Less componentry means a lower cost for the manufacturer, and a lower price for you. They're similar to BMX bikes, but aren't as small since ethey are not trick oriented.
The Wheelset:
An affordable fixed gear bicycle is only as good as the wheel set it rolls on. You want something that rolls well, something that's sturdy, and something that's equipped with a high quality cog and freewheel.
I've ridden on some bad cogs before; what happens is the lockring which holds the cog in place will strip. That's bad news if it happens mid-ride.
Many fixie-style bicycles, even budget models, will come fitted with a flip-flop hub. A flip-flop has both a fixed and a freewheel cog on it. To switch, you just take your rear wheel off, flip it around, and reinstall.
The freewheel cog means you can coast and pedal backwards. It's a great feature to have if you live in a hilly spot.
The Crankset:
A good riding experience is often determined by the quality of the cranks. They transfer all the power from your legs to the rear wheel, and you'll want something that's light, tough, smooth, and strong.
---
1) Pure Fix: An affordable fixed gear bike for under $400
Pure Fix Original Fixed Gear Single Speed Bicycle, Juliet Matte Black
This is one of my 'go-to' brands, typically my first suggestion when someone tells me they want an full-featured, inexpensive fixie bike.
Pure Fix's line of single speeds are beautiful bicycles. They seriously turn heads with their good looks. I appreciate their low-key, 'stealthy' design because you can easily customize it to make it your own.
Frame:
It features a welded steel frame with a slightly aggressive, urban-inspired stance. You won't be forced to hover over your handlebars, but the frame geometry is designed for a nimble, responsive, city-friendly ride.
Components:
The wheelset is made by Pure Fix, and features deep dish style alloy rims laced to a pair of KT Quando hubs. The rear is a flip-flop hub, and it comes with a freewheel gear and lockring. The hub quality is OK, my only beef is that they could use a bit more threading for the lockring.
It rolls on Kenda tires and tubes, and uses a Lasco laser cut three piece crank with a sealed bottom bracket. It has wide handlebars with BMX style grips, and a single front brake (Radius brand calliper).
For anyone going fixed, the Pure Fix reviews well and is one of the best fixed gear bikes for a beginner. Find a colour / wheel combination that works for you and dive in for some great exercise.
The Breakdown
The Good: Great looking ride, Lasco cranks, great wheels
The Bad: Rear hub threading is tight
---
2) Big Shot Prime: A dual-brake, budget-priced fixed gear bike, excellent reviews
Big Shot Bikes | Prime Line | Fixie Track Bike | Single Speed or Fixed Gear | For Men & Women | Rider Height 5'11" to 6'3″
This review is specifically for the Big Shot Prime Line, but it covers the brand's entire line of fixies, since colours are designated by name. They come in a range of hues, so choose the name that best suits your style.
With Big Shot, you get a lot of components for a reasonably low price tag. What you DON'T get is name brand anything, but that's not the end of the world.
Frame:
They state that the frame is track inspired, but it's really an all-around bicycle with a relatively comfortable geometry.
It's constructed using 4130 chromoly, which is a durable yet light alloy and a step above what you find on most budget-priced fixies.
Components:
Equipment-wise, this is one of the better fixed gear bicycles for under 500 bucks. It comes with dual brakes, and the dual calipers stop really nicely. I love how tiny and 'stealthy' the brake levers look. Despite their small size, you still get an impressive amount of leverage.
It also comes equipped with a flip-flop rear hub, so you can ride fixed or free, your choice.
The whole line also happens to have one of my absolute favourite features: bullhorn bars. Bullhorns are comfortable, attractive and more versatile (in my opinion) than traditional drop bars.
All Big Shot bikes are assembled and boxed in the USA, and their customer support is superb. All told, the Havana is one of my top fixed gear bicycle picks for $500 or below.
The Breakdown
The Good: Chromoly frame, great brakes, bullhorn bars
The Bad: No brand name components (not really a serious con though.)
---
3) Retrospec Harper: A cheap fixed gear bike for well under $300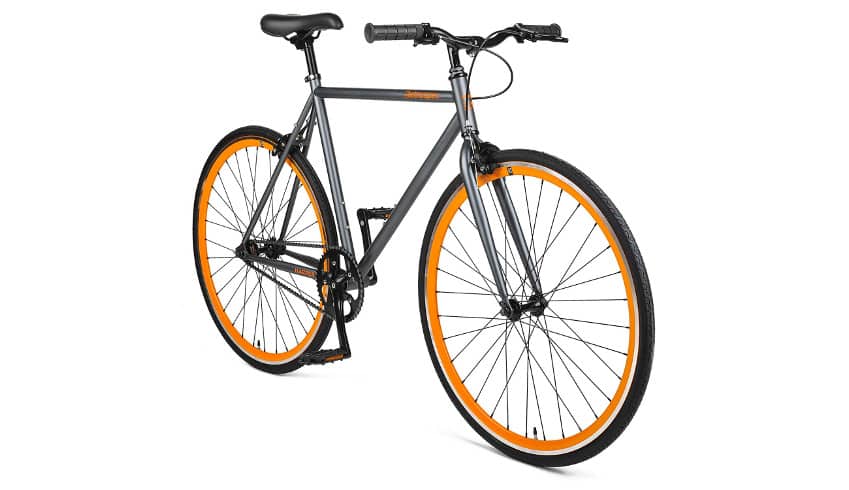 Retrospec Harper Single-Speed Fixed Gear Urban Commuter Bike
If you're hoping to find a truly affordable fixie bike, like less than $300 bucks, Retrospec Cycles has a good model called the Harper that might fit the bill.
Costing just $199, these are about as affordable as you'll find.
These are urban-ready bicycles with good looks and excellent reviews. Are they feature packed? No. But they perform admirably, and that's the most important thing.
Frame:
The whole frame is designed to give the rider an upright stance and good visibility for city riding. It's not aggressive at all, very comfortable, laid back, and versatile.
The steel construction of the frame itself is basic and machine-welded, but strong. Paint is decent for such a budget-friendly price tag.
Components:
Wide, BMX-style bars offer control, and give the whole ride a 'city' look.
Retrospec has outfitted this bike with basic but well-made equipment. The fixie wheelset features a flip-flop rear (16t) with a freewheel cog attached. The wheels are double-walled, alloy, and moderately deep V (colourful too!)
I'm thrilled to see they've finally opted for two sets of brakes on this bike. They are dual calliper Promax brakes that do the job.
The Protek crankset is basic (46t), but provides a good gearing for flats and mild hills.
With a nearly unbeatable price tag and a dazzling array of colours, this capable little fixed gear bike is one of the best and cheapest options at just $200.
The Breakdown
The Good: Great price, good looks, dual brakes, upright stance for city riding
The Bad: Basic components
---
4) State Bicycle Co. Beorn: Gorgeous, affordable fixie bike below $500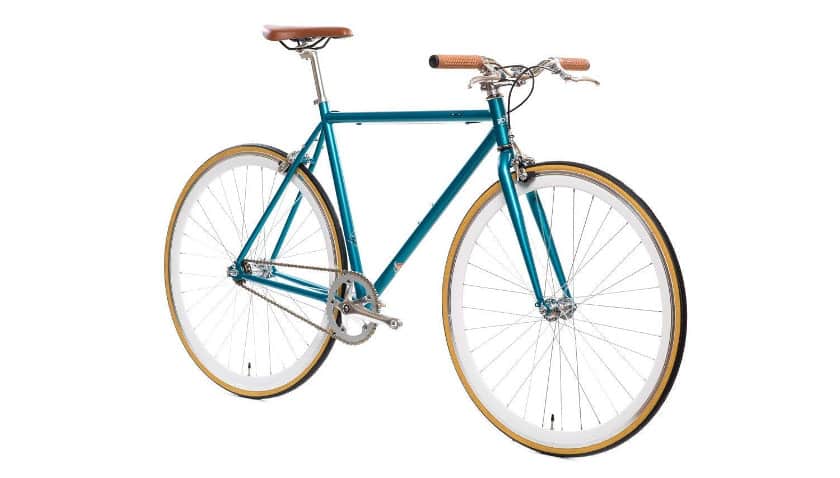 State Bicycle Co Fixed Gear Fixie Single Speed Bike, Beorn, 54cm
I mentioned aesthetics before. It's important, and a brand that recognizes it better than most is State Bicycle Co., who have produced a shockingly beautiful line of fixed gear bicycles for a comparatively cheap price tag.
Not only are these some of the best fixed gear bikes below the $500 price tag, they're just stunning. I've chosen to highlight the classic-looking Beorn today, but their fixie line is essentially identical.
Frame:
With gorgeous paint and super deep V 43mm wheelset, you'll definitely get some stares while riding this thing.
Under that paint, the frame and fork are constructed using a high-end steel alloy, strong and vibration resistant. Plus, it comes with a five-year warranty.
Components:
The crankset is forged aluminum (State brand) paired to a sealed bottom bracket.
This particular model features riser bars, but I believe you can also find the Cardinal with risers, bullhorns and drops, if you prefer.
The wheelset has a flip-flop hub, with both a fixed and a freewheel cog installed. It comes with dual brakes, and you'll have stopping power front and back with the included Radius alloys.
This is a cool fixed gear bike with excellent reviews and a real following. Definitely recommended.
The Breakdown
The Good: Awesome light frame, fantastic paint, dual brakes
The Bad: Expensive compared to others on this list
---
5) BAMF Piledriver: A top quality fixed gear bicycle with a disc brake
Stopping power is often a problem on fixed gear bicycles, especially on single brake setups. BAMF has adroitly sidestepped this problem by adding more stopping power to that one brake!
The Piledriver is a great looking fixed gear bike for around $500. It's extremely well-built, ready to tear up the streets.
Frame:
The bike has a high tensile steel frame that's actually quite light as steel goes. The frame geometry is built for urban adventure, and a city rider will simply love the quick way it handles.
Components:
Riser bars with BMX style grips are ultra comfortable, with a nice wide grip. The wheels and tires are beefier than 'track' inspired fixies, perfect for navigating potholes and streetcar tracks. This bike is tough, and it can take a beating!
The Bengal mechanical disc brake on the front is a good performer, especially in mud and rain. The Tektro lever gives you excellent leverage and stopping power, despite being a single brake setup.
At 46mm, these deep V wheels are wider than most and strong. They come paired with 700cx 40 Kenda tires with rain tread.
Flat, platform pedals, a Truvativ bottom bracket and a KMC chain round out this top-quality fixed gear bike. At just $500, it's easily underpriced.
*For a drop-bar version, check out the BAMF Assassin, another great offering
The Breakdown
The Good: Beefy frame, wide tires, disc brake, built for city riding
The Bad: Among the priciest listed here.
---
6) Schwinn Stites:  A well-made, urban-focused fixed gear bike under $300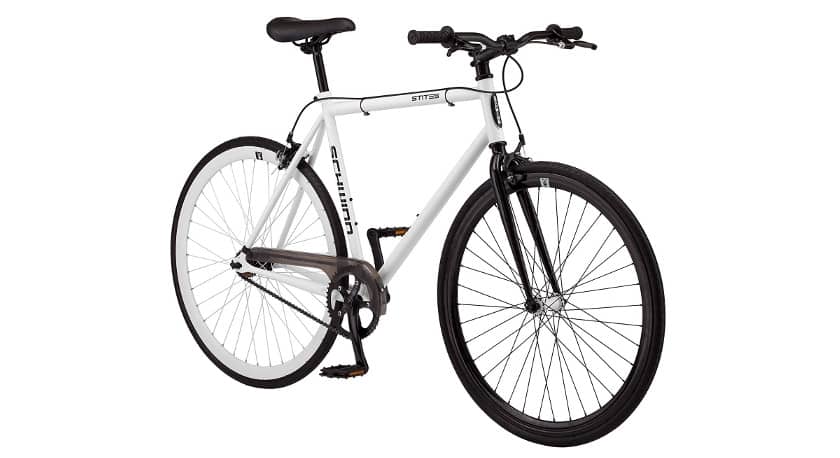 Schwinn Stites Single-Speed, 700c Wheels and Flip-Flop Hub, Perfect for Urban Commuting & City Riding
If you'll primarily be riding in urban environments, the Schwinn Stites is a city-focused fixed gear that's designed to handle pavement, curbs, cabs and everything in between. It's also ridiculously good looking, available in silver / blue or white / black.
Despite what some reviewers claim, this is not a cyclocross fixie, but it could easily be converted with a few small adjustments.
Frame:
The frame is stunning in a minimalist, modern way. A slick paint job complements its classic lines. The sturdy Schwinn steel frame makes a fantastic base for any customization you want to do.
Components:
The visible components are all done in matte black, and the resulting combination is clean as all get out. The crankset, brakes, seat post and stem are all matched black and white.
The wheels are gorgeous and deep V. They're wider, and the tires have beefier tread. The rear is an alloy hub with 18t fixed and freewheel.
At 18t / 46t, the gearing is really good for a high speed ride. Hills will require some stamina, but you'll fly on the flats.
Dual brake levers on the BMX-style handlebars are hooked up to front and rear Tektro alloy brakes that stop nicely.
For a tarmac-friendly ride, the Schwinn Stites is a good single-speed bike for well under $400.
The Breakdown
The Good: Cool, classic looks, great gearing for flats, wider urban tires
The Bad: None
---
7) Fyxation: Durable fixed gear bike under $300, well-suited to cyclocross conversion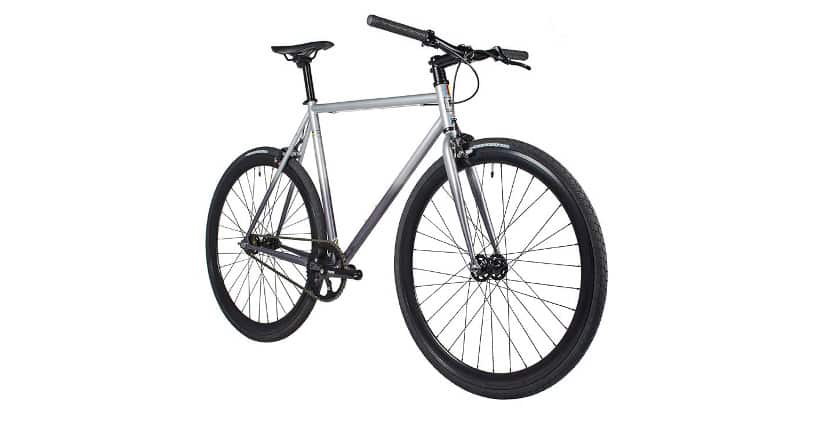 Fyxation Chromoly Fixed Gear Bicycle with Sealed Bearing Hubs
The gorgeous Fyxation Eastside single speed is a versatile ride, suited to city riding, commutes, or even cyclocross conversion.
With its extra durable construction, the Eastside is perfect for city fun, bike polo, or cyclocross. It's one of the best single speed / fixed gear bikes under $500 due to its versatility.
(If you plan to do some CX racing, keep in mind you may want to swap out the urban-ready tires for something with a bit more bite. Here's some info on SSCX racing, if you're interested.)
While the price may be higher than some others on this list, the frame quality makes it worthwhile. It is one of my favourite fixed gear bikes under the $500 mark.
Frame:
The frame is spartan and gorgeous. It's made from 4130 chromoly which is highly durable and relatively lightweight. It's a modern design with enough classic elements to appeal to just about everyone.
Components:
One thing I like about Fyxation is the care they take when assembling parts. The components fit together nicely, function well and last a long time. A good example is the sealed bottom bracket that they incorporate on all fixies.
The Eastside features a Pusher wheelset paired up to Session 700c tires. The rear carries a flip-flop hub with 17t freewheel and fixed cogs. Both wheels feature sealed cartridge bearings, another indicator of quality. They spin really nicely. It also carries double brakes, both dual calliper.
Other things I like: the riser bars give a slightly BMX silhouette, and lots of control. The platform pedals are large enough to keep you planted.
Available in a wide array of colours, the Fyxation Eastside is one of the best cheap fixed gear bicycles for under $300, no matter how or where you want to ride.
The Breakdown
The Good: Great quality components, lots of colours, frame can stand up to cyclocross riding or city punishment
The Bad: Costs more than others on this list.
---
8) Takara Sugiyama: Proof that a cheap fixed gear bicycle can still be fun to ride
Takara Sugiyama Flat Bar Fixie Bike, 700c, Black/Blue, Medium/53cm Frame
Of all the fixed gear bikes I've reviewed here, this is the only sub-$200 offering. It's rare that I'd recommend something that inexpensive, to be honest, but the Takara Sugiyama is a surprising bike in more than one way.
First, the looks are atypical. It has an odd blend of colours and a very upright frame. The whole ensemble almost reminds me of a mountain bike.
Secondly, it's incredibly affordable. It's almost impossible to find a good fixie bike for less than $200, but here we are.
Frame:
As you'd expect at this price point, the Sugiyama has a steel frame and fork. It's durable and strong, though not the lightest.
Components:
Unexpectedly, it comes with both a front and a rear brake. They're basic, but they do the job when properly tuned (though admittedly it would be the first part I'd upgrade).
The wheelset is alloy and the rear wheel comes with a flip-flop hub and both a fixed and free cog. The tires are wide at 700 x 32, making this a capable bike for city riding. I'd expect to change the tubes pretty soon after the purchase, they're not very good quality.
Most of the components are very basic, and you should be aware of that going in.
The colour combination isn't for everyone. The non-matching tires and the use of black, white and blue make this a very 'loud' bike, but it's one of the best cheap fixed gear bicycles you'll find for such a low price, and the customer reviews are very positive. Personally, I think it looks great!
The Breakdown
The Good: Super cheap fixed gear bike, durable frame, funky good looks
The Bad: Cheap components, particularly the brakes
---
Frequently Asked Questions
What are fixed gear bikes good for?
Fixed gear bikes are good for riding in the winter, as well as on urban terrain that remains relatively flat. Without the necessity to continually alter your gears, you can focus more on the ride and control your speed better through your pedaling performance.
Is a fixie bike dangerous?
Fixie bikes do take some time to get used to, but once you have, they are not considered dangerous. Once you've mastered the fact that you cannot coast on this type of bike, they are no more dangerous than a single speed bike.
Some fixie bikes do not come with brakes and this makes them much more dangerous than the alternatives that do. So, as long as your fixed gear bike does have brakes, it wouldn't be considered dangerous.
Are fixed gear bikes illegal?
No, as long as your bike has brakes then it is not illegal to ride. However, the issue is that some fixed gear bikes do not come with brakes and therefore would be deemed illegal.
If your fixie has a front brake it is legal as long as these brakes are effective with enough stopping power. However, with only a rear brake, the fixie is considered illegal as there needs to be a front wheel brake.
Different areas of the world have opposing laws on this, so you will need to research the laws in your own country before taking out advice here.
Can you ride a fixie uphill?
Yes, you can ride fixie bikes uphills. However, it shouldn't be a long and steep hill as this can get tiresome very quickly. A short hill should be fine with a fixed gear bike, although any hill longer than one mile will be a struggle without being able to change the gears up.
You should be able to ride any bike uphill, the absence of gears will simply make your leg workout that much harder.
Are fixies faster than road bikes?
Road bikes have multiple gears, but this is where the difference often stops between road bikes and fixies. A fixed gear bike will be on the same gear as your road bike will have, so riding both bikes in the same gear will make them ride the same speed.
Other factors of the bikes will determine the speed of your bike rather than the number of gears. These could be the tires size and width, the material of your bike frame, and the overall weight of your bike.
Does riding a fixie burn more calories?
Riding on flat terrain will lead you to burning the same number of calories as you would if you were using a road bike. However, fixies stop you from coasting, so you're continuously pedaling meaning that you're exercising non-stop without breaks.
Riding uphill can also be more difficult and cause you to pedal harder. These two factors do suggest that you will burn more calories with a fixed gear bike rather than a road bike.
---
What else is out there?
You'll find a dizzying array of single speed bikes nowadays. They're no longer a niche market and literally every major outfit I know of has jumped on board.
Big brands
Frankly, the bigger brands will charge a significant premium for basically the same materials and componentry. That's not necessarily bad; they'll come with robust warranties and standardized parts, so fit and finish will be premium.
Where I find they fall short is in aesthetics and risk. The latter, in particular, is something they're allergic to. It's up to you whether that's a tradeoff worth taking.
Some others to consider include our favorite road bikes under $1000.
What to avoid. Seriously
Don't make the mistake of opting for no name bikes. Honestly, would you buy a car from a dealership selling Toyondas?
This is different from purchasing a tablet or something. A bike is a machine that can end your life. In my work as a bike mechanic, I have seen cheapo bicycles come in with the frames literally split in half. Imagine if that happened while you were flying down a hill.
If you have any questions, feel free to post them below. Thanks for reading!