5 Best Bicycle Tires for Gravel Roads in 2023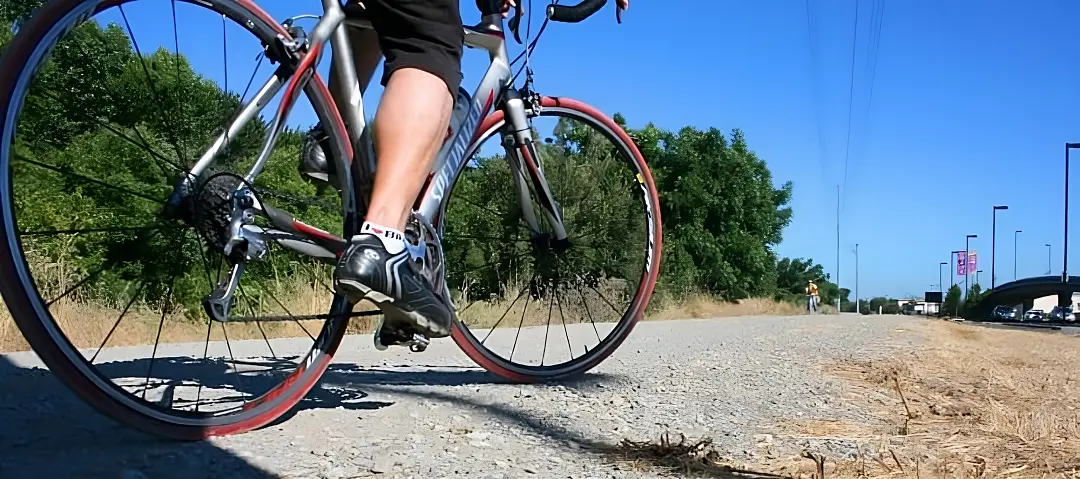 Whether you're looking to race and maximize performance, or simply enjoy canal towpaths of your commute, there's no denying that gravel roads and paths provide a unique and fun riding experience.
That said, not every bicycle tire is suitable for riding gravel.
Finding the best bicycle tires for gravel roads is challenging. There just isn't much quality information out there yet.
The rise of gravel racing events in North America, which combine elements of the road, mountain biking, and cyclocross into long epic distances, has helped to fuel gravel tire developments. You aren't limited to a single choice any longer.
There are over one million miles of gravel roads in the USA alone. Those gravel paths wend through beautiful country and feature very little traffic. If I had to bet, I'd say gravel racing will just get more popular.
Here's one thing I guarantee: riding a bicycle on gravel roads is flat out fun.
Interested in hopping on this challenging new trend? Here are a few of my favorite gravel bicycle tires worth checking out.
Five good bike tires for gravel roads, reviewed
To help you track down some choices that will work for this intense cycling style, we're going to put five of the top gravel bike tires through their paces. Among other things, we'll be analyzing their performance, tread pattern, durability, speed, and surface suitability.
Hopefully, by the end of the article, you'll have narrowed down the right set of shoes for your ride.
Ready for a few reviews? Read on!
---
1) Kenda Small Block 8: Gravel, mud, all-round performance
Kenda Small Block 8, Clincher Tire

The name of this tire is a dead giveaway. By putting 8 small blocks across the width of the tread Kenda has created an awesome tire that performs well in most conditions.
The huge number of tread knobs do a great job of catching the small pieces of rock which make up a dirt road. This beefy grip helps to propel you forward and provides stable performance in hard pack conditions.
While it was designed as a fast tire for mountain biking and cyclocross riding in dry conditions, the highly versatile Kenda Small Block 8 offers a lot more in terms of its flexibility. It's an excellent tire to speed you across rugged roads, and an overall awesome multi-surface bicycle tire.
If you're looking for a "jack of all trades" type shoe, this is the one you're after.
These Kendas are definitely worth consideration for cyclocross racers looking for a lightweight, hard pack tire that will take fire roads and singletrack in its stride.
The Small Block 8 is available in a huge range of sizes for 26, 27.5, and 29 inch wheel mountain bikes, as well as 700c cyclocross and touring bikes. It's a great, versatile gravel bike tire with positive reviews, well worth checking out.
---
2) Clement X'PLor MSO: High-volume gravel bike tire with great utility
Clement X'Plor MSO Bike Tire 60TSI

The impressive Clement X'Plor MSO gravel tire is named after the airport code for Missoula, Montana, which also happens to be the home of the Adventure Cycling Association. The tire comes in 700x 32mm and 700x 40mm sizes.
The high volume of 40mm is a great option if your bike has available tire clearance; the extra volume will help smooth out rougher roads and allow you to float a little better across loose scree. (A narrower tire will dig in and submerge.)
The tread on the X'Plor MSO features arguably the most tread blocks you'll see on a bicycle tire in this realm (bridging the gap between a road specific tire and a full-on cyclocross tire.)
With a high tread knob density in the centre of the tread, it will tackle pavement with relative ease. Yet with its more aggressive outer lugs, this is clearly a mixed conditions tire.
You could easily use this to ride early season cyclocross, a 100 mile gravel event, or trek over the high passes of the Himalayas. Pick your pleasure, the MSO is up for it.
---
3) Specialized Trigger Pro 2Bliss Ready: Big volume, tubeless compatible gravel tire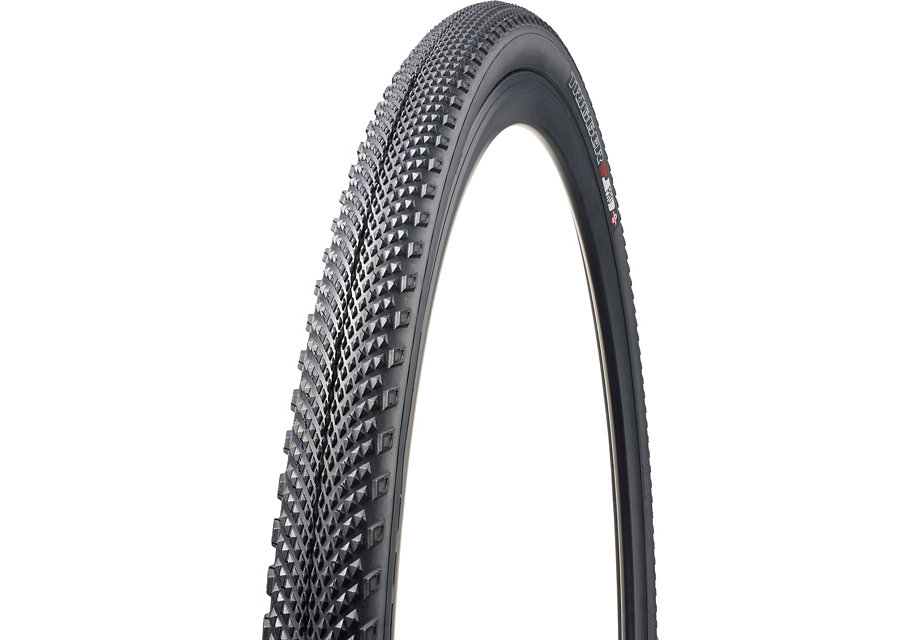 Specialized Trigger Pro 2Bliss

If you're running a tubeless setup, or considering it for future gravel riding, the Trigger Pro could be the best option for you, but if not then look at this article about the best bike tubes.
Designed as a dry conditions cyclocross racing tire, the Trigger Pro features a file-like central tread to enhance surface contact area in dry and wet conditions.
External high rise lugs provide predictable cornering bite under controlled braking.
The Trigger Pro is only available in a 700x 38mm or 33mm format. Despite that limitation, the Trigger Pro is an excellent gravel bike tire from an outstanding brand.
---
4) Schwalbe Marathon Mondial HS 428: A good gravel bike tire for touring & trekking
Schwalbe Marathon Mondial HS 428

If you're looking for a top-quality gravel cycling tire that can handle ultra long-distance touring and trekking, the super durable Schwalbe Marathon Mondial could be the right tire for you.
This tire is purpose-built to survive mile after mile on cycling expeditions where the roads are likely to be unpaved. Despite that, the Mondial is designed to not sacrifice too much speed when you have the chance to ride on smooth tarmac surfaces.
The Marathon Mondial features a unique, wide, closely packed central tread to keep rolling resistance down, with less tightly packed side blocks to allow some bite where required in loose or slightly muddy conditions.
Schwalbe's Marathon range has always offered exceptional puncture resistance and durability. The Mondial features a double defense of Snakeskin sidewall protection and a performance engineered, nearly impenetrable breaker strip beneath the tread.
Combine these features with the extra hard Endurance compound and you have a tire that is going to fight hard against punctures. The extreme durability of the construction makes the Mondial a heavy tire, but that matters little if you're trekking. A few extra grams are better than repeated flats.
This tire marries the much needed characteristics of puncture resistance and durability to the ultimate level, and it's, therefore, one of the top gravel bicycle tires for long distance touring.
RELATED: Schwalbe One Road Racing Tire Review
---
5) Surly Knard: Comfortable, practical gravel bike tire for rough roads
Surly Knard
This is a company that does things a little differently from the norm. They have built their reputation based on comfort and user experience over eye-catching design.
The Surly Knard tire is a do-pretty-much-anything tire that features tightly packed 4 mm, closely spaced blocked to reduce rolling resistance on the roads. It also provides enhanced trail handling when the path takes you into the wilderness.
A 700×41 mm size means that the Knard has enough girth to conform to the ground surface, absorb road bumps, and vibrations and provide a decent sized contact area for enhanced grip characteristics on your cyclocross bike.
For mountain bikers, there's the option of 26x 3.8 inch and 29x 3 inches. No matter what you're riding, you can roll over the gravel with ease. It's a fantastic gravel tire for mountain biking, cyclocross, or touring. You name it, the Knard can handle it.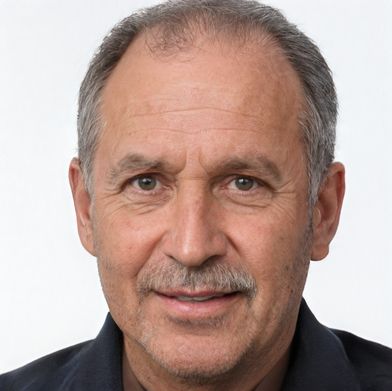 Steve Beck is a passionate cyclist and experienced writer covering the cycling industry for over a decade. He has a wealth of knowledge and expertise in all bike-related things, from the latest products and technologies to the best routes and trails. His articles are well-researched, informative, and engaging, and he has a talent for explaining complex cycling concepts in a way that is easy to understand. Steve can be found on the road when he's not writing about bikes, putting his knowledge and skills to the test.