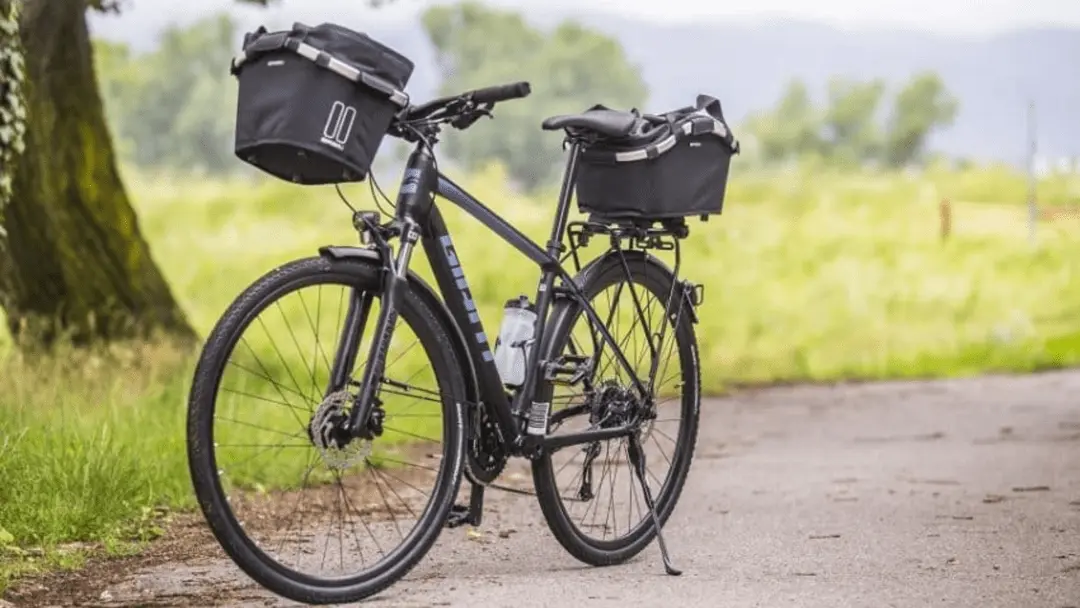 When you think of a bike basket, you might be thinking of a retro cruiser or a kid bike, but bike baskets are making a comeback.
Not only are they utilitarian pieces of equipment, but they can also add style to your ride whether you're stowing away your groceries or extra gear when biking to the beach.
Table could not be displayed.
Before we share our top picks for best bike baskets, let's take a brief look at how bike baskets began and why they're making a comeback.
History of the Bike Basket
The earliest usage of the bike basket was documented in the 20th century. The common users of bike baskets were actually government and business employees. As soon as manufacturers perfected the bike, improvements were instantly worked on.
Mail carriers first used bicycle cargo accessories with large back baskets to deliver people's mail. Then, baskets were transformed to carry personal belongings of business goods for companies.
The bike accessory has only kept evolving since its creation with newer ways to carry things today. The capacity, weight, and overall manufacturing of the bike basket have changed and continue to change dramatically.
Types of Bike Baskets
Several takes on the bike basket has been used throughout the 20th-21st century. Here are a couple of examples of how the basket is used on the bike.
Front Basket
Placing the basket on top of upright handlebars are the classic bike baskets you see everywhere. Most of these are made of metal, plastic, or wicker.
It's important not to overload the basket in the front to prevent handling problems due to the bike's instability. Too many things in the basket can also affect a biker's visibility when their view gets obstructed.
Rear Basket
Baskets placed on the back of a bicycle are often known as "luggage carriers" placed behind the seat. With the back basket, more weight can be put in them since it doesn't compromise the driving as much as the front basket.
Panniers
The panniers originally connected baskets, bags, or containers mounted on both livestock sides, like horses. Throughout the years, panniers added to the modern bicycle to enhance its carrying capacities.
Some bikes cut off half the pannier and leave just one container on one side of the bike. These are called saddlebags, which are just like panniers but with less storage.
What to Look for in a Bike Basket
When looking for a bike basket, your needs for a basket will differ from others. Meaning, you might carry more or less than someone who's also looking for a bike basket. It all depends on individual needs.
Capacity
The number of items your basket can carry should be the very first thing you should look at when buying a basket. The basket should not be too big to affect the bike's mobility, and it should not be too small to not fit anything.
Material
Having the right material for your basket also is very important. You'll need a sturdy basket to be reliable through wear and tear. Baskets' materials range from metal, steel, and wicker, as mentioned before.
Installation
The ease at which you can install your basket is also very important. Your basket should be easy to install and stable after installation.
Now that you know what goes into making and picking a great bike basket, it's time to discuss our top pick for best basket.
This basket is big enough to carry many things while also not being too much of a burden on the bike itself.
Best overall: Schwinn Wire Basket
As the best bike basket currently on the market, it's ideal for holding shopping bags and tons of other personal items. The basket checks off all the points we mentioned previously on how to pick a bike basket.
Founded in 1895, Schwinn has been one of the best-known and most loved bicycle companies. According to Schwinn, riding a bike offers fun and adventure, and a bike basket just adds to the experience of riding around.
This sturdy wire basket comes in black, goes with almost any bike, and is tested to be weather resistant. The ergonomic design allows for easy mounting and removal. You'll be able to fit all your belongings in this 14″ x 10″ bike basket.
Pros:
Wide basket
Ergonomic and removable handle
Weather-resistant metal
Quick-release design
Cons:
Honorable Mentions
Schwinn's bike is our number one pick; however, other bike baskets on the market are not too shy of being great.
These baskets are fantastic and could be used, but they do have their flaws.
Anzome Bike Basket
The bike basket by Anzome is more of a bike bag that is marketed for fitting your pets but is also ideal for your other belongings. The bike bag can carry up to 11 pounds and is 12″ x 8″ in capacity size.
The bike basket is well-designed and easily removable. However, this easy detachment of the basket leaves flaws when it comes to strong winds. Reports of the basket detaching due to strong winds have been found, something to consider when going for a ride.
Pros:
Heavy-duty design
Cloth basket that's easy to clean
Ideal for small dogs
Large carrying capacity
Cons:
Topeak Trolley Tote Folding Basket
The Topeak bike basket is the first rear basket on our list and we love it because it's foldable, which makes for easy storage. Much like the Anzome basket, the Topeak rear basket also supports small pets.
If you're not carrying your small dog or pet, placing your groceries or belongings in the rear basket also works well. A problem some people encounter isn't with the capacity but rather the sturdiness of the basket.
The folding aspect of the basket can be seen as a pro and also a con. The basket has been reported to fold during rides when running over rough bumps. The clips tend to fall off after many rides, which can cause this basket to be unreliable. This 13.39 x 17.44 x 14.09" tote also comes with a telescopic handle and wheels for transporting your gear more easily when not biking.
RELATED: Best Fixed Gear Bikes Under $500
Pros:
Collapsible basket
Wide carrying capacity
Suitable for pets
Cons:
May fold up while riding
Flimsy construction
Rhinowalk Bike Basket
The next basket in the honorable mention section, the Rhinowalk bike basket, looks more like a lunchbox than a basket. However, this just adds to the basket's functionality; you can keep your lunch in it for when you go to work, or when you want to enjoy a nice picnic.
The twill 8.3″x 4.7″x 6.7″ bag can withstand inclement weather and is easy to clean. On the inside, the bag is made with a thermal insulation layer that is perfect for most foods. It'll keep your warm foods warm and your cold foods cold. On top of the basket, there exists a pouch where you can keep your phone.
The basket has plenty of zippers and storage inside. The Rhinowalk basket is quite small but is ideal for a few food items. You can keep your water bottle on the side, but the pocket isn't very wide which makes it hard to fit your bigger water bottles.
Pros:
Insulated for hot or cold
Secure basket
Compartments for water bottles and other essentials like phones
Cons:
Smaller than average basket size
Tote & Kari Bicycle Basket
Looking for a bike basket that stands out from the rest, is well-made, and looks great on any bike? The Tote & Kari bike basket looks a lot like the classic basket you see on bikes in cartoons and on TV. It's a brown, woven wicker basket that looks like a picnic basket. If you're looking for a retro-style basket that is durable and versatile, the Tote & Kari bike basket might be perfect for you.
The 14 x 11 x 11" basket is made of 100% natural eco-friendly Rattan cane. It should go without saying that this is the prettiest basket on the entire list, even better looking than the Schwinn basket. Not to mention, it's also the easiest to install and can hold up to 12 pounds.
The issue with this basket is that it's basic, not the most revolutionary basket. The quality isn't the best, and the size isn't as big as it seems in the pictures. We recommend this basket if you don't plan to carry many things but plan to add some retro flair to your bike.
Pros:
Beautiful basket
Eco-friendly
Easy to install
Cons:
Limited capacity
Might not hold up as well as metal or cloth baskets
MEIEM Bike Basket
Much like the Tote & Kari basket, the MEIEM bike basket is also woven from wicker material. The basket is hand-woven with durable, high-quality wicker. While its design is more basic than the Tote & Kari basket, it's a nice natural, and affordable option.
While it looks like something you might have had on your bike as a kid, the 13″L x 9″W x 8″H basket is a great alternative if you need to tote a few lightweight items or what something that will look cool on your cruiser bike.
Pros:
Thick wicker
Adjustable straps
Classic and retro look
Cons:
Might look too feminine for some
Small basket
Lixada Bike Basket
The Lizada basket is the only bike basket with reflective tape to ride safely at night on the list. It's a great touch to add another safety measure to riding in dark areas with cars nearby.
This basket is more of a bike bag that hangs right in the front of the bike. There are four styles with the Lixada bike basket, each looking fantastic and suitable for almost every bicycle. They all maintain a black color, but the overall shape and color make it seem like a whole different company made the basket.
The bag doesn't have as much carrying capacity as the baskets, but it's still capable of carrying certain belongings during your bike ride. Your bike tools, smartphone, wallet, or house keys will have plenty of space inside the bike basket.
Pros:
Reflective tape
Abrasion proof PU leather
EVA padding
Cons:
Basket Pricing
Depending on which basket you're looking for and what features you desire, the bike basket price will differ. It should go without saying that the lower-priced baskets will more than likely be of lower quality.
This isn't always the case, but more times than not, the lower-end baskets will not last you as long as a higher-priced basket. If you're seriously considering using a bike basket for travel or for convenience, investing in a pricier basket will be your best option.
You may have to experiment with baskets here and there to find one you really like. It may run you up some more money. However, this will let you test out more baskets with the goal of finding one you'll love.
The Verdict
As you can see, a lot of things go into selecting the perfect basket for your bike. For us, the Schwinn bike basket outperforms its competitors in terms of durability, mounting, carrying capacity, and visual appeal.
Not every basket will be compatible with your bicycle, so it's important to do some research before heading out to the store to buy one. Look into your specific bicycle for more information and see which bike baskets are most compatible.
It's also a good idea to check out whether or not the basket is easy to install, especially if you don't want to use your basket all the time.
While larger baskets offer more versatility, keep in mind that they can take up more space or interfere with how you ride. Choosing a bike basket that has durable and easy-to-clean materials are likely to offer more versatility and durability if you ride your bike regularly.