5 Best Bike Shorts in 2023 – (Top Choices for Men & Women)
Bike shorts are one of those products that are pretty important but get little attention. The best bike shorts can make hours in the saddle a more comfortable and enjoyable experience.
They can also make carrying the items that you need when you're on a ride (think wallet, cell phone, tube patch kit, etc…) a bit more convenient.
Material:

80% Polyester and 20% Spandex lycra/UPF 50+

Material:

92% Polyester / 8% Elastane

Material:

71% polyester, 29% spandex
Material:
80% Polyester and 20% Spandex lycra/UPF 50+
Material:
92% Polyester / 8% Elastane
Material:
71% polyester, 29% spandex
11/15/2023 01:52 pm GMT
Many riders, especially those that are new to the sport, may not want to invest in a pair of bike shorts, however, they soon learn how valuable a good pair of bike shorts are.
Bike shorts are made to keep you dry, help you avoid uncomfortable chaffing of the skin, and in some cases, provide you with a little extra padding.
Bike shorts are different from other types of shorts, in that they have features that accommodate the rigors of riding. These features may include vents, snug-fitting fabrics, seams in different locations, and elastic waistbands.
These features all make your bike short more comfortable and provide you with added support and protection when you're riding. There are a few different types of bike shorts that you can choose from.
What you pick is really a matter of preference and your riding style. The most common bike shorts are road shorts or bib-shorts and mountain biking shorts.
What to Consider
Road Shorts Or Bib-Shorts
are the snug-fitting Lycra shorts that are normally associated with cycle clothing. These shorts fit close to the body to limit the potential for chafing or pinching. The snug fit is also intended to aid in aerodynamics.
Road shorts come in a variety of styles including the bib shorts, which extend over the torso and has straps that go over the shoulders. Lycra bike clothing and shorts also come in a variety of lengths, including full-length tights, and women's specific Capri length tights.
Mountain Bike Shorts Or MTB Shorts
are generally a combination of Lycra shorts and a "baggy short" made of heavy-duty nylon fabric. These shorts are designed to be more durable and provide added protection for mountain bike riders, who may take spills on rocks, gravel, and other hard surfaces.
Mountain bike shorts also tend to have pockets and compartments that allow the rider to carry gear that needs to be easily accessible. Like road shorts, MTB shorts come in a variety of styles and lengths and include women's specific styles.
Buying a pair of bike shorts can be an uncomfortable process, especially if you are new to the sport of biking. You probably aren't ready to walk into your local cycle shop and ask about padding and chafing and support for those personal areas.
If you're looking for a new pair of bike shorts, but would rather have the comfort of shopping from home, we've got you covered. In this review, we'll detail our favorite bike shorts, all of which can be found on the internet.
We'll also answer some of those delicate questions about biking shorts that you might not want to ask the associate at your neighborhood bike shop. So hop in the saddle and get ready to ride into the best bike shorts.
Best Bike Shorts
Best for Women
1. Sponeed Men's Cycling Shorts
Material: 80% Polyester and 20% Spandex lycra/UPF 50+
Size Options: S-XXXL
Weight: 12.8 ounces
Color (the main one): Black
Our top pick, sponeed's cycling shorts, have great moisture-wicking features, a four-way performance stretch and 6-Panel anatomic design for a superior chafe-free comfortable riding experience.
Unlike many other cycle shorts, these didn't irritate the skin, they're designed with 80% polyester and 20% spandex Lycra skin-friendly materials.
The combination of polyester and Lycra ensures a nice snug fit with just the right amount of stretch combined with a highly durable print that never fades out.
These fast-drying polyester bicycling shorts come in 6 different colors, are an ideal choice for the warmer summer months and are suitable for all levels of cyclists, which include road biking or mountain biker.
Featured specs: Available in blue, gray, green, white, red and multi-black.
Benefits: Smooth breathable fabric, no chafing, nice amount of stretch.
Drawbacks: Hard to find the right size, odd sham size.
Extra features: Silicone leg grippers keep shorts in place, 3D gel pad in key areas, moisture-wicking, quick-dry.
Buying advice: We recommend buying one size larger than normal.
2. EZRUN Men's 3D Padded Mountain Bike Shorts
Material: 92% Polyester / 8% Elastane
Size Options: S-XXL
Weight: 10.1 ounces
Color (the main one): Grey
These premium Ezrun men's MTB shorts are inspired by some of the classics. They are loose-fitting, have a broad belt, and have thick padding which permits riders to enjoy off-road biking and strolling through town all with minimal discomforts.
The unique two shorts in one combined with 3D padding at the back create a comfortable feeling with less friction and far less perspiring.
Ezrun MTB shorts are constructed of sturdy yet lightweight fabrics that are very quick drying even for the sweatiest of people. For the security of your personal materials, you have 2 pockets fitted with zippers plus another with a Velcro strap.
Whether you're ripping up dirt trails in Moab or grabbing a pint afterward these will prove to be an essential piece of equipment to make your riding experience more enjoyable.
Featured specs: Available only in Grey or Grey/Black.
Benefits: Comfortable, lightweight, 3 pockets, loose fit design.
Drawbacks: Cushion is a bit thin.
Extra features: Two zippered pockets and one velcro pocket.
Buying advice: These are designed for MTB's but work well for commuter or cruiser bikes
3. Przewalski Men's 3D Padded Cycling Bike Bib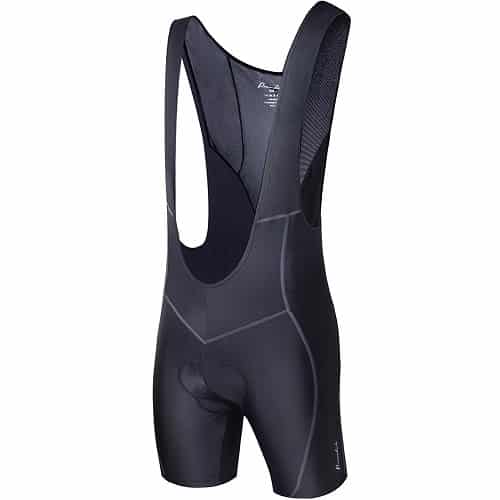 Material: 71% polyester, 29% spandex
Size Options: S-XXL
Weight: 12 ounces
Color (the main one): Black
The Przewalski men's cycling bib is a very affordable option if you want to try out a bib for longer rides. Made of high-performance 71% Polyester and 29% Elastane, this men's cycling bib is durable, breathable, and stretchy.
It has a back mesh material that helps circulate air, keeping you cool and dry while cycling during warm weather. This bib also provides optimum sun protection while on long hot rides. Plus, it's also comfortable and long-lasting, thanks to the high-quality fabric materials used.
This cycling bib features 3D molded construction, multi-panel, and 4 needles 6 threads flat-seam stitching design for better fit and wicking which prevents it from sticking on the skin.
It also has an ergonomic, 3D anatomical, and perforated layer design for crotch padding, which helps absorb shock and provide comfort. It's antibacterial properties and flat-seam construction help prevent skin irritation and avoids sweat build-up.
Przewalski men's cycling bib ensures a better-fit thanks to its unique blend of materials and is a great option for first-time bib users even on long rides up to eight hours.
Featured specs: Only comes in plain black blue or gray.
Benefits: Sun protection and quick-dry fabric, 3D ergonomic padding friendly customer service.
Drawbacks: Some loose stitching, and the seat has a lot of padding.
Extra features: The back mesh helps improve breathability.
Buying advice: 100% full refund assurance within 90 days if you are not satisfied for any reason
4. Ally Mens MTB Mountain Bike Short
Material: 92% Polyester, 8% spandex/92% Polyester, 6% Spandex, and 2% PVC
Size Options: M-XXL
Weight: 5.6 ounces
Color (the main one): Army Green/Gray
Made from super durable lightweight materials, adjustable Velcro waist straps, more than sufficient padding and 4-way stretch fabric make these bike shorts an excellent choice for any outdoor sports.
They have 7 spacious deep pockets to hold your mobile phone, keys, money, etc. The zippered pockets are sealable to ensure the safety of all your stuff and keep it dry.
These Ally mountain biking shorts for men are very versatile and suitable for cycling, running, hiking, climbing, and other outdoor activities. You won't have to change from tight cycling shorts into casual clothes when going somewhere after riding since these can be dual purpose shorts.
Featured specs: Only come in black or green.
Benefits: Quick dry & lightweight, water repellent, lots of pockets.
Drawbacks: Zippers need upgrading, tricky sizing.
Extra features: Two adjustment Velcro tabs on the sides for waist adjustment.
Buying advice: 100% satisfaction guarantee. Full refund or replacement if you have any questions.
5. beroy Women's Bike Shorts
Material: 80% polyester 20% spandex
Size Options: XS-XXXL
Weight: 7 ounces
Color (the main one): Black
These super comfortable pair of shorts from Beroy come in over 30 variations of color patterns, with three choices of padding, are made from an 80/20 percent polyester and spandex blend that feels and fits very nicely.
The chamois in these is first-rate and the 3D gel padding makes the padding feel light and airy rather than heavy and stifling.
They absorb jolts very well and are sufficiently durable to last for a few years. All-in-all these are a comfortable pair of bike shorts with respectable padding that offer great value for money.
Featured specs: Over 30 varieties of colors to choose from.
Benefits: Many color/pattern choices, great value, super comfy.
Drawbacks: Weak stitching, pad thickness confusing.
Extra features: Choice of 3 foam densities.
Buying advice: These fit pretty true to size be sure to pick the right padding model for your needs.
---
Bike Short FAQ
Now that we've clued you into the best bike shorts on the market, it's time for us to answer some of the delicate questions about biking shorts. These are the questions that most riders have at some point, whether they are new to riding or have been riding for a long time.
Asking some of these questions in your local bike shop can be uncomfortable and awkward, so we've done the research and answered some of the most frequently asked questions about biking shorts here in this review.
How Do You Wear Bike Shorts?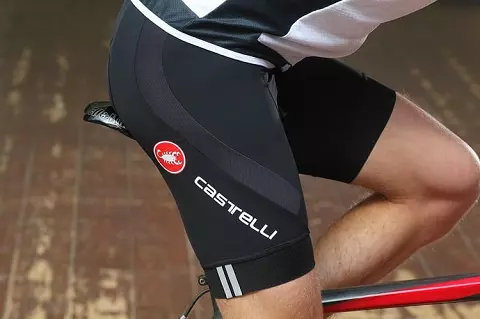 Biking shorts are just like any other kind of short out there. Finding the right pair that fits well is the key to wearing these sports essentials without discomfort, chafing, or pinching. There are a few factors that you should consider when you are shopping for the right pair of bike shorts.
Riding Style
The type of bike shorts that you wear depends on the type of riding that you are going to do. Road biking typically demands a streamlined, and smooth type of biking short. Most road bikers prefer the traditional spandex/Lycra short that fits close to the body.
This style increases aerodynamics while at the same time keeping you cool and dry. On the flip side, if you prefer the thrill of bombing down the single track on your mountain bike, you may want to ride in a pair of MTB shorts.
These are made from a tougher fabric and are generally a bit baggier. This style provides you extra protection from falls, and pockets for holding things like your wallet, cell phone, and car keys.
Padding
Most biking shorts come with a padded crotch. This padding gives you extra comfort in the saddle, especially if you are planning long rides. Biking shorts come in a variety of padding thicknesses, and padding types.
Find the one that feels most comfortable for you when you are on the saddle, and when you are just walking around.
Style Preference
If you don't want to wear tight shorts, don't. This will just make you feel uncomfortable. Find shorts in a style that you want to wear, otherwise, you'll feel uncomfortable and your bike shorts will end up sitting in your closet instead of sitting in the saddle.
Once you've considered these three factors in purchasing your bike shorts, it's just a matter of putting them on and getting on your bike.
Most riders don't do anything special beforehand, though you may want to wash your shorts. Just make sure that when you wash your bike shorts, you use cold water, and a gentle detergent, and keep them out of the dryer. 
Do You Need Bike Shorts?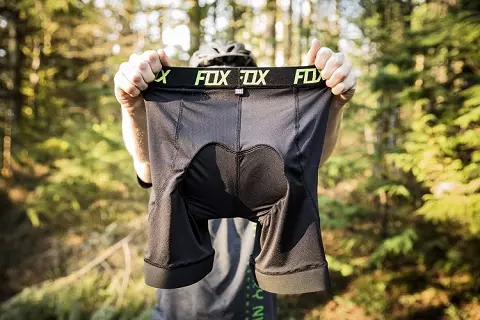 This is a good question. Some newbies to the sport think that bike shorts are not necessary. And besides, all that crotch padding is just awkward and uncomfortable, right? Well, seasoned riders will tell you that a good pair of cycling shorts is the key to a comfortable and healthy ride.
To be clear, you don't need to jump into your biking shorts every time you hop on a bike. Many people like to ride in regular shorts or even pants when they are riding their cruiser bike or commuter bike.
These kinds of bikes provide extra cushioning and comfort directly in the bike seat, so you can skip the bike shorts and wear normal clothes when you're riding around town on your cruiser.
However, if you are planning on putting on some miles, you might want to consider adding a couple of pairs of biking shorts to your equipment stash. The great thing about biking shorts is their built-in padding.
This built-in padding gives you extra comfort on the minimalist seats that come on most road and mountain bikes. These small, lightweight seats are great for keeping down the weight of your bike, but they are bad for providing comfort to your butt and crotch.
If you are going to be spending some quality time on your bike, and you want to increase your comfort, a pair of biking shorts are a must-have.
What Are The Benefits Of Bike Shorts?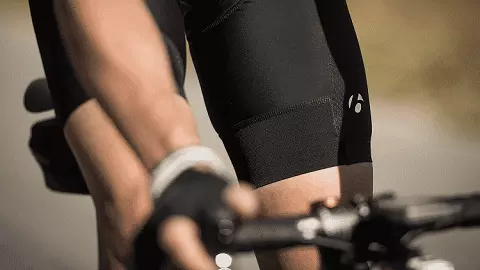 Bike shorts provide a few, valuable benefits for the avid bike rider. Understanding the full set of benefits that a pair of bike shorts can bring to your ride, will make answering the previous question, "Do I need a pair of bike shorts?" even easier.
Here are some of the added benefits of buying a pair of bike shorts.
Extra padding
This is probably the most obvious of the reasons to buy a pair of biking shorts. If you are planning on putting down more than a few miles on your bike, you're going to want a pair of shorts that give you padding in all the right places.
The extra padding will make spending hours on your bike more comfortable and frankly will make the days after your long rides more comfortable as well.
Any rider that has spent many hours on the saddle, without a good pair of padded shorts, will tell you that recovery from a sore crotch is uncomfortable at best.
Aerodynamics
If you're a road bike rider, or if you are competing in road races or triathlons, you want to reduce drag and increase your aerodynamics. Road bike shorts are made to fit close to your body, without extra flapping fabric, to help reduce friction and increase speed.
Even if you aren't competitive, bike shorts will make your daily or weekend rides a bit easier, but limiting the factors that slow you down.
Reduced Chafing
Even MTB shorts have a snug inner pair of shorts that are meant to keep the loose fabric from rubbing against the skin. When fabric rubs against your skin, especially if you are sweating, you can develop painful chafing on the skin.
These raw spots can make riding uncomfortable and since they almost always occur in warm, dark parts of your body, they can become infected and take a long time to heal. A simple way to avoid the rub and raw spots is to invest in a good pair of biking shorts.
Moisture Control
Biking shorts are made of fabrics that are designed to keep sweat and moisture away from your skin. Not only does this help cool you on hot days, but sweat between the skin and your clothes contributes to chafing.
Pulling moisture away from your skin is healthier and creates a more comfortable riding condition.
Gear Storage
This is a benefit that is limited to MTB shorts. Most road riders will utilize the pockets in the back of their jersey for holding water bottles, tire repair kits, and other necessary items. However, mountain bikers generally need pockets that are more secure.
When you're scaling rocks, jumping logs, and bumping down rough single-track, the last thing you need is to be worrying if your car keys are safe. MTB shorts generally have a number of zippered or Velcro pockets that you can securely carry things like your wallet, car keys, and even your cell phone.
Visibility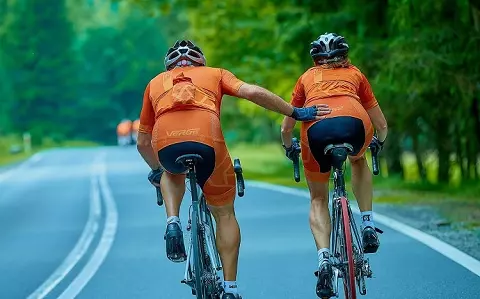 If you do a lot of riding during times of low light, your bike shorts can provide you with added visibility for drivers. Some road bike shorts come with reflective patches that make it easier to see. Or you can purchase shorts in bright colors that make you more apparent during daylight hours.
Of course, you can buy just plain black or gray, but if you're looking to be safer when riding on busy roads, you may want to buy shorts that provide features that increase your visibility.
How Do I Look Good In Bike Shorts?
Let's be real on this one. Bike shorts aren't meant for making a fashion statement. There. We've said it. They are a tool, meant more for function than fashion.
However, that doesn't mean that you have to settle for looking or feeling uncomfortable in your bike shorts. Here are some of our suggestions on how to look good in your bike shorts.
Fit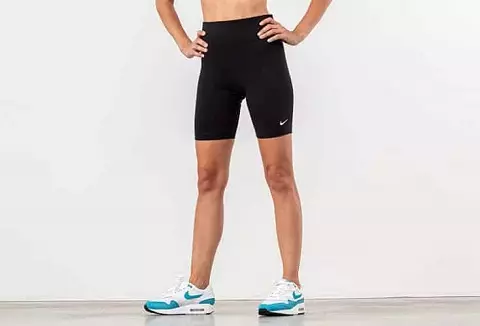 Make sure your bike shorts fit right. This is especially important if you are wanting to look good in your road bike shorts. To be direct, these shorts already show a lot of your body, so if they fit poorly, they aren't going to look right.
While your road bike shorts should fit snugly, they shouldn't be overly tight. Make sure you buy the right size shorts for your body. This likely means trying on a few pairs, in different sizes to ensure that you have the right fit.
Color
Unless you are really bold, you might want to stick to basic colors. Black and grey are good colors for most people, and they are generally more flattering on a variety of body shapes and sizes.
Style
To be direct, you'll look better and feel more comfortable if you wear the right shorts for your biking style. This means that if you're riding a mountain bike, buy mountain bike shorts or if you're riding a road bike, wear road shorts. You'll look like you belong on your bike, and that looks good.
What Is A Chamois In Bike Shorts?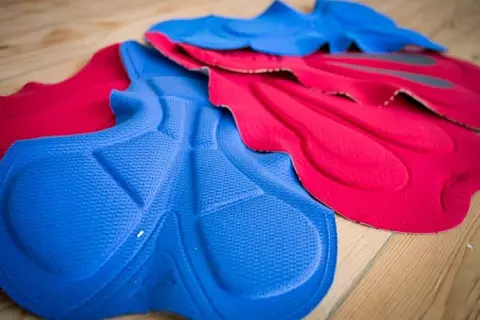 Chamois is a fancy word for padding. Back in the day, the chamois was made of leather, and the purpose was solely for providing the rider with additional cushioning between the body and the bike seat. Today's chamois are no longer made of leather.
Most chamois are made of some type of foam or a combination of foam and gel padding. And while the basic purpose of the chamois remains the same, the chamois in bike shorts today may also come with antimicrobial properties that will keep your crotch clean and dry.
It is important to note, that men's and women's bike shorts have different chamois. Very rarely will you find unisex bike shorts, for this reason. Because the male and female anatomy is quite different, most chamois is designed to support the anatomy and comfort of either a man or woman.
This specificity to anatomy not only improves comfort but also reduces friction between the shorts and your skin. Women's bike shorts tend to have more padding in the area of the sit-bones and are wider. Men's chamois are narrower, and usually, have an inlet or groove down the middle.
Do You Wear Shorts Over Bike Shorts?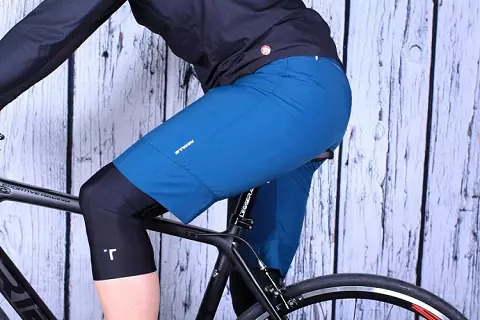 In general, most riders don't wear regular shorts over their bike shorts. However, this can depend on the kind of riding that you are doing. Regular shorts over bike shorts, when you are road biking, will create drag and slow you down.
However, some mountain bikers will throw on a lightweight pair of hiking shorts or athletic shorts over their bike shorts (if they are wearing traditional road style shorts). This gives them extra protection from falls and pockets.
However, many cycle clothing companies make mountain bike specific shorts that combine the snug spandex shorts worn on road bikes, covered with a pair of baggy shorts. If you're wearing this style of shorts, you won't want to add another pair of shorts over the top.
While you might not want to wear a second pair of shorts when riding, you may want to cover your bike shorts with a pair of regular shorts if you need to run errands or are visiting a restaurant, brewpub, or another public place after your ride. It never hurts to have a spare pair in your car, just in case.
Conclusion
Bike shorts are an important piece of clothing for most bikers. Not only do they provide a bit of added comfort when you're in the saddle, but they can also improve the quality of your ride and give you a bit of added safety.
We've given you our picks of the best bike shorts on the market, and we've answered those not so comfortable questions, to help make shopping for your next pair of bike shorts, easier. Hopefully, our recommendations will lead you to the right pair of shorts that bring you both fashion and function.
Do you have thoughts on bike shorts or did we miss a pair that you love?
Let us know what you think in the comments section.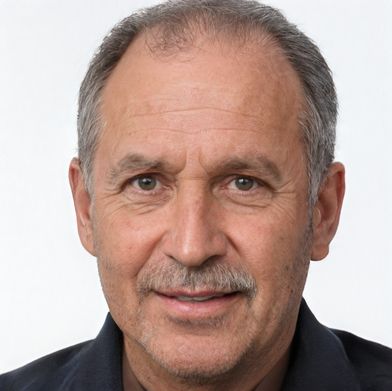 Steve Beck is a passionate cyclist and experienced writer covering the cycling industry for over a decade. He has a wealth of knowledge and expertise in all bike-related things, from the latest products and technologies to the best routes and trails. His articles are well-researched, informative, and engaging, and he has a talent for explaining complex cycling concepts in a way that is easy to understand. Steve can be found on the road when he's not writing about bikes, putting his knowledge and skills to the test.