5 Best Indoor Bicycles in 2023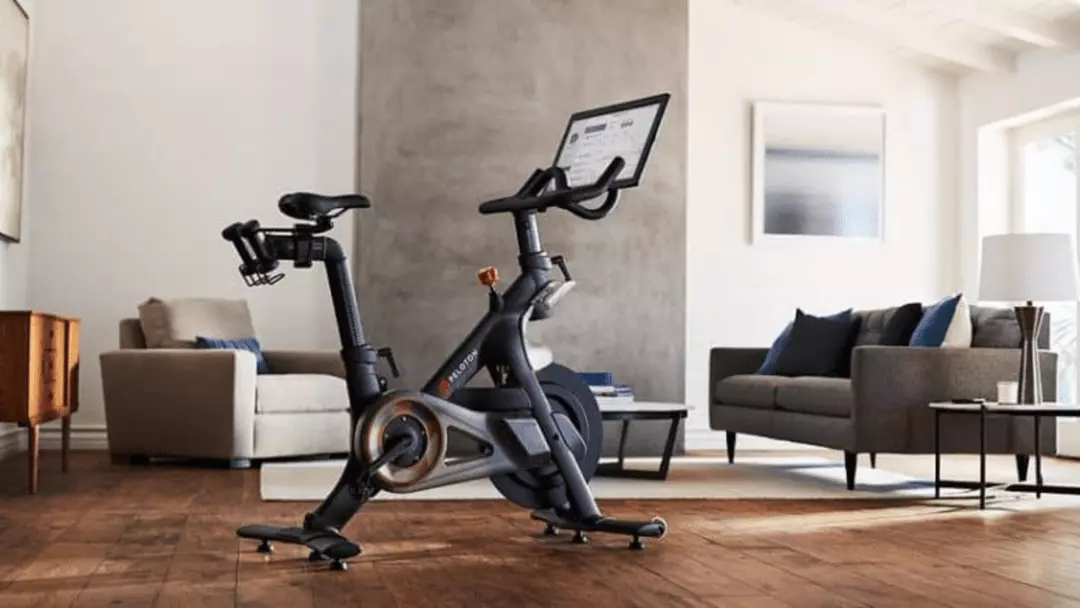 Riding your bike indoors is a great way to lose weight, get in shape, and have the benefit of a great cardio workout, without ever having to leave the house.
When it comes to riding a bike indoors, most of us have visions of the traditional upright stationary bike, however, the indoor bike of today is quite a bit different from the old fashioned stationary bike of your parent's day. You can get beautiful equipment and we will help you here with our selection of the best indoor bicycles!
Table could not be displayed.
Today, stationary bikes come in a variety of shapes, sizes, and functions. You can buy upright bikes and recumbent bikes, bikes with computers, and the capability to download training videos and daily workouts. You can even buy trainers that will allow you to ride your outdoor bike, indoors!
It is helpful before you buy a stationary bike to understand the difference between the various options that are available to you.
Each person that buys a bike to ride indoors has a different goal, whether it be to lose weight, slim down, train for endurance, or stay comfortable on the bike you ride in the summer. Each of these goals can be best met with a different option for indoor cycles.
Traditional Stationary Bike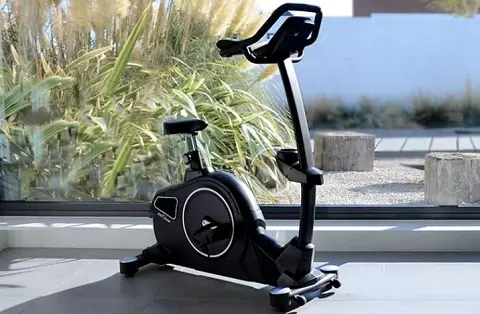 This option is good for the person that wants to build cardio endurance, and lose weight, but also doesn't mind spending some time in the saddle. The traditional stationary bike comes in two different setups: the upright bike and the recumbent bike.
Which you choose really depends on comfort. The upright bike is similar to your regular road bike, while the recumbent bike allows you to sit more comfortably, in a seat that is like a chair.
Traditional stationary bikes generally have a computer display of some sort that allows you to program a workout, track distance or calories burned, and monitor your heart rate.
Spin Bike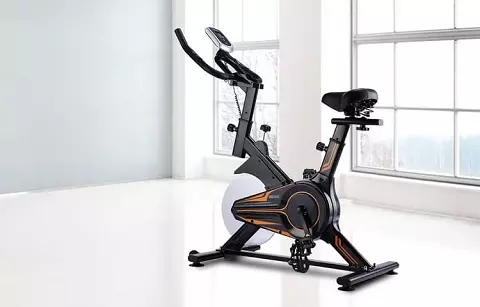 Spin bikes look a lot like traditional upright stationary bikes. However, there are some distinct differences. Spin bikes are heavier and are constructed to support the rider standing up and pedaling hard.
This weight and solid construction allow the bike to withstand the force of the rider without breaking or moving.
Spin bikes have a heavier flywheel which gives resistance and can contribute to greater calorie burn and muscle building. Finally, spin bikes don't usually come with a computer or display screen.
Bike Trainer
These handy tools are great for the rider that doesn't want to invest in a stationary bike or a spin bike but wants to continue riding their usual road or mountain bike.
A trainer is a simple tool that sits on the floor, that you mount the rear wheel of any normal bike into. This tool allows the back wheel of your everyday bike to turn, without moving the bike forward.
Trainers are great for riders that want to maintain comfort on the bike they use during good weather to get in miles when the weather is bad. Trainers a typically small, and inexpensive, compared to purchasing a stationary or spin bike.
With all of this variety, how do you decide which indoor bike option is right for you?
Now, if you want to stay comfortable on your road bike or mountain bike, even when the weather is bad, a trainer is your best option, but if you are looking for a permanent piece of indoor exercise equipment, you are going to want a more traditional indoor bike or spin bike.
In this review, we will give you our picks for the best indoor exercise bikes that you can find on the internet.
We'll tell you what is great about them and how they will be a great fit in your home gym. Then, we'll break down some of the most commonly asked questions about how you can benefit from having an indoor bike in your home gym.
So, here we go… our picks for the best indoor bicycles for your home gym.
Exerpeutic Folding Magnetic Upright Exercise Bike with Pulse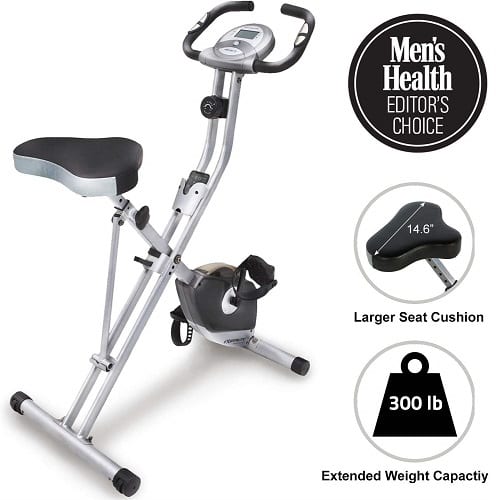 Type: Magnetic Upright
Weight: 39 lbs
Computer: Yes
Tension levels: 8 levels of Magnetic Tension
Material: Steel tubing
Folding: Yes
Exerpeutic Folding Magnetic Upright Bike with Pulse offers a great workout in a small space and can be folded up and rolled away when you are done exercising. The two main features of this upright exercise bike are the ability to monitor your heart rate and its folding ability.
The sensors, located in the handlebars, allow you to stay in your cycling position while monitoring your pulse and ensuring that you remain in your target heart zone.
The LCD shows your pulse as well as other key metrics like calories burned, distance, speed, and length of workout, which keeps you on track with your fitness routine.
The second selling feature of the Exerpeutic Folding Bike is its ability to rapidly fold up and store away. Great for people with smaller spaces or people who don't want to have their equipment out on display, the design of this bike allows it to be folded up to about ½ of its original footprint.
Once folded, this bike can easily be maneuvered and stored in a closet or even under a bed, making it uniquely compact.
Want to add even more intensity to your workout? Utilize the eight different resistance settings so that you can push harder.
Features like the "high torque" 3-piece crank system, magnetic resistance, heart pulse monitoring, and a "double drive" transmission system are all included for a very affordable price.
Exerpeutic Folding Bike is easy to get off and on the bike, providing a more effective and comfortable workout. The precision-balanced flywheel and V- belt drive provide a smooth and quiet operation so it will not interfere with watching TV or listening to music.
Comes with a large seat cushion for people of any size and a larger pedal design with safety straps prevents any foot slippage when exercising. It is designed to support up to a weight capacity of 300 lbs and is easily adjustable to fit 5'3" to 6'1" riders.
Featured specs: Weight Capacity 300lbs, Dimensions: 31 x 19 x 46 inches.
Benefits: Space-saving folding design, large seat cushion, easy-to-read LCD display, quiet operation.
Drawbacks: Assembly required, parts wear out too quickly.
Extra features: Hand pulse monitor for heart rate.
Buying advice: It's a great stationary bike for users who are just getting started. The bike is not designed for intense workouts.
Marcy Recumbent Exercise Bike with Resistance ME-709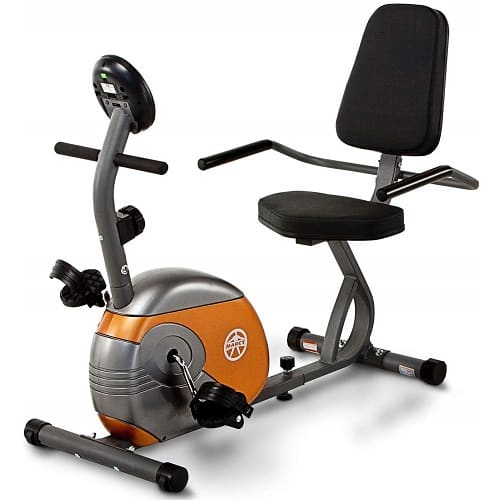 Type: Recumbent
Weight: 60 lbs
Computer: Yes
Tension levels: 8 levels of resistance
Material: 14-gauge steel tubing with a powder-coated finish, PVC, and rubber
Folding: No
Whether you want to boost your cardiovascular endurance or shed some unwanted pounds, the Marcy Recumbent Exercise Bike is the perfect exercise bike to add to your home gym.
Made of premium high-quality materials, that combine design and performance, this recumbent is sturdy enough to resist scratches, chips, and damages from the environment, ensuring that it will withstand heavy daily use.
The step-through design is created so that it is easier on the knees and back. The specially designed seat with contoured handles enables proper body form, allowing your body to conform precisely to the equipment, helping your workout take maximum effect on your target areas.
This stationary bike uses a magnetic resistance system featuring eight preset levels of resistance, ideal for cycling buffs and fitness newbies alike. The resistance is adjusted with an easy to use tension knob to customize your cardio training according to your fitness level.
The recumbent bike's panel display acts as an odometer and tracks time, speed, distance traveled, and calories burned in extra-large numbers for easier reading.
ME-709 recumbent exercise bike is equipped with wheels allowing good mobility so you can move it anywhere in the home to store it conveniently wherever you want.
When you invest in this premium piece of equipment you will get an intense fat-burning cardio workout session right in the comfort of your home!
Featured specs: 55.5L x 25W x 37.5H inches, weight capacity 300lbs.
Benefits: Easy assembly, holds up to daily use well, the seat is roomy, and the backrest is supportive and sturdy.
Drawbacks: Requires 2 AA batteries (not included), a little heavy.
Extra features: The bike is equipped with wheels so you can easily move it anywhere.
Buying advice: Includes a manufacturer's 2-year limited warranty.
Sunny Health & Fitness Pro Indoor Cycling Bike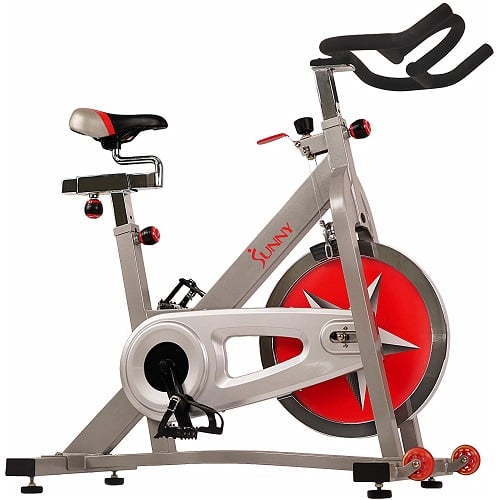 Type: Stationary Spin bike
Weight: 97 lbs
Computer: No
Tension levels: Knob adjustable resistance system
Material: Heavy-duty steel
Folding: No
The very popular Sunny Health & Fitness SF-B901 Pro Indoor Cycling Bike is both an affordable and practical indoor bike for anyone, beginner or advanced indoor bike enthusiast, looking to get into shape or simply improve their level of fitness.
The SF-B901 indoor cycling bike is a lightweight model but still solid and durable. Its 40lb flywheel is perhaps its best aspect as it enhances the efficiency of any training session.
It comes equipped with an adjustable seat, handlebars, and level of resistance, allowing it to be customized to suit any rider, and its stylish design means it certainly looks the part.
The B901 comes in both chain drive and belt drive versions and offers all of the requirements for an amazing cycling workout along with everything at-home fitness enthusiasts could wish for.
The fully adjustable seat and adjustable handlebars offer a completely customizable experience for definitive user comfort and compatibility. The heavy-duty steel frame and crank add essential quality and durability to withstand longer riding sessions, no matter what your fitness goals.
The SF-B901 Pro spin bike is a no-frills, durable indoor stationary bike, perhaps surpassed by more extravagant models of spinning bikes on the market with an array of computer features and other luxuries, but it is ideal for anyone who simply wants a dependable, sturdy bike to work out on in the comfort of their own home.
Featured specs: 275LB max weight, 49L x 20W x 47H.
Benefits: fully adjustable, pedals can be replaced, and the real bike feels.
Drawbacks: No computer, heavy, seat not as comfy as others.
Extra features: 2-way adjustable handlebars and 4-way adjustable seat, 40Ib weighted flywheel.
Buying advice: Flywheel and main structure come assembled you only have to attach the pedals, handlebar, seat, and bottom support which should take around 30 minutes at most.
Sunny Health & Fitness Silent Belt Drive Indoor Cycle Bike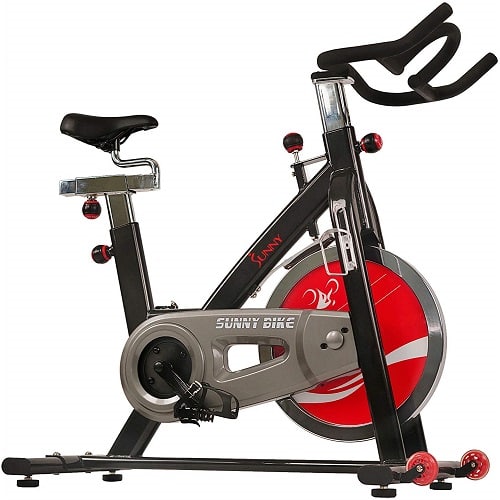 Type: Stationary Spin bike
Weight: 115 lbs
Computer: No
Tension levels: Adjustable resistance via a knob
Material: Heavy-duty steel
Folding: No
Whether you're looking for the cycle class experience at home, or you're an avid outdoor cyclist who wants to stay in riding shape during bad weather, Sunny Health & Fitness SF-B1002 Belt Drive Indoor Cycling Bike is just what you are looking for.
Featuring a robust 49-pound flywheel, this spin bike produces the same feeling as if you are riding a road bike.
This stationary bike provides full customizability from the adjustable handlebars, a 4-way adjustable seat and variable resistance with a top press down brake; it gives you full control of your workout.
The quiet belt transmission, flywheel, crank, and steel frame make this bike very sturdy and stable to ride. This smooth and quiet indoor cycling bike makes exercise effective and convenient.
Equipped with a metal bottle holder and transport wheels make it comfortable to ride and easy to move out of the way when finished.
Featured specs: Maximum user weight 275lb, 49.5L X 18W X 44H.
Benefits: Belt Drive, quiet, total customizability, good resistance.
Drawbacks: Heavy, uncomfortable seat.
Extra features: Convenient bottle holder is built into the frame, 49Ib weighted flywheel.
Buying advice: Aftermarket products are easily added such as a computer or clipless pedals.
XTERRA Fitness FB150 Folding Exercise Bike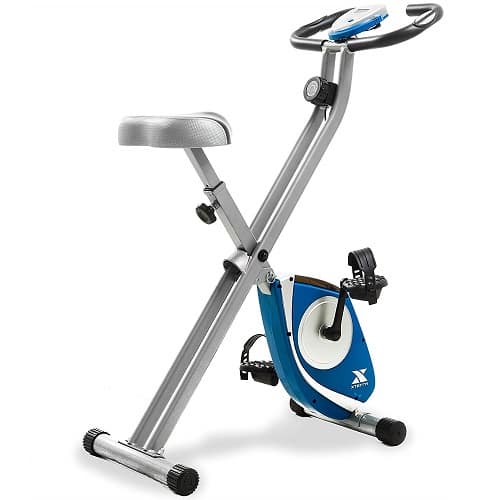 Type: Upright
Weight: 32 lbs
Computer: Yes
Tension levels: 8 levels of manual resistance
Material: Steel tubing
Folding: Yes
Looking for an effective way to burn calories and get in better shape, but don't have a ton of extra room? The XTERRA Fitness FB150 Folding Bike is the perfect exercise tool to help you comfortably pedal away those undesirable, extra calories.
To ensure a sturdy smooth workout, the FB150 makes use of a solid X-frame design with thick steel tubing and a silent belt drive system. So you challenge yourself with the 8 levels of resistance.
Easily keep track of all of your workout data with the easy to use console. It provides feedback on your speed, distance, time, calories, and pulse along with a convenient scan feature.
Make your workouts more effective by easily monitoring your heart rate with the handlebar-mounted hand pulse sensors.
For more improved comfort the FB150 provides a large anatomically designed thick padded seat and large multi-grip padded handlebars. And when you're finished, it easily allows you to store it away when not in use and frees up some valuable floor space with built-in transport wheels.
Start the journey towards accomplishing your fitness goals today with the XTERRA Fitness FB150 Folding Bike.
Featured specs: 3.3lbs flywheel, 31.89″ x 18.1″ x 43.3.
Benefits: LCD screen is easy to read, lightweight, has a large comfort saddle, and is easily portable.
Drawbacks: Max's weight is 225 lbs, not great for taller folks.
Extra features: Handlebar-mounted heart rate pulse grips.
Buying advice: Comfortably fits most users from 4'10" to 5'10" tall.
---
Indoor Bicycles FAQ
Now that we've covered our favorite stationary bikes on the internet, it's time for us to take a look at some of the most frequently asked questions about stationary bikes, that are out there on the web.
Once we found these common questions, we researched the answers and put them all in this review. We've done the hard work so you don't have to.
Can You Lose Weight By Cycling Indoors?
Yes! Riding a bicycle is a great way to lose weight, and being able to ride indoors, when the weather is cold and miserable, can be the best way to keep up with your fitness routine.
Riding a bike is a low-impact way to burn calories. Many people prefer to ride their bike over running or walking, because it is easier on your joints, and can be more fun.
However, riding your bike in the winter when it is cold outside isn't as much fun or as enjoyable as riding your bike in the summer.
A good way to keep up with riding your bike, and sticking with your routine and fitness goals, is to use a stationary bike, or even a bicycle trainer, in your home during the winter.
Having a bike that you can ride indoors will help you resist the temptation to sit on the couch and eat snacks during the cold of winter. When you have a stationary bike in your home gym, there is no reason that you can't keep meeting your fitness goals.
Many of the stationary bikes on the market today have great programs and guided workouts that can help keep things interesting when you're stuck riding indoors in the winter.
There are even some spin bikes that allow you to stream live classes to a screen on the bike so that you get not only the benefit of a bike in your home but also the motivation of riding with others and a trained instructor, pushing you to your goals.
Can You Lose Belly Fat By Cycling Indoors?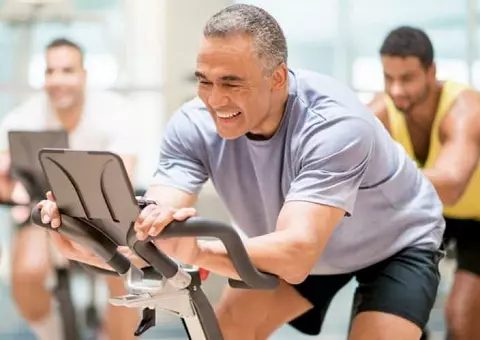 Again, yes! Cycling indoors is a great way to lose weight and reduce body fat. Cycling is a great option for anyone that is looking for a low impact exercise that will improve cardiovascular health and at the same time burn fat and calories.
While cycling is a great way to burn calories, it is important, especially when you are focused on losing fat, that you combine cardio activities with activities that build muscle.
Muscle is more efficient at burning calories, so building muscle while you are losing weight is a good way to get your body to keep off the fat once you've shed it from your body.
If you are looking to not only lose weight but also trim fat from your belly, combine your cycling routine with a resistance program as well. This may include lifting weights or doing bodyweight exercises.
To focus your fat loss on your midsection and belly, make sure that you have included exercises that will build strength in your core. Follow your indoor cycle workout with exercises like sit-ups, crunches, leg raises, and plank.
These basic exercises will not only build strength for your core muscles but will also help you burn away that belly fat that can be difficult to get rid of.
If you don't want to do resistance or weight training to build muscle, an alternative to help burn more fat is to increase the intensity of your workout. High-intensity interval training or HIIT is a great way to build endurance while at the same time burning fat.
Many stationary bikes have interval training programs that you can use to help guide you through this process. You can also use your smartphone or tablet to watch and follow along with spin classes. Spin classes are generally high intensity and are good for fat burning and cardio endurance as well.
Which Is Better A Spin Bike Or Exercise Bike?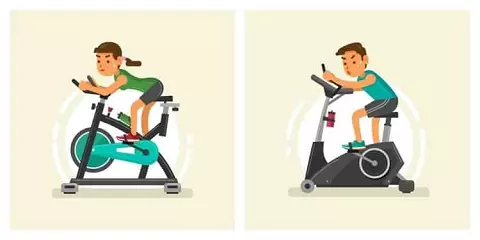 When you are considering which kind of bike you should purchase, it is important to understand what kind of exercise you want to do, and how you want your indoor cycle workouts to feel.
Before you can decide which is better for your fitness goals, a spin bike or a traditional stationary bike, you should understand the differences.
A spin bike is a beefed-up version of the traditional stationary bike. If you look at most standard spin bikes, you'll notice that they are built with heavier materials, and when moving them you will notice that they are, in fact, heavier.
This heavier weight allows the rider to ride with more vigor without causing the bike to lift or move. Spin bikes are also made to allow the rider to stand while pedaling. Being able to stand while on the bike engages more of your body and uses every major muscle group in the body.
This means that you burn more calories and in turn, burn more fat. The flywheel on spin bikes is also heavier, which means that they require more effort to pedal, resulting in more calories burned.
Traditional spin bikes also tend to skip the computer, though there are some newer products that do have video screens and computers that give access to different workouts.
Spin workouts tend to be shorter in duration but higher in intensity. If your goal is to burn more fat and keep your time on your indoor bike short, a spin bike might be the right option for you.
Traditional upright and recumbent bikes are more like luxury cars. They have features that make spending time exercising more comfortable.
They tend to have more padded seats, water bottle holders, and computers with a variety of workout options as well as information like calories burned, distance traveled, and heart rate monitors.
Traditional stationary bikes are great for the rider that doesn't mind spending a couple of hours at a time working out.
If your goal is to improve cardio endurance, or if you tend to spend your summer days riding the roads around your home, a traditional stationary bike is a good wintertime way to get in miles even when the weather is crummy.
So which is better? Well, it really depends on what your fitness goals are. If you already spend a lot of time riding your bike and aren't looking for a high intensity, fat-burning workout, the option that is best for you is the traditional stationary bike.
If you are looking to burn fat and don't want to spend hours pedaling, your best option is the spin bike.
How Long Should You Ride A Stationary Bike?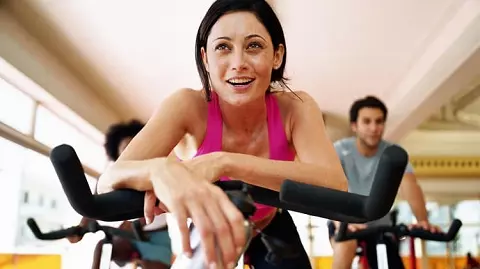 Once again, the answer to this question really depends on what your goals are.
Most physicians will tell you that in order to keep your heart healthy and to help maintain a healthy weight, the average person should participate in moderate exercise, for at least one hour per day, for three days per week.
This is a good rule of thumb for anyone that wants to start an exercise routine, or who wants to keep their body and their heart healthy. When it comes to how much time you should spend on your stationary bike, this is a good place to start.
If your goal is to burn fat and lose weight, you have two different options for how much time you spend on your bike.
If you aren't a fan of spending a lot of time exercising or if you don't have a ton of extra time to spend exercising, you will want to consider a more high-intensity exercise option that works your body harder, for a shorter period of time.
If you don't want to do high intensity, but need to have shorter workouts, you should consider fitting in a bit of time to ride every day, instead of just three or four days per week.
If your goal is to increase your cardiovascular endurance, you are likely going to want to spend longer amounts of time on your indoor cycle.
While the rider that is looking to lose weight and burn fat spends a shorter amount of time on the cycle, and their workout is high intensity, the rider that wants to increase endurance should expect their workouts to be longer in duration, but more moderate in intensity.
These kinds of workouts are also good for the rider that wants to maintain endurance that they have acquired while riding in the warmer months outdoors, or for the rider that is training for a long-distance ride and wants to acclimate their body to longer durations in the saddle.
Is It OK To Use An Exercise Bike Every Day?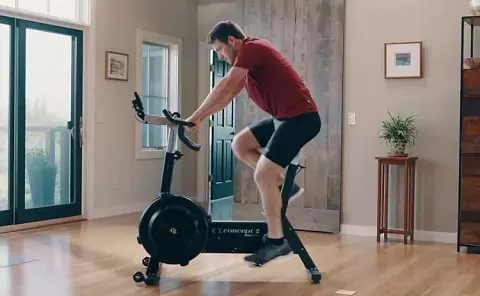 Yes! It is definitely OK to use your exercise bike every day. Many people enjoy riding their stationary bikes on a daily basis. Being on your bike daily is a good way to maintain a healthy weight and keep your heart strong.
While it is not a bad thing to ride your stationary bike every day, you may want to consider switching up your exercise routine. Doing different kinds of exercises is good for your body, and it helps you work muscles other than your legs and core.
Consider switching between your bike and running or walking. You might also want to add some weight training or bodyweight exercises to your routine. This will help build muscles and give you a mental break from riding your bike.
Many people that are trying to lose weight find that a bit of variety helps with motivation.
If you are considering a stationary bike as a way to lose weight and burn fat at home, you might want to switch between riding your bike one day, and then doing muscle building, bodyweight exercises like push-ups, sit-ups, squats, and lunges on opposite days, to improve your body's fat-burning potential, and to keep you from getting bored with your bike. Boredom can quickly kill your goals to lose weight and get healthy.
Can You Do HIIT On The Stationary Bike?
High-intensity interval training or HIIT is a great way to boost calorie and fat burning potential while at the same time reducing the time necessary for your workout.
HIIT workouts generally consist of 30 to 90 seconds of high speed or high-intensity exercise followed by rest or lower intensity exercise for double the time.
Working out in this manner allows the body to burn the same amount of calories in a half-hour or hour workout that would normally take twice the time.
HIIT workouts can be done on a stationary bike, though it is a better idea to use a spin bike for this kind of workout, especially if you are already in good shape and want to push yourself hard during your workout.
Some stationary bikes that have computers, may have a pre-programmed interval workout that will automatically change resistance and hill climb to match the HIIT timing.
If you are riding a spin bike without a computer, look for HIIT workouts for spin bikes on the internet or stream a class from YouTube or another online video service.
An indoor cycle is a great option for the person that wants to improve their health and fitness without the investment in a gym membership. Indoor cycles give you the ability to work out, burn calories, and get in shape from the comfort of your home.
We've taken the time to research the best stationery and spin bikes on the market, and have shared with you what we discovered about how they perform and what makes them a good option for your home gym.
We've even researched some of the commonly asked questions about stationary bikes, and how they fit in with your fitness routine.
Hopefully, we've provided you with a good start to your bike shopping adventure, and the right information to help you buy the right bike for your needs.
Did we miss something? Do you have an indoor bike you love?
Tell us your thoughts and recommendations in the comments!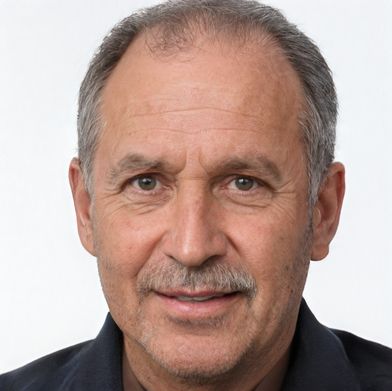 Steve Beck is a passionate cyclist and experienced writer covering the cycling industry for over a decade. He has a wealth of knowledge and expertise in all bike-related things, from the latest products and technologies to the best routes and trails. His articles are well-researched, informative, and engaging, and he has a talent for explaining complex cycling concepts in a way that is easy to understand. Steve can be found on the road when he's not writing about bikes, putting his knowledge and skills to the test.