6 Best Cruiser Bikes in 2023 | Affordable & Cheap Options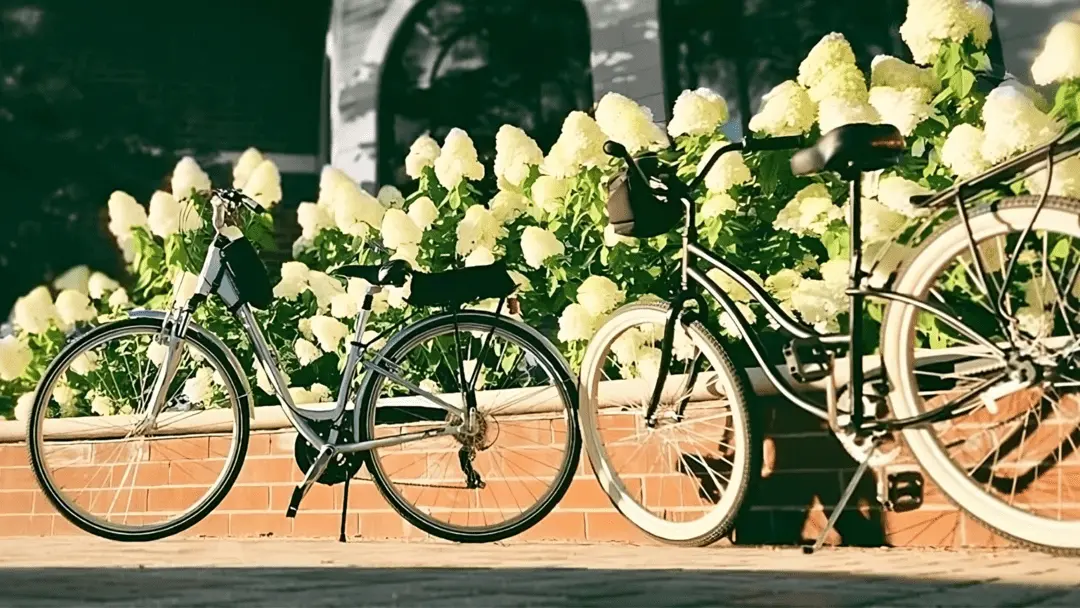 If you're looking for those long beach rides to get the ultimate indescribable and rewarding riding experience, you're not going to do with any old bicycle. You need the best cruiser bicycle, just like my wife and me. These cool Cruiser bikes always make our trips memorable.
So why do I love beach cruisers so much? Well, first of all, it just looks at the aesthetics. They are just cool. Looking at bikes, I mean, who wouldn't love to ride one of these down the road by the beach to the store? They're just fun.
So, let's go through some of the reasons this bike might work well for various individuals. The cruiser bikes has nice, big, comfortable seats. Now, I'm a big guy, a little seat that you would see on a ten-speed cruiser bike, "about the size of a teaspoon" It's just not gonna work.
For me, nice springs under the seat work well for a comfortable ride. These distribute your weight a lot more evenly, especially if you're heavier or are not used to riding saddle sores. You know from when you first start riding bikes, they are very nice, very comfortable. If You have decided to buy a cruiser bike, read our review to choose the best one for you.
The cruiser bike has long been associated with the beach. With their fat tires, cushioned seats, and wide handlebars, these bikes were made for leisurely rides down the boardwalk. Cruisers are the Cadillac of bikes. They are made for comfort in the ride, and a groovy, fashionable style.
However, today's cruiser bikes are not like the cruiser bikes our parents rode. Today, the cruiser bike comes with a ton of options, funky paint jobs, and tires with unique treads. There are so many options on the market for cruiser bikes that they can be as challenging to buy as mountain and road bikes.
If you are in a hurry and can trust our research (as most of our readers do), You can choose one of our top two picks for the best cruiser bikes.
Our Testing Process for 6 BEST CRUISER BIKES IN 2023
Here at bikesmarts.com, we take cruiser bike testing very seriously. We want our readers to know which bikes are the best so they can ride with confidence. That's why we put each bike through a rigorous testing process.
We test how comfortable they are to ride, how easy they are to control, and how well they perform on different terrain. We also take into account the bike's build quality and durability. After all, you want your cruiser bike to last for years to come.
We put together a team of four experienced riders. They each had different backgrounds and preferences, which we think gave us a well-rounded perspective. Further, we had them ride everything from big-name bikes to lesser-known models, on a variety of territories and terrains, in all kinds of weather conditions and put them through their paces to see how they perform.
Besides, we also talked to experts and get their opinions on each bike and also asked them to assess things like comfort, handling, value, and style. In the end, the six cruiser bikes that impressed our testers the most were selected.
After our testing was complete, we found that the best cruiser bike for most people is the Firmstrong Cruiser Bicycles. It was the most comfortable to ride with a great design that was easy to use. The dual springs and the steel frame of this product ensured the riders an extreme sense of balance and durability.
In addition, 3 out of 4 riders commented that out of all the tested bikes this one gave the most relaxing and untiring ride. Plus, they added that the long top bar is a great feature that provides a clean and clear view to the rider reducing the chances of road accidents.
Our top picks for the best cruiser bikes in 2023
So we help you to note down your options. We conducted deep research and studied consumer reviews to present the 5 recommended products for those seeking to buy a bike for general commuting.
We did the research for you, so you don't have to. This article presents our 6 top picks for the best cruiser bike. It's not straightforward to pick one for you when shopping for a bike, especially with all these super expensive high-performing models.
Best Cruiser Bicycles quick Comparison Chart for 2023
Sometimes, you just want comfort. Whether it's in a car, your favourite jeans, your couch or your bike, having a bit of comfort can make all the difference in your day. Cruiser bikes are a great way to get around town in comfort.
While you may pick a mountain bike for hitting the single track and a road or commuter bike for getting from place to place quickly, the cruiser bike is the best way to get around if you want a smooth, comfortable ride.
A favorite amongst guys, the no-frills 26-inch Bruiser recreational cruiser balances straightforwardness with a fresh feel. The Bruiser features a thick top tube design with an extended frame to give you more space from the handlebars permitting better arm extension.
The Bruiser provides the most relaxed ride out of any recreational cruiser, available in single, three, or seven speeds, this bike is a great option for a variety of terrains and activities.
You'll be able to enjoy more high-intensity riding since this three-speed cruiser uses a top-of-the-line Shimano internal gear-shifting system. It is one of the easiest gear systems to use and operate allowing you to go farther distances than ever imagined possible on a cruiser bike.
The Bruiser features an oversized seat with double coil springs and 2.125-inch wide, grippe whitewall tires making the ride soft and smooth. Available in various shades, there's sure to be a cruiser to fit your distinctive style. Fits most men from 5"5' to 6"4'
The charming riding Bruiser from Firmstrong is inspired by the design of classic cruisers made to roll smoothly down paths, streets, and dirt trails.
The Schwinn Wayfarer hybrid bicycle is the perfect choice for cruising any neighborhood, dirt path, or just leisurely going out for a ride. Equipped with a Schwinn steel retro city frame and fork and swept-back handlebars, you'll turn heads as you cruise down your favorite street in vintage style.
The Schwinn Wayfarer comes with a Shimano 7-speed rear derailleur with SRAM twist shift shifters to help you climb hills with ease. The alloy wheels are lightweight and solid, adding the needed durability without weighing you down.
You will appreciate the front and rear alloy linear-pull brakes that provide crisp and efficient stopping power on all surfaces. The larger 700c wheels with thinner tires proved a comfortable and stable ride even for longer distances.
Full wrap fenders provide an added touch of style and are very convenient when riding foul weather to help keep you clean and dry and the included rear rack carrier makes it convenient for city riding to carry your belongings.  You'll enjoy the freedom of riding this Schwinn!
Made for the easy-going man, the sixthreezero Around The Block cruiser is the perfect bike for short casual riding and those longer rides are more comfortable thanks to the bike's upright riding style and adjustable height and tilt of the handlebars for a more customized ride.
The Around the Block ramps up its eye-catching curvy steel frame with luxury details like high-density foam grips on wide handlebars, a dual-spring seat that ensures comfort on long rides, and 2.125-inch wide aluminum wheels with large waffle tread tires that help smooth out the bumps.
The Around The Block men's bicycle is available in four gearing options: The 1-speed model is great for easy-going rides around the neighborhood. The 3-speed and 7-speed models can tackle hills, while the 21-speed model can handle demanding street, trail, long-distance, and uphill riding.
This bike features front and rear hand brakes for easy, more precise stopping, a cushioned saddle, foam grips, a chain guard to protect pant cuffs from getting caught, plus a rear rack for use with optional panniers, baskets, and other accessories.
A classic, curvy men's beach cruiser bicycle with a 19-inch durable steel frame; ideal for casual, comfortable riding around the neighborhood and blacked-out components for added style.
The 26-inch cruiser bike is ideal for riders from 5" to 6"4' tall, and the 24-inch model is sized for riders from 4"3' to 4"11' tall.
Designed with comfort, ease, and style as top priorities, sixthreezero cruiser bikes are suitable for neighborhoods, cities, parks, and as well as beaches and Around The Block is no exception.
Supremely comfortable, super low maintenance, and ready to ride whenever you are, the sixthreezero Around The Block cruiser is the perfect bike for the casual rider.
Longer rides are more comfortable thanks to the bike's upright riding style, and easy to adjust the height and tilt of the handlebar for a customized ride.
Available in four gearing options — single-speed, 3-speed, 7-speed, and 21-speed — the Around the Block will get you to your destination with style and grace.
The Around the Block is fashionable with its eye-catching curvy steel cruiser frame.
It comes with comfort details like high-density foam grips on the wide handlebars, a dual-spring seat that ensures tailbone comfort on long rides, and 2.125-inch wide aluminum wheels with large waffle tread tires (available in 24-inch and 26-inch sizes) that help smooth out the bumps.
Includes rear rack for optional baskets and panniers (sold separately) The Around The Block women's bike is available in four gearing options:
21-speed Shimano Tourney derailleur and friction shifter help you tackle demanding street, trail, long-distance, and uphill riding. Front and rear hand brakes make stopping easy and precise.
7-speed Shimano external hub allows for a wide range of riding — from leisure to long-distance commutes. Includes front and rear handbrakes.
3-speed Shimano internal hub with easy-to-use Nexus shifter enables you to handle longer distances and moderate hills. Includes front handbrake and rear coaster brake.
The single-speed model offers ultimate simplicity and is ideal for flat terrain. The coaster braking system is simple — just pedal backward to glide to a stop.
This bike comes with a chain guard to protect pant cuffs or skirts from getting caught, plus a rear rack for use with optional panniers, baskets, and other accessories.
The 26-inch Around The Block (19-inch frame) is sized for riders from 5 feet to 6 feet 4 inches tall, the 24-inch model (14-inch frame) is sized for riders from 4 feet, 2 inches to 4 feet, 11 inches tall. Made for great casual jaunts — whether to the beach, down the bike path, or around the neighborhood.
Now this cruiser bike is a prominent bestseller with the online retailers, and has earned some excellent customer feedback. Over 70% of customers rated it at 5 stars out of a possible 5. And they rated it at 4 stars for comfort, sturdiness, value for money, and ease of assembly.
It has a classic vintage design, and was certainly made with the rider's comfort in mind. It's available in 6 different color schemes, namely black, red, grey, navy, purple, and teal. It's also available in single, three, or seven speeds.
It has those classic beach cruiser handlebars that we all know and love. But we especially love the seat. It's a wide cushioned seat made with dual springs and a quilted finish, for the ultimate in riding comfort. You could ride for hours without any discomfort.
We also love just how stable the ride is, thanks to the large and wide wheels. And of course thanks to the durable steel cruiser frame and fork.
With a classic beach cruiser design and a variety of cozy features, the Firmstrong Urban Girl cruiser bicycle is the perfect way to introduce your child to the joy of cruising. It's great for little ones graduating from training wheels to a larger bike as well as kids just learning to ride.
A great introduction to riding in style, it features 20-inch wheels as well as front and rear fenders. The coaster brake stops by pedaling backward, which is an easy and safe way for children to learn to stop.
Honestly, the single-speed Urban Girl is a great first or second bike for all young beach bikers and doesn't get any easier — one gear and one brake and tons of fun.
It's not difficult to get the Urban Girl moving, and the pedals turn easily so casual rides won't exhaust younger riders. The 20-inch aluminum wheels feature 2.125-inch wide white-wall balloon tires that roll smooth and easy as well as cushion the bumps.
The wide, oversized cruiser seat completes your comfort with dual springs that help make the ride soft and pleasant.
It also features a chain guard to protect pant cuffs from getting caught in the chain and wide cruiser bike handlebars with rubber grips. Both the seat and the handlebars are easily adjustable for height and tilt for a customized fit.
Firmstrong has been designing high quality, affordable bikes for over 10 years with a focus on blending style and functionality to create a fun, adventurous experience for any rider.
The Urban Girl is designed just like Firmstrong's cruisers for older riders with a classic, curvy design and durable steel frame. Sized for young girls from 3"2' to 4"4 inches tall, it's a great choice for the beach or anywhere else with a paved path.
Now that we've told you all about our favorite cruiser bikes on the market, it's time to answer your questions. We've scoured the internet for the most asked questions about cruiser bikes.
Then, we've researched the answers and put all the information you need about cruiser bikes, here in one place. It's a one-stop-shop for all of your cruiser bike information.
What is a Cruiser Bike?
The cruiser bike or beach cruiser as they are also known as a type of hybrid bicycle. These fashionable bikes are designed for recreation as opposed to the traditional hybrid bike that is designed for commuting and traveling at higher speeds. The cruiser bike came into fashion in the 1930s.
They were popular with paperboys and bicycle couriers thanks to their wide tires and heavy-duty construction. However, these bikes became a fixture on boardwalks and in vacation towns in the 1950s.
Their comfortable seats and stable ride made them a favorite mode of transportation on the sunny beaches of California.
Characteristics of cruiser bikes
The cruiser bike is distinguished from other hybrid bikes by a number of features. The most distinct feature of the cruiser bike is the wide, balloon tires.
The balloon tires make cruiser bikes very stable, making them popular with the casual rider, and for a smooth ride on sidewalks and city streets. The other features of the cruiser bike that sets them aside from hybrid bikes are the large, sweeping handlebars and the wide, comfortable seats.
While these are the basic features of the cruiser bike, for many riders, the fun of these bikes come with customization. Cruiser bikes can be accessorized with saddlebags, baskets, bells, drink holders and chain guards. As a matter of fact, there are many stores that only sell cruiser bikes and their accessories.
Other features that distinguish cruiser bikes from other bike styles is the simplicity of their gearing and brakes. Most cruiser bikes are single-speed with coaster bikes.
This has been the standard of construction for these bikes since the 1930s. This simplicity is another reason they are so popular with vacationers and riders that want ease and comfort in their biking experience.
So, how do you pick a cruiser bike by reading this review?
Well, just like with road and mountain bikes, you want to decide what options you want, and which bike will best fit your riding style. You may not want to do a ton of leg work, however.
That's where we come in. In this buying guide, we'll break down our favorite men's and women's cruiser bikes. We'll tell you what we like, what we don't like and give you some helpful buying advice.
How to choose a Best cruiser bike for you(Buying Guide)
When looking for a cruiser bike, you should keep a few things in mind. The first is size. Once you've narrowed down your options based on size, type, and budget, the next step is to test ride them.
Size
Cruiser bikes come in different sizes, so you'll need to find one that fits you properly. You also want to make sure that the bike is comfortable for you to ride. Consider your height and weight. If the bike is too small or too large, it will not be comfortable to ride.
Ride Type
You'll also want to consider the riding you'll be doing. If you're mostly riding on pavement, then a traditional cruiser bike is a good option. However, if you're planning to ride on trails or gravel roads, you'll want a mountain bike or hybrid cruiser instead.
Consider the speed
One of the most important is how fast you want to go. If you're looking for a leisurely ride, you'll want a bike designed for comfort and stability. But if you're looking for something with more speed, you'll want to choose a cruiser that's designed for agility and maneuverability.
Consider the storage options
When shopping for a cruiser bike, it's important to consider the different available storage options. Some cruiser bikes come with baskets or racks that can be used to store groceries or other items, while others do not have any storage options. If you need a bike that can store your belongings, choose one with a basket or rack.
Budget
Another thing to keep in mind is your budget. Cruiser bikes can range in price from $100 to $1,000 or more, so you'll need to decide how much you're willing to spend. Choose the bike that fits your needs and your budget.
There are many reasons why you should trust us when choosing the best cruiser bike for you. We have many years of experience in the cycling industry and know what makes a great cruiser bike.
Furthermore, we only stock high-quality cruiser bikes that are built to last. We also understand that not everyone is familiar with cruiser bikes, so we provide a comprehensive buying guide on our website. This guide includes everything you need to know about cruiser bikes, from sizing and fit, to types of riding, and features.
We also have a team of experts available to answer any questions about choosing the best cruiser bike for your needs. So if you're unsure which cruiser bike is right for you, don't hesitate to contact us. We're here to help!
We answered the most common questions below in every cruiser bike beginner's mind.
What Are Cruiser Bikes Good For?
Cruiser bikes are just that, bikes that are made for cruising around town. These bikes are made for a comfortable ride, and for the rider that doesn't need to go fast or to work hard. Cruisers are not the bike for the person that wants to ride terrain or to go fast.
With relatively simple gearing and coaster style brakes, cruiser bikes are perfect on flat smooth surfaces. You will find that they are good for riding around town and can be used as a commuter bikes if your daily trips aren't too far.
Because they are highly customizable, cruisers make the perfect bike for running errands, hitting the local farmers market or hitting your favorite local restaurant or brewery. Beach cruisers are designed for the leisurely weekend ride.
The cruiser bike is also good for the rider that wants to make a statement. Cruiser bikes come in a wide variety of colors, body designs, and customizable features.
While you can find unisex bikes, the fun of cruiser bikes is that they also come in men's and women's specific body styles and colors. Some cruiser bikes also come with tires with unique tread designs that match the colors and patterns on the bike frame.
If you want to add a bit of whimsy to your cruiser bike, the fan of customization will enjoy adding baskets, saddlebags, bells and cup holders. The cruiser bike is great for the rider that wants their bike to stand out.
Can Cruiser Bikes Go Fast?
In general, no, cruiser bikes don't go fast. Cruiser bikes are not made for speed. They are designed and constructed with comfort in mind, and unlike comfortable cars, cruiser bikes don't combine speed with comfort. There are a couple of reasons that cruiser bikes don't go fast.
Wide Tires
One of the most distinguishable features of the cruiser bike is the wide, balloon tires. Cruiser bike tires are designed to give the bike a smooth, cushioned ride. The wide tires of the cruiser bike also give the bike a lot of stability. Which is one of the reasons they are so popular?
However, what the balloon tires provide in the realm of comfort, they lose in speed. The wider than normal tires are also thicker than other bike tires, which adds weight to your cruiser bike. This added weight will slow down your bike.
Heavy Frame
Most cruiser bikes are made from steel and aluminum. While aluminum is a very light metal, it makes up only a small portion of the cruiser bike frame. Most of the cruiser bike is made of steel tubing.
This steel tubing means that your cruiser bike is going to last a long time, and look great long after other bikes have worn out. However, this long-lasting frame material is also heavy. Just like with the tires, added weight to the bike will slow it down.
Limited Gearing
The original configuration of cruiser bikes was a single gear configuration. This gearing configuration is still common on most cruiser bikes.
However, there are some cruiser bikes that come with a 3-speed gear configuration, and there are even some brands that have a gear configuration similar to mountain or road bikes. While some cruiser bikes are fully geared, most are not, and this can mean a slower ride.
Especially if you are riding a single-speed cruiser, don't expect to hit high speeds, unless of course, you are ready to pedal hard. You can get a bit more help with speed on a 3-speed cruiser, but it won't be like riding a hybrid or commuter bike.
Added Extras
All of the fun extras that you can add to your cruiser are going to slow you down. While cruisers aren't the most aerodynamic of bikes, when you add accessories like baskets and saddlebags, you slow your bike down.
This slow down comes from both added resistance and added weight. If you want to improve speed, consider skipping some of the accessories.
At best, you can expect to achieve moderate speeds on your cruiser bike. It would make sense, however, that as a rider of a cruiser bike, you wouldn't be looking for speed, but rather a smooth, comfortable, leisurely ride.
How Do You Stop A Cruiser Bike?
Cruiser bikes come with two types of brakes, depending on the gear set-up of your bike. If you have a single-speed cruiser bike, it is more likely than not, that your bike will have coaster brakes.
Geared bikes aren't a good fit with coaster brakes, so the chances are good that if you have a multi-gear bike, your cruiser will come with handlebar brakes. This is just a rule of thumb, and you can find bikes with a variety of brake and gear combinations.
Coaster brakes are the most simple of brakes. They are popular not only on cruiser bikes but many kids bikes also come with coaster brakes. Coaster brakes have been around for a long time, and they are a very safe and controlled way to stop a bicycle. Coaster brakes are controlled by your pedals, instead of pads on the wheels, like handlebar brakes.
If your bike has coaster brakes, the best way to stop them is to first start slowing down. You will need to stop pedaling forward and allow the bike to start to slow on its own.
Then, gently step backward on your pedals. Depressing the pedals backward will engage the coaster brake and begin to slow your bike down. Because coaster brakes are so controlled, you can also make quick stops with these brakes.
However, be aware that fast stops can cause sliding or skidding, so be prepared to also control your steering. One of the advantages of coaster brakes when making quick stops is that you don't have to worry about going over the handlebars. This can be a hazard to using handlebar brakes.
If your bike has handlebar brakes, your braking technique will be different from coaster brakes. In general, handlebar brakes will control stopping on both the front and back wheels.
In the United States, most bikes have the left hand controlling the front brake and the right hand controlling the back brake. When you are stopping with handlebar brakes, you will want to first stop pedaling, so your bike begins to slow down. Then, gently depress the levers on the handlebars.
It is recommended that you slow down using both the front and back brakes. This will provide you with more control, than if you use just the front or just the back brake.
If you must make a hard stop, many riders will benefit from using just the back brakes. Avoid using the front brakes when making hard stops. This can cause you to go over the handlebars or come off your seat. In either case, you can injure yourself, or lose control of your bike.
How To Install Brakes On Cruiser Bikes?
This is a challenging question to answer, and the reality is that if you aren't an experienced bike mechanic, you probably would be best to have this work done by someone who is experienced. However, if you are ready for the challenge, you can install brakes on your cruiser bike.
If your cruiser bike is already equipped with handlebar brakes, you probably only want to do minor repairs to your brakes. This might include things like running a new brake line or replacing brake pads.
These are simple tasks that most riders, even those with limited experience with bike maintenance and repairs can accomplish. There are tons of YouTube videos that will walk you through these processes, or you can refer to the instructions that come with your replacement parts. Replacing worn-out parts is an important part of maintaining your cruiser bike.
If however, your cruiser bike came with coaster brakes, you may want to add a front handlebar brake to your bike. This will give you added braking power for those times when you might have to navigate down a steep hill or make a quick stop.
Here are the basic steps to installing front brakes on your cruiser bike:
Install the brake pads to the inside face of each brake arm. Make sure the threaded studs are facing out.
Screw the crown nuts on to each of the threaded studs. Do this by hand first. You will tighten them down later.
Rotate the brake pads so they are perpendicular to the brake arms. Use a metric wrench to tighten down the crown nuts.
Attach the bracket to the front steering headset. The universal bracket should come with a bolt and rear clamp. Do not overtighten the bolt, you will want the universal bracket to move easily without scratching the bike.
Loosen the hex nut from the pivot bolt holding the brake arms together. Spread the brake arms apart by hand.
Slide the brake arms over the front fender and tire.
Align the brake pads over the wheel rims.
Place the pivot bolt into the lower hole, and tighten the nut on the end of the pivot bolt, first by hand, then using a wrench.
Check the alignment of the brake pads before tightening the clamp bolt.
Position the hand lever on the handlebars. Making sure the housing is against the handgrip.
Each brake kit is different, so refer to the adapter kit instructions for the correct way to connect the ball end of the brake cable to the hand lever.
Loosen the cable stop screw, and slide the stranded end of the cable through the cable port.
Squeeze the brake hand lever against the grip, leaving it in this position. Using a pair of locking pliers, grip the end of the cable below the cable stop and pull the cable, straight down until the lever fully opens.
Press the brake arms together, by hand, until the brake pads are 1/8 inch from the rim of each side of the wheel. Tighten the cable-stop screw around the cable, using an Allan wrench. Release the pliers from the cable.
These are the basic instructions for installing a front brake on your cruiser bike. If you aren't comfortable with this process, don't be afraid to take your bike to an experienced mechanic to do the work. These are safety features for your bike, so they should be installed correctly, or you can risk injury.
Can You Go On Long Rides With A Cruiser Bike?
The distance you can travel on a cruiser bike really depends on how far you are willing to travel, and how hard you are willing to work to get there. Understanding that cruiser bikes are made for comfort, many people assume that they are also good for long-distance rides.
However, it soon becomes apparent that while comfortable, it takes some extra work to get where you are going on a cruiser bike. Cruiser bikes are heavy and with most cruiser bikes having limited gears, you may find that traveling long distances on your cruiser bike is not as easy as on a commuter bike or even a standard road bike.
Most people don't travel long distances on their cruiser bikes. The moderate distance of 5 to 10 miles may be all that you want to do in a day on your cruiser bike. And this may be all the distance you can travel, considering the slower speeds of cruiser bikes.
However, that doesn't mean that longer distances on your cruiser bike aren't possible. If your cruiser bike is geared more like a traditional bike, you may find it easier to put in extra miles. You may also find it easier to go longer distances on your cruiser bike if you keep the accessories to a minimum, keeping extra, added weight off of your bike.
With all of that said, the choice is yours. If you are willing to do the work and don't mind traveling long distances on your cruiser bike, there is nothing stopping you. Just remember, you'll be doing more work to get where you're going than you might on a different bike. Just remember to lock your bike if you're going on longer trips and don't just leave them on the side of the road!
How Many Gears Does The Average Cruiser Bike Have?
Cruiser bikes come in three different gear configurations. Depending on where and how often you are going to be riding your cruiser bike, you may want to select the one that is best for your riding conditions.
The traditional cruiser bike is a single gear bike. In this gear configuration, you control power through your pedals by pedaling harder. Going up hills in this gear configuration may require you to stand up and ride your bike, to get enough power to go uphill.
However, many riders prefer the traditional, and if you are in an area that is mostly flat, a single gear may be just fine. If you want to ride a little easier, or if you know you'll have to ride hills more consistently, you may want to consider a 3-speed cruiser bike. While not as versatile as a bike with more gears, the 3-speed bike gives you more power with less work.
This is an attractive gear configuration for many people that want the comfort of a cruiser bike, but also want to have more functionality. Finally, if you just love the gearing on your mountain or road bike and want something similar on a cruiser, look for a full gear cruiser bike. There are cruiser manufacturers that have product lines that have fully geared bikes.
Are cruiser bikes good for beginners?
Cruiser bikes are good for beginners because they are comfortable and easy to ride. They are perfect for short trips around town or for riding on bike paths.
Conclusion
Cruiser bikes have become a great option for comfort and fun for many bike riders. They are made to give you a fun, easy ride around town. They are perfect for running errands or for riding around your neighborhood.
In this review, we've given your our picks for the best cruiser bikes and answered your questions about cruiser bikes. We hope that we've helped guide you towards making the best cruiser bike choice for you.
If you have other thoughts on cruiser bikes or if we missed a bike that you love, let us know your thoughts in the comments section.