Best Cycling Backpacks – Pack Your Gear And Ride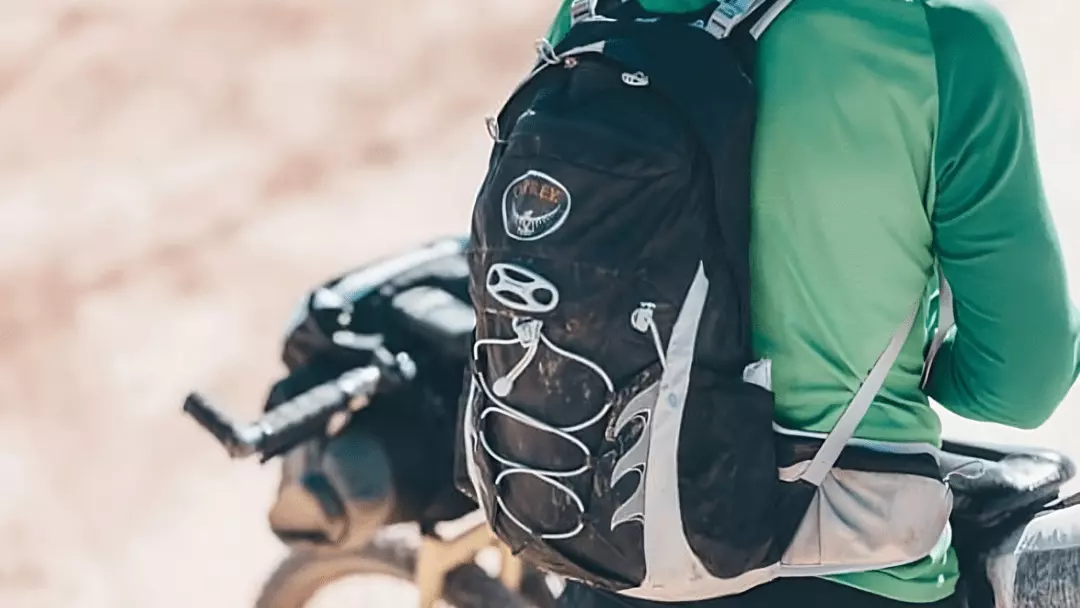 It would be great if you could just jump on your bike and ride.
But sometimes that's just not possible. You need to carry some important items with you, which is where a cycling backpack comes in.
What should you carry in your cycling backpack?
You should carry essential items, such as your phone, a first aid kit if you're in the great outdoors, and water bottles to ensure you stay hydrated.
But, there's so much more to consider, such as if you're packing a bag for a daily commute, which will obviously require you to have a decent amount of storage space.
When choosing a backpack, you need to make sure you spend a bit of time to purchase the best one that has enough capacity, is water-resistant, and is made of durable materials so that it'll be as rugged as the terrain you're navigating.
Let's check out the best cycling backpacks: pack your gear and ride.
Custom HTML 1:

Custom HTML 1:

Custom HTML 1:

Size:

S: 18 x 7.5 x 4.3 inches L: 20 x 7.5 x 4.3 inches

Material:

CORDURA ripstop nylon; lining: polyester

Material:

70D / 210D diamond ripstop nylon

Material:

210-denier double-diamond nylon ripstop/420-denier nylon packcloth
Custom HTML 1: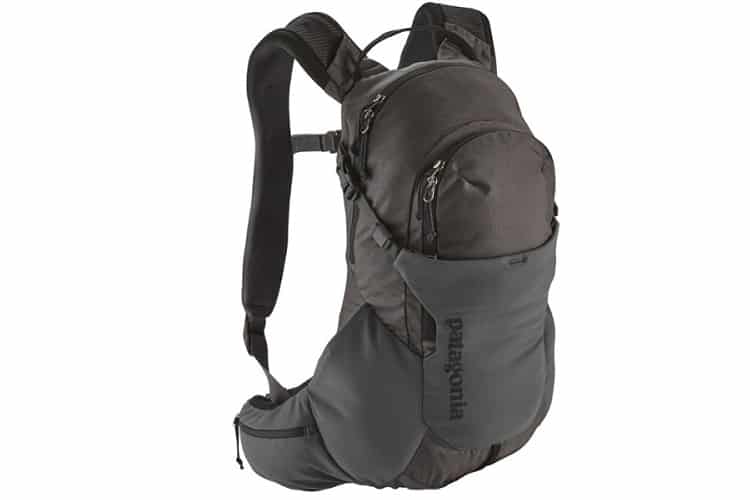 Size:
S: 18 x 7.5 x 4.3 inches L: 20 x 7.5 x 4.3 inches
Material:
CORDURA ripstop nylon; lining: polyester
Custom HTML 1: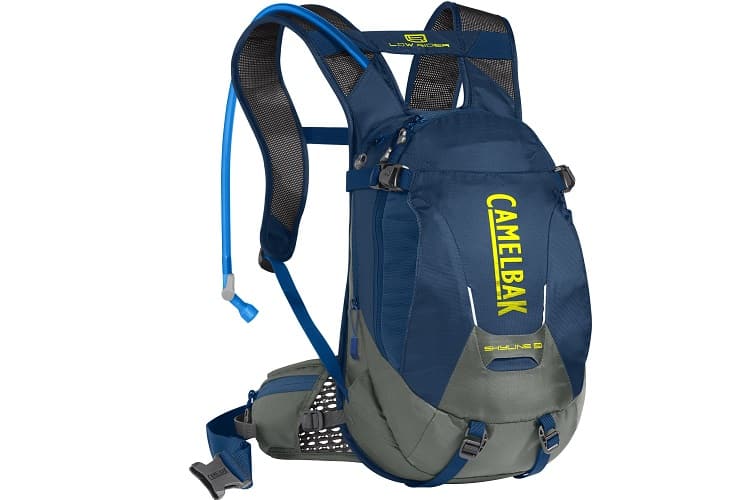 Material:
70D / 210D diamond ripstop nylon
Custom HTML 1: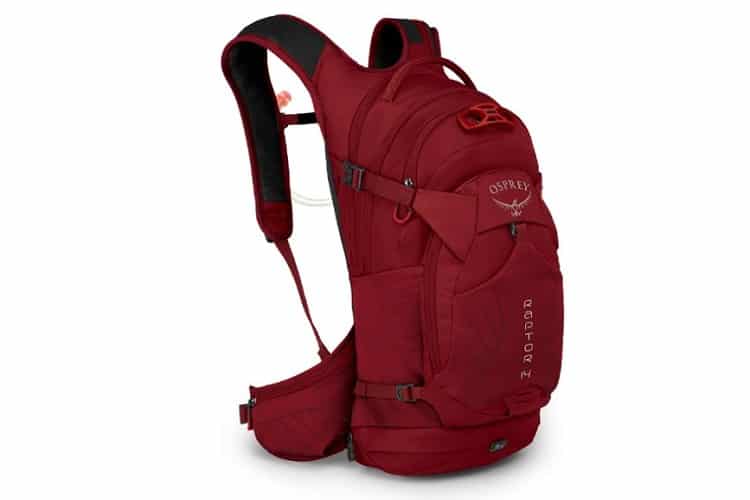 Material:
210-denier double-diamond nylon ripstop/420-denier nylon packcloth
Now that we've looked at the best cycling backpacks based on important features, such as their size, capacity, and whether they're waterproof, let's take a deeper look at what they're about. We'll start with the best cycling backpack on our list!
Our Recommendations For The Best Cycling Backpacks For 2023
Winner: Patagonia Nine Trails 14L Hydration Pack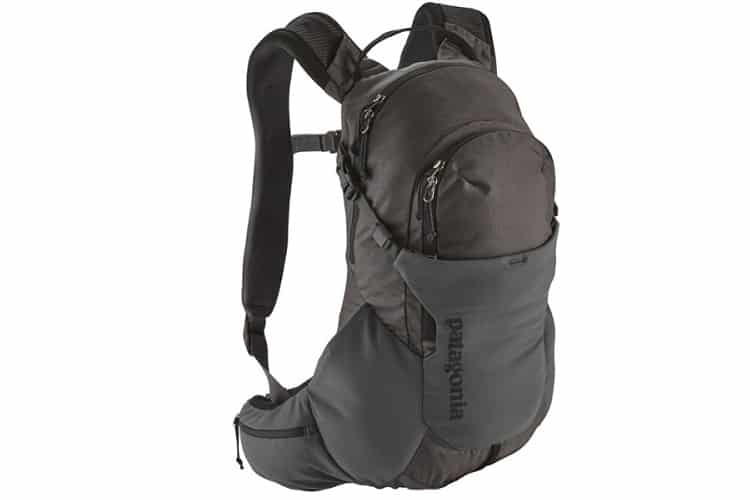 If you're going to be out on your bike for several hours at a time, you shouldn't leave home without a decent backpack. But this one by Patagonia is a game-changer because it's so much more than just a handy bag for snacks and water.
Featured Specs
14 liters of storage capacity
BPA-free
Made of nylon and polyester
Gear capacity: 14 liters
Durable water-repellent finish
Benefits
This backpack is all about having easy access to its different compartments, thanks to its panel-loading design – and it's got four main compartments.
There are also hip-belt pockets if you want to keep some important items closer.
The last thing you want is moisture build up in your backpack, and that's something you won't have to worry about. This backpack has a mono-mesh back panel to prevent moisture and also increase air circulation so that you can feel more comfortable during long bike rides.
One of the best things about this backpack is that its hip belt and shoulder harness make the load on your back more centered so it won't get in the way when you're making quick turns on your bike.
The bag is coated with a water-repellant finish so that it will wick away moisture.
Extra Features
It has a padded shoulder harness for greater comfort. The sternum strap can be adjusted.
It's got a two-liter HydraPak reservoir. HydraPak is water storage that keeps water cool.
Drawbacks
One of the drawbacks of this backpack is that it has loose strap ends that can sometimes get in the way.
Buying Advice
This Patagonia backpack costs around $140. You'll love its low-profile design and how it has space for everything you need when cycling or enjoying outdoor activities. There's no doubt you'll get tons of use from it.
Runner-Up: CamelBak Skyline LR 10 Hydration Pack – 3 Liters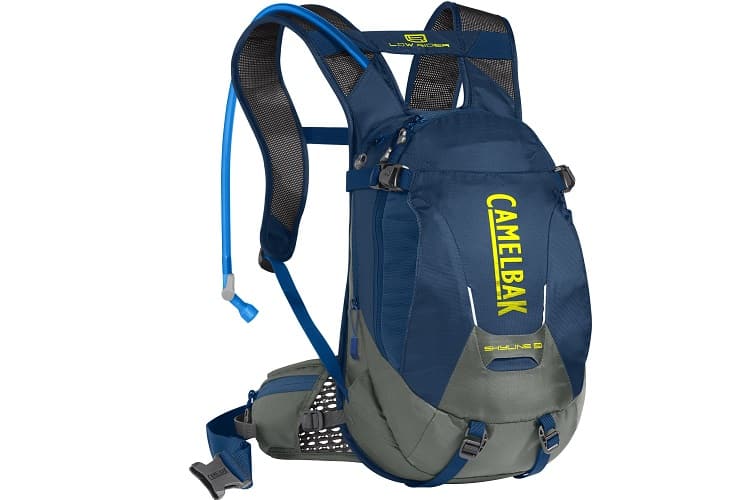 Whether you'll be using this backpack when you cycle or go hiking, you'll love how it pushes down its weight so that you have a low center of gravity, which you'll especially appreciate when you're riding over bumpy terrain.
Featured Specs
3-liter Crux LR reservoir
Zippered trapdoor for easy access
Ventilated back panel
Magnetic tube trap makes hydration tube accessible
Gear capacity: 10 liters
Benefits
This backpack gives you a three-liter reservoir that you'll have easy access to, thanks to its smart zippered trapdoor. This enables you to top up on water when you're on the go without a hassle.
It's got 10 liters of storage capacity, with five pockets: one on the left hip, one on the right, a small pocket on the top for smaller items, a main pocket, and a front pocket.
You can pack tons into this backpack, including your elbow and knee pads.
It comes with an organizer roll for your bike tools. Simply roll it up so you can store it away without taking up too much space.
The bag's back panel has air circulation, as does the hip belt where you'll want to stash your essential bits.
For those items that need to be treated delicately, such as your spectacles, there's a pocket with a softer lining to keep them safe.
The bag's got a nifty stabilizing shoulder yoke that ensures it will remain centered on your back without hampering your movements.
Extra Features
It's got an adjustable sternum strap so you can find the most comfortable fit.
It's got reflective pieces on it so that you'll be easily seen on your bike when riding in poor visibility or at night. This is a fantastic feature that will keep you safe.
It comes in three colors: black, navy, and gray.
Drawbacks
People who've purchased this backpack have reported that it's quite difficult to put a full water bag inside it.
The clips that you use to attach the straps are a bit finicky and get stuck easily.
Buying Advice
This backpack costs around $130. While it does have a few glitches in its design, it makes up for them by providing you with tons of storage and nice touches, such as the reflective pieces on it that will keep you visible on the road.
Alternative 1: Osprey Raptor 14 Hydration Pack – Men's – 2.5 Liters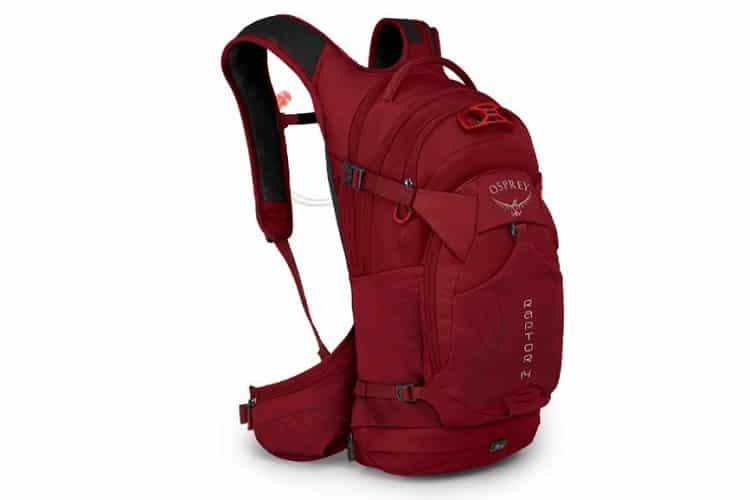 This Osprey Raptor cycling backpack has all the essentials you'll need in riding back, plus a few extras for greater convenience. Let's jump into its specs.
Featured Specs
2.5-liter reservoir
Gear capacity: 14 liters
Sternum strap magnet
LidLock bike helmet attachment
Benefits
The sternum strap is light but has a magnet on it to hold the bite valve. This gives you quick and easy access to your water storage whenever you need it.
It comes with what's known as a LidLock bike helmet attachment so you can store your helmet when you're not using it. Sweet.
It's got zippered hip belt pockets for all those items you want closer to your body. There's also a scratch-resistant pocket for valuables, such as your cell phone.
It comes with a roll-up tool pouch for your bike tools that you want out of the way. Simply roll it up and stash it in your bag.
Extra Features
This cycling backpack comes with a reflective patch and blinker light attachment.
The back panel of the backpack fits well and increases ventilation. This is important to prevent sweating and discomfort during long rides.
You can choose from three colors: black, green, and red.
Drawbacks
Some people who've purchased the product have reported that the tube doesn't disconnect easily from the water pouch.
Others have reported that the clasps on the bag's straps could have been a bit stronger and more durable.
Buying Advice
This Osprey backpack costs around $150. If you love a backpack that will store your water and other essentials in a comfortable bag that also comes in a simple yet attractive design to further make you visible when you're on the road, then this one's a worthy one to check out.
Alternative 2: sunhiker Small Cycling Hiking Backpack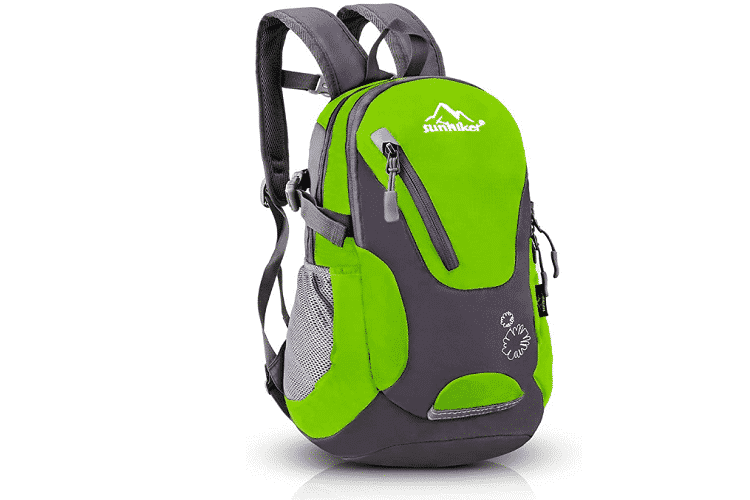 Maybe you don't want a large backpack. Maybe you want a smaller, more compact one that you can use for just a few items. In that case, the Sunhiker backpack is the best one for you.
Featured Specs
Made from nylon that's water-resistant and scratch-resistant
Gear capacity: 20-25 liters
Breathable mesh straps
Benefits
While this bag is small, it can give you up to around 20 liters of storage capacity, which is pretty decent and might be more than enough for your needs.
It's comfortable to use, even during long bike rides, thanks to its breathable mesh shoulder straps. These take the pressure off your shoulders.
There's space to store your bottle holder on both sides of the bag, which is great if you're left- or right-handed because it means you'll be able to reach for water when you're in the middle of a ride without a hassle.
Extra Features
It comes in nine different colors, and they're all bright and bold to set you apart from other cyclists on the road.
Drawbacks
Some people have reported that there's a lack of storage compartments in this backpack, but let's not forget that it's meant for light storage. If you're someone who wants a lot of pockets and wants to store items of different sizes in different compartments, then you'll want to choose a different bag altogether.
Buying Advice
This small biking backpack costs around $30. It has some nice features for light packers or beginner cyclists, such as water bottle compartments and the fact that it's water-resistant, but if you want something with more storage capabilities then this is probably not the one for you.
You could still use it as a general backpack, though, and with its beautiful appearance, you'll definitely want to.
Alternative 3: Osprey Daylite Daypack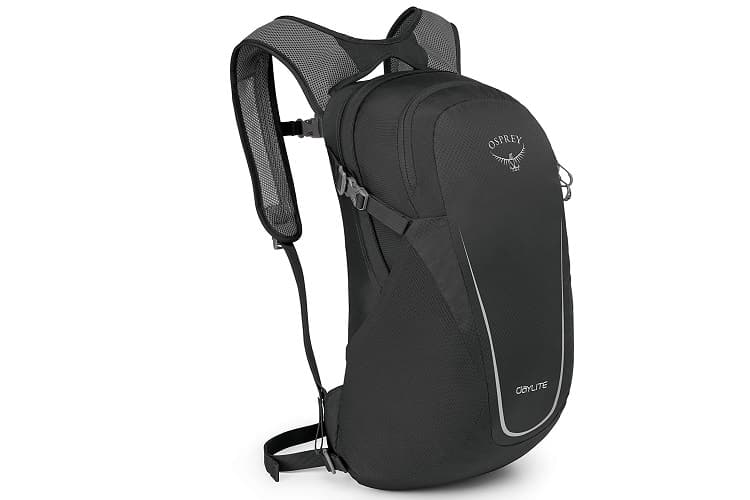 Osprey makes our list of the best riding backpacks again with their Daylite Daypack. The company's Daylite series has become very popular, and this is thanks to how their bags are light, durable, and very comfortable.
So, with that in mind, let's check out what the Daylite Daypack has to offer.
Featured Specs
Gear capacity: 13 liters
Mesh side pockets
Versatile interior sleeve
Benefits
This Osprey backpack comes with a large panel for its main compartment which makes it easy for you to have access to what's inside without having to move your items around.
The bag has mesh side pockets for extra storage.
There's an interior sleeve that's quite versatile because you can use it for your hydration reservoir, or something else.
The back panel of the bag is made of die-cut foam that's covered in mesh. This boosts air circulation while you ride.
Extra Features
It comes in eight beautiful colors.
If you need a bigger bag, this one can be attached to a larger Osprey backpack, as long as it's part of compatible Osprey backpack ranges, such as the Aether/Ariel Series, Volt/Viva Series, Shuttle Series, Sojourn Series, and Porter Series.
It's water-resistant, so it's no big deal if it accidentally gets wet.
It's big enough to fit a 13-inch Macbook Pro as well as other items without a problem.
Drawbacks
Some people have reported difficulties with the water bottle pockets, saying that they lack the material to accommodate their volume.
There's also a small issue with discomfort when using this backpack. It has a strap that connects the backpack's main straps but this tends to get in the way, with people who've purchased the backpack stating that it irritates their necks.
Buying Advice
This Osprey bag costs around $50. While it might have a few design issues worth considering, its many features and benefits generally outweigh them.
It's especially got great features that make it the best backpack for biking, such as how it's water-resistant and can be attached to a larger backpack if required.
Cycling Backpack FAQ
You now know what the best cycling bags are on the market, but you might have some questions regarding cycling backpacks in general.
Let's jump right into them!
What Is A Cycling Backpack?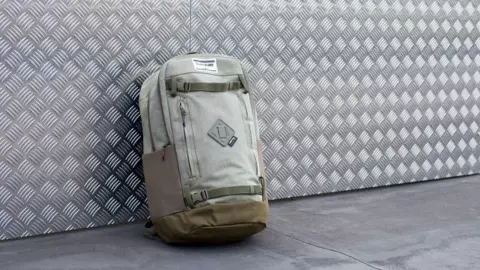 A cycling backpack can store all your cycling gear, such as bottles of water, clothing, and snacks when you're on an off-road adventure.
While you might think of it as nothing more than a regular backpack, it has features that make it more suitable for being outdoors, such as water-resistant features and the ability to carry water reservoirs.
Cycling backpacks can also be used for many other items, such as books and clothing, which makes them great not just for cycling but also for other outdoor adventures, such as hiking.
Since you have to wear them while you ride, cycling backpacks tend to be lightweight and easy to carry. This is achieved in numerous ways, such as by having straps made out of mesh to relieve pressure on your shoulders.
Some backpacks are designed in such a way as to have a lower center of gravity. This means that they can sit lower on your back and not get in the way of your riding.
What Material Is The Best For Cycling Backpacks?
You want a cycling backpack that can withstand a lot. It should be durable and made of strong materials.
A bit of water resistance is also nice, not just if you get caught in a rainstorm but so that you won't have to worry about your items getting damaged.
If you're carrying valuable items, such as spectacles or a laptop, you certainly want to ensure they will stay dry and safe!
Some of the best materials for cycling backpacks are water-resistant nylon, tarpaulin, or polyester, which will be quite durable and last a long time.
Some mesh is also good as it helps to increase air circulation, especially around your back. Since your backpack will be secured to your back while you ride, this can cause you to sweat.
Having mesh panels in this area will help to make you feel more comfortable.
What Capacity Cycling Backpack Is Right For Me?
As you can see from our cycling backpack reviews, there are many different backpack capacities.
How much will be enough for you?
Here's a general guideline to help you figure it out: it's been said that a capacity of 20 to 30 liters is enough for a commuter bag, as Cycling Weekly reports.
The bag capacity you choose will depend on various factors, such as how much gear you need to pack.
If you're going away for a night or three, a backpack with a capacity of between 30 and 50 liters should be enough. This is a bit more than what you'd need for a daily commute.
There are many different liters of capacity in backpacks that you can choose from, as we've seen in these cycling backpack reviews.
A good way to find out how much storage space you need in your cycling backpack is to make a list of everything you need to carry in it and then try bags out at the store.
When shopping online, it helps to read customer reviews to see how the bags really fare when it comes to their storage capacities.
How To Maintain A Cycling Backpack?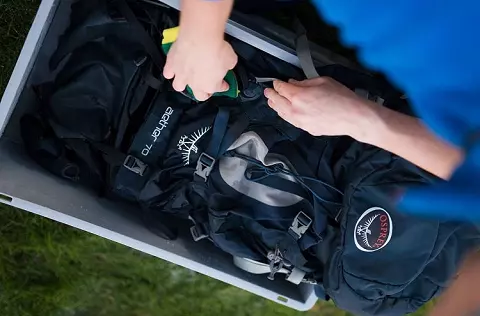 Looking after your cycling backpack is important to ensure it has a longer lifespan. Part of maintaining it is cleaning it regularly, such as after a particularly dusty ride.
Before cleaning it with water, empty the bag and shake it out to get rid of particles. For a mild clean, use lukewarm water and a soft sponge when cleaning your backpack inside and out.
Avoid using a brush as this could damage the fabric. Make sure you place the backpack somewhere safe to dry where it's out of the direct sun as the harsh UV rays can damage the fabric over time.
When cleaning zippers on your backpack, clean them with a toothbrush or other gentle brush to remove dust and dirt. Avoid scrubbing the zippers too hard, though, since many backpacks have zippers with a water-resistant coating.
If your backpack needs a deeper cleaning, you can use a hand-held vacuum cleaner to clean the interiors before washing it by hand with some water and mild soap.
If you need to eliminate stains on your backpack, spot-clean them with a one-to-one ratio of water and detergent. Blot – don't rub – the solution into the fabric and then rinse it in lukewarm water before putting it outside to air-dry.
If your backpack is waterproof, you want to avoid washing it too often. You should stick to washing it no more than twice a year. This is to prevent the waterproofing coating from wearing away.
Finally, always make sure you read the manufacturer's instructions when it comes to cleaning your backpack to prevent damaging it.
Conclusion
A biking backpack is an essential item for cycling, whether you engage in short or long rides, in urban or rural areas.
One of its most important tasks is to keep you hydrated. Many cycling backpacks will store your water reservoir, or multiple ones, to ensure that you can gulp water while you cycle.
In addition to keeping you hydrated, cycling backpacks will keep essential items at hand, from bike tool kits you might need if your wheels need pumping to first-aid kits if you're taking your adventure off-road all day.
In this buying guide, we've featured five of the best biking backpacks to take with you on all your exciting adventures.
We've also answered some important questions about biking backpacks so you can find the best one for your needs and ensure you spend money on a backpack that will last the test of time.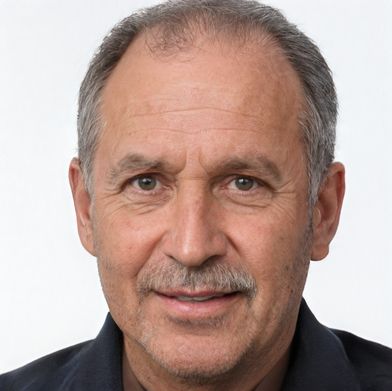 Steve Beck is a passionate cyclist and experienced writer covering the cycling industry for over a decade. He has a wealth of knowledge and expertise in all bike-related things, from the latest products and technologies to the best routes and trails. His articles are well-researched, informative, and engaging, and he has a talent for explaining complex cycling concepts in a way that is easy to understand. Steve can be found on the road when he's not writing about bikes, putting his knowledge and skills to the test.