Best Bike Rack For SUV Car – Top Picks For 2023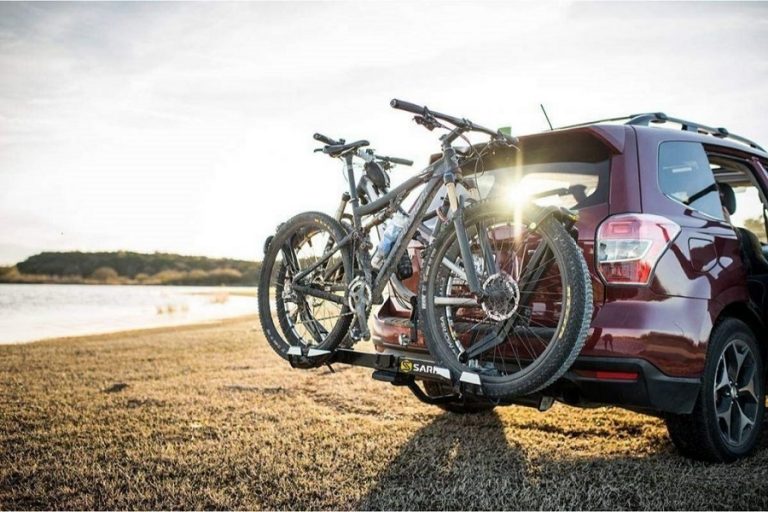 When you want to take your bike for an adventure, you'll need to ensure you can transport it safely and securely.
It just doesn't cut it to try to push your bike into the backseat of your car, as you'll know if you've ever tried it.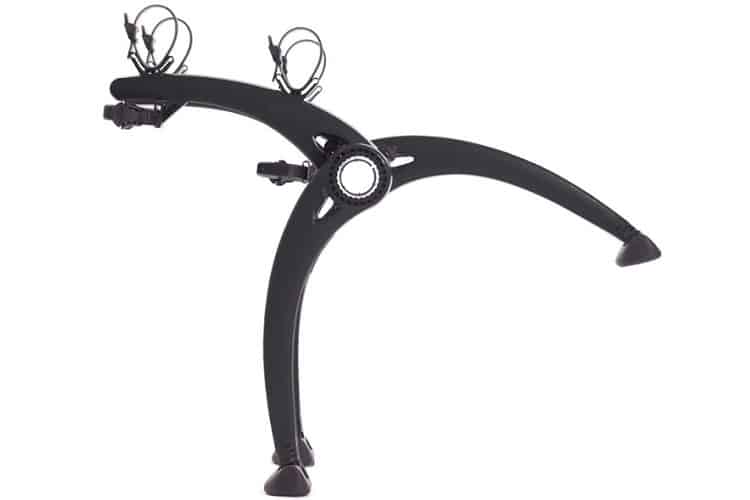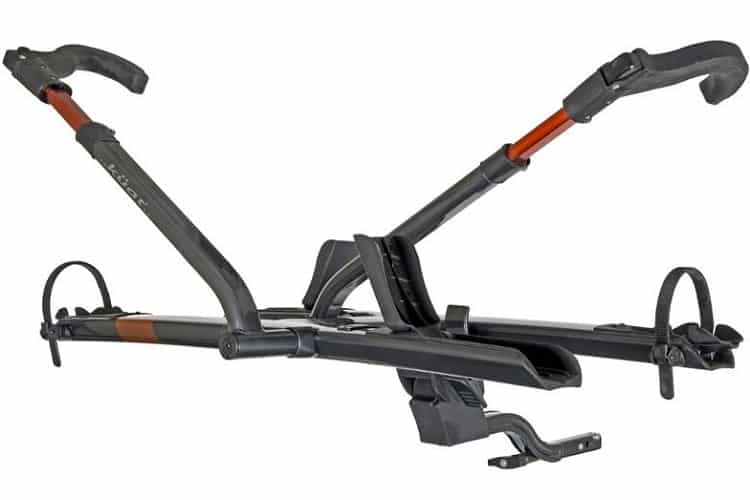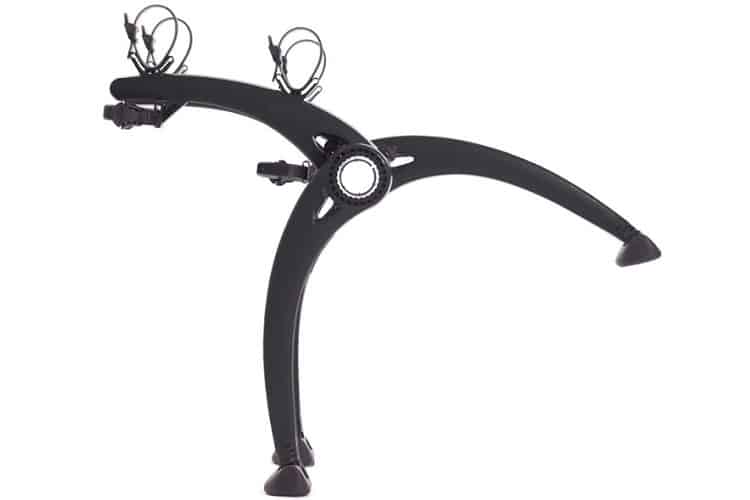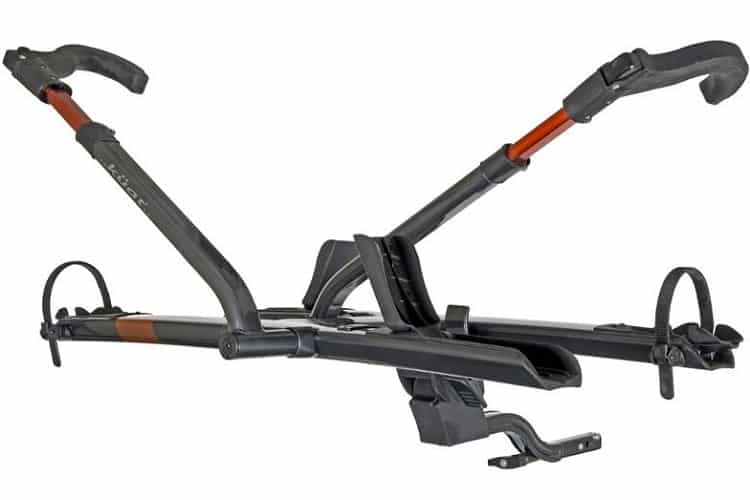 Can a bike rack fit any car?
While they don't usually come standard, you can find versatile bike racks that will fit your car or SUV without causing you any stress. There are also bike racks that come in a variety of different styles so there's tons from which to choose.
Don't worry – we've broken it down for you so you can choose from five of the top bike racks on the market. Let's jump right in with a comparison table of the best bike rack for car/SUV: top picks for 2023.
Now that we've looked at six of the top bike racks on the market, we can look at them in more detail, starting with the one that's most value for money and has all the features that you need in a bike rack.
Our Recommendations For The Best Bike Rack For SUV/Car
Overall Winner: Saris Bones 2-Bike Trunk Rack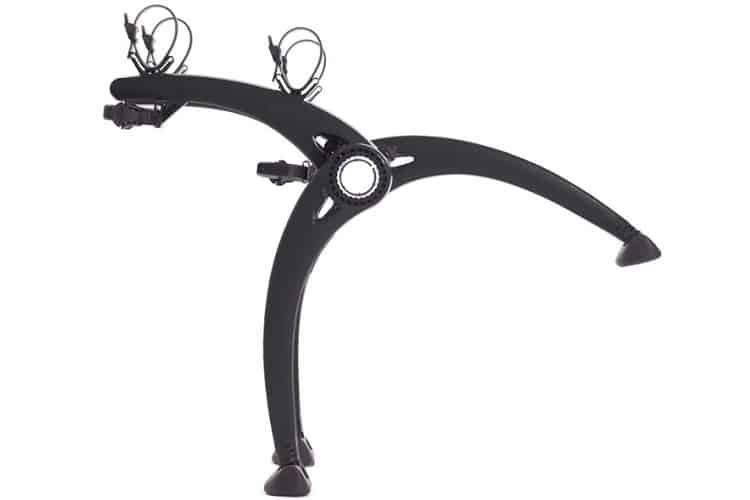 What's most striking about this trunk rack right off the bat is its innovative design.
It's shaped like two arcs so that it can hold two bikes but on different levels, while being compatible with many different types of cars, which is a bonus if you don't think you're going to keep your current wheels for long.
Featured Specs
Carries two bikes
Attaches onto the trunk of the car
Made with 100 percent recyclable materials, so you don't have to worry about the environmental impact of your bike rack.
Anti-sway straps to prevent movement when you're on the road
Spring buckle straps that have vinyl-coated hooks
Maximum weight per bike: 35 pounds
Benefits
This rack might look delicate, but it's made with heavy-duty plastic that won't break or suffer wear and tear over time.
Its injection-molded arms and legs are resistant to rust, which is perfect for transporting your bike in any weather condition.
The ratchet straps hold the bikes securely in place, even when you're traveling over rugged terrain.
Ever had the nasty experience of your bike rack scratching the paint on your car? That's not something you need to worry about with this Saris Bones trunk rack because it's got rubber feet that are gentle on your car's surface.
Extra Features
It can fit onto many cars, such as sedans, minivans, and hatchbacks without a problem, which is as a result of its versatile frame that attaches to most spoilers. This is great if your current vehicle changes or you want to use the rack on your mate's ride.
It's light and easy to carry around, which is a bonus if you're going to be using it a lot.
Drawbacks
If you want to transport your recumbent or tandem bike, you'll have to purchase an adapter separately to be able to use this bike rack.
While it's said to prevent scratches, you do need to do a bit of work to ensure this. But it's nothing too time-consuming. Just always make sure that the rubber feet of the rack as well as the surface of your car are completely clean before installing the bike rack. And, tighten those straps well so that the bike rack won't move and nick your car.
Buying Advice
So, how much do you have to pay?
The Saris Bones rack costs around $160. It's the top rated bike rack that's a worthwhile investment if you need to transport your bike on a regular basis, thanks to its innovative design, solid construction, and durability. It's sure to go the distance.
Runner-Up: Thule Apex XT 4-Bike Hitch Rack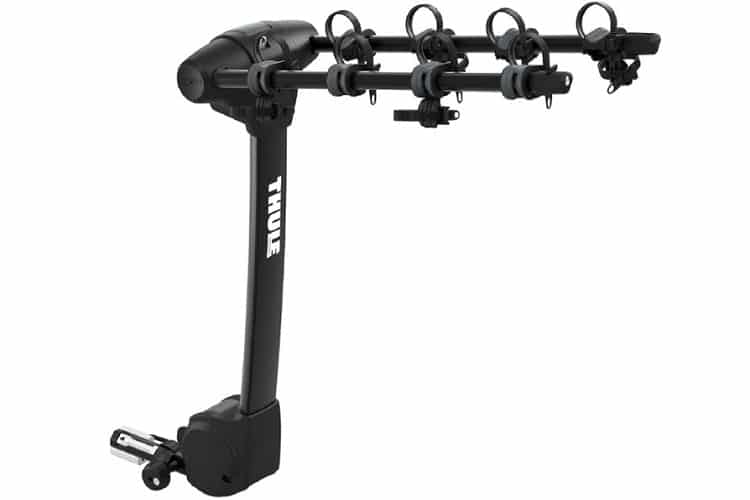 This is one of the road bike racks that's perfect for cycling with the family or friends as it can carry up to bike rack for SUV 4 bikes on it.
It's also jacked up with lots of security features so you don't have to worry about the bikes getting stolen. Let's take a look at its specs in more detail.
Featured Specs
This bike rack attaches to the trunk of your car and looks like a long tube on which you can attach up to four bikes.
Cradle design to accommodate bikes of different sizes and styles.
SnugTite stinger that locks the rack to your car and is quick to install.
Compatible with 1.25 or 2-inch hitch receiver.
Maximum weight per bike: 37.5 pounds
Benefits
You don't have to worry about the bikes touching each other during the car journey because this Thule bike rack maintains seven inches of space between each bike.
It's got an anti-sway design that prevents bikes from feeling unstable or becoming wobbly when you're driving them around.
It comes with ratcheting straps that secure the bikes firmly to the rack. Best of all, they're narrow and easy to move out of the way.
It comes with a nifty HitchSwitch lever that enables the rack to tilt so that you gain better access to the back of your car. This is a fantastic feature because you never know when you'll need to get into your trunk after loading your bikes onto the car.
One of the best benefits of this bike rack is the seven inches of space between each bike, but it's not just great for keeping your bikes safe. It makes loading and unloading your bikes so much faster and more convenient.
Extra Features
The bike can be folded up and stored out of sight when it's not going to be in use for a while, thanks to how the rack's arms fold easily.
It comes with an integrated cable that locks the bikes onto the rack, making it much safer if you're in a dodgy area.
Best of all, it's got a handle so you can easily carry it.
Drawbacks
While it's thought to be perfect for the whole family's biking trip using an SUV with bike rack, there is a drawback to consider: many women's and children's bikes require a top tube adapter in order to fit onto this bike rack. This means you have to purchase an extra accessory.
Buying Advice
The Thule Apex XT 4-Bike Hitch Rack costs around $400. It's perfect for you if you worry about safety during cycling trips when you need to transport bikes around.
It's also a breath of fresh air if you're tired of the stressful experience of loading and unloading bikes, as this is a perfect trunk bike rack for SUV to make your life easier.
Alternative: Kuat Sherpa 2.0 2-Bike Hitch Rack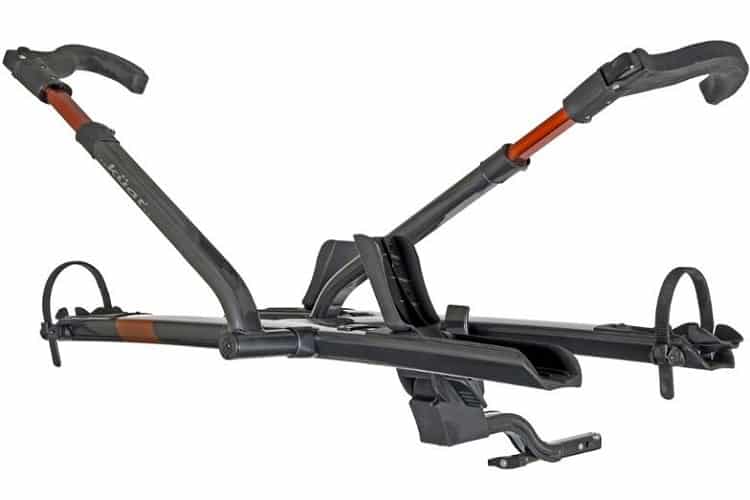 This Kuat Sherpa bike rack makes our list because of how easy it is to use, but it also has some excellent features every bike owner will appreciate.
Featured Specs
Molded strap to protect wheels.
Tilts away from the car so you can access the rear hatch when bikes are loaded on the rack.
Tool-free installation.
It can carry two bikes that each have a maximum weight of 40 pounds.
Folding front cradle to create more space between your car and the rack.
Benefits
This bike rack has a lightweight all-over aluminium construction so that it's easy to install it onto your car and then remove it when it's not in use.
To install it onto your vehicle you don't need to use any tools. It's also got a convenient hand-tightening hitch cam system.
It comes with a cable included so that you can lock your bike with a semi-integrated bike lock.
This bike rack can carry wheelbases that are up to 47 inches and tires that are up to three inches in size.
Extra Features
It looks good, which might be something that's important to you, thanks to its simple and low-profile arc design.
It's got a foot lever tilt release that makes it even easier to use.
Drawbacks
It's a bit disappointing that there are limitations when it comes to the size of wheels that it can accommodate. You're looking at a limit of three-inch wheels, which means other bikes, such as fat bikes, won't be able to be used on this rack.
Its gloss metallic powder finish does look beautiful, but be warned that it does get nicked and scratched pretty easily. So that's something to be wary of if you're going to be transporting your bikes quite a lot.
Buying Advice
While this Kuat Sherpa bike rack is quite a bit more expensive than other bike racks we've already featured in this guide, coming in at around $500, it's perfect for you if you like standard-sized bikes and don't see yourself changing in the future.
With its strong yet lightweight construction, the Kuat Sherpa 2.0 is a valuable bike rack that's easily considered to be one of the top bike racks for cars you can buy.
Best For SUV Winner: Saris Bike Rack on SUV – SuperClamp EX 4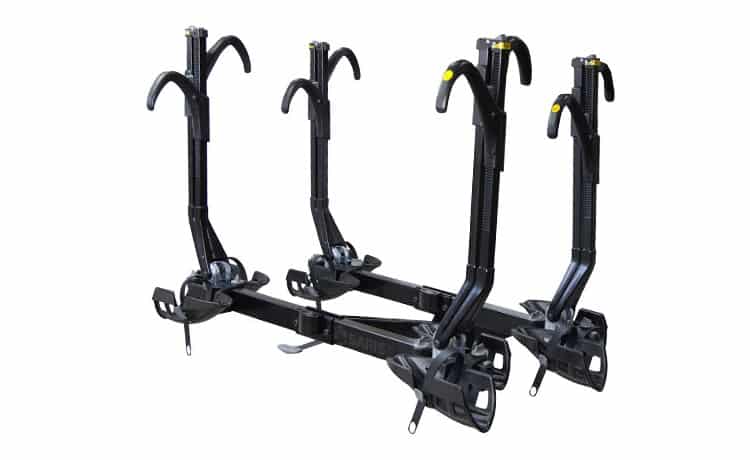 If you have an SUV and you're looking for a bike rack that's compatible with it, look no further than the Saris SuperClamp EX. Here's what you need to know about it.
Featured Specs
Can carry up to 190 pounds in total
Tough and durable steel construction
Versatile enough for many different bike styles, including fat bikes
Tilting feature provides quick and easy access to the back of the vehicle even during use
Shepherd hooks hold onto wheels, not the bike frames
Integrated locking cable
Benefits
Although this bike rack is made of strong steel, it's also really light to carry, which is a bonus.
It's compatible with a ton of different bikes, including kids' bikes, road bikes, and fat bikes, which makes it perfect for a family adventure.
In addition to the above, this bike tray has adjustable wheel trays and arms that can even accommodate bikes with fenders.
You can fit different bike weights on different sections of the bike: the front two trays that are closest to the SUV can each hold 60 pounds, while the other two trays can carry weights of up to 35 pounds.
It's got universal wheel trays so that you can fit wheelbases that are up to 50 inches.
The bike rack can tilt so if you need something out of your boot once you've loaded the bikes you can easily get to it without a problem.
One of the best features about this bike rack is that it makes use of strong and durable shepherd hooks that attach the bikes onto the rack by their wheels instead of their frames.
To keep your bikes safe, this rack has an integrated locking cable as well as a locking hitch pin.
Extra Features
Bonus: there are reflectors fitted on the outside wheel trays to make them easier to see, even in poor weather or low visibility. That's a really nice touch from the manufacturer.
The bike rack folds up neatly when you don't need to use it, without taking up too much space in your garage.
It comes with a lifetime warranty.
Drawbacks
Due to the fact that the bike rack's arms are shared between bikes, the second bike on one arm is not always that easy to load on or off.
Although it's largely made of steel, the wheel holders of this bike rack are made of plastic. This has caused some people who've purchased the product some distress as the bike placed closest to the exhaust pipe has ended up with its plastic melting from the heat released by the exhaust. That's something to bear in mind if you're interested in purchasing this

bike rack

.
Buying Advice
This is the best bike racks for SUV. It costs around $900, but comes with a lifetime warranty and is built to last.
In addition, one of the biggest reasons why you should purchase this bike rack is because you can use it as you progress from one bike type to the next due to how versatile it is. It's sure to last you for a very long time.
Runner-Up: Allen Sports Ultra Compact Trunk Mounted Bike Rack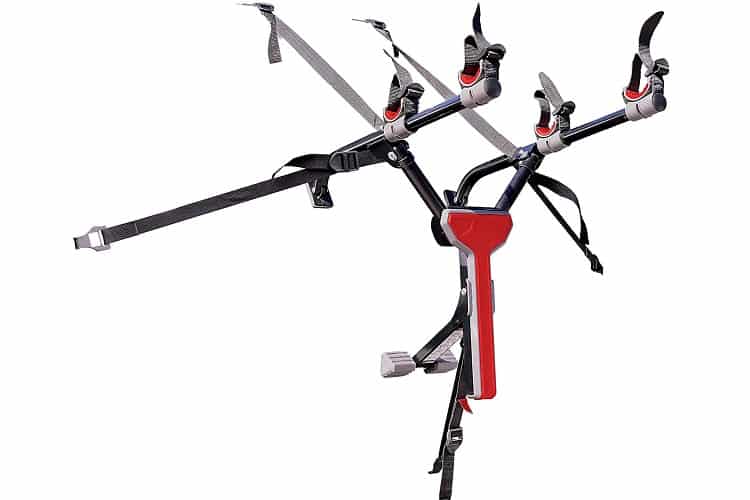 This is a really cool two-bike rack because you can fold it up so that it becomes as small as a shoebox in size and you can even carry it in your backpack! That's perfect for when you're taking your bike off road.
Featured Specs
Three padded legs
Three adjustable security straps to greater safety
Black powder coated finish
Patented design accommodates many types of vehicles
Maximum weight capacity: 70 pounds.
Benefits
When you first look at this Allen Sporst bike rack, you might wonder if it'll stay fastened onto the back of your vehicle because of its thin arms, but it secures your bike onto your car with the use of three padded legs. It also has three security straps.
This padding has another benefit: it ensures that the bike will not come into contact with your SUV.
Changing your car in the near future? No worries, because this bike rack is not just for SUVs. It can fit a range of cars, such as sedans and hatchbacks.
The rack can also fit a range of bike types. This is thanks to how its tie-downs can rotate to accommodate different bike styles.
It's got dual-compound tie-down cradles – these help to secure and protect your bikes during transportation.
Extra Features
This Allen bike rack comes completely assembled so you can use it as soon as you unpack it!
It also comes with a carry bag included.
Drawbacks
People who have purchased this bike rack have reported that it doesn't secure their bikes as well as they would've liked, as their bikes tend to wobble around a bit during car journeys. That's something to consider, as this bike rack might not be the best one for you if you're going to be traveling long distances.
Buying Advice
The Allen sports bike rack is one of the best bike carriers because it's practical and cost-effective, coming in around $60.
It's compact, easy to install and use, and can be just what you need for a minimalist bike haul. However, it's not as strong as other products we've featured in this guide, so that's something to bear in mind.
If you're not someone who needs to transport bikes regularly, then this one is probably best for you because it'll save you money while getting the job done.
Alternative: Saris Bones Car Bike Rack, Trunk or Hitch Carrier

This bike is another lightweight one, coming in at 11 pounds, and can carry two bikes. What sets it apart as an excellent SUV bike rack? Here's why it's worth considering if you own a SUV.
Featured Specs
Made with 100 percent recyclable materials
Injection-molded legs and arms to prevent rust and wear and tear
Can carry two bikes, with maximum weight per bike being 35 pounds
Compatible with range of vehicles
Benefits
This

 bicycle rack for SUV

has an arc-based design that enables you to install bikes at different levels.
It has articulated rubber feet to protect the surface of your car.
You probably want versatility when it comes to your bike rack, and this one will grant your wish. It's compatible with a range of vehicles, including SUVs, minivans, and sedans. This is thanks to its dog leg – this leg fits over most vehicle spoilers.
It stays so light to carry thanks to its plastic construction.
The clips of the rack are fastened around the edges of the hatch or trunk. Since they are smooth on the inside, they prevent scratches on your vehicle.
Extra Features
As with some other bike racks, you can tilt the rack a little bit in order to gain access to your trunk.
You can get it on Amazon in a variety of colors: blue, red, or black, which might appeal to you if you want a stylish bike rack.
Drawbacks
While there is a hitch lock for this bike rack, it unfortunately needs to be purchased separately.
Buying Advice
This bike rack costs around $200 on Amazon. It scores high points when it comes to durability and construction, as well as attention to detail that ensures lugging your bike around doesn't have to be a mission anymore – or scratch your car.
Bike Racks FAQ
Now that we've looked at six of the top bike racks for cars, you might have some general questions like can you use a trunk bike rack on an SUV or how to attach bike rack to car, etc related to bike racks and how they work.
Let's look at these FAQs which will also help you choose the best SUV bike rack for your specific needs.
Why Do MTB Tires Keep Losing Air?
While you might think that any bike rack can fit on any car, that's sadly not the case. There are so many differences between the various bike racks that are on the market that they're not all compatible with every vehicle on the road.
These differences include differences in size, how much of a load they can carry, how they're used (such as if they're roof or trunk racks), and more.
That said, with so many options out there for bike lovers, you're sure to find a bike rack that is compatible with your car as well as other types.
For example, as we've seen in this bike rack for car reviews, there are some bike racks that are pretty universal. These are probably your best bet if you're worried about your vehicle.
The good news is that almost any car can have a bike rack installed onto it – you just have to do a bit of homework to ensure that the bike rack you have will be compatible with your current vehicle, and then Bob's your uncle!
All of the biggest car rack manufacturers offer vehicle fit guides that you can peruse to ensure that you find one that's suitable for the make and model of your car.
How To Install A Bike Rack On Your Car?
If you want to install a bike rack on your car, the good news is that it's something you can do in under five minutes. For a bike rack that fits onto the rear of your car, you want to position its feet on the bumper.
Then position the top feet to where they reach when extended, which might be above or on the back window. You can then proceed to attach the straps of the bike rack onto the car.
These straps will usually be marked to guide you where to put them, such as 'side' to let you know that you should put that specific strap on the side of the vehicle.
Make sure the straps are all flat across the vehicle to prevent them from getting twisted and snapping off. Once you have attached all the straps, you can load your bikes onto the bike rack.
What Is The Difference Between Bike Racks?
There are many different types of bike racks available for cars, and there are some important ways in which they vary. So, let's look at the different types of bike racks and what sets them apart from each other.
Roof racks. As their name suggests, roof racks ensure that you can carry your bike (and other items, such as surfboards) on the roof of your vehicle. These racks are solid and stable to ensure the gear you're transporting stays out of the way and doesn't cause you not to be able to open your car's doors if needed. That said, one of their biggest drawbacks is that they're quite costly and not always easy to use because you have to lift your gear onto the roof of your vehicle.
Hitch racks. These racks slide into the receiver of a trailer hitch, and are installed onto the vehicle. Some hitch racks on the market also ensure that you can easily access your trunk if required, even when they're loaded with bikes. Hitch racks are generally easy to install and use. Hitch hikes come in two styles:
Hanging racks. These racks have arms that support bikes by holding them by their frames. They're compact models and some can carry more than one bike. The problem is that some don't accommodate many bike varieties, such as children's bikes.
Platform-style racks: On the other hand, these racks enable bikes to be set in place on trays. These trays are sway-resistant and prevent bikes that are loaded onto them simultaneously to touch each other. One of the benefits of platform-style bike racks is that they can accommodate a much larger variety of bike styles and sizes. An example of the best platform bike rack that we've featured in our guide is the Kuat Sherpa 2.0 2-Bike Hitch Rack.
What Is Better For A Bike Rack: Regular Car Or SUV?
Whether you have a regular car or SUV, you might wonder which vehicle is best for installing a bike rack. The truth is that you can easily attach a bike rack to either vehicle, without one being better than the other.
That said, there are some important tips to note.
A roof rack can work on a SUV or truck, but it will be quite stressful to load because you really have to stretch to reach the height of the roof. For such vehicles, it's better to choose a hitch rack.
Trunk bike racks that strap onto the vehicle tend to be better for use on vehicles such as hatchbacks and sedans instead of SUVs.
This is because they can usually only carry a maximum of two bikes at a time and they do have a weight limit, but some trunk racks will be compatible with SUVs so it's worth checking that out.
The bonus of having an SUV is that many of these vehicles are made for heavy-duty usage, so they will likely come with accessories already attached, such as crossbars and hitches.
If you own an SUV that has these, then you can easily attach any type of bike rack, such as a hitch rack or roof rack, without needing to first purchase extra accessories before you can get started.
Of course, you can still install a bike rack if you don't have these accessories, but it will have to be a trunk-mounted rack that attaches to the rear door of your vehicle.
Ultimately, whether you have a car or SUV, it's essential to purchase a rack that will fit it perfectly so you don't waste your time.
How Fast Can You Drive With A Bike Rack?
You might be wondering if it's safe for you to drive fast with a bike rack installed on your car.
To answer this question, it's always a good idea to consult the user manual of the bike rack as this will provide you with information pertaining to what speeds your car can safely reach when a bike rack is installed on it.
For example, for a Saris Bones 2-bike rack, the manual states that you should stick to driving no faster than 45 miles per hour.
However, to ensure you're safe when carrying gear on your bike rack, you should also make sure that you're following the speed limit and adapt your speed to the weight of the load you're carrying.
As an example, some bike racks will be able to carry a maximum weight of 35 pounds per bike. That means if you're carrying two bikes, you're carrying 70 pounds of weight on your car.
When your car has more weight on it, it will have more friction between its wheels, which requires you to accelerate a bit more. You'll also need to brake sooner to give your car a chance to come to a halt.
Can You Open Your Trunk With A Bike Rack On It?
When it comes to whether or not you can open your car's trunk with a bike rack installed on it, there are some mixed opinions.
On the one hand, many manufacturers of bike racks don't recommend that people open their trunks when a bike rack is installed on the vehicle.
This is to prevent damage. On the other hand, there are ways in which to open your trunk when it's loaded with bikes.
As we've seen in many bike rack reviews in this guide, one of the selling points of some bike racks is that you can open your trunk when they're installed, like if you forgot something in your trunk and don't want the hassle of having to remove the bikes from their bike rack.
For example, the Thule Apex XT contains a HitchSwitch lever that tilts the bike rack so that you can gain access to the back of your car if necessary. Similarly, the Kuat Sherpa 2.0 is a rack that tilts away from the car to give you the chance to access the trunk if required.
If you want to be able to have access to your trunk with bikes loaded onto a rack, make sure that the bike rack manufacturer has put into place essential features that will enable you to do this without causing any damage to your car or bike rack.
With bike racks becoming more focused on convenience and ease of use, the ability to use them and open your car's trunk has become quite a common feature to make your life easier.
Are Trunk Bike Racks Safe?
Trunk-mounted bike racks are ones that get installed onto the back of the car and usually make use of straps to keep them in place while you drive.
Sometimes these do make it more difficult for you to access your trunk, but if you're worried about safety, then there are some things to consider.
You should always make sure that you've properly secured the straps. Choose a trunk rack that has strong straps, such as ratchet straps, that will keep the bikes in place securely.
The Saris Bones 2-Bike Trunk Rack we featured in our guide is an example of a trunk bike rack that contains ratchet straps.
You should choose a trunk rack that makes use of rubber feet so that they won't scratch your vehicle's paintwork. In addition, it's a good tip to turn the pedals down towards your car's license plate as this can help to further prevent scratching.
Consumer Reports lists some potential dangers of trunk bike racks. While these are not intended to put you off them, they will make you aware of possible issues so that you can stay safe.
The straps of the trunk rack can become loose over time. Always check the straps and choose trunk racks that have durable ones that won't wear away with overuse, as mentioned above.
The racks are sometimes difficult to lock.
Padding can be required to prevent the bikes from knocking into each other. This is something trunk bike rack manufacturers are definitely aware of and are preventing from happening. An example is found in the Allen trunk bike rack featured in our guide that contains dual-compound tie-down cradles to protect your individual bikes much better.
The bike rack might get in the way of the license plate or car's tail lights. This is considered a ticketable offense in some regions, so it is something to be aware of!
Are Thule Bike Racks Worth It?
Thule bike racks are quite popular. They're considered to be one of the best you can purchase, and we've featured Thule on our list. Here's why these bike racks are worth spending your hard-earned cash on.
Thule bike racks score high points when it comes to their versatility. The bike racks created by Thule are versatile enough to accommodate a range of vehicles and bikes.
Thule offers customers a wide range of bike rack styles to suit their needs, such as hitch racks, roof racks, and truck beds.
The racks are made to last. The last thing you want is to invest in a bike rack only to find that it falls apart within a few months. Thule is focused on creating high quality bike racks that are made of durable materials.
In addition, the Thule brand is also known for its appealing attention to detail: their racks' cradles are built in such a way to be paint-friendly and prevent scratches on your car, they're really easy to install, and they tend to have adjustable arms for greater convenience.
Conclusion
You love your bike but you want to use it further away from home.
That's where a bike rack comes in to enable you to transport your bike to wherever you want it. You can even find bike racks that will carry more than one bike.
However, it's not always easy to know what bike rack will be best for you and your car, which is why we've compiled this list of the best bike racks for cars and SUVs.
There's no doubt you'll find the bike rack you need, whether that includes one that can accommodate fat bikes or one that won't burn a hole through your pocket if you're not going to be using it on the regular.