Best Roof Bike Rack On The Market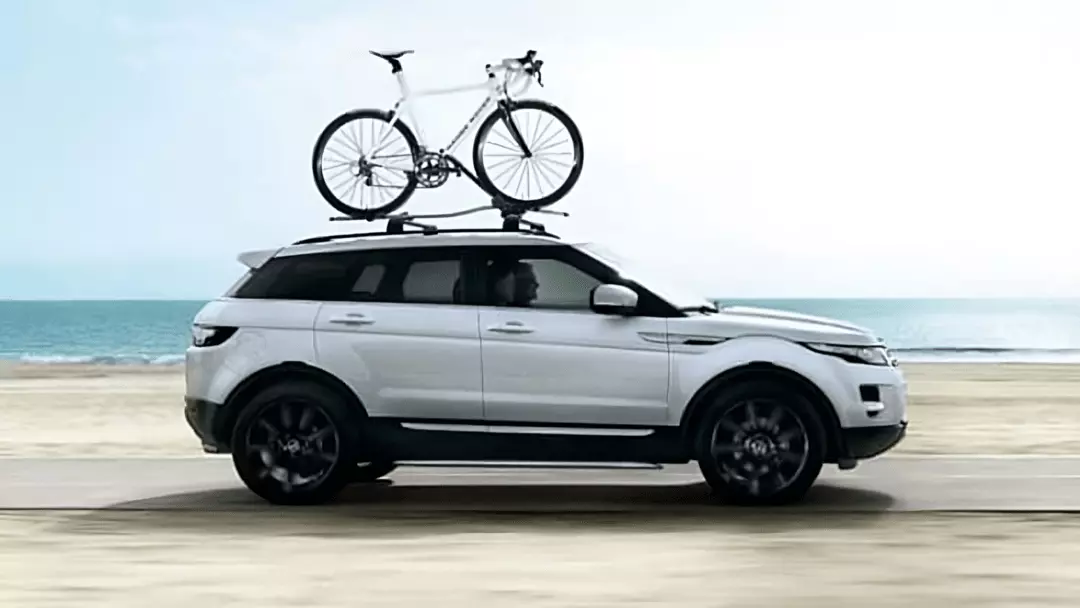 If you need to transport your bike somewhere, you have tons of options to help you turn your car into a cycling gear hauler.
One of the easiest, and most convenient, ways to transport your bike is to make use of a roof bike rack.
What, exactly, is a roof bike rack?
Instead of just attaching your bike to the roof of your car, which doesn't offer enough stability, a roof rack will fasten to your roof and keep your bike securely in place. It's simple and easy to install.
Bonus: you can often use this rack to carry other gear for outdoor activities.
There are many different types of roof bike racks on the market to choose from, so it can seem a little overwhelming to know which one to choose, especially because you want to make the safest, most budget-friendly choice.
Read on to find the best roof bike rack.
Now that we've looked at the general specs of the five best roof bike rack products, let's take a deeper look at each of them in greater detail.
Our Recommendations For The Best Roof Bike Rack For 2023
Overall Winner: Yakima Universal ForkLift Bike Rack

This Yakima bike rack makes the top spot in our list because of its excellent features to make transporting your bike convenient and super-safe.
Featured Specs
Sliding tray for easier installation
Integrated adjustment knob
Tool-free installation
Benefits
One of the concerns you might have when considering cartop bike racks is if they will be able to attach onto your crossbar. This rack is very versatile. It can be fastened onto square, round, and factory crossbars without a problem.
The rack comes with a sliding tray. This helps you to make positioning the rear wheel of your bike onto the rack much easier, which is important considering you have to reach up to the roof of your car to put it on and don't want to struggle with the task.
It has a lockable skewer with an integrated adjustment knob. Why this is important is because it makes one-handed operation a breeze.
Extra Features
The ForkLift design holds your bike on its front axle and rear wheel. This means that it won't make contact with your bike's frame, thus protecting its paintwork. You definitely don't want to scratch your bike, especially if it's new gear.
Drawbacks
What about security? This is where the Yakima ForkLift drops the ball a bit. If you want to secure your bike to the rack to prevent theft, you'll have to purchase SKS (Same Key System) locks that are sold separately.
This roof bicycle carrier requires you to attach it to the rear wheel and front axle, meaning that you have to detach the back wheel of the bike in order to use it. You will have to remove the bike's front wheel every time you wish to install it on the bike rack, which might seem like a hassle if you intend on using the bike rack regularly.
Buying Advice
This is the best rooftop bike rack to use when you need to transport your bike on the roof of your car. It costs around $200 but it's worth every penny and is sure to last you a long time, thanks to how parts of it are made of durable steel as well as aluminum.
Runner-Up: Thule AeroBlade Edge Roof Bar – Raised Rail

Maybe the Yakima rack isn't right for you. Maybe you want something with more frills to make transporting your bike even more comfortable.
If that appeals to you, then check out the Thule AeroBlade Edge Roof Bar that comes with a raised rail. Thule is a renowned brand when it comes to bike racks. Let's check out their AeroBlade roof rack in greater detail.
Featured Specs
Can be used for a variety of gear
Raised rail that's pre-assembled
WindDiffuser technology
Benefits
This roof rack has an aerodynamic design that makes transporting your gear so much easier and less noisy. It has an arched design that follows the curves of your vehicle's roof, therefore making it attach to it better.
It has WindDiffuser technology that prevents noise and improves your car's fuel economy.
Extra Features
This roof bike rack has an integrated bar and foot design. It comes with a raised rail and straps included, just to add further convenience when loading your bikes onto it.
Some people who have sunroofs on their vehicles have said that it's possible to vent them open while still using this rack. That's definitely a bonus if you like to use your sunroof a lot when you drive.
Drawbacks
Some people who have purchased this product have reported that the straps aren't durable and start to fray and crack within months of use. This is something to consider if you're going to be using this roof rack very regularly. Of course, that might not happen to you but it's still a good idea to always make sure that you check the straps regularly to prevent unexpected breaks with whatever roof rack you own.
Buying Advice
This is the best roof mounted bike rack. Although it is considered to be on the expensive side, coming in at around $250, it offers many benefits if you're going to be transporting your bike or other outdoor gear.
These include a solid and noise-reduced experience. It also comes in various sizes: small (29.5 inches), medium (32.75 inches), large (36 inches), and extra large (39.75 inches), so it's worth checking out what size you'll need before you add this bike rack to your cart.
Alternative 1: Thule AeroBlade Edge Roof Bar – Flush Mount

This is another excellent rack by Thule, but it's especially beneficial if you're looking for a roof bar that can handle a lot of weight – this one can sustain more than 800 pounds of force!
Featured Specs
One bar with integrated feet that come preassembled
Made of aluminium for greater durability
SmartSlide technology
Arched shape for reduced wind noise
Benefits
This bar is made of aluminium with a textured cover. This ensures greater airflow that reduces the amount of noise during your car journey.
Like the previous product we featured, it has an arched design that fits the curves of your vehicle.
It makes use of nifty SmartSlide technology. This is a measurement system underneath the bar that makes installation so much easier and prevents you from having to use tape measures or other items.
The bars come in four different sizes. Small (32 inches), Medium (35.25 inches), Large (38.25 inches), and Extra Large (42.38 inches). You're sure to find a size that works for you.
Extra Features
This bar is specifically made to cater to vehicles that have recessed rain gutters or flush factory rails.
Drawbacks
If you want to secure this bike rack to the roof of your car so that it can't be stolen, you'll have to purchase a lock which is sold separately.
If you own a sunroof, it might not be able to be opened when the rack is in use. This is because the rack has a low fit on your car.
Buying Advice
This bar costs around $250. It's a fantastic product if you have a vehicle with flush factory rails or recessed rain gutters.
While it does have some drawbacks to consider, if you're looking for a super-strong and durable roof rack, then this one is worth purchasing.
Alternative 2: CyclingDeal 1 Bike Car Roof Mount Rooftop Carrier Rack

This bike rack lets your bike get mounted upright onto your car's roof. It's a budget-friendly and useful bike rack to consider while being made with highly durable materials that are sure to last a long time.
Featured Specs
Made of steel for greater durability
Fits bar thickness of 85mm width
Can be locked for greater security
Benefits
This bike rack comes with a frame holder that gets fastened onto the bicycle's frame. This is what keeps it securely in place.
To make your life really easy when you need to use this rack, you don't have to remove the front wheel of your bike. If you hate having to do that with other bike racks, then this one will be appealing to you, especially if you regularly transport your bike around.
It comes with tie-down straps that will further secure your bike so you don't have to worry about it moving around during your journey.
It's said to fit most bicycle sizes, which is a huge bonus if you have more than one type of bike.
Extra Features
Although some people who have purchased this car roof rack have reported that it can be a bit noisy, especially on bumpy terrain, the bike remains securely in place. So, if it does make a bit of noise, don't immediately assume that the actual bike is moving around. That's reassuring to know.
Drawbacks
While the noise factor might not be an issue for you, some people have complained that they didn't receive the nuts and bolts they needed to install the rack included with the product, so bear in mind you might have to dash to the hardware store before installing this rack onto your car.
Other people who've purchased this bike rack have reported that the clamping mechanism is a bit fiddly to use.
Buying Advice
At just around $50, this bike rack is a value for money purchase that gets the job done. If you're buying a bike rack for the first time and don't want to spend too much money, this is a great product to try.
However, as time goes on and you purchase more expensive bikes or you want to be able to carry more than one bike, you'll have to progress to a different product. Still, for its cheap price, you get more than you expected, such as security features.
Alternative 3: CyclingDeal Alloy Car Roof Bike Bicycle Carrier Rack

CyclingDeal makes another spot on our list with its more versatile product that can carry more than one bike. If you need to transport two bikes around, then this one's the rack for you. Here's why.
Featured Specs
Made of aluminium
Maximum load weight: 66 lbs
Easy installation
Benefits
This bike rack is made of aluminium that's both durable as well as being light to move around. It also prevents rust from occurring, so you don't have to worry when driving through wet weather.
It's easy to install on crossbars that are on your car's roof. You just need to clamp the brackets onto the crossbars. Nice and easy, even for beginners.
It will accommodate most types of bikes.
Extra Features
The bike rack's frame-down tube clamp has an adjustable strap that you can turn up to 360 degrees, which makes it compatible with various bike frame shapes.
Its simple design and aluminum finish make this bike rack look beautiful as well as solid.
Drawbacks
Some people have reported that the straps are not long enough, which forced them to have to use zip ties to secure their bikes onto it. It's essential to ensure that the bike rack will fit your specific bike before purchasing it.
Others have reported that the bike rack's metal brackets can scratch your car's crossbars. Unfortunately, these brackets don't have protective rubber on them, which would've been a nice touch.
Buying Advice
This two-bike rack costs around $350. Some of its bestselling points include that it's versatile for use with many types of bikes, while also being easy to use and install.
For the price you pay, you get durability and enough frills to justify the price tag. A few extra touches, like rubber feet for the metal brackets, would have been nice, but it's not necessarily a deal-breaker.
Bike Roof Rack FAQ
Now that you've read the bike rack reviews in this article, you probably have a bit of a better idea of what roof bike rack you should purchase for transporting your gear.
But maybe you're still on the fence when it comes to roof bike racks. To help you figure out if they're worth purchasing for your bike, let's answer some common questions about bike racks.
How Do You Get A Bike On A Roof Rack?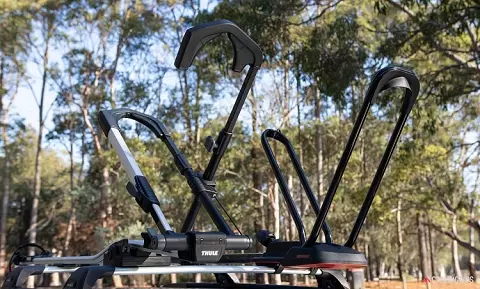 What's great about a roof bike rack is that you can easily attach your bike to it. Lift your bike onto the rack and then secure it depending on what came with your roof bike rack.
For example, some will have straps that you can use to secure the bike onto the rack. Others will have metal brackets that can snap onto the rack.
If your bike rack accommodates the bike standing upright on the roof of the car, you will need to place the bike's frame against the arm of the rack. You will probably also have straps and clips that secure the wheels to the rack.
With all the latest technology and extra security measures found in roof racks these days, the most effort you'll have to make when attaching the roof rack to your vehicle is picking up your bike to load it on! The rest is pretty simple.
How Many Bikes Can Fit On A Roof Rack?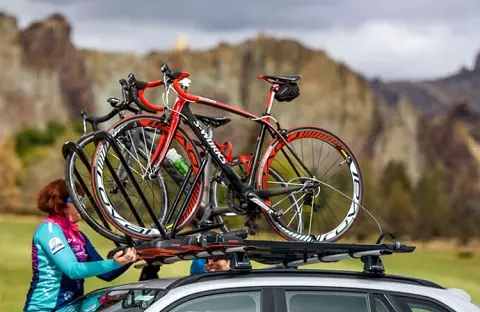 The number of bikes that you can safely fit onto a roof rack will depend on the product you're interested in purchasing. Some will only cater to one bike, while others could accommodate four!
Four bikes seem to be the general limit when it comes to roof racks for bikes.
If you want to mount more than one bike on your roof rack, make sure that you don't exceed the weight limitation specified in the rack's user manual.
Do Thule Bike Racks Fit All Roof Bars?
Thule is a renowned bike rack brand that offers great versatility in its products. When it comes to its bike racks, you might be wondering if they will fit all car roof bars.
Under its FAQ section, the Thule website states that Thule products will be able to be attached to most consumer vehicles, as long as they have crossbars that are already installed.
You'll need to install these first if you want to use one of the Thule products that have caught your eye.
If you're purchasing a roof rack for the first time or you're not sure if the product you want will fit onto your car, the site also has a smart guide to help you figure out what's best for your vehicle when it comes to bike rack installation.
Just type in the make and model of your car as well as information pertaining to your car's roof, and then you'll receive advice on what products will suit you the best.
Are Roof Bike Racks Safe?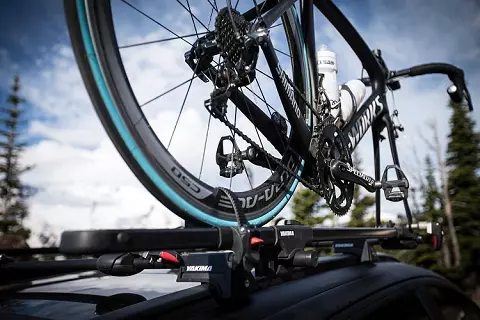 The thought of placing your heavy bike on the roof of your car and then driving with it on can be a bit scary! You probably worry that the bike rack won't be strong enough to handle the weight or that the bike will wobble so much that it will end up causing an accident.
However, bike racks that are placed on the roof of your car can be very safe. This is because they come with many features that ensure the bike won't move around a lot while you drive.
Examples of features include straps, metal brackets, and clips that will keep the bike in place.
Although you might worry if you hear noise when transporting your bike on the roof of your car, sometimes this is just the wind and not necessarily that the bike itself is moving, so that's something to bear in mind.
Another thing to look for when purchasing a roof bike rack is the type of material that's been used in its construction. Steel and aluminum both provide excellent durability and strength and will give you greater peace of mind that the bike rack will last for many years.
Once you have your roof bike rack installed, you can also do things that will make it generally safer to transport your bike in this way. Drive carefully while adhering to your local speed limit.
Always check the user manual of your bike rack to be sure of what speed limit you can safely drive with the load on your car.
Conclusion
Choosing a roof bike rack doesn't have to be a stressful experience, even if you're purchasing one for the first time.
By knowing what to look for in a rack, such as when it comes to its safety features, you'll be able to make the best choice.
Or, you can just choose a roof bike rack from our buying guide that features the best roof bike racks on the market, breaking down their benefits, features, specs, drawbacks, and costs.
Simple. Once you're sorted with a roof bike rack for your vehicle, you'll be able to turn transporting your bike into a pleasant, stress-free experience the next time adventure calls.
Along with reviews of the best roof racks on the market, we've also featured some common questions regarding roof racks so that you can use them safely and easily without a hassle, whether you only need to transport your bike once in a while or every weekend. If you to find the gear for hauling your bike in your pickup, we recommend the guide over at RackHungry.com.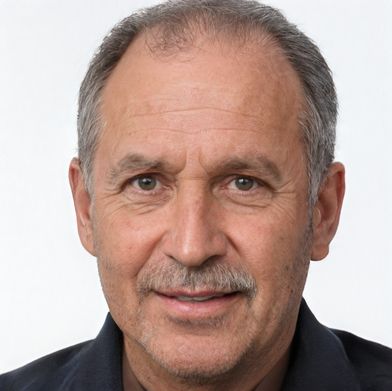 Steve Beck is a passionate cyclist and experienced writer covering the cycling industry for over a decade. He has a wealth of knowledge and expertise in all bike-related things, from the latest products and technologies to the best routes and trails. His articles are well-researched, informative, and engaging, and he has a talent for explaining complex cycling concepts in a way that is easy to understand. Steve can be found on the road when he's not writing about bikes, putting his knowledge and skills to the test.