Surly Cross-Check Review: our in-depth guide!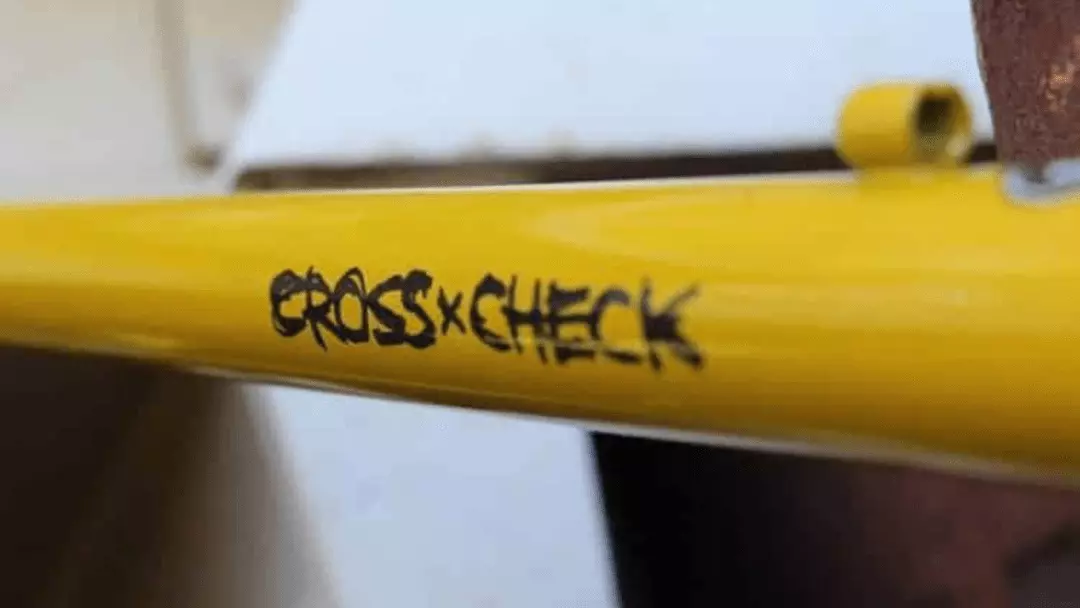 Surly bikes are known for being strong and worth the money.
Their Cross-Check model is said to be as tough as nails while giving you a smooth ride.
Sounds like the best of both worlds, but there are some things to consider, especially if you've heard all the hype about the Surly Cross-Check but aren't sure what it's really all about.
What kind of bike is the Surly Cross-Check?
Although it's known as a cyclocross bike, the Cross-Check mixes things up by being really easy to customize, so you can enjoy it in any way you like to maximize your cycling experience.
The Surly gives you the best of both mountain bikes and road bikes: you get the fast handling that you'd look for in a city bike while achieving the stability as well as comfort that you'd want in a mountain bike.
You can go to town by customizing it, so it's great if you're a DIY type.
Here's our Surly Cross-Check review: everything you need to know about those bikes!
Featured Specs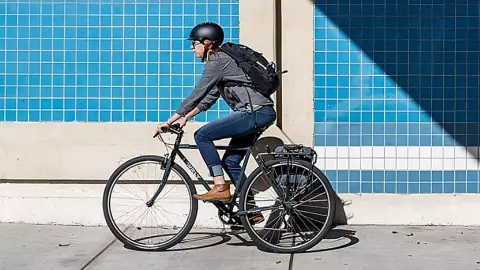 Frame: Surly Cross-Check, Surly 4130 CroMoly steel.
Fork: Surly Cross-Check, 4130 CroMoly, lugged & brazed.
Seatpost: Surly stainless, 30.0mm
Headset: Cane Creek Custom 5
Brakes: Tektro M730 V-Brake
Brake Levers: Tektro RL520
Shifters: Microshift BS-M10, bar-end shifter
Stem: HL 31.8
Handlebars: Salsa Cowbell 3
Grip/Tape: Black Cork
Saddle: WTB Volt Sport
Seatpost: Kalloy
Drivetrain Components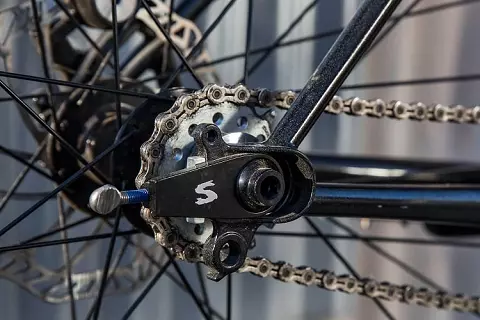 Crankset: Shimano CX50, 36/46t
Bottom bracket: Shimano 4600
Front derailleur: Shimano Tiagra 4600
Rear derailleur: Shimano Deore T610-SGS
Cog or cassette: Shimano CS-HG50-10, 11-32, 10-speed
Chain: KMC X10
Wheels
Front hub: Shimano Deore T610, 32h, 100mm, w/QR
Rear hub: Shimano Deore T610, 32h, 135mm, w/QR
Rims: Alex Adventurer 2, tubeless ready
Tires: Surly Knard, 700c x 41mm, 33 TPI
Now that we've looked at the main specs of the Surly Cross-Check, let's dive deeper into its geometry, features, pros, cons, and other buying advice.
Surly Cross-Check Geometry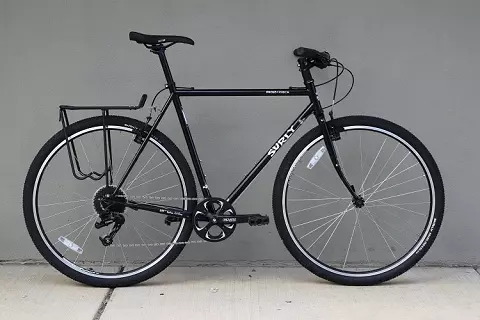 Bike geometry is an important element to think about when researching a bike you want to buy because it will play an important role in how the bike feels when handled.
You can find bike geometry charts for different bikes on bicycle manufacturers' websites. Here's a table of the Cross-Check geometry (taken from the Surly Bikes website) so you can see how it compares (on different models) to your current set of wheels.
| | | | | | | | | | | |
| --- | --- | --- | --- | --- | --- | --- | --- | --- | --- | --- |
| | 42cm | 46cm | 50cm | 52cm | 54cm | 56cm | 58cm | 60cm | 62cm | 64cm |
| Reach | 378.7 | 380.8 | 389.1 | 389.7 | 394.8 | 394.3 | 398.3 | 407.3 | 411.0 | 424.5 |
| Stack | 528.0 | 528.0 | 528.0 | 528.0 | 538.0 | 556.5 | 575.7 | 593.6 | 612.7 | 630.9 |
| Head tube angle | 72.0° | 72.0° | 72.0° | 72.0° | 72.0° | 72.0° | 72.0° | 72.0° | 72.0° | 72.0° |
| Head tube length | 91.0 | 91.0 | 91.0 | 91.0 | 102.0 | 121.0 | 141.0 | 160.0 | 180.0 | 200.0 |
| Seat tube length | 420.0 | 460.0 | 500.0 | 520.0 | 540.0 | 560.0 | 580.0 | 600.0 | 620.0 | 665.0 |
| BB drop | 66.0 | 66.0 | 66.0 | 66.0 | 66.0 | 66.0 | 66.0 | 66.0 | 66.0 | 66.0 |
| Wheelbase | 989.8 | 991.9 | 1005.2 | 1005.9 | 1014.3 | 1019.7 | 1029.9 | 1044.7 | 1054.7 | 1074.6 |
| Chainstay length | 420.0 | 420.0 | 425.0 | 425.0 | 425.0 | 425.0 | 425.0 | 425.0 | 425.0 | 425.0 |
| Top tube length (actual) | 505.0 | 515.0 | 535.1 | 545.1 | 559.9 | 569.9 | 579.8 | 599.8 | 609.9 | 630.0 |
| Top tube length (effective) | 522.0 | 528.8 | 541.8 | 547.1 | 560.0 | 570.0 | 580.0 | 600.0 | 610.0 | 630.0 |
| Seat tube angle | 75.0° | 74.5° | 74° | 73.5° | 73° | 72.5° | 72.5° | 72.0° | 72.0° | 72.0° |
| Standover height | 747.9 | 766.7 | 784.4 | 794.4 | 809 | 826.7 | 845.9 | 863.4 | 882.2 | 901.8 |
| Stem length | 70 | 80 | 80 | 100 | 100 | 100 | 120 | 120 | 120 | 120 |
| Stem angle | 7° | 7° | 7° | 7° | 7° | 7° | 7° | 7° | 7° | 7° |
| Handlebar width | 400 | 400 | 400 | 420 | 420 | 440 | 440 | 460 | 460 | 460 |
| Crank length | 170 | 170 | 170 | 170 | 175 | 175 | 175 | 175 | 175 | 175 |
| Fork length | 400.0 | 400.0 | 400.0 | 400.0 | 400.0 | 400.0 | 400.0 | 400.0 | 400.0 | 400.0 |
| Fork rake | 44.0 | 44.0 | 44.0 | 44.0 | 44.0 | 44.0 | 44.0 | 44.0 | 44.0 | 44.0 |
Now that your head's about to explode with all those numbers, let's look at some of the most important features of the Surly Cross-Check.
Features
The Surly Cross-Check has semi-horizontal dropouts. These ensure single-speed compatibility and give you the ability to adjust the wheelbase.
You can install hubs between 130mm and 135mm, thanks to the Gnot-Rite dropout spacing.
With the Cross-Check, you can install rear and front fenders and racks, which is a fantastic way to turn your ride into a beefier one. You can also install mudguards.
Pros
The bike has a steel frame that's strong and durable.
The Cross-Check has a higher-than-road bike bottom bracket. This makes it effective for riding off the beaten path.
People who've purchased this bike have reported that it can deal with any terrain that you throw at it. That's why it's sometimes called the "gravel crusher." Whether you're eating up the pavement on your daily commute or taking it onto rougher terrain, your Cross-Check won't let you down.
Thanks to its gnot-rite dropout spacing that increases its wheel versatility, you can even install fatter tires on it if you like.
The Cross-Check frame comes in three cool colors: black, sage green, and mustard.
Cons
What makes it strong is also its downfall. The bike is quite heavy.
The tires aren't very agile, so if you're looking for a lighter, sportier, ride then maybe this bike's not right for you.
Buying Advice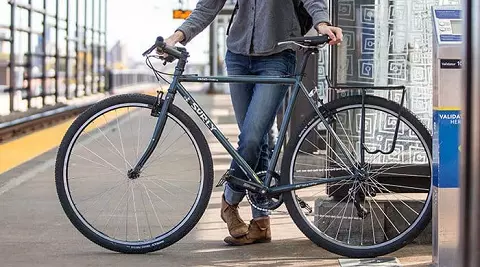 The Surly Cross-Check frame costs between $925 and $1149.
Since it's highly versatile and can be fitted with components of various types and sizes, the Surly Cross-Check is a must-have if you want to customize your ride and be able to use it in different ways depending on your mood.
How Much Does The Surly Cross-Check Weigh?
With all the talk about it being heavy, you might be wondering how much the Cross-Check really weighs.
The Surly Cross-Check frame weighs 2.2 kg (4.85 pounds), and that's the measurement for its 56cm model.
Now, how does that translate when it comes to comparing the weight of a Surly bike frame with other bike frames you've owned?
Here's a little perspective: a Surly bike frame will tend to be about a pound or so heavier than other frames that are made of steel.
When it comes to bike frames that are constructed out of materials such as aluminium or carbon, the Surly frame will be around two or even three pounds heavier than those.
While that might seem like a lot to you, it's probably worth it. That's because the steel that's used to make the Surly frame is Chromoly steel.
This type of steel is much stronger than regular steel, but it also has many other benefits when used in the construction of bike frames. These include the following:
It's heavier than aluminum but it has the benefit of reduced stiffness. This means riding a bike made of this steel will feel smoother than riding other bikes.
When compared to titanium, which is another strong material used to make bike frames, chromoly steel is not as expensive and doesn't need to undergo a rigorous manufacturing process due to how titanium can be easily contaminated.
Chromoly bike frames are highly responsive while offering riders good flex without losing shape.
Buying A Frame vs. Complete Bike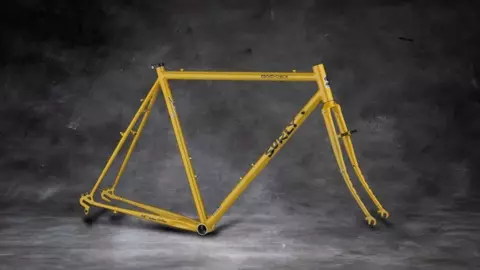 You don't have to buy a complete Surly Cross-Check bike.
In fact, you probably won't find one because Surly has stated that it won't bring it back onto the market. Yeah, that's a bummer, all right, but it's not the end of the world.
You can purchase just the Surly Cross-Check frame. If that sounds interesting to you, it's good to consider the benefits of buying a bike frame vs. a complete bike. Let's check them out.
Buying A Frame
Pros
One of the most obvious benefits of buying a bike frame instead of an entire bike is that you can customize it as much as you like, using a bunch of different components and brands to suit your liking. If you want to save money on some parts and go big with others, you can do that and much more.
If there's something you don't like about a complete bike that you've seen, you can build your own from the frame up, tweaking those components so that they're more suitable to your needs. Let's be real: sometimes it's really difficult to feel 100 percent good about a bike in its entirety.
You will feel immense satisfaction when you build your bike and make it completely unique to suit you and how you want to cycle.
Cons
To build your own bike you'll need to have specialized (and probably expensive) tools at your disposal. It's a massive bonus if your bike-building friend has everything you need and doesn't mind sharing his or her tools so you don't have to shell out money for them!
It's much less convenient to build a bike from a frame than it is to purchase a bike brand new.
The process can be long (and potentially stressful). It will take you a long time to be able to have the bike ready so that you can ride it, bearing in mind that you might have to go through a lot of trial and error in order to find the perfect balance between the bike's components.
Complete Bike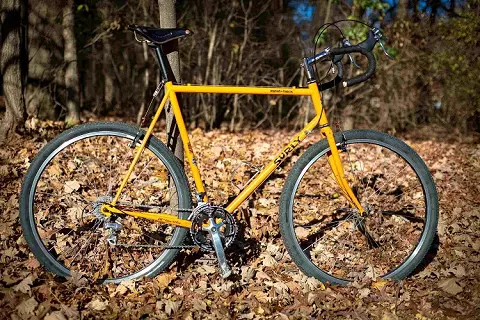 Pros
When purchasing a complete bike, you're guaranteed that all the parts fit and work together nicely. They've been constructed properly and will be compatible with each other. You won't always know if this is the case when building your own bike until you're ready to take it for a test drive (while holding thumbs).
You get instant gratification. Once you purchase a bike, you can ride it out of the shop immediately – no wait and no fuss!
It probably feels better to purchase a complete bike if you don't have a lot of bike knowledge or don't have the time to spend learning about different bike components and how to fit them.
Cons
Of course, if you're buying a complete bike instead of building your own, you're stuck with whatever parts the manufacturer has chosen to put on the bike.
It's also worth bearing in mind that sometimes lower-level bike manufacturers will put bike components together in ways that don't seem to make sense. For instance, their design could result in you wondering why certain features are lacking. They're doing this so that they can ensure the bike fits a certain price range.
Surly Cross-Check Vs. Competitors
To further help you figure out if buying the Surly Cross-Check is right for you, let's look at how it fares when compared with other popular bikes, specifically the Giant ToughRoad SLR 2, the DiamondBack Haanjo, and the Cannondale Synapse Carbon 105SE.
We've specifically looked at a few important features in the bikes: frame, stack, reach, chainstay, and head tube length. Let's jump right in!
Surly Cross-Check Vs. Giant ToughRoad SLR 2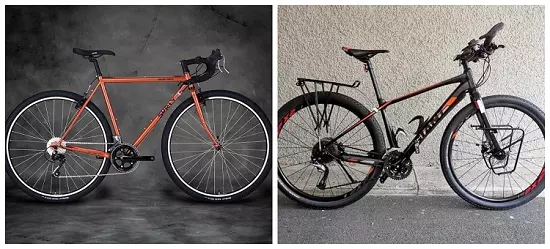 Frame
The Giant ToughRoad SLR 2 makes use of an aluminum frame, which keeps it light on treacherous terrain while giving you the agility you need to tackle it. However, if strength is your number-one priority, then you'll prefer the Surly Cross-Check that's made out of steel.
Stack
The SLR2 has slightly more stack than the Surly Cross-Check, coming in at 556mm vs the Cross-Check's 538.4mm (as Bike Munk reports). A higher stack helps to put the rider in a more upright position. This can increase your comfort.
Reach
Stack aside, the Surly Cross-Check has a bit more reach than the SLR2 – it has 394.8mm of reach as compared to SLR2's 370.84mm. A longer bike reach will enable the bike to have more aggressive geometry and aids in helping you achieve faster speeds.
Chainstay
The Surly Cross-Check has a slightly shorter chainstay (425mm) when compared to the SLR2 (429mm). This enables slightly quicker handling on the bike, but the difference is minimal between the two bikes.
Head Tube Length
The head tube length of the Cross-Check is slightly shorter than that of the SLR2, coming in at 10.2cm versus 12.9cm. This shorter length produces more aerodynamics in the bike, but again it's a really small difference.
Surly Cross-Check Vs. DiamondBack Haanjo Comp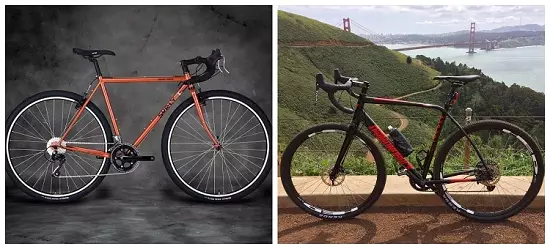 Frame
The Diamondback bike has a frame made out of carbon fiber. This is not as strong as steel but does have benefits, such as having a lower density than other bike frame materials which makes it absorb bumps in the road much more effectively.
Stack
The Diamondback bike has a stack of 543mm, which is a bit more than that of the Cross-Check.
Reach
When it comes to reaching, the Surly Cross-Check has a longer reach – the DiamondBack Haanjo Comp comes in at 369mm. This contributes to making the Surly faster.
Chainstay
The DiamondBack Haanjo Comp has a slightly longer chainstay – 430mm, as compared to Surly's 425mm. This results in a more comfortable ride.
Head Tube Length
The head tube length of the DiamondBack bike is 15.5cm as compared to Surly's 10.2cm measurement. This is quite a difference and it contributes to the DiamondBack's greater comfort level, which seems to be a focal point in the bike's construction.
Surly Cross-Check Vs. Cannondale Synapse Carbon 105SE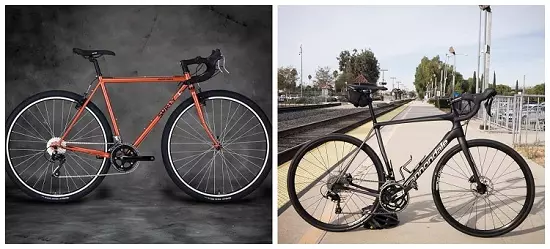 Frame
Made of BallisTec carbon, the Cannondale Synapse Carbon 105SE is built to be strong and stiff yet also light. If you're looking for a bike that's light and therefore easier to handle, this might be a better choice than the tough steel of the Cross-Check.
Stack
The Cannondale bike has a 610mm stack, which is quite a bit more than that of the Cross-Check.
This contributes to making it very comfortable, especially on long rides, so it might be a good choice for you if you're going to be doing long commutes on a daily basis. This works well with its lighter frame too.
Reach
That said, the Cannondale has got almost exactly the same amount of reach – coming in at 393mm! This keeps both bikes pretty quick.
Chainstay
With a slightly shorter chainstay (410mm, as compared to Surly's 425mm), the Cannondale bike is focused on comfort and stability when riding in a straight line.
Head Tube Length
The Cannondale bike has a head tube length of 19.7 cm – that's a whole bunch larger than the Surly's one which is 10.2cm.
A longer head tube length means that you can ride in a more upright position. This can be more comfortable, but it makes the bike much less aerodynamic than the Surly.
Conclusion
You want a bike that's versatile enough for a variety of different terrains.
You want to be able to completely customize your bike and you're pretty good with bike knowledge. If that all sounds like you, the Surly Cross-Check should be your next bike purchase.
Well, frame purchase, actually, because you'll be able to build it up the way you want it, whether you're looking for a cool bike for your daily commute in the city or something you can take off the beaten path on the weekends.
It's your bike, done completely your way.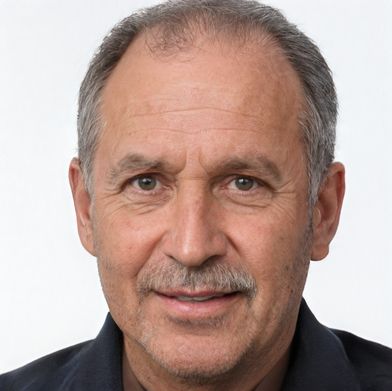 Steve Beck is a passionate cyclist and experienced writer covering the cycling industry for over a decade. He has a wealth of knowledge and expertise in all bike-related things, from the latest products and technologies to the best routes and trails. His articles are well-researched, informative, and engaging, and he has a talent for explaining complex cycling concepts in a way that is easy to understand. Steve can be found on the road when he's not writing about bikes, putting his knowledge and skills to the test.