Bike Tire Keeps Going Flat but No Puncture: Causes & Fixes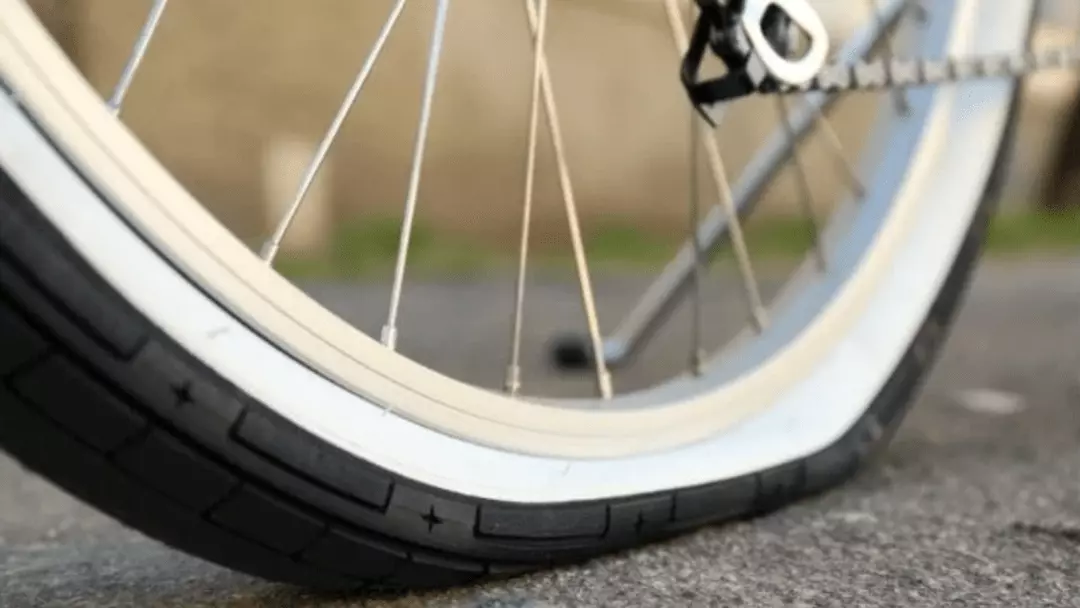 If you love riding a bike, you've got a flat tire at some point. How frustrating is it when bike tire keeps going flat but no puncture?
It's annoying when your bike constantly goes flat when you expect it to take you miles away. If you're not aware of the causes, probably that's why you're facing frequent tire flats, with or without punctures.
To help you figure out why this keeps happening and how you can prevent it, we've covered all the topics you'll need to know regarding a bike flat. To learn more, keep reading this article.
Why Does Your Bike Tire Keeps Going Flat But No Puncture?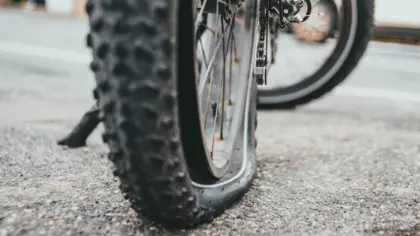 Tires are one of the most important parts of a bike. It's essential to ensure that your bike is working properly to have a fully functional bike. However, it's not uncommon to come across flat tires, even if you notice no punctures.
If you think your bike is fine when you see no punctures, you're likely wrong. That's because there's a possibility you might've missed the puncture, which ultimately keeps you in the dark about its possible cause.
Your bike can go flat for getting a hole struck into it or by running over objects. It can even have technical problems, which might be another reason. Some of the reasons why your bike keeps going flat are:
Pneumatic Bike Tire
The tires that are attached to inner tubes are pneumatic bike tires. This variant of a tire is the most common and favorite choice of most bikers for its affordable price. They also absorb friction very well. Hence, they're used worldwide.
However, these tires are quite easily punctured. Any pressure exerted on it results in inner tube punctures. Any rocks, pins, nails, rough terrain, or sharpened objects on the road will likely result in holes all over your inner tube.
These holes are easy to miss. If you have pneumatic tires on your bike, this might be one of the reasons why you're constantly getting a flat tire.
Tubeless Bike Tire
As opposed to pneumatic bike tires, tubeless tires do not have inner tubes. It's when the beads snap into position and seal with the rim, which is known as the seating.
In this type of tire, neither the tire nor the rim can afford to leak any air hence why these tires are fragile and susceptible to damage. As a result, they can easily get punctured.
And if you have tubeless tires, the situation where your pneumatic tire might get punctured will go unnoticed.
Furthermore, in the absence of inner tubes, the tire is sealed in a better way with the rim. In this case, if you have a specially shaped bead and rim receptacle, then your tires will stay put while they're in motion.
This design makes it less likely to go flat. However, due to its fragile structure, a tubeless bike tire can be the very cause of your flat bike going over and over.
Now that you know the two basic types of tires let's look at the common causes of leaks.
Pinhole Leak
Be it bikes or cars. Vehicles go through roads every day. And it's no surprise that the roads we go through have plenty of dirt, debris, and sharp and slender objects lying around.
A bike's tire always stays on the ground, and rigorously turning over can expose your bike to heavy friction.
As a result, a sharp, slender object lying around gets embedded into the tires. So, when you ride over it, the object pokes through the rubber surface of the tire.
However, even after getting pinholes, your tire may not show signs of getting punctured. So, even though you couldn't see it, the inner tube did get punctured.
Leaks are slow and steady if there's enough pressure. If the pressure wouldn't fade slowly, then the fast and intense pressure would burst open the rubber tire. These kinds of leaks lose a lot of air pressure, which ultimately leaves it punctured.
Rim Deformation
If you ever notice that your tires seem swollen or are quickly wearing out, it's likely due to rim deformation.
Always remember, when your wheels suffer from superficial damage in the wheels like scruffs, curb rashes, scrapes, or scratches, it's your bike suffering from tire rim deformation.
When that happens, your bike tires will start to leak air pressure. However, the slower the leak, the lesser the deformity. Unfortunately, you'll still end up with a flat tire.
Sometimes a significant bend can also cause rim deformation, which punctures the tire. The rim can also be compromised by rust or cracks, which ultimately cross the tubeless tire in terms of air pressure flowing out. Fortunately, rim deformation can easily be repaired by a professional
Burping
The bead of a tire is always engaged with the rim. When too much pressure is applied to the beads of the tire temporarily, the rim gets disengaged immediately.
As a result, when you push on the brake, a lot of air pressure flows out of the seal. Since it immediately rushes out from a tubeless tire, it's called "burping." Fortunately, it's barely noticeable when it happens to a pneumatic tire.
Usually, this type of incident happens in low-quality tires. For instance, non-UST tire users are more likely to face this situation as the tires mount on smaller rims.
Burping usually takes place when you're jumping from high ground or encountering an off-road ride. If it takes place, you notice a significant drop in air pressure that will puncture your tire right away. But you won't find any damage when you try to find the issue.
Damaged Valves
Bike tires provide you with a grip and cushion when you ride, but they also require maintenance. Valve damage, pinch flats, or pinched Presta valve stems can cause a flat tire.
Simple valve damage can cause a flat tire very quickly as they're known as the gatekeepers for airflow that's present in your tire.
Valves are mainly of two types. Air can escape easily from them when damaged.
1. Schrader Valves
These valves are rather common and can be found in all types of air pumps or cars. Schrader valves are always embedded into the bike tires. It acts as a form of cylindrical uniform thickness from the inner tube by the valve stem, which is why it has the screw-on dust cap as well.
If you notice, you'll see there's a check valve hole (small metal pin) that's right on top. The check valve is a mechanism made of a spring that helps in stopping the air from escaping. To let the air out, usually, you'll have to press on it or out pressure.
This check valve can puncture your tires if damaged. That's because if there's an issue with the check valve, it won't be able to close, and all the air will leave the tire, causing the leak.
The valve stem can also be broken, embedded with objects or dirt, get inflated, etc. All of these scenarios can puncture your tire.
2. Presta Valve
Presta valves are long, thin, tapered, and made specifically for bikes. Unlike Schrader valves, these valves are covered with a nut, which is known as a valve head.
Like other valves, the Presta valves prevent the pressure from coming out too. So, if it gets unscrewed, the air will slowly come out and cause a flat. Since these valves have a loose core, they're more likely to leak.
Cases like this are rare and usually undetectable. Unless you go through the Schrader valves first, you won't be able to find out if it's the Presta valves that keep making your tire flat.
Worn Out Tire
Another common reason why your bike tire keeps going flat is wear and tear. If your bike tires are old and have been used for a long time, your tire's rubber becomes less resistant. This makes your bike tires more prone to punctures.
If you have worn-out tires, small cracks and holes can easily form and slowly leak the air away. Flat patches in the center, worn-out threads, and see-through rubber threads are some of the signs that it's time to change those old sets of tires.
Things to Check When You Have a Flat Tire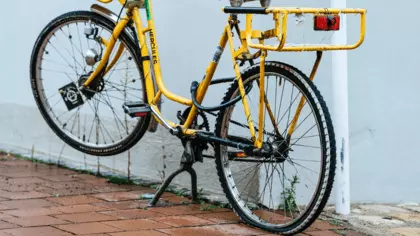 The main reason why you feel like there's no puncture when there's a flat tire is that you don't notice it. We don't blame you, as these punctures are quite hard to spot. So how do you figure out where the puncture took place?
Here are some of the things to check when you have a flat tire to detect the punctures:
Sharp-Edged Rim
Often the rims installed on your wheels can be sharp and pointy, hence called the rim known to have sharp edges. When riding through the roads, pointed objects can get stuck to the rims of the wheel.
When this debris is stuck on the threads of the rims, they become sharp and can cause punctures. Rim damage is also sustained when the whole tube has a slow leak, which results in multiple flats. Check the edges of the rims if you get multiple flat tires.
Tire Wear
Your bike tires might be weathered or low in treads. If you have tires like this, there's a big chance you'll come across frequent punctures. In such cases, check out whether the treads of your rim are suited to the style of riding or the terrain.
It's recommended to choose the type of tread that suits your current style of riding. But if you do not have the best treads, make sure to check them for punctures occasionally.
Foreign Object
Foreign objects getting stuck to the surface of your wheels is rather common. Since bikes are in motion on the road, there'll always be foreign objects lying around. Some of them can poke right through your tire.
To check whether your tires suffer from this, run your fingers through the inside of the tire. If there's an object stuck in there, you'll be able to feel it right away.
Tube Wear
Tube wear is often planned into tires. Even if you leave the old tube in there for a long time and avoid potholes, it'll get damaged through various situations like rough weather. Cases like this increase the chances of your tires getting punctured.
For instance, when tires are faced with extreme heat, they expand and increase. As a result, the rubber quality rapidly deteriorates, which can lead to your tire getting punctured. Therefore, always check whether you have damaged tube wear installed.
Valves
Valve issues can easily create a flat tire. There are two types of valves, to be specific, that is mostly found in the tubes. These are the Presta Valve and the American valve. For road bikers, the Presta valve is ideal, whereas bike riders have an American valve in their tires.
Check your valve if you see your tire getting flat slowly. That's because, with a damaged valve, your tire won't hold air, which will cause a puncture in your tires.
Self-inflicted Damage
Not following the correct procedure while replacing the tires can majorly affect the tube. A damaged tube will always go flat no matter what you do.
When changing tubes, read all the instructions and procedures to avoid further damage. Furthermore, avoid pinching your tires; this mistake alone can give you a deflated tire. Check all the edges, instructions, manuals, and cautions before replacing anything.
Recommended Pressure
If you're a biker, you'll eventually need to blow air into the tire. But there is such a thing as "too much of a good thing." Too much bike tire pressure can damage the tires and leave them inflated. An overinflated tire can be punctured at any time.
Check the recommended pressure written on the side of the tube and only inflate that amount. But, after you input recommended pressure, keep checking the rim, as it can get pinched easily and make the tire lose air.
Related Article: Bike tire won't inflate
Tube and Tire Quality
Tubes and tires might seem like small things to look for while buying a bike, but you're wrong. Cheap tubes and tires can go flat constantly.
If you must buy tires, always buy from a reputable brand. Even though cheap options will be more convenient, it's better to get a high-quality tire or tube to avoid these complications any further.
What are the Common Bike Tire Flat Problems?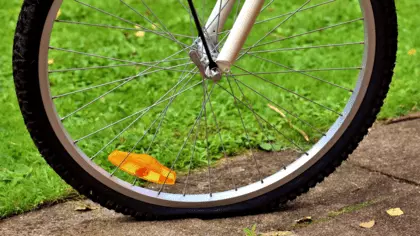 Even though unnoticeable punctures take place now and then, there are some common scenarios that will lead to a flat tire.
Knowing these will help you be more aware of the cause and give you an answer instantly when you would like to know why your bike tire got punctured out of nowhere. It could be an issue with the inner tube, tire, or even the entire wheel.
Some of the common causes are behind flats are:
Snake Bites or Pinch Flats
Sometimes, you'll see holes on either side of the tires less than an inch apart. If you see tiny cuts on your tire, it's you probably have a snake bite or pinch flat.
The cause is a sharp object getting embedded into the rim. When the lower tube gets pinched between the rims and the object, that time you'll have a snake bite or pinch flat, which will result in a visible puncture.
Thorns
If you spot only a single hole in your tire, it's likely a thorn. Pointy thorns and sharp-edged objects are always present on the road. When these get into the rubber, the air flows out through a puncture.
Too Much Pressure
You might come across situations where your tires burst out of nowhere. If that happens, it means you've overinflated your tires with too much pressure. Excess pressure can often cause injuries as well.
Damage by Rim Drill
If you spot damage at the base of the valve and a hole in the valve stem, then it's a puncture that's caused by rim drilling. Rim drillings can expose the base and step of your rims. Always be careful and tighten the nut bolts on both valves.
How to Fix a Flat Bike Tire with No Puncture?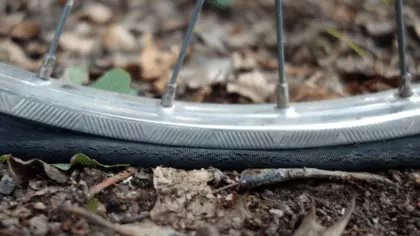 Even though bike tires going flat is a hassle, don't worry! There are ways of fixing these, too. Some of them are:
Fix the Inner Tubes
Punctures in the inner-tubes are one of the most common reasons why your bike tire keeps going flat without you detecting it. As sharp objects getting into it cause this situation, don't blame yourself if you don't notice it earlier.
You'll be able to fix it by getting some equipment like an inner tube patch kit, bike pump, and tire levers. Remove the tire, take out the inner tube, and begin your inspection. Holding the inner tube underwater can help you identify the puncture.
Find the puncture after removing the bike tire. If it's small, use the patch kit to patch it up. However, if there's a bigger hole, you'll have to replace the entire inner tube.
Replace the Bike Tire
High pressure and inflammation can cause bike tires to go berserk and burst. If your tire deflates for a crack or high pressure, replace the tire from a bike shop with a similar model.
Before you do that, remember to check for leaks as well. Next time you replace your tires, don't fill them with too much air pressure.
Check the Wheels
If your bike shakes or wobbles more than usual, your wheels are probably the issue. This scenario makes the ride extremely uncomfortable and can be dangerous.
If you come across this situation, check your bike bearing, axles, and spokes. See if they're loose or completely damaged.
Unfortunately, if they're damaged, you'll have to replace them immediately. If you face the same situation even after replacing your wheel, take your bike to a professional and get it fixed.
Replace Treads
If your bike tires have treads that aren't suited to their design, then you'll face punctures that happen due to tire wear. Check the tire wear and treads. If it doesn't match your current riding style, replace it with the ones that match yours. Doing so will drastically decrease your tire punctures.
Replace Due to Tube Wear
If tube wear is ignored for a long time, your tire will surely get punctured. If, after checking your tire, you find tube wear, take it out immediately.
Extreme heat and overuse of worn tires can make them easier to puncture. If you find worn-out tube wear, replace it as fast as you can.
Puncture Protection
If you have frequent punctures and flat tires, puncture protection can be a great help to you. These are additional tools that will help your bike by providing extra protection.
For instance, you can use a tire liner that will be placed in between the inner tube and the tire. Doing so will drastically reduce the chances of foreign objects getting into the inner tubes.
Use the Correct Tools
If you're a bike enthusiast, repairing bikes or levers might sound like an easy job to you. However, by using incorrect tools, you can achieve a flat tire instantly.
If you have a tire pinch, you can fix it just by using the correct tools. Take your tire levers and replace the damaged tires. Make sure there are no twists and turns so that there's no additional inflammation in the end.
Replace Tire Edges
The rim edges often get damaged when a slight pointy object gets by. As these rims are susceptible to punctures, there are easy solutions to it too. If you find out the cause of your flat tire is faulty rim edges, replacing them will instantly solve your dilemma.
Preventive Measures to Stop Your Bike from Going Flat
Prevention is better than cure. If you're tired of facing flat tires, you should practice preventative measures so that this doesn't happen to you again. Some of these measures are:
Avoid Road Hazards
When you ride a bike, you'll always see there are some cracked roads. Always try to avoid the sides, cracks, and curbs on the road. Going through these edges and curves will quickly expose your tires to susceptible damage.
Broken glass, pins, uneven lanes, bumps, potholes, etc., will always puncture your tires. Always stay away from these roadsides.
Maintain Your Bike
Sometimes the cause of your persistent flat tire is regular wear and tear. The older your tires are, the weaker they are to specks of dirt, debris, and pointy and sharp objects. As a result, your tires get easily punctured.
Rough weather, high mileage, too much heat, and long periods of not using it can also cause instant flats. Instead of sitting around with the old tires, always check and maintain them to avoid such issues. Replacing tires can solve a lot of your problems.
Visit bike shops, ask for help from professionals, and get your bike occasionally serviced to avoid such punctures.
Buy Quality Equipment
Maybe your tire quality is why you keep getting flat tires. The lower the quality of your tires, the more damage your tires sustain.
Make sure you invest in quality, not quantity. Quality tire brands will last longer, offer more features, provide helpful accessories and offer better services and guarantees compared to low-quality tires. Most cheap ones won't have good guarantees. Always try to use quality tires.
Be Careful with Tire Pressure
Too much pressure could damage your tires. A recommended pressure level comes with every tire existing on the market. Bike tires have different sets of pressure points required for them.
Don't overinflate your tires, thinking that it will automatically make your tires more robust and keep you on the road for longer. It does you more harm than good.
On the other hand, if you underinflate your tire, you'll end up with low tire pressure. Your inner tubing will get displaced and decrease in control. As a result, you'll have sloppy wheels with low pressure, which is not only unsafe but also exposes your tires to punctures by losing air.
Always be mindful of tire pressure to avoid these punctures. You'll notice these over time when you overinflate or underinflate. That's why you should check the pressure occasionally to avoid complications.
Tips for Correctly Changing a Tire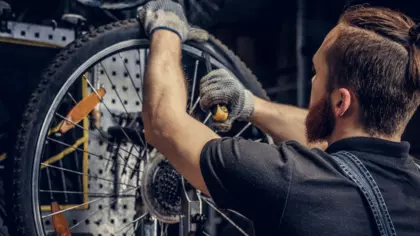 Changing a tire can always get tricky. Therefore, you can follow some tricks and tips to change them correctly. Such as:
Inflate the inner tube slightly before installing it into the tube. Doing so will prevent pinch-hole tubes as it acts as a protective barrier.
Always remove your old tubes by using a tire-changing lever. Make sure to detach the tires first and then shift to the rims.
Use your hands while installing a new tube into the wire to avoid slipping.
Make sure to be careful with the lever tool as it can puncture your tire. Use your hands instead.
Final Words
It's often confusing when bike tire keeps going flat but no puncture. You're not alone if you face these problems.
However, you can easily tackle these situations if you've gone through all the fixing and preventive measures. Next time you ride a bike and have a flat tire, you can fix it all by yourself.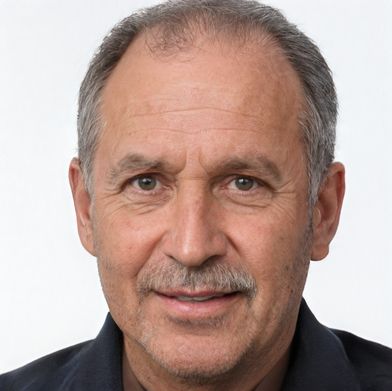 Steve Beck is a passionate cyclist and experienced writer covering the cycling industry for over a decade. He has a wealth of knowledge and expertise in all bike-related things, from the latest products and technologies to the best routes and trails. His articles are well-researched, informative, and engaging, and he has a talent for explaining complex cycling concepts in a way that is easy to understand. Steve can be found on the road when he's not writing about bikes, putting his knowledge and skills to the test.