Bike Tires for Heavy Riders – All That You Need to Know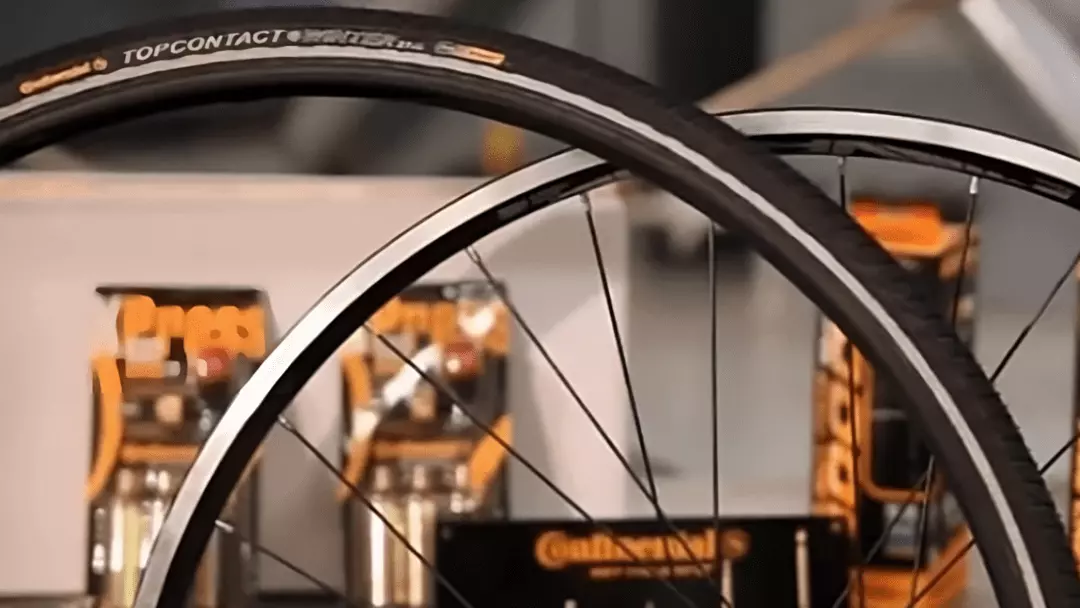 If you're considered "heavy" and love riding bikes, don't be hard on yourself. There are tons of bike tires for heavy riders that you can easily find to enjoy your rides. If your bike tires have stronger, wider wheels, you can have a more comfortable, enjoyable, and safe ride.
Except for high-grade racing bikes, conventional bikes are meant to carry thin riders. They can support 200 lbs or more. Some bikes can even support riders who weigh 300 lbs or more.
But what about riders who weigh more than that? Read the rest of the article to find out what tires you should look at if you're a heavy rider.
Common Issues That Heavy Cyclists Face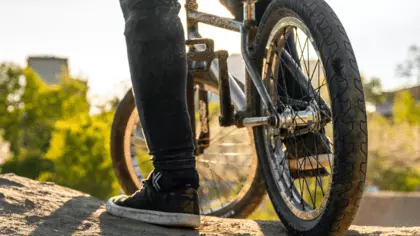 Most bikes are not made for people who weigh more than 225 pounds. Most components and frames are not strong enough to support that weight. This can cause issues like broken spokes and flat tires, specifically in your rear wheel, if you're heavy. It will also be very uncomfortable!
The bike parts that provide you with comfort are usually the handlebars, saddle, grips, and pedals. These parts are usually made for average-sized, lighter riders.
Many bikes can be made more comfortable with upgrades to some of the basic components, like ergonomic grips or a wider, cushioned saddle. However, a lot of the time, it might require you to get a different bike entirely.
In this article, I will not use terms like "obese," "overweight," "fat," or "plus-sized." Instead, I use the word "heavy."' I'm writing this for any person who may be over 225 lbs, regardless of their fitness level. The bike does not care if someone is a 240-pound obese or a 240-pound super-fit person.
On the other hand, you, as a person who may or may not be over 225 pounds, should care what kind of bike is right for you if you want an enjoyable and safe experience.
If this applies to you, read the rest of this article, whether you need to ride your bike for commuting, fitness, or fun.
What You Should Look for in Bike Tires for Heavy Riders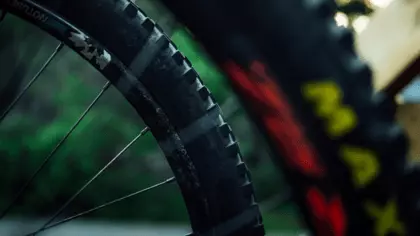 There are a couple of things that you need to look for in a bike tire for heavy riders. First, you need a fat tire bike so that you don't get a flat tire. Let's look more closely at the fat tires below.
Width
Usually, you measure tire width using inches. You should only use tires that are as wide as the bike's manufacturer recommends because the factory specifications of the tire will have the correct amount of muck space and gaps between markers and sticks. If your tire is bigger than that, it might not fit into the frame of the bike.
Most heavy cyclists will look for the tire with the widest gripping area possible, but there are reasons not to do that.
The bigger the tire, the more capable it'll be in snow and sand, but it will have to carry a lot of weight and drag. Heavy cyclists who are into mountain biking might prefer the feel they get with smaller tires on their trails.
The width of a tire can mean the height as well. You may feel much more stable with a larger tire, but it might make the pedals too close to the earth.
The rims of tires are usually measured using millimeters but the tires are usually measured using inches. This can be confusing for most entry-level heavy cyclists.
The standard rim for stock-heavy fat bike tires nowadays is 80 mm rims, but if there was a standard tire width, it'd be in the three-four-inch range. In millimeters, that would roughly be an 80-100mm tire.
Now for trivia: what is the widest fat tire? That would be the snow tire with a whopping 5 inches.
Diameter
The area that keeps revolving is the diameter of the tire. Older bike models that were meant for heavy people generally use tires with a diameter of 26 inches. Newer models usually use a diameter of 27.5 inches.
Some of these 27.5-inch models can fit a 26-inch rubber, but if you were to interchange the two sizes, it would mean getting numerous pitfalls and new wheels.
I would suggest that you stick with whatever already works. A 26-inch or a 27.5-inch will be visibly marked on your tire's sidewall unless the 559 or 584 metric numbers have been used instead. You can't just slap wider tires onto your mountain bikes.
Tread
Most people don't understand the tire tread of a bicycle, and there are a lot of tread myths out there that need to be busted.
If you were to line up a dozen knobbed tires consecutively, only a handful of cyclists could perfectly match the intended terrain to its correct tire design. What's worse is that even the manufacturers and designers themselves have misunderstood or been misled.
Did you know that the most efficient commuter or road tires are entirely smooth for when you ride in the rain? You'll hear a different story from the newest road bike tires, which have several small channels in the tires.
The truth is that if you take away the material on the exterior of road tires, it means that there are fewer areas that contact the ground. Plus, energy is wasted if a wide, deep channel lets tires wiggle on the ground.
Mountain bikes, as well as bikes that are meant for heavy riders, go by the same kind of rules, but they ride on thick, tall knobs. These knobs mean more surface area for the tires to contact and a stronger grip because they can dig into softer surfaces.
So, the effect will be proportionate: harder surfaces like pavement are best ridden with entirely smooth tires, while softer surfaces, such as mud, are better crossed with knobby tires known as spikes.
Some snow tires and hard-packed dirt tires have enough flexibility for small knobby tires to add grip and do not need slow-moving, heavy spikes.
Now that I've talked about spikes, another kind of tire needs mentioning: the studded tire. There are small points of metal in studded tires that dramatically increase traction on glassy, slick ice.
However, studs can range from harmful to useless in many other conditions. They will make a sound like popcorn popping, drain your energy, and might even tear off on the pavement.
The additional labor and material make the studded tires very expensive and rarely relevant outside of the winter in the North. Heavy cyclists in places with harsh winters can justify the expense of studded tires by comparing medical and dental treatment costs.
Terrain and Seasonal Factors
The last point about treads brings up another idea: The kind of riding that you are doing or the season in which you are riding can impact the tire you need.
If you want to own fat tire bikes for riding in the winter to avoid indoor training in snowy weather, you want a tire that has or can accommodate studs.
On the contrary, you might buy your bike because you want to ride on sandy beaches. If that is the case, you don't need studs; instead, you need wide, floating tires.
If you're buying your bike for a local trail near your home, you need to get through any loose sand or much that you may face, and should pick a narrower, tamer tire.
In a lot of cases, you may get the benefits of different features in the same tire. For instance, the Terrene Wazia comes in both non-studded and studded versions.
3 Best Heavy Tire Brands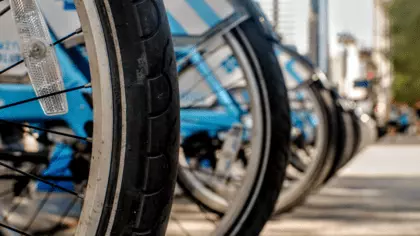 Now that you know what kind of tires you need, let's talk about some great brands of heavy bike tires for heavy riders.
Terrene
The brand Terrene provides you with a great selection of heavy bikes, gravel tires, and mountain bikes. This brand is based in Montana and was launched by veterans of the cycling industry who wanted to fill the gap in the market for tires for any fat tire mountain bikes.
They also stayed true to their northern roots and designed the studded Wazia tire, which was one of 3 models released at launch.
Their three bike tires for heavy riders were Johnny 5, Cake Eater, and Wazia, all of which were sized 26 inches. However, the Cake Eater now represents tires of 27.5 inches in their 4.5 inches and 4.0 inches tires.
Johnny 5, on the other hand, stays true to its name and is of 5-inches width. But, not all bikes can handle that width.
The 4.6-inch-wide Wazia can easily fit most heavy bikes of 26 inches. Terrene describes the original Wazia as "all-season, all-surface, go anywhere," and the treads of this tire show its versatility.
Its moderately sized and -spaced knobs can lack grip even in the muckiest and loosest of terrains but should reduce drag with grip in most bad conditions.
Another tire, Cake Eater, has shorter knobs for rolling quickly and efficiently. There is no rolling resistance even in bad conditions—including bad pavement!
Heavy rider who is thinking of taking their road bikes to trails should think of using Wazia depending on the space available on their road bike.
All Terrene tires are tubeless, and all of them are available with or without studs. You can also find "Tough" and "Light" variants of these models. The thicker and heavier "Tough" ones can be used on rocky trails or with inner tubes.
Maxxis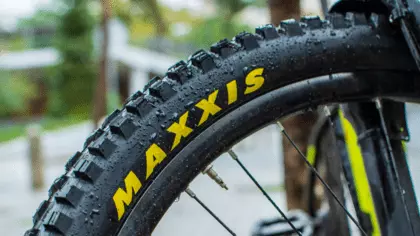 For off-road tires, the vehicle, Cheng Shin and the Taiwanese bicycle mega-maker sell road bike tires under the premium Maxxis brand in any local bike shop for heavier riders.
Maxxis is best known for the Minion tire series and trail tires made for mountain bikes. The Minion FBR, Minion FBF, High Roller, Chronicle, and Recon tires are the best-known of this brand. Many of them are suitable for heavy riders.
All five of these Maxxis heavy tires can be found in 27.5-inch and 26-inch diameters, except for the 27.5-inch Chronicle one. Every mode has a set width without any other options. Some riders will get the correct Maxxis tire for their bikes, whereas some won't.
The available treads of Maxxis tires show their off-road focus, with Minion FBR and FBF models borrowing tread patterns and names from their popular MTB counterparts.
The Minion FBR is supposed to be suited for many riders who are looking for tall treads for snow or mud, with a trail that is higher in speed in mind. The Minion FBF, on the other hand, is more extreme and intended for aggressive cyclists in very challenging conditions.
The knobs of the Colossus are much shallower than both of the Minion models but taller by any kind of standard, which makes it a good tire for around-the-house use but not on trails.
Finally, the Chronicle tire is the newest of the bunch and is supposed to be used as an all-around heavy tire for many kinds of riding conditions. Made for only a 27.5-inch rim, the diameter of this one is a whopping 30 inches.
45NRTH
Minnesota-based cold weather is 45NRTH's specialty. Even the name of this brand is keen on suggesting so: the 45th North.
The 45NRTH is the proud manufacturer of the fat tires called "HüskerDü" and "Dillinger 4 & 5".
But even heavy riders without a taste for punk rock or geography will find a lot of options among the wide range of tires like Vanhelga, Wrathchild, or Wrathlorde.
Owners of 27.5-inch diameter bikes can choose from 4.5-inch Dillinger 5 and 4-inch Dillinger 4 models, studless or studded, in addition to the 4.5-inch Wrathchild.
45NRTH has billed its Wrathchild as the ultimate studded heavy bike tire. With numerous studs and widely spaced, huge knobs, the Wrathchild has been billed as the ultimate tire in loose and soft trail riding, but it could drag on hard surfaces.
The 26-inch Wrathchilds are also appealing. You can get the 4.6-inch width Wrathchild, but the 4.8-inch HüskerDü and the 4.2-inch Vanhelga are only 26-inches studless tires.
The HüskerDü has a lot of room and a short knob with no studs so that it can save you on drag on a fast trail ride. The Dillinger 4, on the other hand, has short knobs, and it's a great choice for hard-packed snow.
The Dillinger 5 has additional traction that is worth it if you are riding quickly on a trail or fresh snow. The wide range of tread patterns and widths can cover different riding conditions and styles for most bike tires for heavy riders.
The Wrathlorde, on the other hand, has shorter knobs so that it can roll faster as well as keep a big number of studs, which is great for ice riding.
The Vanhelga takes the average in tread among the Wrath tires while it drops the studs so that it can carry out a trail-focused ride where there's a restriction in the tire width.
Types of Bikes That Suit Heavy Riders
First, you need to know that there isn't going to be a single best bike for heavy riders. There are durable bikes on the market in almost every style.
Finding a good bike puts you in a different situation. You might need a bit more time on your hand for that. There isn't one maximum weight limit because it may vary by model and manufacturer.
If you're considered "heavy," and can afford to spend 1500 dollars or more on a bike that is custom-built for you, you can opt for any of the several companies that make custom bikes for heavier people. It will probably be the best option. But, if you're on a budget, then read the rest of the article.
What You Should Look for in a Bike for Heavy People
There are a few features that you should be looking for in a bike if you're a heavier person. Here are some things to consider:
Suspension Fork and Frame
You should look into an aluminum alloy frame for strength. Carbon fiber frames are more expensive and fragile. A steel frame is not good for a smooth riding experience and low rolling resistance.
Titanium frames and suspension systems are pricy but light and strong. It's great for carrying extra weight and for a comfortable ride.
Frame Style and Size
You should get a frame size that is correct for your height, which will also allow for easy entry, especially for those with limited mobility.
Step-through frames can be common in the cruiser and comfort bikes. They have top tubes that are low for this cause.
Tires
You should look for puncture-resistant, stout tires from reputable brands like Continental, Schwalbe, or Kenda. I recommend a tire width of about 1.5 inches and at least 60 PSI inflation tire pressure. If you get anything less than that, you might get flat tires. Look for high, maybe even dangerously high, inflation pressures.
Also Read: How long do bike tires last
Gears
Search for a bike that has enough gears or speeds. Look for the lowest gear. This "granny gear" will make it easier to get up hills. A bike for a heavy rider should have at least seven gears.
Rear Hub
To make things simpler for you, I'll just say avoid any of the older models with cheap freewheel hubs. They're prone to broken axles and bend when you put them under a big deal of stress.
Wheels
Look for wheels that have double-walled rims. They will be sturdier and stiffer. They need to have thirty-two spokes per wheel for carrying more weight and everyday riding.
Brakes
Most brakes will work fine if you adjust them properly. Disc brakes are the most powerful kind, especially in an inclement environment and when carrying heavier loads.
Final Words
Being heavy, whether you're fit or not, isn't always up to you. Suppose you're heavy and still love riding bicycles; more power to you. But you must look for the right tires and bike that suit your weight. This can be easier said than done.
Hopefully, this article on bike tires for heavy riders has shown you exactly what you need to look for in both bikes and tires. If you lose weight after finding your perfect bike and tires, all the better!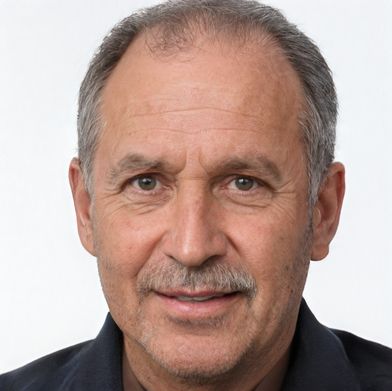 Steve Beck is a passionate cyclist and experienced writer covering the cycling industry for over a decade. He has a wealth of knowledge and expertise in all bike-related things, from the latest products and technologies to the best routes and trails. His articles are well-researched, informative, and engaging, and he has a talent for explaining complex cycling concepts in a way that is easy to understand. Steve can be found on the road when he's not writing about bikes, putting his knowledge and skills to the test.