What Size Rim Tape Do I Need? 3 Easy Steps To Find Out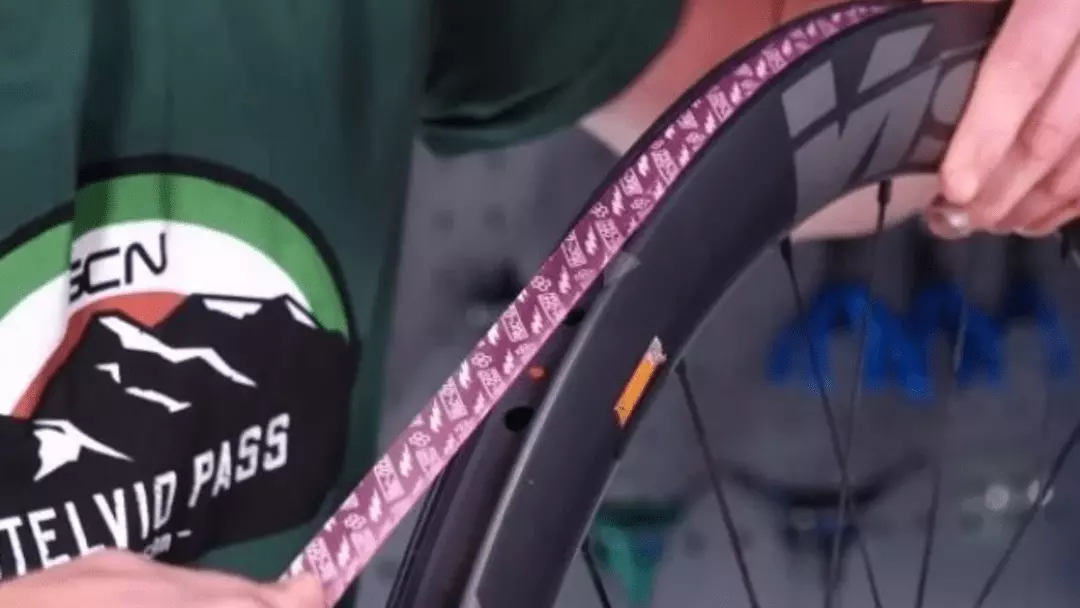 If you plan to rework that favorite old bike of yours, you'll want to ensure the tire is set up appropriately. And this might get you wondering – 'What size rim tape do I need?'
As a cyclist, you know the importance of having a good, airtight seal on your tires. After all, you don't want to deal with a blowout or a flat tire while out biking. That's why using the right-sized rim tape is vital when repairing or replacing a bike tire.
Now, if you're not sure about what rim tape size to use, don't worry. We're here to help. Here, we will explain what rim tape is, what size it should be and how you can install one yourself correctly.
What is Rim Tape?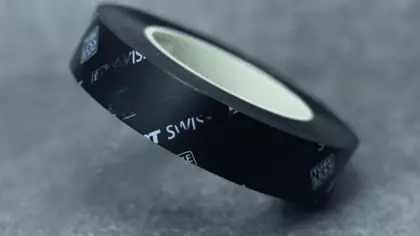 Rim tape is a strip of material that covers the spoke holes and speaks connections in your wheel. Its purpose is essentially twofold:
To protect the inner tube from punctures caused by the spokes, which can poke through and damage the tube.
To protect the rim from dents or scratches caused by the tube rubbing against it.
While some riders may not use rim tape, most do, and it can offer an extra layer of protection to help prevent flats.
A bike rim tape is typically made of cloth, plastic, or rubber, with the most common being plastic and rubber. Cloth tape is usually found only on older bikes; you rarely see it in modern bicycle shops.
Rim Tape Sizes Explained
The rim tape must be wide enough to cover all spoke holes and to have a little extra on each side to prevent the rim edges from cutting into the inner tube.
In general, the rim tape's width is measured in millimeters. Plastic rim tape comes in one width (15mm), while rubber rim tape comes in different widths: 13mm, 14mm, 15mm, 18mm, etc.
Rim tape comes in many different lengths, but typically they are measured in inches or centimeters and are cut to size by the manufacturer before shipping.
What Size Rim Tape Do I Need? Easy Steps to Find out
If you plan to use rim tape, you must be sure to choose the right size. If you put on a strip that's too small, it could slip inside the rim and expose the spoke holes.
If it's too big, there may not be enough pressure from the tire to hold it in place. Here's what you can do to determine the right rim tape size.
Know the Available Rim Tape Sizes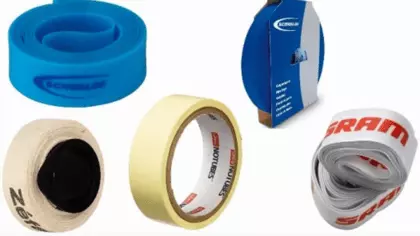 Rim tape comes in a wide range of sizes. The one you choose depends on the number of holes in your rim (spokes attach to these holes) and the size of those holes and the valve, along with your bike's rim size, or to be precise, the rim width. The size of your rim tape should match the size of your rim.
Two standard sizes are 1/8″ and 11/8″. Both are relatively narrow, but 11/8″ is slightly wider than 1/8″. These tapes are designed for rims with small spoke holes and narrow tires (up to about 25mm).
Other popular sizes are 13/8″ or 11/2″. These are wider than the previous two options but still not very wide overall. They're designed for rims with larger spoke holes and can be used with tires up to 30mm.
Measure the Tire Bead Seat Diameters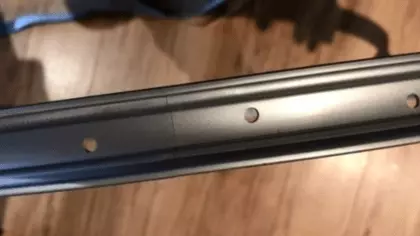 If you are unsure whether you need a wide or narrow type of rim tape, you'll have to find how large your rim tire beads sit in your rims.
To do this, measure from bead to bead across the inner surface of the rim. The measurement should be approximately 28mm – 47mm (1.10″ – 1.850″). This is called your tire bead seat diameter (TBSD) and will help you determine what width of rim tape is right for you.
When you have an older bicycle, particularly a racing bike, it might have sewn-up tires. Sew-up tires are glued directly onto the rim rather than an inner tube. On these bikes, the tire bead seat diameter will be larger than on a bike that uses clincher tires and inner tubes.
If your TBSD is more than 47mm (1.85″), you will need a wide type of rim tape, such as Velox's Cloth Rim Tape or Velox's Tressostar Cloth Rim Tape.
Measure Your Wheel's Rim Size
Determining the rim tape size becomes the easiest once you know your bike's rim width or the distance between the walls of your bike wheel. With this measurement, you can check the standard rim tape size chart and match the tape size you want to use without much guesswork.
To determine your rim size, you can look at the sidewall of your tire. The numbers will look like this: 700 x 23c. The "700" is the diameter of your wheel, and the "23" is the width. Both are measured in millimeters.
If there are no numbers on your tires, look at the front and back wheels. If they are the same size, you only need one length of rim tape. However, if they are different sizes (say, the front is 700 x 18c and the rear is 700 x 25c), you might need to order two different lengths of rim tape.
If you don't see a number, measure from one side of the rim to the other and from one side to the other at its narrowest point. It's best to use a metric ruler since most tape lengths use this method. In addition, using a flat surface to measure the tire or rim gets you more accurate readings.
And once you've got your measurement right, you can simply check the label for the rim or tire manufacturer. Then you can match any of the two with the standard rim tape size chart provided by the company to get the ideal size.
How to Install Rim Tape on a Bike Correctly?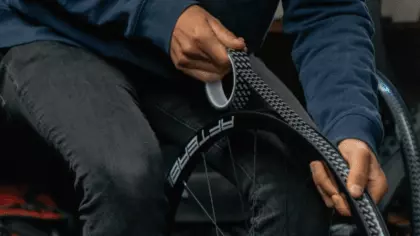 Installing rim tape on a bicycle is pretty straightforward. You can do it yourself by simply following the steps below.
Remove the Old Rim Strips
The first step is to remove the old rim tape from your bicycle wheels. You can do this with a screwdriver or flat-head tool. Just be careful not to scratch the rims!
Measure the Rim Widths
Once you've removed all of the old rim tapes, you'll want to measure the width of your rims as we described above. Since there are many types of rulers, if you don't know metric measurements, choose one that shows centimeters (cm)!
Cut the Rim Tape
Next, cut your rim tape so that it's slightly shorter than the measurement of your rim plus 1 inch (2.5 cm). This will give it some room for shrinkage in case there are any imperfections on the surface of your rims or if they aren't perfectly straight when installed.
Otherwise, when inflated fully, there could be gaps where air escapes through, which would cause flat tires over time from punctures caused by sharp objects like rocks or glass shards that may penetrate through these openings into the tire itself.
See More: Bike tire keeps going flat but no puncture
Install the Rim Tape
Now it's time to apply the rim tape. But before you start the wrapping, you should use isopropyl alcohol or another solvent-based adhesive on the rim, which will act as a sealant and ensures a better and more durable stick and fit.
To install the rim tape, start by lining up one end of the strip with the edge of the rim. Then, use your fingers or a pry tool to press the tape firmly onto the rim. Press it down to snug against the rim and not overlap with the valve. If there are any bubbles in the tape, use a tool or your fingers to press them out.
Once the tape is installed, let it dry along with the solvent for a few hours before putting your tires back on. This will give the bonding time to set securely.
Frequently Asked Questions
1. Do I really Need Rim Tape?
In short – yes, you do. It's there to protect your tube from getting punctured by your spoke nipples which are often jagged and sharp. Rim tape is also an excellent way to reduce your wheel's weight because you can use a lighter rim strip than a tube.
2. Does Rim Tape Size Matter?
Yes, it does. If you put on a strip that is too long, it can get pinched by the tire, and you may get a flat. If you use a too-short one, it can slip around and leave the spoke holes exposed.
3. How Wide is Too Wide for a Rim Tape?
The general consensus is that a rim tape should be no wider than 1mm wider than the rim's inner width. If the rim tape is too wide, when you inflate your tires on top of it, they will bulge outwards, leading to potential damage to your spokes and nipples, causing uneven wear on your tire.
4. What Rim Tape Size do I Need for Tubeless-ready Rims?
It's best to get accurate measurements of tubeless rim tape from your bike's manufacturer's website. As a general guide, gravel/road bikes are good with 17 and 21mm, trail/XC 25mm, DH/Enduro 28 mm, and DH/Endurowide 35mm tubeless rim tape.
5. Can You Use Electrical Tape or Duct Tape as Rim Tape?
No, we do not recommend using electrical tape as rim tape. It's too flimsy and will not stay in place. It's also generally too thick and will make your wheel out of true if it gets squeezed between the rim and the tire beads. You shouldn't use duct tape either, as it stiffens the fit too much. The same goes for gorilla tape.
6. What to Do When Rim Strips Don't Have a Valve Hole?
It might be tempting, but you shouldn't cut a hole in your new rim strips. Rim strips that don't have a valve hole are used for rims without spoke holes, and cutting a hole will destroy their integrity. You need new strips that have holes.
Conclusion
Overall, the best way to identify the right rim tape size is to consult your bike's documentation.
Ideally, you should be able to locate this information in your bike's user manual or parts manual. In many cases, manufacturers will include a chart on their websites detailing which rim tape size is compatible with their wheels.
Alternatively, if the question 'What size rim tape do I need?' continues to trouble you, then a local bike shop will likely have the answer for you.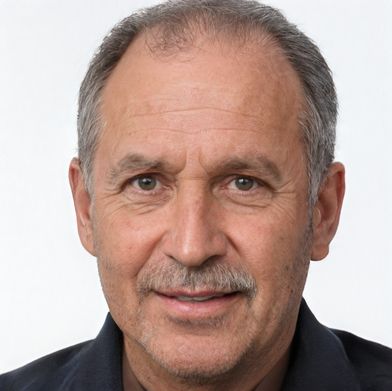 Steve Beck is a passionate cyclist and experienced writer covering the cycling industry for over a decade. He has a wealth of knowledge and expertise in all bike-related things, from the latest products and technologies to the best routes and trails. His articles are well-researched, informative, and engaging, and he has a talent for explaining complex cycling concepts in a way that is easy to understand. Steve can be found on the road when he's not writing about bikes, putting his knowledge and skills to the test.