5 Best BMX Bikes: Compact Cycling Choice for Tricks in 2023
The BMX revolution began in the 1970s, with an innovative group of southern California youth. These kids started racing their Schwinn Sting-Ray and other trick bikes on dirt motocross tracks in the area.
These tiny bikes were the perfect choice for riding fast since they were of simple design and with few added extras, they were easy to customize and handled well at higher speeds on dirt tracks.
It wasn't long before these bikes also found their way into empty swimming pools and the stairs and parks along with skateboards. These simple bikes were the perfect choice for trick riding and jumping.
And so began the BMX bike. A multi-purpose bike that not only is great for speed and racing but also has become a favorite for pipe and park riders.
So what is BMX? We know it started in the 1970s, but what do those three letters mean? BMX is short for bike motocross or bicycle motocross.
It is accomplished using BMX style bikes and can refer to dirt track racing or freestyle riding. Both styles use similar bikes, however, depending on the riding style, the features of the bike may be different.
Like the sport, BMX bikes have come a long way since the 1970s. They are still simple, and most have very few added extras.
However, bike makers have developed frames that fit the variety of riding styles that BMX enthusiasts are taking on.
Today's BMX bikes are as ride specific as road and mountain bikes. And, with such a range of riding styles, the array of options for BMX bikes is nearly limitless as well.
So, now that we've given you a bit of an introduction to BMX, and why grown-ups still think it's as cool today as it was when we were kids, it's time to get into the bikes we like.
In this review, we'll give you our favorite bikes on the market, and give you the pros and cons of each, so that you can decide on the right bike for you.
Then, we'll delve into some of the burning questions about BMX bikes, and riding BMX.
If you are new to BMX, you likely have a ton of questions, so we'll answer your questions so that you have a better understanding of why BMX is still cool, and how to enjoy the sport.
Best BMX Bikes
Best For Kids
The Mongoose Boy's Legion L40 BMX Bike
Drivetrain: 175mm 3-piece tubular Chromoly hollow
spindle cranks with 25x9T BMX gearing
Size: 20.5-inch top tube length
Wheel Size: 20-Inch Wheels
Tires Size: 20-inch x 2.3-inch tires
Weight: 34 lbs
The Mongoose Boy's Legion L40 BMX bike gives an easy and affordable option to the rider that wants to purchase a bonafide BMX freestyle bike.
This bike goes well beyond its aggressive appearance and provides a quality level of riding that is suitable for riders who are just getting into freestyle, or those experienced riders that have been riding for years.
The Legion L40 includes all of the necessary components for freestyle riding. It combines quality parts and thorough engineering that delivers a riding experience on par with more expensive, adult-sized, freestyle BMX bikes.
If you're wondering if this BMX bike, with all its great features, will be expensive, we've got good news. The Legion L40 is available at a very affordable price point, making it one of the best values in the market, in terms of real freestyle bikes.
Manufactured by Mongoose, who has been down in the dirt, ripping the trails, and shredding the ramps for over 45 years. With their Legion line, Mongoose delivers a full series of freestyle BMX bikes for riders of all ability levels and ages.
The Legion L40 features a Hi-Ten steel frame (20.5" top tube), a tapered head tube, and removable brake mounts and offers a clean, reliable drivetrain.
The steel 8.75" rise handlebars and 50mm stem are designed for strict riding, while the aluminum single wall 36H rims and 2.3" BMX tires offer grip and durability when landing tricks.
The Mongoose Legion L40 is designed for beginner-level freestyle riders and has a suggested rider height of 5'0″-5'6″ making it perfect for kids or young adults.
This combination of components and engineering is designed to be a great introduction to the world of BMX. This bike is a great entry-level option for anyone who is serious about BMX freestyle and wants to do more than just ride around the block.
Featured specs: Horizontal Top Tube Length: 521mm, Stand Over Height: 565mm, Chain Stay Length: 348mm.
Benefits: Gearing setup, rotating hub, U-Brakes.
Drawbacks: Weight, brake line too short, cheap pedals.
Extra features: Threadless sealed integrated headset for maximum steering performance.
Buying advice: Be aware that the bike does not come fully assembled.
Mongoose Legion L80 Freestyle BMX Bike
Drivetrain: 175 mm 3-piece tubular Chromoly hollow spindle cranks with a 25T steel chainring
Size: 20.75" top tube length
Wheel Size: 29 mm36H rims
Tires size: 20" x 2.3" tires
Weight: 26.5 lbs
A step up from the L40, the Legion L80 Model is a lightweight and aerodynamic bike intended for extreme riding and is designed to stand up to the impact of bigger air and harder landings.
You will be able to ride the Legion L80 on the street, race against the best, or take it to the park for a trick contest against your friends.
The Legion L80 frame features a professional-grade 4130 Chromoly front triangle (20.75" top tube), a tapered head tube, a mid-BB shell, and removable brake mounts.
Similar components to the L40 with an 8.75" rise handlebar and 50mm stem, 25x9T gearing and 3-piece tubular Chromoly 175mm hollow spindle cranks round out the L80's components.
The Mongoose Legion L80 is designed for beginners to advanced-level BMX riders and is ideal for taller or more experienced riders with a suggested rider height of 5'6″-6'0″.
The Legion L80 is a complete park, street, or dirt-worthy freestyle BMX bike for all ages.
Featured specs: Horizontal Top Tube Length: 527mm, Stand Over Height: 565mm, Chain Stay Length: 348mm
Benefits: Rides smoothly, Chromoly front end with solid steel rear end, 3 pc Chromoly cranks, removable brake mounts.
Drawbacks: Could be lighter, single-wall rims.
Extra features: Pivotal seat and post.
Buying advice: Suggested rider height of 5'6″-6'0″.
Elite BMX Bicycle The Stealth Freestyle Bike
Drivetrain: 170mm Cr-Mo 1-pc crank with American BB, 25x9T gearing
Size: 20" or 16"
Wheel Size: 20-Inch Wheels
Tires size: 20×2.5″ tires
Weight: 26.2 lbs
The Stealth BMX series, from Elite, is another worthy entry-level freestyle bike that works well on the street, on dirt, or at the park. With new and improved components the Stealth BMX bike will make you feel like the king of the streets.
It comes equipped with everything you need to get rolling in freestyle. From a top load stem, Cromoly handlebars, solid rear brakes, and, of course, the perfect BMX geometry making it one of the top, complete BMX bikes on the market today!
Featured specs: 25.4mm alloy seat post, 50mm Alloy top load stem; 8.75-inch handlebar.
Benefits: Simple to put together, hi-tensile steel frame, customizable seat post, great tires.
Drawbacks: Plastic platform pedals,
Extra features: Includes front and rear pegs.
Buying advice: It comes in different colors- Black Blue, Black Gum, Gunmetal Grey, Blue, Matte Black, and White.
Diamondback Bicycles Youth Nitrus BMX Bike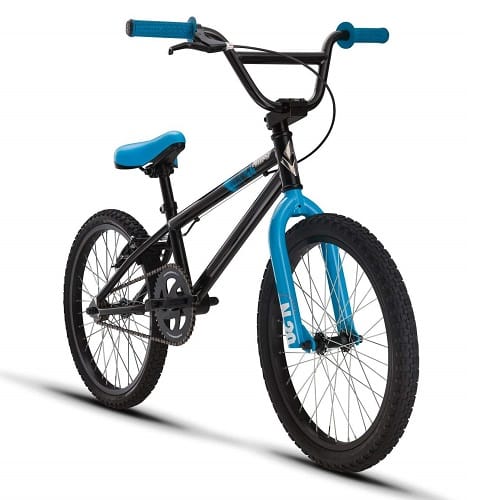 Drivetrain: Cranks175mm Steel 1 Piece w/ 44T Single Ring
Size: 20"
Wheel Size: 20-inch wheels
Tires size: 20×1.75″
Weight: 25.4 lbs
There's a pretty good gamble you first learned to ride a BMX bike. We know we did. Not only did we look cool, but BMX bikes have everything you need as a beginner: a tough steel frame and fork, 20-inch wheels with knobby tires, and that single gear ready for any situation.
Well, the nitrous, from Diamondback is that bike for kids today. A traditional BMX bike with classic style. Simple, streamlined, and fun. With its simple setup and features, like the easy-pull brake lever and extra resilient seat, the Nitrus is a solid bike for any fresh dirt ripper.
The Diamondback Nitrus Youth BMX Bike is an impeccable choice for any kid who has outgrown their training wheels bike and is ready for something they can grow with for a few years, while their riding skills progress.
Featured specs: Designed for average-sized 6-10-year-olds 47"-56" tall.
Benefits: Great price, ride quality, extra durable comfy seat.
Drawbacks: Does not come with pegs, heavy.
Extra features: Hi-Ten Steel frame and fork.
Buying advice: Minimal assembly is required and the tools required are included in the box.
Redline Bikes Rival 20 Youth Freestyle BMX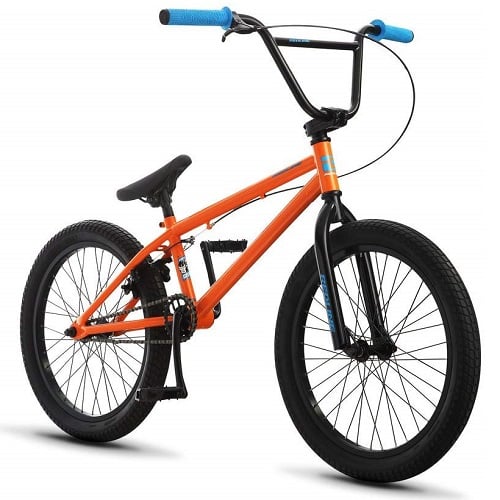 Drivetrain: Forged, 165mm, One Piece design, 25/9 Micro Gearing
Size: 20"
Wheel Size: 20-Inch Wheels
Tires size: 20 x 2.125-inch park tires
Weight: 26.40 lbs
Set your pint-size freestyler up with the Redline Rival and they will ride in a cool, urban style. This 20-inch, entry-level, freestyle BMX bike is specially designed with a shorter 19-inch top tube for lighter riders.
Add to that some 8-inch big-box bars and a top load stem for some wheelie assistance, a custom Redline Monster padded saddle, and 20 x 2.125-inch freestyle tires and your little one is ready for some serious neighborhood shredding sessions.
Featured specs: Has a shorter 19" top tube for smaller riders.
Benefits: Well-padded seat, great handlebars, good tires.
Drawbacks: Orange or green only, heavy.
Extra features: 8-inch big box handlebars.
Buying advice: Recommended height for riders is 4'2"- 4'6'.
Why Do Adults Ride BMX?
Well, why not?
BMX is as diverse a sport as road and mountain biking. However, this question is often asked when people see full-grown men and women riding small BMX bikes.
BMX today, is just as popular with adults as it is for kids. And with bike makers developing a range of BMX frames and features that range in price from inexpensive to high-end, it makes sense that adults would want to ride BMX.
Nostalgia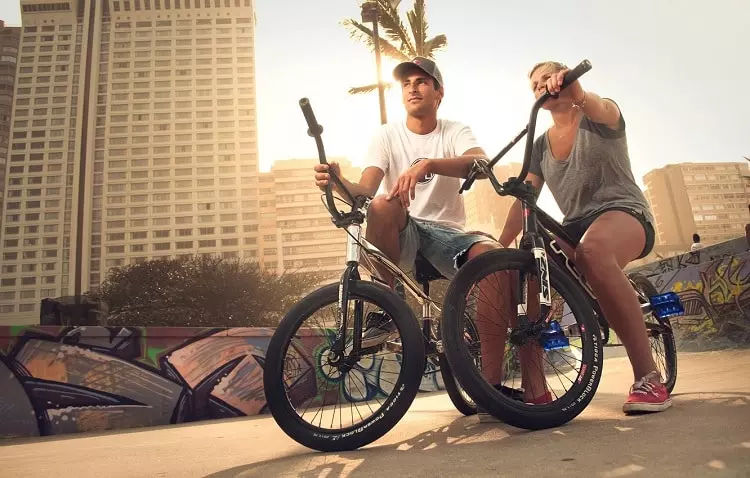 This is as good of a reason for adults to ride as any. For those of us that grew up riding BMX, it can be hard to let go of the habit, so to speak.
We may have jobs and families, but riding BMX bikes, doing tricks, or going fast, makes us feel young, and takes us back to an easier time when our only concern was getting home before dark.
More Money
When you're a kid, you take the bike your parents can afford to give you. As an adult, with a job, you can afford a better bike. You no longer have to settle for the basics.
With better cash flow, it's easier to build the bike you want, with the components that you want. And, if you're still competing in motocross or freestyle competitions, having a great bike with the right features can give you an edge against the competition.
Better Bikes
This is a huge part of why adults still ride BMX. The bikes of our youth weren't that great. BMX bikes today are lighter, faster, and actually built for specific riding styles.
Not to mention that the components that you can buy today didn't exist when we were kids, so it's more fun to build a bike, and ride it than it was when we were kids. Oh, and did we mention we've got more money for cooler stuff?
Better Info
We used to wait month to month for our favorite BMX magazine to show up in the mail. Social media and the internet have made the BMX community much easier to access.
We can watch YouTube videos of our favorite pros, we can share experiences and thoughts on gear and components. And, we can even make money from sharing our experiences on social media. And more money means better bikes…
So, now that we've given you a bit of an introduction to BMX, and why grown-ups still think it's as cool today as it was when we were kids, it's time to get into the bikes we like.
In this review, we'll give you our favorite bikes on the market, and give you the pros and cons of each, so that you can decide on the right bike for you. Then, we'll delve into some of the burning questions about BMX bikes, and riding BMX.
If you are new to BMX, you likely have a ton of questions, so we'll answer your questions so that you have a better understanding of why BMX is still cool, and how to enjoy the sport.
BMX FAQ
So, now that we've shown you the bikes that we like the best, and we've given you our advice on buying the right BMX bike, it's time to delve into some of the burning questions about BMX.
We've scoured the internet for the most commonly asked questions about BMX and riding BMX, then we've researched the answers, and put them all here. We've done the work, so you don't have to.
What Makes A BMX Bike Different From A Regular Bike?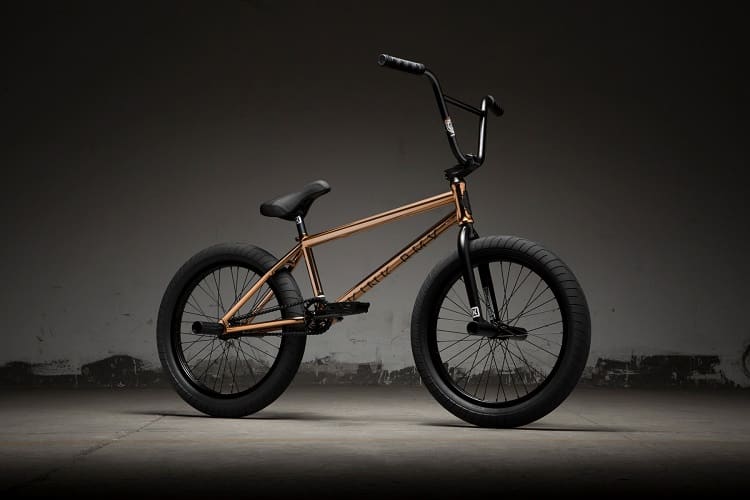 There are a number of ways that BMX bikes are different from "regular" bikes. These differences are what make the BMX bike so useful as a track racing and trick-riding bike.
However, it is important to note that the features make BMX bikes unique from other bikes, mountain, road, commuter, and other bike styles each has features that make them unique and specialized for a particular style of riding. Here are some of the ways that a BMX bike is unique:
Size – the BMX bike frame and wheels are notably smaller than in other bike types. This size can create the appearance that adults are riding a kid's bike. However, the small size of the BMX bike is what makes it ideal for track racing and trick riding.
No Brakes – Most BMX bikes lack brakes. Eliminating brakes makes the bike lighter and more maneuverable. Some motocross riders will add brakes to help with control, but for the most part, BMX bikes are stopped by pressing the foot against the wheel.
Single Gear – BMX bikes generally don't have gearing. The gears that help make road and mountain biking easier, aren't necessary for riding BMX. As a matter of fact, adding the components necessary for gears adds weight. And the cables for shifters make it difficult to do many tricks in freestyle riding.
One Wheel Size – Until recently, all BMX bikes used 20-inch wheels. While this is still the case for most BMX bikes, there are some BMX bikes, for taller riders that are now coming with slightly larger wheels.
A Fun Workout – As we age, it becomes more of a necessity to spend time in the gym than an option. BMX can give adults a fun way to get in a great workout, without the monotony of the gym. BMX riding is a great full-body workout that can build strength and cardiovascular endurance.
Those differences aside, BMX bikes are as customizable as other bike styles. With the exception of gearing, depending on the riding style, riders may add brakes, pegs, specialized tires and wheels, and other components to make riding easier or to fit with a particular freestyle or racing style.
What Age Is A 20 inch BMX Bike For?
This is the one feature of BMX bikes that make them the most unique. All BMX bikes have 20-inch wheels. This small size makes them ideal for racing, and for doing tricks.
In the early days of BMX, most riders, adults included, were riding a few specific models of bikes. These small bikes, without gearing and brakes, were ideal for fast speeds and handlebar spins.
The 20-inch BMX bike is for all ages. This is the feature that most often makes the BMX bike look too small for many adult riders. Some BMX bikes are now coming with slightly larger wheels, today you can find BMX bikes with 22 and 24-inch wheels.
These BMX bikes are intended for taller riders that may not be able to get the right leverage or enough reach with the smaller, 20-inch wheels.
There are also 12-inch wheels on BMX bikes for the smallest of riders, those under 4 feet tall. Many BMX riders over 4 feet tall transition to the regular 20-inch wheel size.
It is important to note that as with other styles of bikes, there is variation in the frame size of BMX bikes. Sizing bikes, even BMX bikes are generally not dependent on age, but rather on the size of the rider. It makes sense that a smaller bike would be better for a younger person or a child.
What BMX Size Should I Get?
Going back to the previous section, most riders, unless they are very tall or very short, will use a 20-inch sized wheel. This sizing remains true for all styles of BMX riding, and you will not find variation in size between racing BMX bikes and freestyle BMX bikes.
When you are sizing a BMX bike for yourself, what is more, important is the top tube measurement. The top tube length is more relevant to providing a properly fitting bike for different size riders.
The top tube length of BMX bikes does not have a great deal of variation, but this variation is enough to make a difference in fit and performance for riders of different heights.
BMX bikes have their own sizing scale that is different from other bike styles. If you are shopping for a BMX bike, it is handy to know what size in the BMX sizing is right for you.
| RIDER HEIGHT (FEET) | BMX BIKE SIZE |
| --- | --- |
| 3'3" to 4' | Micro Mini |
| 4' to 4'6" | Mini |
| 4'6" to 4'10" | Junior |
| 4'8" to 5'4" | Expert |
| 5'4" to 5'10" | Pro |
| 5'8" to 6' | Pro XL |
| 6' and over | Pro XXL |
Keep in mind that even though the size of the top tube may change for the size of the rider, most of these bike sizes will come with the standard 20-inch wheel, which is the trademark feature of the BMX bike.
Why Are BMX Bikes So Small?
The BMX bike of today matches the original BMX bike of the 1970s. The original BMX bike, the Schwinn Sting-ray was a small bike, as were many of the similar style bikes that were on the market at the time that BMX was becoming popular.
Today, the BMX bike hasn't changed much from those original small bikes of the 70s. The small stature of these bikes both today's version and the version that was popular in the 1970s and 1980s, is really what makes them popular for riders, and makes them versatile for a variety of riding styles.
Speed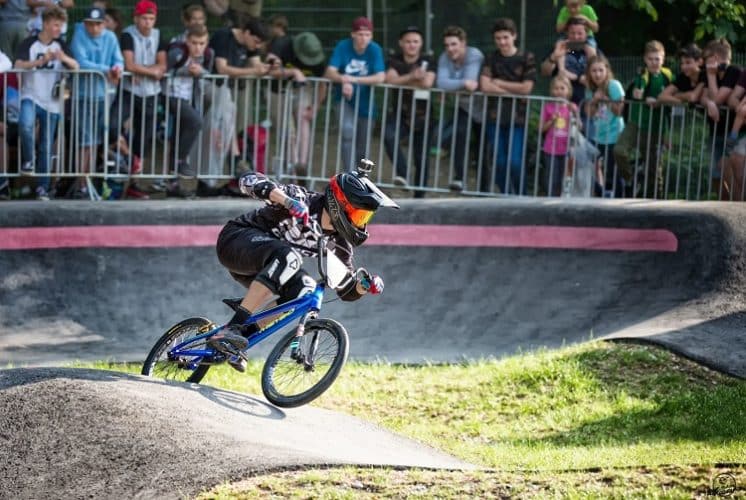 The small stature of the BMX bike makes it ideal for going fast. With smaller frames and minimal components, BMX bikes are fast. This is ideal for the motocross rider that needs to keep their bike lightweight.
With most BMX bikes using the 20-inch wheel, the advantage in speed comes from keeping the size of the frame small and increasing the pedal crank length.
BMX racers tend to stand when riding, to increase power, without adding gears. The small size keeps the bike light, which means more power and more speed, even without gears.
Maneuverability
On the flip side, freestyle riders like the small size of the BMX bike because it makes it easier to maneuver the bike through tricks, jumps and park features.
The small frame size of the BMX bike allows the freestyle rider to turn the bike in a variety of directions, without having to worry about getting tangled in the frame.
The small size and lightweight of the BMX bike also means more height in jumps and a bike that is easier to hop and move through the park features and a half and quarter pipes.
Does BMX Build Muscle?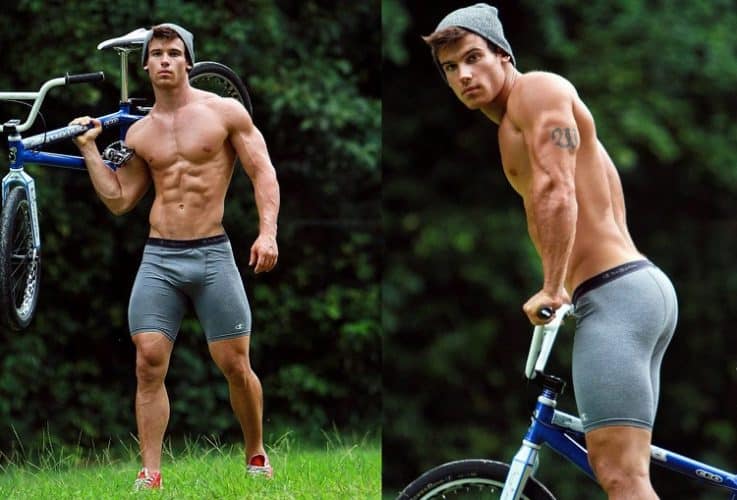 Just like with any physical activity or sport, there are a variety of health benefits from participating in BMX riding. Individuals that participate in BMX riding can expect to improve cardiovascular endurance as well as increased strength from this activity.
The amount of strength and the parts of your body that will build muscle can vary depending on the style of BMX riding you are participating in. In general, however, BMX riding provides a great full-body workout.
Individuals that race BMX can expect to see the biggest muscle gains in their lower body. Pedaling a single-speed BMX bike over the hills and bumps on the motocross track requires a fair amount of lower body strength.
Over time, the effort that it takes to pedal enough to speed through the track will build muscle in the legs.
Racing doesn't require the same amount of upper body strength, so individuals that race BMX may want to spend some time in the gym working their upper body if they desire to have strength in their upper body that matches their lower body strength.
Freestyle riders, benefit from a full-body workout and can expect to build muscles in both their upper and lower body. Freestyle riding requires strength in the legs to pedal the bike and to create enough power and endurance to move through tricks and jumps.
At the same time, freestyle riding also requires enough upper body strength to pull up on the handlebars to complete tricks. This combined effort of the upper and lower body will build both arm and leg muscles.
Can You Ride BMX Long Distances?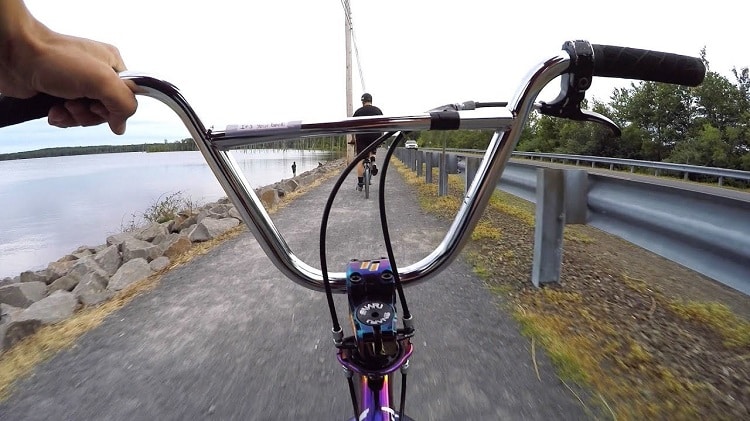 The answer to these questions is, sure, you can ride BMX long distances. However, the more important question is, do you really want to ride your BMX bike a long distance?
Many people grew up with BMX bikes, and when the BMX style of bike was the newest thing on the market, kids would ride them everywhere.
Many adults can tell stories of spending most of their summer riding around town, to and from friends' houses on their BMX bikes. Many kids would put many miles a day on their BMX bikes.
However, the BMX bike is not made for long-distance riding. Today, BMX bikes are designed to fit a particular style of riding, whether that is racing or freestyle riding.
However, even racing bikes are not designed for the rider to cover long distances. The limiting factor when it comes to riding distance on a BMX bike is the frame size. While the pedal cranks are designed to give good leverage to create speed, they aren't intended for the rider to sit and ride.
Most BMX bikes are most efficient when the rider stands on the pedals. Riding a BMX long distances is possible, but may not be comfortable for most riders, simply due to the size, and shape of the frame.
Does A BMX Bike Have Brakes?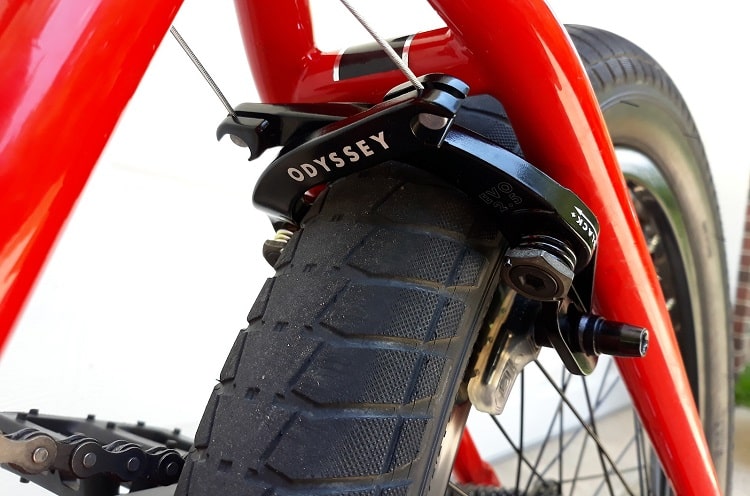 BMX bikes traditionally did not have brakes. With that said, as the sport has developed, some BMX riders, especially freestyle riders, do benefit from having brakes, and some competitive racing bikes are now including brakes.
Traditionally, BMX bikes either utilized a coaster brake or were stopped by the rider dragging their feet on the wheel. The coaster brakes, allow the rider to step back on the pedals to stop the bike.
This was a popular brake style in many bikes, especially kids' bikes during the 1970s and 1980s. They are easy to use and didn't require cables to be run from the handlebars to the brake.
These two brake styles are still very popular for BMX bikes, and for the rider that is looking to keep their bike light and free from cables, the preferred braking method is still dragging the feet on the bike's wheels.
BMX bikes that do have brakes will generally utilize rim brakes in some form, as opposed to disk brakes. Rim brakes are generally inexpensive, easy to repair and adjust, and lightweight. Many freestyle riders will use U-brakes.
This type of rim brake has minimal cables and is set close enough to the forks that they don't interfere with trick riding. Rim brakes may also be found on racing BMX bikes, as a way of providing better control and faster stopping when necessary.
How Fast Are BMX Bikes?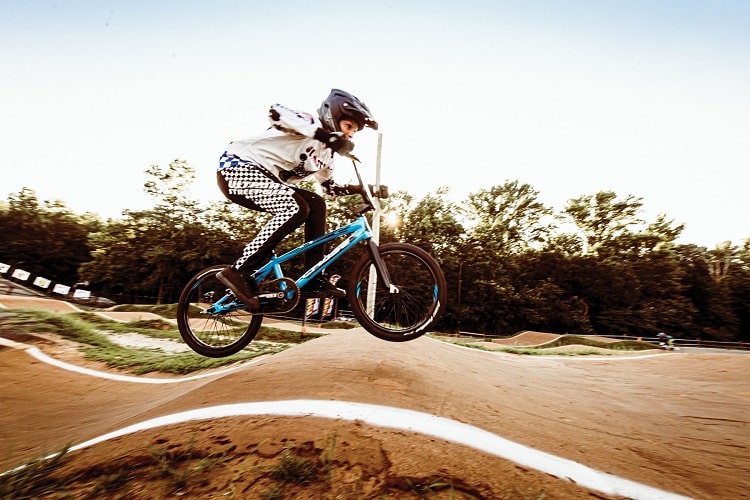 The speed of a BMX bike is directly related to how hard the rider pedals the bike. Olympic BMX riders have been clocked descending the ramp to the track at a speed of about 35 miles per hour.
This initial speed can be maintained or increased depending on the track and the pedaling efficiency of the rider. When racing, speeds are limited by the track conditions as well. A dry track may be better for higher speeds, while a wet, muddy track may slow the rider down.
Some riders have reported that they have reached speeds around 40 miles per hour when riding on asphalt. However, these speeds are not confirmed, and considering the proximity of the rider to the ground, high speeds on a BMX bike, especially on asphalt or concrete may not be safe for the rider.
Is A BMX Bike Better Than A Mountain Bike?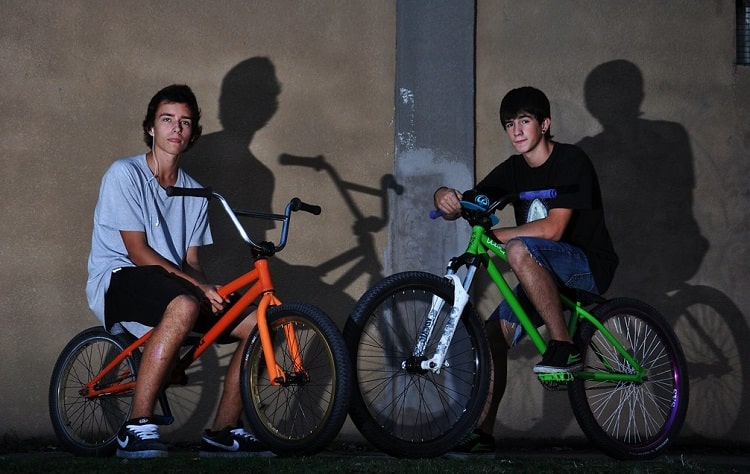 This is a matter of perspective, and how you intend on using your bike. Both the BMX bike and the mountain bike have times when they are useful and times when they aren't the ideal bike.
A BMX bike is better for trick riding, and for riding at high speeds in short bursts. The small size of the BMX bike, combined with minimal components makes it a great option if you are looking to spend time in the skate park or racing short dirt tracks.
The BMX bike was originally made for these applications, and this is where they shine.
On the other hand, if you are looking for a bike that is great at going long distances, over rough terrain, or even just riding dirt roads or dirt trails in your community, a mountain bike may be a better option.
Mountain bikes are generally geared, have shocks, and have a larger frame size that plays better at comfort over long distances, and better performance over terrain like rocks and logs.
It is hard to say that a BMX bike is better than a mountain bike. Since both have different purposes, each provides the rider with value in the setting that they were intended to be used. Take them out of that arena, and they may not provide the same level of efficiency or performance.
Is BMX Riding Dangerous?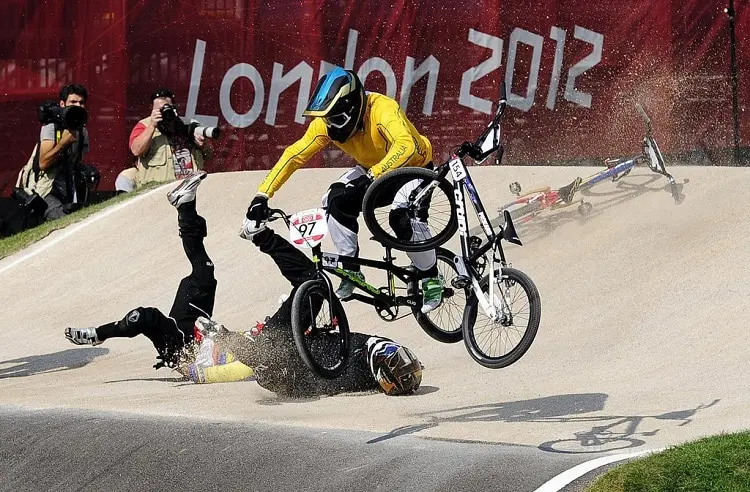 Just like any sport, BMX riding has inherent dangers, and those who ride BMX or who are interested in learning to ride BMX should understand the risks involved.
BMX racing is probably the most dangerous style of BMX. Racers are moving at a high rate of speed, in close proximity to other riders. This combination of speed and traffic can make racing more dangerous than riding freestyle.
However, BMX racers can improve their safety by using safety equipment such as pads and a helmet. This does not decrease the risk of riding at a high rate of speed with other riders, but it does limit the damage caused, should the rider experience an accident while riding.
Freestyle riding also has risks, especially for those riders that ride in the half or quarter pipe. These riders also benefit from the use of safety equipment such as pads and helmets.
For riders that participate in flatland freestyle, the level of danger is probably the lowest, but all riders should, at the very least, wear a helmet to protect the head in case of a fall.
How Can I Make My BMX Bike Faster?
There are a few ways that you can make your BMX bike faster, and you don't necessarily have to spend a ton of money to increase speed.
Most riders will see the greatest increase in speed by reducing the weight of their bike.
Here are some of our suggestions for increasing your speed on your BMX bike:
Spend some time in the gym – the stronger your legs are, the easier it is to pedal your bike. This is a simple way to increase your speed without spending a ton of money or making any modifications to your bike.
Remove your front brake – if your bike has front and rear brakes, remove the front brake. Your rear brake is safer to use in most situations, so keep the back brake and lose the extra weight and friction that your front brake adds.
Change your gears – if you want to keep your bike geared, look for lightweight sprockets. If you can live without the gears, modify your bike so that it is a single-speed only.
Check your tires – make sure your tires are filled to the suggested PSI. Even tires that are a little low in pressure will slow you down.
Invest in a lightweight frame – this can be a high-cost option, but if you are willing to save up, a lightweight frame can really make a difference in how fast you can ride.
So there you have it. Our favorite BMX bikes and some great information to help you get started. We hope that this review has given you a great place to start when it comes to riding and buying your BMX bike.
While our picks are our favorites, there are tons of other great bikes on the market.
Don't forget that the best way to find the right bike for you is to ride before you buy it. If you can, test a few bikes before you buy so that you find the right fit and the right features.
Did we miss something or is there a bike you love that we should know about?
Tell us your thoughts in the comments!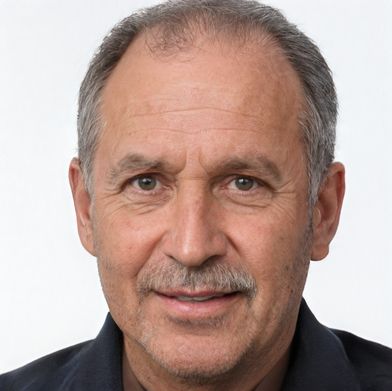 Steve Beck is a passionate cyclist and experienced writer covering the cycling industry for over a decade. He has a wealth of knowledge and expertise in all bike-related things, from the latest products and technologies to the best routes and trails. His articles are well-researched, informative, and engaging, and he has a talent for explaining complex cycling concepts in a way that is easy to understand. Steve can be found on the road when he's not writing about bikes, putting his knowledge and skills to the test.