How to Use a Schwinn Bike Pump? For 2 Different Valves
Do you use a bicycle to get around, and are you using gas stations to pump your bike tires? If that is the case, then you must be facing some problems.
Gas station pumps are not designed for your specific type of bicycle. They can fill up your tires way too quickly and even cause them to explode.
We recommend that you use a personal bike pump, like a Schwinn. If you've already bought one, you must be wondering how to use a Schwinn bike pump.
Fear no more, as we've gathered all the information about just that in this article. So, read along and start pumping your bicycle.
What is a Bike Pump?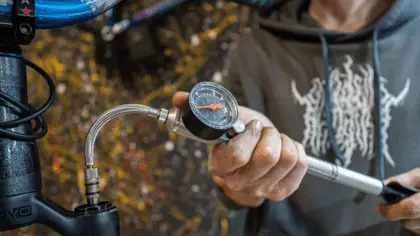 Before we get into the art of pumping any bike tires, we need to make sure you understand what a bike pump is.
A bicycle pump is a regular air pump that only pumps air into a flat tire.
Sounds easy enough, doesn't it? Well, it is! Usually, there are two kinds of valves on bicycles – the Schrader valve and the Presta valve – that link to the tubing of the pump.
There are many different kinds of pumps, like floor pumps, double-action pumps, frame-mounted pumps, blast or tubeless pumps, foot-operated pumps, and compact or mini-pumps.
It's essential to know about these things because you should know what they are before using one of them.
Related Article: How to inflate tubeless bike tire with hand pump
How to Use a Schwinn Bike Pump?
Without instructions, a lot of us tend to mess things up. So, it's good to gather all the knowledge about how to do something before doing it.
As mentioned above, there are two types of valves: the Schrader valves and Presta valves. Both of these valves require different steps for pumping the tires.
Let's review what the steps are for using a Schwinn bicycle pump.
Schwinn Bike Pump Schrader Valve
Here are the steps for pumping a bicycle tire with a Schrader valve.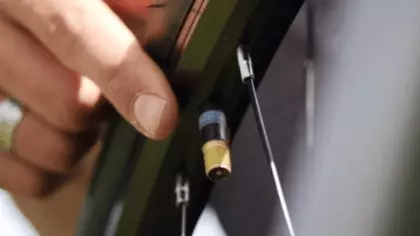 Step 1: Taking Out the Outer Rings
There are outer rings on both the internal parts and also on the pump's nozzle. You need to remove the outer rings first. Now, you need to replace the pump nozzle assembly that is in the housing.
Get the rubberized part done first, then move on to the nozzle's outer ring.
Step 2: Lifting the Locking Pump Lever
Now you have to press onto the nozzle right over the Schrader valve. Then start lifting the locking lever of the pump.
Step 3: Pumping the Tires
After that, pull out the plunger of the pump to pump thrice simultaneously. This will ensure that the interval pump valve is seated. Pump with as much pressure as you need to. Do not overinflate it, or the tire may explode.
Step 4: Removing the Pump
If you are done pumping, depress the locking lever and remove your pump from the valve of the tire.
Schwinn Bike Pump Presta Valve
Here are the steps to pumping bicycle tires with a Presta valve.
Step 1: Removing the Valve Cap
The first thing you have to do is remove the valve cap. Then you should loosen the lock screw. This will allow air to come in and get out of the tube.
Step 2: Connecting the Valve Stem
Now you need to connect the right valve stem to the valve. Then lock that into place.
Step 3: Pumping the Tires
After following the previous steps, you can start to pump your tire according to the recommended PSI label.
Types of Flat Tires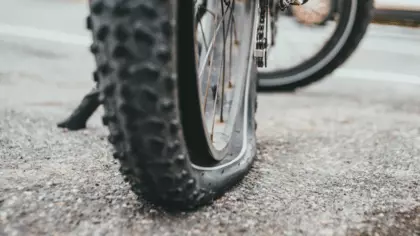 There are a few types of flat tires on bicycles that you need to learn about, like slow leaks, blowouts, pinch cuts, and punctures.
Let's look at what these types of flat tires are and how they come to be.
Slow Leaks
It takes a while to get completely flat if you get a slow leak on one of your tires.
Because your tire will eventually need air, even though you can ride your bike for a while with a slow leak, it will keep getting harder to pedal.
This kind of flat tire caused by a slow leak happens when there is a tiny hole in your tire's inner tube. These holes are really hard to find. If you cannot find these holes no matter what you do, it is time to change your tire's tube.
Blowouts
When you hear a sudden bang coming from your tires, it is because of a blowout. This happens when there are sudden air losses from your tire's inner tube.
Usually, when there is too much pressure caused by air inside the inner tube of your tire, blowouts occur.
You can compare this to a balloon popping from too much air pressure by stretching over the limit. This is exactly what happens to your tire.
When this is the case, you need to do patchwork on the inner tube of your flat tire. If that does not help, you have to completely replace your tire's inner tube with a new one.
Related Article: Can you ride a bike with a flat tire
Pinch Cuts
Sharp objects like a stone or other sharp edges can hit the tires and cause pinch cuts when riding a bicycle.
When your tires get impacted by sharp objects, they get compressed, and your tire's inner tubes get pinched between your rim and the sharp object. In short, your tires get pinch cuts.
Pinch cuts look like there are two holes in the inner tubes. These holes are also known as snake bites because they look like they are caused by a snake's fangs.
You can repair holes formed by pinch cuts as the tires are not completely damaged. Plus, the rim of your tires can get a dent due to the impact.
Punctures
The most common causes of flat tires are punctures. These can happen to your tires for a number of reasons.
Typically, when you ride your bike over sharp objects, your tires can get poked, and that can create holes in your tires.
The worst-case scenario is when the sharp object pokes through your tire's inner tubes. Otherwise, you should be able to easily repair a puncture.
Related Article: Bike tire keeps going flat but no puncture
Types of Bike Pumps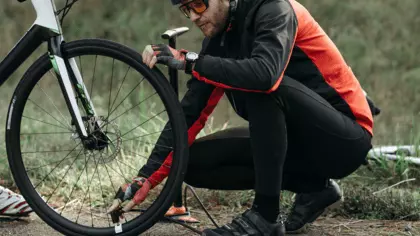 You can find a few bike pumps in the market, like floor pumps, CO2 pumps, air compressors, and mini-pumps. Let's examine the different types.
Floor Pumps
Floor pumps are known as the industry standard pumps. These tubular pumps have sliding, long, T-shaped pump handles. They also come with foot pedals to stand on.
A floor pump allows you to pump your tires very easily and quickly. A lot of these pumps even have built-in gauges for proper tire pressure readings.
CO2 Pumps
You can't beat a CO2 pump for its efficiency. They come with cartridges of compressed CO2.
These pumps inflate your tires quickly, but they will not work without a CO2 cartridge.
Air Compressors
These air compressors are best for home shops for bikes. You get all the pressure you need to pump your tire with one flip of a switch.
A lot of these air compressors even come with regulators. You will find that some are quieter, while others are noisier.
Mini Pumps
Hand pumps are called mini pumps. They are very similar to floor pumps because of their tubular shape and the fact that they come with handles for operation.
These pumps are much smaller and lighter. You can fit them in your hands when pumping your tires. They are convenient for carrying around for emergencies.
Final Words
Maintaining a bike is not for everyone. Not all people know how to pump a bike tire. Some find it difficult, while others find it easy to do.
It is easy, but it is hard for people who are doing it for the first time. Just stay confident and read the instructions carefully, then you are good to go.
If you wonder how to use a Schwinn bike pump, you should be set because of this article. So, best of luck with your flat tire!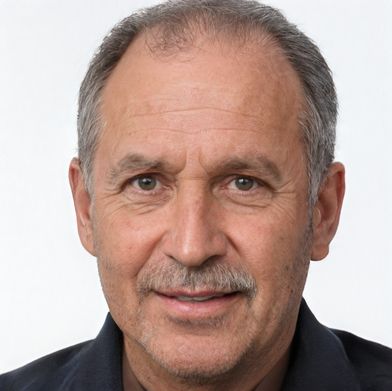 Steve Beck is a passionate cyclist and experienced writer covering the cycling industry for over a decade. He has a wealth of knowledge and expertise in all bike-related things, from the latest products and technologies to the best routes and trails. His articles are well-researched, informative, and engaging, and he has a talent for explaining complex cycling concepts in a way that is easy to understand. Steve can be found on the road when he's not writing about bikes, putting his knowledge and skills to the test.