What Size Bike Should I Get For My Height?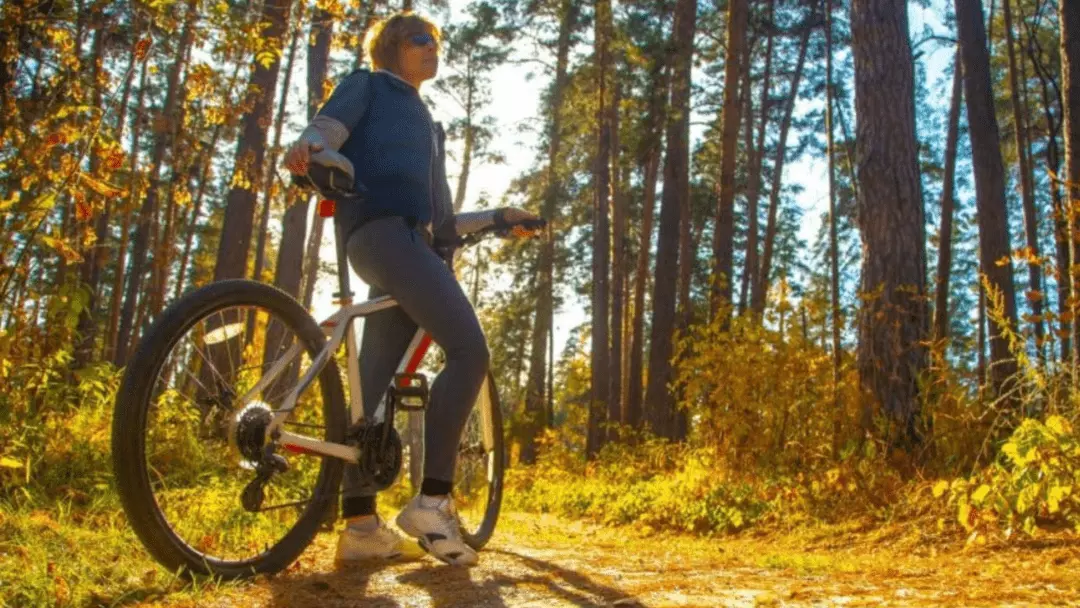 When researching a mountain bike, the most important question arises is what size bike should I get for my height? It's important to purchase one that is suitable for your height. This will mean that you're not going to get any cramps or discomfort whilst riding long distances.
Mountain bikes are different from regular bikes in that they are made for heavy-duty and sturdy activity so making sure that you do your research thoroughly is going to ensure that you are getting the best product for your goals and build.
As mountain bikes tend to sell for a lot higher price points than regular bikes, you don't want to pluck for a cheap option that isn't suited to your height as it will end up collecting dust.
With so many mountain bikes available on the market, you want to choose the one that is going to suit your criteria and build while also bringing you comfort and reliability for short and long journeys.
So how do you know which size is going to benefit you the most? We've compiled everything you need to know in this mini-guide.
How is frame size measured on a bike?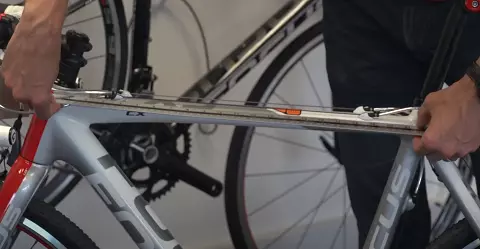 One of the most important parts of any bike is its frame size. This relates to the frame height and can be measured in different ways depending on the brand and manufacturer.
As you can assume, the taller you are, the larger the frame size will be. When it comes to the frame size measurements, most manufacturers check the distance from the center of the crank axle to the top of the seat tube.
Mountain bikes are usually measured in inches whereas road bikes are measured in centimeters and children's bikes are measured by their wheel size rather than their frame.
How long is an adult bike?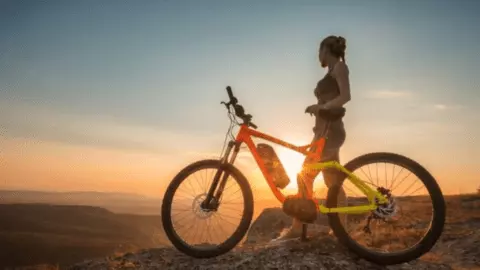 As expected, the length of a bike will depend on what kind of bike it is. The average adult bike is usually around 69 inches long and handlebars can measure anything between a 15 to 18 inch range for road bikes or 20 to 24 inches for hybrids and mountain bikes.
When you are visiting a bike shop, you'll be able to clearly see the difference between road bikes and mountain bikes just from the length alone.
What frame size do I need for a hybrid bike?
If you are wanting to use your bike for a variety of environments, then a hybrid bike may be the best solution. These bikes have characteristics from road and mountain bikes bringing a versatility that allows you to ride them on all kinds of surfaces and terrain.
When it comes to knowing which frame size is going to be best then it's always best to look at your height before making your decision.
Here is a fully detailed guide on what bike frame size you need to get depending on your height:
If you are 4'11" to 5'3" then you want your inseam length to be between 25" to 27" with a bike frame size of 13 to 15 inches which is often referred to as an XS descriptive size.
For those who are between 5'3" to 5'7" then you should be looking at a 27" to 29" inseam length with a 15 to 17 inch bike frame. This will usually have an S sizing description.
If you are 5'7" to 5'11" and have an inseam length of 29" to 31" then you should be looking for a bike frame size of 17 to 19 inches which is a Medium descriptive size.
If you are 5'11" to 6'2" or have an inseam length of 31" to 33" then you need a bike frame size that is 19 to 21 inches. This will often be referred to as Large descriptive size.
For those who are 6'2" to 6'4" with an inseam length of 33" to 35" then you'll be best suited to purchase a bike that has a 21 to 23 inch bike frame size and can be between a Large and XL.
Lastly, for those who are 6'4" and over then your inseam length will most likely be above 35" and you should be getting a bike with a frame size of 23 inches and up which is mostly categorized as an XL.
Also Read: Should I Buy A Mountain Bike Or Hybrid
Conclusion
Buying a mountain bike doesn't have to be a stressful endeavor but it is important to always ensure that you do your research thoroughly and look at the sizing and mechanics of the bike rather than judging it purely on the aesthetics.
As mountain bikes are functional and practical due to their ability to be ridden on a variety of terrain then it's essential that you are getting a bike that you can ride comfortably and be able to control with ease.
If you buy a bike that is too large or small then it's likely that you're going to face an array of challenges.