What's the Best Type of Bicycle for Exercise?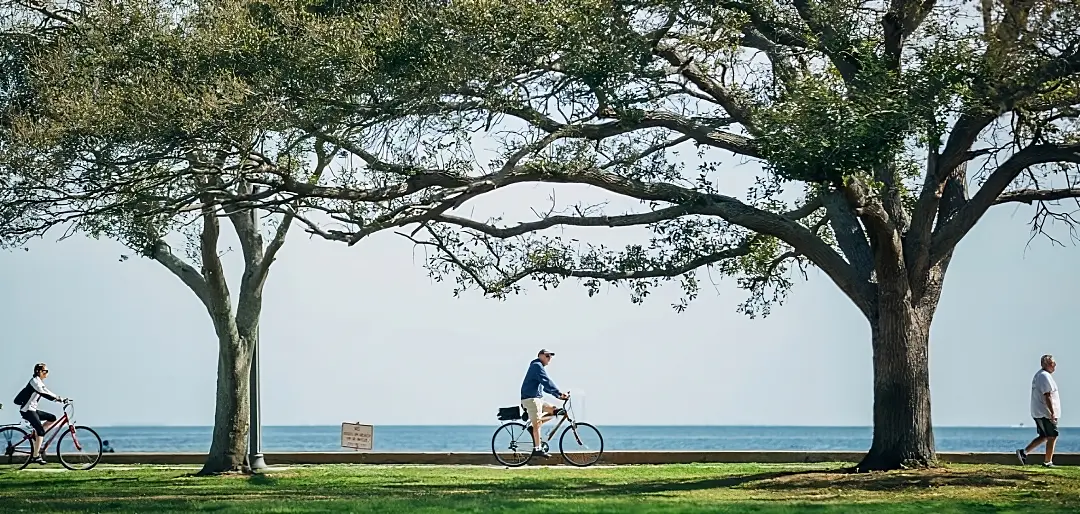 (Hunting for a deal? Several retailers are running sales even before Black Friday. Check out our constantly updated resource on the best cycling deals
)
You want to cycle to stay healthy, that's great!
But you don't know what is the best type of bicycle for exercise? Keep reading!
Here are three good bicycle types for fitness
At A Glance: Top 3 Picks For Best Bikes For Exercise
Staying in shape isn't easy, partly because it's not fun. I hate going to the gym.
I only really enjoy exercise that doesn't feel like a chore; something that's thrilling. I'm talking about hiking, swimming, and of course cycling.
IMAGE
PRODUCT

Our Top Pick!

Affordable
6061 aluminum alloy
Shimano Sora drivetrain with 18 speeds

VIEW LATEST PRICE→

29-inch rims
Hydraulic disc brakes
Huge Rockshox lockout front suspension fork

VIEW LATEST PRICE→

3-wheeled recumbent
Dual mechanical Avid disc brakes
56t sprocket

VIEW LATEST PRICE→
Lots of people resort to treadmills and stationary bike trainers, in order to get some cardio at home. And while those are good, sensible ideas, they're still lacking in fun.
Outdoor cycling is a fantastic form of exercise. It's dynamic, it's fun, and it's free. But when deciding what kind of bike to use, you need to be selective.
Find the right type of bicycle for your exercise needs
Everyone is different, and for that reason, there isn't one bicycle that's perfect for fitness. Much depends on your current health, weight, and desires. For tracking purposes make sure to use a biking computer so that you can analyze your own data.
For some, you might be looking for a comfortable, casual ride that'll encourage you to get out there and have fun. Almost anything works – as long are you're just not trying to do a road race with a beach cruiser.
Best Type of Bicycle for Exercise
For others, a good workout bike will be a light, fast, agile and expensive road beast.
Still, I've found that some styles are better suited than others. Here are three of the best bicycle types for getting exercise.
---
1) The Road Bike: Light and speedy
Road bicycles are ideal for exercise because they encourage performance. Most are light in weight, and they have thin tires that let you just fly.
The gearing of a road bike is a big factor too: with some sporting upwards of 30 gears, you'll always have room to push yourself. Adjusting your gearing can make even a simple ride on flat roads an exhilarating experience.
Our ride recommendation:
Raleigh Willard 1 All-Road
If you're after a great road bike for exercise but you're also on a budget, the Raleigh Willard All-Road is a ridiculously affordable entry point.
It doesn't carry the fancy components that more expensive models do, but I encourage you to consider it as a good stepping-off point. It's a superb way to test the waters.
The frame is 6061 aluminum alloy, with a carbon fork, and it sports a Shimano Sora drivetrain with 18 speeds, including integrated brake shifters on the aero bars.
If your budget is bigger and you're looking for high-end performance, we wrote an article on some great road bikes in the $1500 range.
2) The Mountain Bike: Tackle hills and trails
Mountain bikes are fantastic for exercise, fitness, and fun. That's because they allow you to go off-road and really work up a sweat.
While road bikes tend to be more of a pure cardiovascular workout, mountain riding tends to activate more of your muscle groups, since you'll be dealing with inclines, declines, and occasionally lifting your bicycle over a fallen tree or two.
With mountain riding, durability, and versatility are key, so look for a great frame with considerable suspension components to smooth out the bumps.
Our ride recommendation:
Motobecane Fantom 29er
I like to recommend 29er bikes for anyone interested in mountain riding. I find the larger 29-inch rims let you roll over bumps and rocks and tree roots much easier than models with smaller wheels.
Motobecane's Fantom is a wonderful mountain bike for fitness and exercise. With hydraulic disc brakes and a huge Rockshox lockout front suspension fork, it's built to perform. Expect a fun, rugged, and precise ride, and Motobecane is a great brand.
(The Fantom is great for trails, but if you're looking to cross snow, sand, and mud, you might like fat bikes more.)
3) The Recumbent: A pedal-powered go-kart
Recumbent bikes are an incredible thrill. You're low to the ground in a comfortable riding position, speeding across the tarmac like a character from Mario Kart.
I often recommend recumbents as ideal bicycles for exercise purposes because they are way easier on your joints. That means you're less likely to deal with aches and pains, so you'll have fewer excuses not to get out there and feel the burn.
The fact that Recumbent bikes are the funniest things on two (or three) wheels is just a bonus.
Our ride recommendation: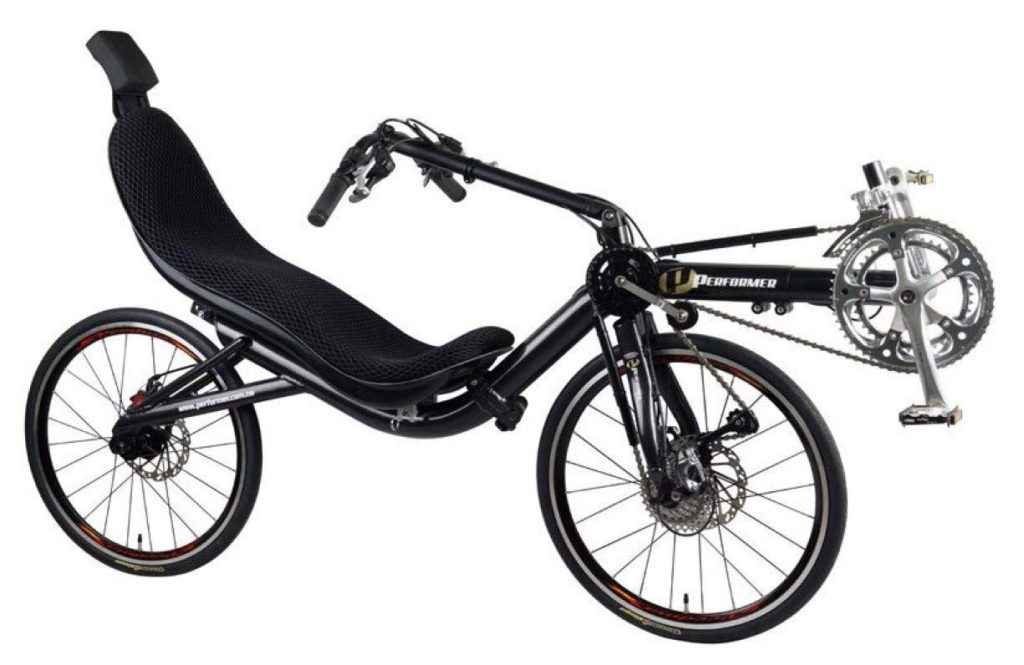 Performer Two-Wheeled Recumbent, Folding
Recumbent bikes are a bit more of a specialty item, so I recommend you check out your local bike shop and try one out. It's quite a transition from standard cycling to recumbent.
To make the learning curve easier, I'd start with a 3-wheeled recumbent just to get your feet wet. That said, if you're ready to dive in, this Performer recumbent bike is a two-wheeled variety with plenty to like.
Dual mechanical Avid disc brakes stop you really well, and you'll have a total of 22 speeds to enjoy. This is a performance-oriented recumbent; you can hit some high speeds with the larger 56t sprocket.
The best bike style for exercise is whatever keeps your momentum
Yes, the three bicycles listed above are good choices for getting a proper cardio workout and keeping in shape, but you should ride whatever you're most comfortable on.
Any cycling exercise is good, even if you can only handle a brief pedal around the neighborhood. Comfort bikes are great, and inexpensive bikes are great. If it has pedals, handlebars, and two wheels, it's great.
My biggest recommendation is to make cycling part of your weekly rhythms. Make it a habit, stick with it, and enjoy the ride. And if you're exercising in hot weather, be prepared for it.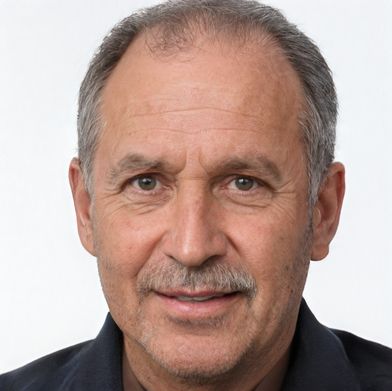 Steve Beck is a passionate cyclist and experienced writer covering the cycling industry for over a decade. He has a wealth of knowledge and expertise in all bike-related things, from the latest products and technologies to the best routes and trails. His articles are well-researched, informative, and engaging, and he has a talent for explaining complex cycling concepts in a way that is easy to understand. Steve can be found on the road when he's not writing about bikes, putting his knowledge and skills to the test.