(Hunting for a deal? Several retailers are running sales even before Black Friday. Check out our constantly updated resource on the best cycling deals)
If you are in  search for an affordable bilke with versabtile use, you will be interested in our selection of the best hybrid bikes under $500 for men!
Finding a road worthy, top quality hybrid bike for under 500 bucks
At A Glance: Top 3 Picks For Hybrid Bikes Under $500 For Men
Ah, the hybrid bike. It's probably the best thing to happen to the cycling industry in 50 years. Nothing targets the casual / commuter rider quite like it.
That's for good reason. Hybrid bicycles (theoretically) offer a wonderful balance of capability.

IMAGE
PRODUCT

Top Overall Choice!

Frame & Fork:

Lightweight, hard-wearing aluminum with an integrated suspension fork

Drivetrain:

21-speed shifters and rear derailleurs

Components:

700c wheel size should suit riders between 5'4 and 6'2 in height perfectly

VIEW LATEST PRICE→

Frame & Fork:

Lefty rigid fork

Drivetrain:

650b wheel size

Components:

Shimano MT200 hydro discs

VIEW LATEST PRICE→

Frame & Fork:

High-quality 6061 aluminum frame and fork

Drivetrain:

24-speed drivetrain

Components:

Shimano EF 51 3/8

VIEW LATEST PRICE→
Road, grass, trails, what's your pleasure? The hybrid bike easily handles them all. Right?
Not exactly.
While there are some phenomenally great entrants into this category, they're not all made equal.
The best hybrid bikes under $500 are a good blend of two styles of riding, capable (but not brilliant) at both styles. The worst hybrids out there aren't really good at any type of riding.
So how does one find a stud in amongst all the duds?
I will be offering eight reviews of some affordable, top quality hybrid bikes below the $500 price point, explaining why each one made the cut, and what kind of riding it's best suited towards.
Furthermore, I'll offer a few tips on how to shop for them, and how to better understand hybrids and their various denominations.
Let's get started!
*After receiving lots of questions, I've decided to expand this piece to include reviews of ten bikes. I hope it helps!
How to shop for a hybrid bike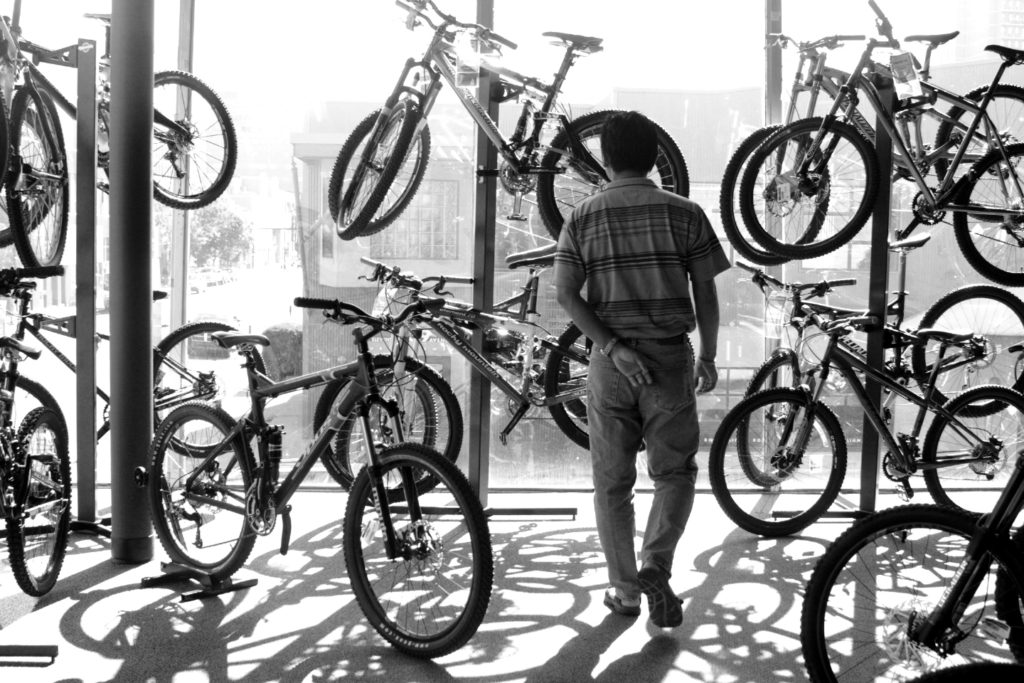 Finding a $500 or under hybrid bike with good features isn't terribly hard to do. That budget will net you a capable, entry-level ride. However, a lot of people stumble when it comes to finding a good fit.
I'm not talking frame size. What I mean is, people assume that 'hybrid' means one-size-fits-all, and anything with that descriptor will be great on pavement, trails, etc.
Unfortunately, that's wrong!
All hybrid bicycles represent an amalgam of two styles. Traditionally, that means road and mountain, but not always. Hybrids can be a combo of road, cruiser, mountain, or comfort bicycles.
The best way to shop is to pick two terrains you ride the most, and find a hybrid with compatible qualities. If you only ride a single terrain (like pavement commutes, or riding across sand, grass and gravel) you may not need a hybrid at all.
Remember, bike models will lean more towards one riding style than another (a road-centric hybrid is common, for example.)
There are now four distinct sub-categories for hybrid bikes
the pavement eating Performance Hybrid
the trail friendly Sport Hybrid
the well-balanced Dual Sport
the crowd pleasing Comfort Hybrid
I want to help you identify a few of the best, cheap hybrid bikes for under $500. I'm going to do so by reviewing two models from each of the sub-categories listed above.
Hopefully, you'll find something in this mix that speaks to you!
Related: Road Bike vs Mountain Bike Comparison 
---
Performance Hybrids: Road Meets Commute
If you mostly cycle on concrete or pavement, you probably want a performance hybrid bicycle. They're geared to be most capable on road surfaces.
Despite their pavement prowess, they have wider tires and a more robust frame than a full-on road bike. You can hop off the road onto a light trail or grass with few problems.
The frame geometry is less aggressive than typical road bikes, which is more comfortable. However, a performance hybrid won't have any suspension parts like many hybrids do.
They are light, agile, fast, and fun to ride.
---
Choose from eight different color combinations and select the most appropriate frame size for you (between 16 and 20 inches) when you go for the GTX Elite, a comfortable, dual-sport hybrid that's perfectly priced for the man on the go.
Built from lightweight, hard-wearing aluminum with an integrated suspension fork, this bad boy is designed for versatile riding on a variety of different terrains; its 700c wheel size should suit riders between 5'4 and 6'2 in height perfectly.
Durability is definitely a strong point in the construction of the Elite, as demonstrated by small yet mighty details such as the alloy double wall rims that ensure you get plenty of wear out of your tires without breaking them down too quickly.
Speaking of tires, this GTS is equipped with multi-purpose wheels that can carry you from A to B in a wide range of weather conditions and environments. Whether you're headed to work or just off into the city, why not ride there in style?
Likewise, the mechanical disc brakes ensure you'll be able to stop confidently and carefully no matter how wet or dusty your surroundings happen to be. If you've got to get to work, you've got to get to work, and this baby from Schwinn will get you there.
Climbing hills and shifting gears feels almost effortless thanks to the 21-speed shifters and rear derailleurs, which ensure your changes are quick, accurate, and won't interrupt the riding experience. Conquer steeper inclines than ever before!

---
This hybrid bike really shines when it comes to your urban commutes, but it has more to offer. Let's check out why it's one of the best hybrids. 
Featured specs
Best for urban cycling

Lefty rigid fork

650b wheel size

Shimano MT200 hydro discs
Benefits
This bike offers excellent handling, thanks to its big-volume tires that are on 650b wheels. These can deal with potholes like a boss, as well as other types of uneven terrain.

This bike is fitted with Shimano MT200 hydro discs that have been said to produce a smoother ride.  These disk brakes are also reliable, while providing less noise from the pads, which is a bonus. 
Drawbacks
Although it's versatile, this bike isn't suitable for long periods of time spent off the beaten track. This is because it doesn't come with suspension, so that's something to note if you're looking for a bike that will be tough enough for off-road adventures on a regular basis.
Extra Features
It's got integrated top tube bumpers to protect the bike's frame, which is a nice touch.
Frame
Do you want a comfortable ride or one that's all about speed? You can choose both, thanks to the bike's riser handlebar. This means you can adjust your seating position based on what you want.
This is a fantastic feature in a hybrid bike because it makes it very versatile and prevents you from being stuck to one way of cycling. It's got what's known as a "lefty pipe" front fork which is basically a steering column. This gives the bike greater rigidity without making it feel too heavy.
Components
This bike is equipped with Shimano Easy Fire EF505 gear shifters that work well with the drivetrain and make it easy to change between the 16 gears on board – just use your thumb and index finger.
Buying Advice
The Cannondale Bad Boy 3 is a city bike that you'll love to use. It's strong and versatile, and its lefty rigid for is definitely one of its best features. You can expect to pay around $500 for it. 

---
Whatever the weather and wherever you're headed, get there on time and look good on the 3.0 edition of the Diverse range from Vilano. Prioritizing performance, it boasts a 24-speed drivetrain offering plenty of gears for you to choose from.
Composed of a high-quality 6061 aluminum frame and fork, made with hydroformed alloy, the frame is strong and sturdy without becoming cumbersome or weighing you down. It also has an integrated water bottle mount for your convenience.
All of the control and stopping power you might want is provided by a set of smooth Shimano disc brakes, even in less than optimal weather conditions. A flat handlebar design allows the rider to be comfortable, whatever their preferred position.
You'll notice the high-quality speed shifter is a Shimano EF 51 3/8, so there's no need to worry about how the Diverse 3.0 handles cycling uphill or down again, and your hands will stay where they are at all times, for a smooth bump-free ride.
Ready for rough and tumble, the reliable 700c rims from Weinmann maintain speed and allow for smooth stoppage no matter how heavy you're braking. They're also resistant to warping and allow for a weight limit of 300lb, higher than average.
As this bike is shipped directly from the factory, you'll find that it requires considerable assembly and some fine-tuning when it arrives. If you're not particularly confident, you could always take it to the bike shop and have them put it up for you.

---
Combining a handcrafted, lightweight 6061 aluminum frame with a 600mm travel front suspension fork, the Springdale makes for a fantastic hybrid bike designed especially for gentlemen who are always on the go in a variety of locations.
36 spoke double wall 700c alloy rims, front and rear fenders and a quick release alloy seat clamp are just three examples of Kent International's clear attention to detail. It's obvious each part of this hybrid has been cleverly designed to commute.
Quality is indicated by the use of Shimano components, including the popular Tourney rear derailleur, which combined with their 21-speed twist gear shifting makes moving from incline to decline an absolute breeze. 
Shiny and sleek, the black and gold design is attractive and pairs well with a brown leather saddle and matching handlebar grips. You'll certainly feel like an important cyclist with places to be when you're riding this bad boy!
Linear pull brakes pack plenty of stopping power, so even when you get caught out in a sudden rain shower, the Springdale carries you safely to your destination, especially thanks to the hard-wearing tires, suitable for riding on all kinds of surfaces.
An integrated rear rack is solid and handles quite a heavy load, which is especially useful for transporting your stuff to work or carrying groceries home from the store; equally as useful is the pre-installed water bottle mount, so you won't go thirsty.

---
Prioritizing form and function, Royce union designed their RMY hybrid as the perfect bike to take you around town. Solid and strong but incredibly easy to handle, transport alongside you, and then store, it's a fantastic solution to the daily commute.
For a start, its padded saddle boasts dual springs, complementing the integrated front suspension fork so that you enjoy the most smooth and comfortable ride possible, no matter where you're heading to or how bumpy the roads are.
Choose between four frame sizes to ensure a perfect fit for your height, from 17 to 21 inches – use the manufacturer's useful guide to guarantee you pick the right one. Clear coated and rust-resistant, the lightweight aluminum has a gorgeous red finish.
The slight rise of its handlebar allows riders to maintain a more appropriate upright posture, even on the longest commutes, so you'll avoid causing strain to your back, neck or legs. Soft to the touch, their Kraton grips feel lovely under your fingers.
Equipped with a complete Shimano drivetrain, you can successfully switch between 21 speeds, so whether you're a beginner cyclist or an experienced pro, you should find it easier than ever to change gears.
Arriving ninety percent assembled and with all of the tools you need to complete the remaining steps, it doesn't matter if you've never built a bike before in your life! You should have no trouble at all figuring out how the RMY comes together.

---
Note: Due to COVID-19 some of the bikes below might not be in stock.
Best Hybrid Bikes Under $500 for Men
Taking the impressive speed of a road bike and combining it beautifully with the versatility of a cruiser, this hybrid from Hiland Road utilizes a full Shimano 24-speed drivetrain to ensure that every last gear change is effortless and buttery-smooth.
Dependable and secure, the aluminum frame is designed to be reliable for years to come, so you can make sure nothing gets in the way of your daily commute. Although it's on the affordable side, this hybrid doesn't compromise on quality.
Combining a quality rear derailleur and cassette with 180mm front and 160mm rear radius mechanical disc brakes, you'll precisely and successfully come to a steady stop no matter what terrain or weather you're riding in.
High-performance tires ensure that you're able to ride fast and hard, regardless of how uneven the surface happens to be – the threadless fork also helps with bumps and bangs, absorbing some of the impact so your body doesn't feel it all.
You might be wondering how it's possible for a bike of this quality to be so affordable and utilize such superior components: because you're buying directly from the manufacturer, you cut out the middleman and slash the cost significantly.
Arriving at your door already 85% assembled, it won't take very much effort to get this baby assembled and ready to ride. All of the tools required to do so are included as part of your purchase, and there's a handy installation video to watch as you go.

---
Given they're one of the biggest manufacturers of affordable, quality bikes on the market, it's understandable we have a second Vilano on our list.
Introducing the City Bike, another hybrid that combines cruiser and road bike to make commuter heaven.
Built from hi-ten steel, it's a little heavier than some of the other hybrids out there, but with that comes the bonus of added durability and a longer lifespan overall. Plus, you'll get an extra workout whenever you're pushing it around – win-win!
Its retro, urban design is funky and attractive, standing out in a crowd so you'll never lose it amongst a sea of other bicycles. If you're a quirky hipster kind of guy, looking for a more interesting bike to ride to work on that's still affordable, you've found it!
Rack eyelets and water bottle mounts allow you to customize the City Bike so that it's even more commuter-friendly than it is already, whilst the suspension saddle and matching grips are equal parts stylish and comfortable.
Though there are only seven speeds to choose from, the twist grip shifters are of a good quality, as are the platform pedals, locking kickstand, and other small yet important components. Vilano definitely gets the minor details right!
One downside of the Vilano bikes is that unfortunately, they arrive only partially assembled and require specialized tools to put together. It's highly recommended you take it to a bike shop, as the experts there will do a much better job – and usually only for a small fee!

---
Sport Hybrids: trail, grass, and road ready
Earlier on, I mentioned the sport hybrid category. This is a fairly new subset in the hybrid world, but they're becoming popular, fast!
Why? They boast a smart combination of mountain and road competencies, and they manage to do both jobs fairly well.
That said, the sport hybrid is probably more at home on the trails than on pavement. Think of them as 'mountain bike lite'.
They're usually outfitted with beefy tires, strong brakes, lots of clearance and a hardtail frame. They feature front shocks with a good amount of travel. That all being said, the frame is usually a bit less aggressive (and more comfortable) than full on mountain bikes, so they make fine commuters.
For a simple yet incredibly effective hybrid beach bike, look no further than the EVRYjourney from SixThreeZero – choose between 1, 3, 7, and 21 speeds, though the latter tips you over the 500 dollars maximum budget by a little.
Many bikes that are marketed as being "one size fits all" are often actually only suited to a select height group, but this baby is actually able to work for anybody between 5'4 and 6'5 in a comfortable, and most importantly, safe way.

Low and swoopy, a matte black nineteen-inch steel frame allows you to maintain a constant upright riding position without putting any strain on your knees, shoulders, or back, no matter how long your journey happens to be that day.
26-inch wheels paired with two inches of semi-slick rubbers ensure you have a cushioned stable ride on various different surfaces; the classically stylish saddle, fenders, and grips are as stable and sturdy as they are nice to look at.
With all the comfort of a cruiser and the versatility and resilience of a commuter's bike, the Shimano internal hub paired with  Nexus shifter allows even the most inexperienced rider to pedal for longer distances and steeper hills.
Arriving semi-assembled, you will need to attach the handlebars, tires, and pedals, which isn't particularly taxing but could prove tricky if you're not familiar with bikes.
It's always an option to head to a bike shop and have a professional put it up though!

Pros: Can ride in upright position, preload adjustment forks, light in weight
Cons: Upper end of price point
The San Rafael DS1 bike by Marin has a true men's hybrid design, and it's paired with an upright riding position. There's a lot to like here as an affordable hybrid bike under $500.
Marin is an established, competent brand, which is probably why they're able to put together such a nice ride at a reasonable price.
Frame: The bike largely consists of alloy components, making it superior to many of its competitors. The frame itself is triple butted aluminum, saving you a lot in weight.
Components: The wheels are Marin brand double walled alloys, paired to hefty 40C tires with a moderate tread. You could easily upgrade both the size and the tread of these tires to tackle rougher trails, but they're pretty beefy as is.
The forks offer moderate travel of 63mm. There's no quick-change hydraulic lockout, but they do have preload adjustment, meaning you can set the stiffness. It's a nice feature to use if you feel like a bit more control on pavement, or a bit more shock absorption on trails.
The bike uses a Shimano Tourney derailleur setup, with a total of 21 speeds to switch between. The brakes are mechanical caliper disc brakes, and they do an excellent job in wet or dry conditions.
The fac that you can ride in upright position, long adjustable seatpost and ability to ride on some trails make this one a real winner in my books. It's only a little under $500, but this men's hybrid bicycle is worth every bit of that price tag.

---
Dual Sport: wide range of uses
OK, so now I want to take a look at a dual sport style hybrid. These have been showing up all over the place lately, and like the sport hybrid they have broad appeal.
The hype makes sense! They are fun, comfortable and compelling to ride.
If I had one word to describe how a dual sport bicycle rides, I'd say 'smooth'. They're a nice intermediate spot between the road-hungry performance and the trail-friendly sport hybrid, offering a little of each world with a very broad range of riding capabilities.
Most dual sports have a comfortable, upright riding position, with wide riser bars and a light and snappy frame. They can hop off the road for a quick trail jaunt, and yet you won't notice the frictional drag of heavy tires and unnecessary components.
Dual sports sometimes have front forks, but not always.
Last but absolutely not least is our second feature from Schwinn: again, they're one of the best manufacturers of affordable, good-quality bikes, it seemed silly not to offer you a second option from their collection. Allow us to present the Discover! 
Presented as a unisex bike that's suitable for any gender, it's worth pointing out that in spite of a decent weight limit, gentlemen of an above-average size might prefer to opt for something a little bigger, though there's no harm in trying!
Durable and lightweight, the sixteen or eighteen-inch (depending on your preference) frame is fast and furious, but it won't let you down either. A Schwinn suspension fork, alloy crank, and adjustable city rise style seat post ensure a comfy ride every time.
Swept-back and upright, the cleverly designed handlebars mean every rider can find a position that's most appropriate for them; thanks to the 21-speed SRAM shifter and rear-derailleur, you'll have no trouble pedalling harder than ever before, either.
Stopping is not a problem either, as Promax alloy linear-pull brakes allow you to come to a halt precisely and carefully – no juddering, no bumps, and no strain on your body. This is true even in difficult conditions, so rain is no reason to stay home!
You will have to assemble this bike somewhat by yourself, which is relatively straightforward according to customer reviews, but for a small fee it makes more sense to head to a bike shop and have them do it – they can give it a tune-up, too!

Pros: Great value for price, good looking as heck, nice components (such as aluminum frame) strong brand
Cons: Upper limit of price range
Raleigh is a widely recognized brand and rare in this price range, since they've been trending high-end expensive in recent years. They don't worry about flash or shine, but instead offer bicycles with quality components and minimal brand marks. I like that.
Their Cadent 2 bike is a really good bet. The frame is simple, modern, effective and rugged. The components are well chosen, and the whole package is very cohesive.
I'd classify this as a dual sport hybrid bicycle, favouring performance. Either way, it's rugged enough to handle a range of riding surfaces, and therefore it's perfect as a commuter.
Frame: It has a full aluminum alloy frame to ensure it's light in weight and very nimble. I just love the lines, it seems to hug the wheels. The whole thing weighs about 26 pounds.
It's lacking in suspension components, but wide-ish tires and a comfy, neutral riding position make this a pleasant pedaling experience.
Components: The drivetrain is standard for this tier, featuring EF500 components, and a set of Tourney EZ-Fire shifters. In total you've got 24 speeds to play with.
The brakes are good-looking and effective mechanical discs. The wheels are full alloy, double-walled Weinmann rims paired up to a set of 35C Zilent Vee tires. I actually really like the tread pattern for rainy conditions, and they could certainly tackle grass or gravel pathways.
If you want a cheap brand name hybrid bicycle with the potential to last for many years, the Raleigh Cadent 2 is a good candidate.
(There's a female version of this bike which is functionally identical, called the Alysa 2.)

---
Comfort Hybrids: A laid back, enjoyable ride
For many riders (commuters included), comfort is a necessity. It should be noted that comfort in a bicycle almost always comes at the cost of performance, because a more laid back riding position gives you less mechanical advantage.
Many people get caught up in gimmicky 'comfort features', like a heavily padded seat, swept back handlebars and useless shocks. In my opinion, one of the key contributors to rider comfort is frame geometry.
A properly designed comfort hybrid has a chair-like, upright seating position. This not only improves your ability to see and react, it keeps you feeling stable and comfortable.
Because their emphasis is on an enjoyable ride rather than performance, comfort hybrids tend to be the least expensive of the bunch. There's little point in putting fancy componentry on a bike that won't realize any performance advantage from them.
Pros: Classic looks, good braking system, fantastic price
Cons: Very upright ride, not suited to rougher trails
The super comfy sixthreezero Explore Your Range may have a quirky name, but it's beautiful. It's a new brand that I admire for its good looks, smooth ride, and peerless comfort. I hope they keep renewing it!
It's one of the best, cheap hybrid bikes for comfortable rideability. At far below $500, it is eminently affordable, but it's also a step above what you'll find in department stores.
Frame: You get a 6061 aluminum frame, which turns what might have been a heavy clunker of a bike into a manageable option. Compared to the others on this list, you'll notice that the frame is shaped a bit differently.
It is designed with a classic architecture and an upright riding position in mind. This bike is perfect for park rides, relaxed cruising and weekend fun. It turns heads.
Components: For shifters, it has a standard Shimano twist-shift configuration, paired to a base level rear derailleur. You can choose between either a 7 speed derailleur or (my favourite) a 3-speed Nexus hub. I'd recommend that you get it built professionally.
The wheels are double walled aluminum alloy, and they spin well enough. The tires are Kenda Cross 38c, with a moderate tread suited to pavement, grass, hard sand and light trails.
The linear pull 'V' brakes are actually quite precise; when adjusted correctly you can really stop on a dime.
As for comfort, despite the lack of suspension components, this bike rides as smooth as butter. It's a real treat to cruise around on.
The Wildwood is a cheap hybrid bike with excellent reviews, and it's a great choice for a casual rider or occasional commuter.
They make a male-frame version of this bike, in black.

---
Price and Realism:
For many people, $500 is a lot to spend on a bicycle. The truth is, I personally wouldn't dip much lower than that. Once you get too low in price, manufacturers have to start making deep compromises with components and frame quality. A good, affordable hybrid bike has a nice balance of decent components.
Even at the limits of our $500 budget, you'll still be looking at base level shifters and derailleurs. The cheaper the shifter, the rougher and less precise your gear shifting will be, and you'll be required to adjust your drivetrain more often.
I always recommend that a rider think carefully and realistically about their riding needs. Ask yourself questions. Will you be riding primarily in the city, for example?
If you think you'll be out on it every day, budget for a pricier bike. It's not worth tearing your hair out just to save a few bucks.
If you're a casual rider, and you don't plan to put your bicycle through its paces too often, a cheap hybrid bike for under $500 bucks will probably make you quite happy, depending on the model and brand.
---
Buyers Guide
If you're still confused on how to find the perfect hybrid bike for you, don't worry. We've compiled a list of the most important features to look for when choosing your new hybrid bike.
Purchasing a new bike is not an easy task, nor a cheap one, so you want to be certain that you're getting the best option out there.
Frame Material
You can choose between aluminum, steel, and carbon for your hybrid bike frame. Aluminum is a common option due to its lightweight and sturdy base, while being affordable. The shock absorption is not the best, but newer models do offer better absorption than older aluminum hybrid bikes.
Steel is another viable option, although it is heavier. It's strong and offers you a comfortable ride no matter how old the bike is.
Finally, carbon is much lighter and stronger than both aluminum and steel, but it does come with a hefty price tag. For a hybrid bike under $500, you'll be looking at getting an aluminum or steel frame rather than one made from carbon.
Handlebars
A handlebar higher than the seat is more comfortable for the rider, and this is how the majority of hybrid bikes are set up. However, opting for a frame with the seat higher than the handlebars will offer you a more aerodynamic position to make you ride faster.
However, this won't be as comfortable. Unless you're planning on racing along the pavements on your hybrid bike, we recommend having the handlebars higher than the seat to keep you as comfortable as possible.
Suspension
Suspension on a bike can help you have a nicer, more pleasant ride due to not being able to feel every bump in the terrain underneath you. Some hybrid bikes include a front suspension fork which can help to absorb some shock from the front wheel.
However, many hybrid bikes will actually come with no suspension to avoid the additional weight that comes with a suspension fork. This weight can make pedaling less efficient and slow you down, which is why many people who only ride on smooth terrain will go without it.
Brakes
There are two types of brakes that you could opt for with a hybrid bike – rim brakes or disc brakes. Rim brakes are commonly found on hybrid bikes and grip onto the wheel rims. They're cheap, easy to replace, and show wear obviously.
However, they're less effective in wet conditions and can wear the wheel rim out so that this will need to be replaced. They're also harder to use and don't offer as much stopping power, which can be dangerous in certain situations.
Disc brakes, on the other hand, are installed onto the wheel hub through a brake rotor. You can either opt for hydraulic disc brakes or mechanical disc brakes.
Hydraulic disc brakes offer stronger braking power so that you don't have to hit the brakes so hard. They also adjust themselves to avoid being worn out too quickly. Mechanical disc brakes need to be manually adjusted to keep up with their wear, but they're still a respectable option for hybrid bikes.
Disc brakes offer better performance than rim brakes in wet conditions, more sensitive to touch, and it's cheaper to replace the brake rotor than the whole wheel. Hydraulic disc brakes are more expensive to service, but they're often the best option.
Wheel Size
The standard wheel size for most hybrid bikes is 700c, which will be suitable for the majority of riders. When it comes to hybrid bikes, the wheel size isn't always that important to focus on, as you should find the type of bike that suits your riding style the best.
Gears
Gears are important to consider before committing to a purchase, as the number of gears you have should be determined by your fitness level and the terrain you'll be using the hybrid on. A terrain with lots of hills will require more gears, while flat terrain won't need that many gears.
If you're going to remain primarily on flat terrain, or are a professional cyclist, you won't need the lower set of gears required to get up hills. This means you can opt for a lighter bike that has fewer gears.
However, if you're going to be riding up lots of hills, you'll need more gears which will add to the weight of your bike.
---
Frequently Asked Questions
What is a hybrid bike good for?
Hybrid bikes were traditionally created to offer the rider the best of both worlds from road bikes and mountain bikes. They have large seats to keep the rider comfortable and are good for casually riding on bike paths or for commuting. However, they're not as lightweight as road bikes.
They can also be used on trails, although they shouldn't be used on rough mountain bike terrain. They're better than road bikes to ride on bumpy surfaces, although they're not as effective as mountain bikes for this.
Hybrid bikes either come with front suspension or none at all, either allowing some cushioning or none. No matter whether it has suspension or not, it won't have anywhere near as much as a mountain bike would offer.
Are hybrid bikes worth it?
Yes, hybrid bikes are worth it for people who want the benefits from both a road bike and a mountain bike, but don't want to purchase two separate bikes. Hybrid bikes can be ridden both on pavements and easy trails depending on how you're feeling that day.
If you're just starting out in cycling and don't know which type of bike to opt for, you can choose a hybrid bike to dabble in both suburban and trail riding. Hybrid bikes can be ridden very long distances which is ideal for both on-road and off-road commuting.
Should I get a mountain or hybrid bike?
This depends on whether you're planning on primarily riding on trails or want to ride on pavements as well. Mountain bikes are no good for commuting or riding around the city, so a hybrid would be better if you wanted to use it for more than just mountain biking.
Mountain bikes are heavier and larger than hybrid bikes which make them inconvenient for people who want a lightweight bike to run errands with.
A hybrid bike would be ideal for people who want a road bike that can occasionally be used off-road. A mountain bike would be the better option for people who enjoy trail riding and seeing the sights rather than using it to get from A to B.
Are hybrid bikes good for exercise?
Hybrid bikes are good for exercising as they're heavier than road bikes and therefore can give you a better workout. You can use hybrid bikes off-road which is often a better workout due to the uneven terrain.
While a fat tire bike or mountain bike are heavier and therefore will give you a better leg workout, a hybrid is still a good option for getting your workout in. You'll also be able to ride a hybrid bike for longer distances to train your endurance.
Are hybrid bikes faster than mountain bikes?
When riding on pavement, hybrid bikes are faster as they are lighter. However, riding downhill will give mountain bikes the edge as the heavier materials allow gravity to pull it further down the slope quicker. The type of riding you enjoy will determine the faster bike between a mountain bike and a hybrid bike.
Thank you for reading! Good luck.