(Hunting for a deal? Several retailers are running sales even before Black Friday. Check out our constantly updated resource on the best cycling deals)
Five Fat Bike Reviews: Cheap Options for Riding Snow & Sand
Nothing on two wheels turns heads like a fat bike! They are truly compelling.
With their oversized tires and impressive traction, these sturdy bicycles can ride virtually anywhere. And they look incredible.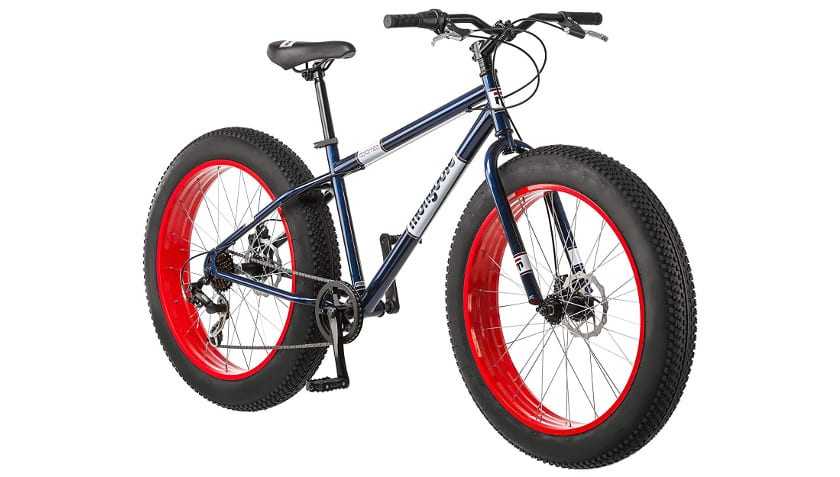 Frame
Hydroformed aluminum frame
Co-op Cycles 6061 aluminum
Drivetrain
Shimano 7 Speed Twist Shifters with Shimano Altus Rear Derailleur
SRAM NX Eagle SLX 12 speed shifters with SRAM NX Eagle Rear Derailleur
Components
SRAM Level T hydraulic disc, 160mm rotor
Shimano Acera MT-400 hydraulic disc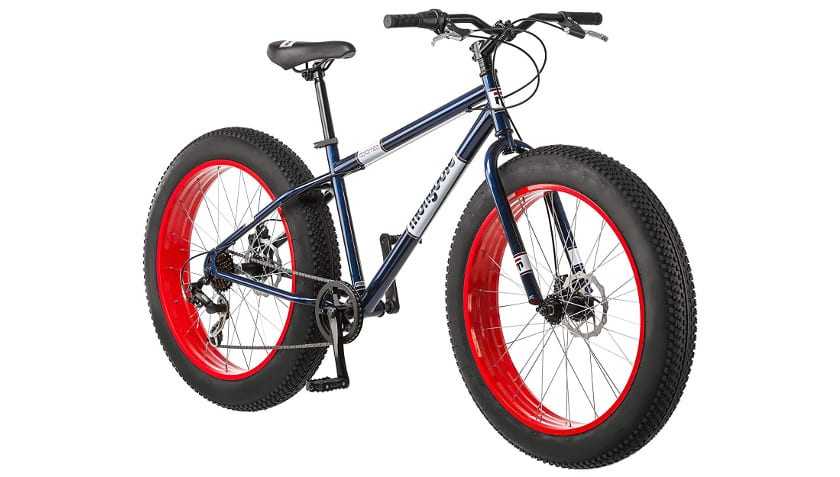 Drivetrain
Shimano 7 Speed Twist Shifters with Shimano Altus Rear Derailleur
Frame
Hydroformed aluminum frame
Drivetrain
SRAM NX Eagle SLX 12 speed shifters with SRAM NX Eagle Rear Derailleur
Components
SRAM Level T hydraulic disc, 160mm rotor
Frame
Co-op Cycles 6061 aluminum
Components
Shimano Acera MT-400 hydraulic disc
Best Fat Tire Bikes
Diamondback El Oso Uno
Why ride a fat bike? Good question. Basically, they ride anywhere.
These monsters give you unprecedented traction, riding easily on snow, mud, slick rock, sand or even ice. And they're way more responsive and fun than you'd expect.
Unfortunately, they also tend to be expensive. So for this article, I want to focus on five cheap fat bikes that review nicely and will serve you well.
For each bicycle, I'll go over the features, capabilities, pros and cons, along with a short verdict on what it's best suited for.
Ready for some reviews of inexpensive fat tire bikes? Let's get started!
Updated with new fat bike reviews! Bike models come and go, thanks for your patience!
What to expect at this price range
If you've done research or read reviews, you'll know fat bikes can be expensive!
There's a good reason: these oversized frames are custom made in low quantities.
The beefy bikes have more raw materials in them, which pushes up the price tag.
The bicycle pictured up top is a Schlick; it's an amazing, beautiful, bike, but not exactly inexpensive. If you want a cheaper fat bike with pretty good reviews, you'll need to focus on bigger brands.
Lower budget fat bikes have obvious drawbacks in terms of componentry. You're looking at basic gear. That's not a bad thing, necessarily; you can always upgrade down the road. (Honestly, that's half the fun.)
A cheap fat bike will probably also have a heavier frame, often steel instead of carbon or aluminum. Again, not a big deal, just a little extra weight on an already heavy bike.
Overall, you can get a great quality fat tire bike for a lot less than you'd think. So let's get on to the reviews!
(Note: If you're looking for ways to ride on mud or for options to cycle on gravel, you might just need a simple tire change.)
---
What if your budget is much lower? In the bike world, like many others, you get what you pay for. Still, that doesn't mean you're out of options.
Mongoose has somehow produced a decent quality fat bike for under $400.
The ridiculously affordable Mongoose Dolomite doesn't have the best components, and can't compete with any of the above models. Still, you can experience the fun and versatility of a fat tire bicycle on a tiny budget.
Frame:
The Dolomite features a standard steel frame and fork with slightly oversized tubing. Riding position is neutral. It's a 17″ frame, and unfortunately that's your only option.
The wheels are alloy, but heavy, with unbranded 4″ tires that have a very mild tread to them. They're best suited to light snow, sand, gravel and pavement.
I was surprised to see dual disc brakes at this price point. They're brandless, mechanical discs that can be tuned up for decent stopping power (I do recommend a professional tune here).
Drivetrain:
For shifting and gears, you've got a basic Shimano Altus rear derailleur paired up to a twist grip shifter. Seven speeds should be more than enough to work with, though be prepared for some routine adjustments.
The whole bike is 48 pounds. Heavy? Absolutely, but rideable. At less than half the cost of every other bike on this list, that's the trade-off.
Despite its low price, this cheap fat tire bike reviews extremely well. Most people who buy it realize that it won't compare with higher end models. It provides inexpensive fun and exercise whether on the beach or in the drifts. However, if you want to casually ride down the beach a beach cruiser is probably better.
If you don't have a ton of cash, consider the Dolomite by Mongoose. It's a good, affordable fat bike that you can easily upgrade over time.

---
It makes perfect sense that one of the funnest fat tire bikes comes from a company known for their BMX lineage. With the versatile Wolftrax Alloy, Framed has created a fat bike with the soul of a BMX.
Framed has been delivering on fat bikes for years. We loved their Minnesota model when it first debuted and the Wolftrax is now their top-of-the-line alloy offering. Somehow the folks at The House found a few extra Wolftraxes in stock so we're  pointing you to them before they sell out. We're in the middle of a bike boom, folks. Pick one up now or you'll regret it next week.
Frame:
The frame of the Wolftrax is made from hydroform alloy, saving a noticeable amount of weight vs. steel. The fork comes in three different variations: alloy, carbon, and bluto. The upgraded RockShox Bluto fork is a significant investment but it's one you won't soon regret. This belongs on $3-$4K bikes, so we're shocked to see it on bikes priced this cheaply.
The wheels are massive. Framed decided to go with a 27.5-inch wheelset for this model, and these single-walled alloy wheels absolutely rip over debris and terrain on well-balanced, 4-inch Terrene Cake Eater tires. The rim cutouts cut down on weight, and they look fantastic.
Drivetrain:
For gearing, the Wolftrax sports a Truvativ double crank (38/28T) paired to a SRAM NX Eagle front and rear derailleurs and shifters. The NX group offers great value as a mid-level setup; I wasn't expecting to see it on any of the fat bikes reviewed today.
To stop, the bike relies on capable SRAM Level T mechanical disc brakes. Again, hydraulics would have been preferable, but it keeps the bike incredibly affordable.
The Wolftrax's frame geometry is unique. With a seat tube angle of 73°, and a shorter top tube, the ride is more upright than any other bike listed here. The BMX heritage is clear: controlled, with a free ride feel. This responsive, snappy bicycle is a perfect match for trails.
The Wolftrax comes in around 33 pounds for a medium frame.
For $1-2K depending on the fork, it's the most impressive fat bike value available today.

---
This Co-op Cycles fat bike is all about boosting your performance when you're in the great outdoors. Here's what makes it so special.

Featured specs

Front and rear thru axles

1100mm to 1215mm wheelbase

26 x 4.8 inch tires



Benefits
Shimano hydraulic disc brakes are used in this bike, and they allow you to feel more confident when you have to brake hard, whether you're on a tar road or navigating more treacherous terrain in bad weather conditions. 




The bike's wheelbase is 1100mm to 1215mm (although that does depend on the size) but this serves to make your riding experience feel much more controlled, even when you're navigating tough ground that would make other bikes not seem up to the challenge. 
Drawbacks
Since Co-op is an outdoor bike brand, they've made this bike suited for the great outdoors. If you're looking for a bike that will allow you to achieve greater speed and agility, then this is not the right fit for your needs.
The bike's wheels are quite heavy.
Extra Features
This bike has a weight limit of 300 pounds that includes the rider's weight and gear.
Frame:
The bike's frame is made of aluminum to ensure that it's rigid and durable. This also contributes to its overall lightness. While 39 pounds isn't that light, it's certainly lighter than some of its competitors. The bike's got both front and rear thru axles, which make it more stable and rigid. Since fat bikes experience more wear and tear than regular bikes because of how they're used on various terrain, this is an important feature. It also contributes to making the bike's wheels feel stronger.
Drivetrain:
To reduce the weight of the bike, it's built with a 1 x 12 drivetrain with SRAM X1 1000 Eagle crankset as well as an SRAM SX Eagle 12-speed rear derailleur. This also helps to create smoother shifting. Speaking of smooth shifting, the overall experience of riding this fat bike is smooth and easy, thanks to how it can tackle the toughest of terrain as a result of its 26 by 4.8 inch tires.
Buying Advice
The Co-op Cycles DRT 4.1 Fat-Tire Bike costs $1,299.00, which makes it worth purchasing if you're in the market for a fat bike that won't let you down on a trail.  

Surly debuted its first fat bike in 2006. The Minnesota manufacturer has come a long way since then, from its original Pugsley model, to its gargantuan Ice Cream Truck. If pressed to pick just one Surly fat bike, the Wednesday stands out. The Wednesday is built like a tank but impressively lightweight. It's a great everyday fat bike that can handle all types of terrain confidently–from snow, to mud, to sand.

Featured specs
Highly maneuverable with routing for a dropper post

The ChroMoly steel frame means durability 

26 x 3.8 inch tires



Benefits
Built with bikepackers in mind, there's room for braze-ons on the front, rear, and fork

Capably climbs hills and ideally suited for snow and sand
Drawbacks
The mechanical disc brakes aren't as high-end as you'd see on a $2K bike
Unlike its big brother–the Ice Cream Truck–you won't be able to ride with 5″ wide fat tires on the Wednesday
Extra Features
Upgrade opportunities abound, particularly with your ability to add a suspension fork to make the stable ride even smoother
Frame:
Fat bikes have to be more rugged and capable of withstanding more abuse than any other bike in your garage. The Wednesday's ChroMoly steel frame will withstand any stress you put it through, which is surprising since the bike weighs in at just 35 pounds.
Drivetrain:
The Wednesday totes a SRAM NX Eagle DUB crankset and SRAM SX Eagle rear derailleur. Elite fat tire riders may be put off by a the SX Eagle shifters, but we had no issue. Seems like an economical move to keep the bike affordable.
Buying Advice
Surly is The Godfather of fat bikes whose offerings keep getting better with each new release. At $1,500, the Wednesday is the most affordable way to ride a Surly fat bike. This one comes HIGHLY recommended.

---
---
Note: Due to COVID-19 some of the bikes below might not be in stock.
---
The deceptively simple Bullseye Monster, by Gravity is a head turner, and an affordable one at that. Gravity's fat bike is one of the cheapest I've come across, from a price-to-quality standpoint.
Don't let the low price dissuade you. This particular model is one of the best fat tire bikes on the market for a few reasons.
Frame:
The frame is beautiful, and the geometry is upright and planted, with a good stance for mixed riding. Honestly, it reminds me of a vintage '80s hardtail mountain frame. It comes in four frame sizes with a long seatpost, so you have room to adjust.
The tough, classic welded aluminum frame is paired to an oversized front fork. The use of S6 aluminum alloy means the bike is lighter than it'd be with steel, and excess vibrations are soaked up by the huge tires.
Speaking of the wheels, they're also aluminum alloy (26 inch) with quirky square cutouts to reduce weight. They run on Mission tires with enormous 4.9-inch wide tread. That's… big.
Drivetrain:
The drivetrain is basic but effective: you have 10 speeds (1×10), using an SRAM RD-GX derailleur and an SL-GX shifter.
This affordable fat tire bike is equipped with absolutely awesome Shimano hydraulic brakes. It's rounded out by an alloy riser handlebar, and large platform pedals.
It gets top marks for weight too. Assembled, it comes to 35 pounds for a medium frame. As low-cost fat bikes go, that's very light.
The Monster lives up to its name; it's a blast to ride. This bike handles well in sand, snow and muck. Its upright stance, great looks, huge tires and low price tag make this one of the better fat tire bikes in my estimation.

---
Salsa's been in the bike business for decades, and this green, orange, and black stylish number they have on offer is so much more than just eye-catching. Here's what makes it our number-one fat bike.
Featured specs
27.5+ inch wheel size

SRAM Guide R, Centerline 160mm rotors

Kingpin carbon fork
Benefits
This bike has been redesigned so that its performance has been given a boost. It has increased tire capacity so that you can use tires that are up to 4.6 inches on 100mm rims. It also fits most tires that are 27.5 by four inches.

It's got a Kingpin carbon fork. The benefit of this is that it's both strong and light. For even greater versatility you can replace it with a suspension fork if you like.

If you have to ride in bad weather conditions, you'll love that this bike has an internal sleeved cable routing. This improves its shifting.
Drawbacks
Extra Features
This fat bike is compatible with Alternator racks and Rack-Lock seat collars.

It comes with accessory frame mounts.

It's also compatible with a dropper seatpost that's 30.9mm and stealth routing. This will enhance your experience when riding trails.
Frame:
This fat bike has a carbon fiber frame that increases stiffness while also preventing vibrations from making your ride less comfortable. This is very important on trails because you don't want your bike to feel wobbly. 
You want to feel confident when using any bike, but especially a fat bike that you're taking on trails. This one will boost your confidence because of how it has 445mm chainstays, wide bars, and a short stem. These features make it easier to steer the bike over difficult terrain but its geometry also keeps it agile, so you get the best of both worlds. 
Drivetrain:
The bike's drivetrain has a Q-factor crank that is kinder to your knees, preventing injury and pain. This means that if you're using your bike for long riding trips, you'll feel much more comfortable.
Buying Advice
If you're looking for a mountain bike that will ensure you can navigate trails with a blend of agility and comfort, this Salsa Beargrease Carbon GX Eagle Fat Bike is the one for you. It costs $3,699 so consider it as an early Christmas present to yourself. 

---
7) California Dreamin': sixthreezero delivers the fattest cruiser around 
From LA to Miami every cruiser enthusiast knows you can't go far into the sand on a cruiser. That's why sixhreezero debuted a combination that's the best of both worlds. This cruiser earns respect since it cuts through sand just as smoothly as it swerves through the boardwalk. 

Featured specs

Cruiser style

Ergonomic geometry well suited for riders whose knees flare up easily

26 x 4 inch tires



Benefits
This is the most comfortable fat bike on our list. sixthreezero marries the laid back, classic cruiser style with a tire that can plow through anything.

Sand dune up ahead? The 7 speed drivetrain means you'll be able to climb capably.
Drawbacks
Compared to others on this list, the sixthreezero is the most fair-weather fat bike on the list. The cruiser style doesn't lend itself to climbing hills in the mud and snow.
Extra Features
Another feature of the bike's geometry is forward pedaling. Forward pedaling technology re-engineers the pedal location relative to the bike's frame both as a safety precaution and to aid the rider's joints.  After a couple hours on this fat cruiser, your knees will thank  you since forward pedaling reduces the range of motion in each revolution. 
Frame:
The bike's frame is made of aluminum, so the sixthreezero is surprisingly light for a fat cruiser, weighing in at 38 pounds. 
Drivetrain:
Admittedly you won't ride this cruiser like you would every other bike on this list. But that's no reason to cut corners on components, and sixthreezero does not disaappoint. This cruiser is equipped with a Shimano Tourney derailleur and a Shimano Index Revo 7-speed shifter.
Buying Advice
If you're looking for the fattest beach cruiser around, then look no further than sixthreezero's EVRYjourney. It's a blast to cruise off-path with confidence, which this matte black fat cruiser oozes.

---
8) Felt Bicycles DD 30
The DD 30 is an interesting alternative if you're looking for a rugged fat bike that can handle cold conditions because it's built to be durable for winter trails. As a bonus, it's also kind to your wallet. Let's check out all its details so you can see if it's the right fat bike for you
Featured specs
Shimano SLX drivetrain

760mm carbon handlebars

6061 aluminum frame 
Benefits
This bike's frame is made from double-butted and hydroformed 6061 aluminum. It's rugged and meant for exceptional durability.
This Felt fat bike has Schwalbe Jumbo Jim Light four-inch tires. These are lighter than what you'd find in other fat bikes, and this is great when you're riding on hard surfaces.
Drawbacks
People who have tested out this bike have said that it slacks a bit when it comes to tire grip.




It's not a super-stylish bike. It's got a simple design but it looks tough.

Although we've seen how the tires have many benefits for the bike's overall performance, one of their disadvantages is that their lightness and tread pattern result in them not having enough power. In some conditions, such as loose snow, this could pose problematic.
Extra Features
The bike has 760mm handlebars that allow for greater, more comfortable control. They're made of carbon, so there's a touch of luxury in this bike's design, but the choice is also practical: the carbon is easier to handle than aluminum during freezing temperatures.

The bike's short rear end is useful when you're tackling slippery terrain, such as during a climb. It makes it much easier to move upwards while remaining seated on the bike.
Frame:
The Felt DD 30's SuperLite aluminum frame is made by hydroforming aluminum 6061 the result is an incredibly durable yet light frame. Designed to survive anything you throw while remaining so light you can lift it up with one arm. Additional weight reduction comes from the usage of Schwalbe Jumbo Jim Light four-inch tires that are somewhat lighter then tires used on other bikes. But this is also one of the drawbacks of this bike. Sometimes it simply lacks the grip you get from increased weight naturally this also depends a lot on the user riding the bike. So lighter users should try to find a more suitable bike.
Drivetrain:
The bike is fitted with a Shimano SLX drivetrain. This allows for smoother shifting and offers a range of gears so you can deal with whatever terrain you find yourself on while guaranteeing it won't fail or skip.
Buying Advice
This Felt fat bike costs $1,799 which is an excellent price for a tough bike that's an all-rounder. As this is the company's first fat bike, it's quite amazing that it's such a high-quality model and it will be interesting to see what the future holds for Felt fat bikes.

---
9) Trek Farley 5: An mid-tier fat bike with great reviews
If you're looking for the most bike for your money, consider Trek's impressive Roscoe line of mid-fat tire bikes. They're built to withstand the rigours of intense riding.
Trek is a major brand. Their presence in the fat bike market creates a welcome downward pressure on everyone's price tag.
This isn't just a standard mountain frame with some oversized rubber on it. This is a specifically designed, fully equipped, yet still affordable fat tire bike. It's monstrous, it's slick, and it's eye catching; one of the best, cheap fat tire bikes you can find today.
Frame:
The stunning frame and fork are made from Trek's Gold Alpha extruded aluminum. It's beautiful with no wasted metal, and ensures that the bike is tough yet lighter than expected.
The hard tail frame has an aggressive, clean, modern look to it. Any fans of current downhill geometry should absolutely love the looks.
Drivetrain:
The FSA bottom bracket is sealed, and the crankset is a Shimano Deore / FSA hybrid, with 10 speeds. The whole ride feels very dialed in and versatile. It shifts nicely, and the micro gearing gives you huge power, so it's a beast on trails.
The rims are Alex MD35s, rolling on 2.8-inch Kenda Havok tires. Those tires are a hair smaller than the rest of this list, but still comparatively huge, with excellent tread. They're well suited to a wide variety of riding. For severely snowy weather I might upgrade to something with more grip.
The ride stance is mid-aggressive, with mountain handlebars. It's comfortable, and you'll appreciate the heads-up, controlled feel when riding through muck. Frame size ranges from 13.5″ – 23″.
It tips the scales at 33.7 pounds, which is featherlight as inexpensive fat bikes go.
Priced affordably at around $1,000, the Trek Roscoe 6 reviews well and is among the best fat tire bikes in this price range.

---
10) H
osote Fat Tire Bike for Men

: A reasonably priced fat tire beast
Hosote Fat Tire Bike for Men
Never one to be left out of the party, Diamondback has debuted their entry-level fat bike, Hosote Fat Tire Bike for Men, and it's a stunning offering.
Hosote Fat Tire Bike is capable of rolling over almost any type of terrain. It's particularly well-suited to winter conditions, but it'll crush sand too.
Frame:
The custom, butted-steel frame and steel fork are built to take a beating (and come with a lifetime warranty.) But it's a refined beast; with sealed cartridge bearings and an included rust-resistant chain, it'll ride smoothly in harsh conditions.
The single-walled wheels host huge, toothy, 26 inch Chaoyang tires, with 4 inches of width. The rim cutouts save on weight. The hotsote dual disc brakes are well-suited to stop well in mucky terrain.
Drivetrain:
Shimano Alivio derailleurs and shifters and 27 gears should keep even the pickiest cyclist happy. The 150mm rear hub spacing is atypical, but shouldn't cause any troubles.
The lines are simple, brutal and gorgeous. The white paint on the huge black tires makes it really pop.
It comes in at just a hair over 50 pounds (around 23); certainly heavy, but not as unwieldy as many others in this neck of the woods.
Hosote  has more in this line too. Big brothers El Oso and El Oso Grande each carry a bigger price tag but better componentry. That said, this entry level option is competent in its own right. It's a great fat tire mountain bike worth every penny of the cost.
---
11) Salsa Beargrease Carbon NX Eagle Fat Bike
This is another Salsa specialty, but it's different from the previous fat bike in some important ways. For starters, it's got a trendy pink and black design.
Featured specs
Carbon fiber frame

SRAM Guide T brakes

Low bottom bracket
Benefits
This fat bike is built with a carbon fiber frame that reduces vibrations and keeps the bike feeling light yet durable so it'll last you a long time.

The bike's compatible with both 26-inch and 29-inch wheels so you can tailor it to the type of terrain you want to navigate.
Drawbacks
Extra Features
Just like with the other Salsa model on our list, this bike has many frame mounts so you can store various accessories. There's the top tube mount for your top tube bag (which is sold separately), water bottle mounts in the frame triangle, and a mount that's located beneath the downtube.

You can use a dropper seat post if you want.

This bike is also compatible with a rear rack, although that's not included with the purchase.
Frame:
Just like the previous model we featured, this Salsa bike also has a Kingpin carbon fork that's both strong yet light.
The bike's geometry includes a short stem, wide bar, and long front so that you can feel you have enough space to move, which is sure to build your confidence if you're new to riding fat bikes.
Salsa Beargrease Carbon NX  is built with comfort in mind, thanks to how it's been designed with a low bottom bracket so that your center of gravity can remain low. This makes it easier to mount and dismount the bike, especially if you have to do so quickly.
Drivetrain:
Salsas specialty Q-factor crank is also present on this bike that means it's kinder to your knees. Beargrease Carbon NX Eagle uses the SRAM NX Eagle 1 x 12 drivetrain with the perfect blend of performance and while keeping the price low. The brakes are of the SRAM Guide T variety which give you excellent control.
Buying Advice
This Salsa fat bike costs $2,699, so it's a bit more budget-friendly than the previous product but it has many of the same excellent features, which makes it value for money. 

---
12) Salsa Mukluk Deore 11
If you love Salsa bikes but you want something a little different, the Salsa Mukluk Deore 11 in pale green is worth checking out. Here's what to know about it.
Featured specs
197mm rear spacing

1.0 dropouts

6000-series aluminum frame
Benefits
The bike's got alternator 1.0 dropouts that are compatible with short chainstays. This means that it can be used with a single speed or geared drivetrain.

When you need to focus while navigating tricky terrain, you'll love that this bike has a low center of gravity to help keep you stable.
Drawbacks
The bike doesn't come with pedals.

Something you might not like about this fat bike is its color, with some people stating that the color is actually their biggest dealbreaker. Other than that, the Deore gets excellent reviews.
Extra Features
The bike's aluminum frame has two bottle mounts and also down tube mounts. These can be used for accessories such as repair kits and pumps so that you can tackle many problems that strike during long trails. 
Frame:
The bike is made with 6000-series aluminum which is said to be stronger than the 7000 and 6061 series. This also contributes to making it lighter and easier to carry around.
If versatility in a fat bike is an important feature you look for, then you'll love this Salsa model.
It can be tailored to your preferences, thanks to how it has a frame that makes use of 197mm rear spacing that's compatible with tires that are up to five inches in size.
It also has a 100mm threaded bottom bracket. This means you can install a variety of cranks on it. 
Drivetrain:
The Mukluk frame is 1x and 2x-compatible and designed for premium drivetrain performance while maintaining narrow fat bike crank arms for less knee stress.
Internal cable housing routing, stealth dropper post routing means nothing gets tangled up or damaged due to external sources making it incredibly convenient.
Buying Advice
This trendy Salsa fat bike is $1,599. It's a striking, easy to handle bike that's a dream to customize so that you can turn it into the fat bike of your dreams.

---
Buyer's Guide
When buying a fat tire bike, you want to make sure that you're always choosing the best model for your personal situation. There are so many types of fat tire bikes on the market that it can be difficult to pick out the best from the worst.
Read our buyers guide before committing to a purchase to ensure that you're opting for a high-quality fat tire bike.
Tires
If you're looking for a fat tire bike, chances are the first thing you're going to look for is the tires. The treas should not be overlooked, as this is what is going to give you the traction you need to ride.
Thicker treads are common on fat tire bikes, but these can be difficult for beginners to get the hang of. To avoid dangerous falls, opt for a thinner tread at first to get the hang of fat bikes.
Lighter tires don't work that well with fat bikes, as they'll be harder to control and easy to deflect. Again, this can cause a nasty fall. Light tires also offer little dampening so be prepared for a bumpy ride.
Flotation
Fat tires are commonly used on sand or snow to avoid debris getting stuck in the tread. They can be used on other terrains, but the fattest of tires should be reserved for sand or snow.
Using the fattest tires you can find on cement will be bouncy and sluggish, which might not leave you with the user experience you're craving.
4-inch tires are best for many people looking for a fat tire bike as they give you the ultimate riding experience without the less than desirable negative effects.
Rim
The rim width on fat tire bikes can be anywhere from 50 millimeters up to over 100 millimeters. This needs to match with the size of tires you've opted for, so you might want to do your research about this beforehand.
Fat tires can be expensive, so opting for an obscure rim width can leave you with a costly expense when finding the right tires. Choosing a rim width compatible with more common and cheaper fat tires can help you to save money on your bike.
We've already mentioned that we think the best size of wheel to go for is 4 inches, and these tires will need a rim width of 60 to 80 millimeters. When you're just starting out with fat bikes, it's best to opt for the norm until you understand them better.
However, you can opt for larger wheels and therefore a thicker rim width, but you just have to make sure that you've done all of the research before jumping right into it.
Frame
The frame of your fat tire bike will determine the weight of the overall bike. A frame made from carbon is the lightest, although it will cost more than other materials. If you're looking for a cheaper alternative, aluminum or steel is a fine option for a fat tire bike frame.
Titanium is also another option, although it is heavy and expensive. People who opt for a titanium frame will often only opt for it due to the attractive look.
Brakes
Fat bikes were traditionally meant for riding in the snow, meaning that the brakes are sometimes disc brakes actuated with cables. These can be repaired easily if they falter in the middle of a snowstorm, but that's where the benefits stop unfortunately.
Unless you're going to be riding in lots of snow or sand without any help around you if your brakes falter, then we suggest opting for hydraulic disc brakes instead. They're much more beneficial to the average rider.
Suspension
Fat tires do still need to be supported with some sort of suspension, despite their size. Many people use the term fat tires and suspension interchangeably, although this is not the case.
Fat tires can deform under weighted pressure of riding, which increases how much rubber is touching the ground as the bike is ridden. While they might stop you feeling small stones and sticks, this isn't enough to shield you from the hard stuff.
Suspension offers more dampening to stop you feeling harsh bumps and rocks on the terrain. If you're going to be riding your fat tire bike on tricky trails you should opt for a fat bike with suspension.
However, if you're only opting for a fat bike to use on occasion, then you can save some money by opting for one without suspension.
---
Frequently Asked Questions
What is a fat bike good for?
Fat bikes were originally designed for riders who commonly travelled through snow and sand. However, they can also be used on a wide range of terrain such as snow, sand, mud, pavement, swampy marshes, or mountain biking trails.
Fat biking is considering its own sport and these types of bikes are best for people who enjoy riding no matter what the weather conditions are doing. Many people enjoy fat bikes to ensure that they can still exercise in the wintertime when other bikes are too dangerous to ride.
Are fat bikes harder to ride?
Yes, fat bikes can be tricker to ride to people unaware of them. This is due to the fact that fat bikes are much heavier than mountain and traditional road bikes. This additional weight might not be felt that much on trails, but it can be extremely evident on pavements.
You'll feel like you're struggling to pull a heavyweight behind your bike during your first few rides, so make sure that your calves are up for the challenge!
Are fat bikes good for beginners?
Many people who ride fat bikers regularly agree that fat bikes would be great for beginners, as you can confidently tackle mountain bike trails without having to worry about the large rocks getting in your way and throwing you off.
Instead, fat bikes with suspension should allow you to easily roll over these obstacles without causing injury. It might be a little worrying to ride over potholes and large rocks without feeling it underfoot, but once you get used to it, you'll find it much more enjoyable.
The only issue with fat bikes that might not be the best for beginners is the additional weight that you have to pedal through. This is excellent for your workout, but it can be difficult to continue pedaling when your legs feel like they're on fire.
Once you build up your endurance; however, you can enjoy the benefits of a fat tire bike rather than focusing on this downside.
Are fat bikes worth it?
The answer to this question simply depends on you and your personal preferences. Cycling addicts love fat bikes as they add another challenge to their regular rides and offer a different user experience than mountain bikes and road bikes.
Their added traction and grip allow you to ride over even the most troublesome terrain, making them worth it if this is a common feature of your typical rides. Sometimes mountain bikes are not enough, which is where fat bikes come in.
They're also worth it for people who want to ride no matter the weather, and for people who want to tackle a new challenge in their fitness journey.
Fat bikes also require less maintenance as the frame features fewer parts than a typical bike would. So, while the initial cost might be higher than average, you won't have to pay as much on continuous maintenance.
---
Fat & Happy
These five are just a handful of the great, cheap fat tire bikes you can find these days. Aficionados and snobs might tell you that these budgets are too low, but I'd disagree.
The five models reviewed above are a great way for anyone who is curious about the ride quality of a fat bike to get into the category. They're inexpensive enough that you won't need a second mortgage to afford, but capable all the same.
They seem to have great resale value too, due to their relative rarity. So what are you waiting for? Get fat, get happy with our #1 choice, any of the fat bikes from Framed.