10 Good, Cheap Full Carbon Road Bikes Under $2000 in 2023
(Hunting for a deal? Several retailers are running sales even before Black Friday. Check out our constantly updated resource on the best cycling deals
)
What are the best cheap full carbon road bikes worth riding?
At A Glance: Top 3 Picks For Carbon Road Bikes
Carbon fibre entered the cycling scene with a bang. It's a material that has been heralded as being incredibly strong yet phenomenally light. For cyclists, that's pretty much the holy grail.
In fact, true carbon fibre is at least 10 times stronger than steel. Hard to believe, yet true!
IMAGE
PRODUCT

Our Top Pick!

Frame & Fork:

Lightweight and stiff carbon frame that offers more compliance

Drivetrain:

SHIMANO speed control offers a smooth ride that shifts smoothly and effectively for enhanced durability

Components:

Fully internal cable routing for clean airflow over the entire bike

VIEW LATEST PRICE→

Frame & Fork:

Frame and fork tested to European standards, perfect for rear and front fender mounts, as well as racks and brackets

Drivetrain:

Grease fee Gates Carbon drive for a fantastic drivetrain

Components:

Incredibly fast stopping brakes for a safe ride

VIEW LATEST PRICE→

Frame & Fork:

Aluminum and carbon blend for durability and affordability

Drivetrain:

Internally geared 11-speed hub for fast and easy performance

Components:

All conditions braking makes it perfect for difficult to handle roads

VIEW LATEST PRICE→
The downside to this amazing material is the expense. Since the product is far more labour intensive to produce, it pushes up the price of finished bikes.
Here's the good news: now the technology is more mainstream, and cheap carbon fibre road bikes have finally arrived. But are they worth the risk?
You can find some amazing, feather-light rides at unbelievable prices nowadays. I wouldn't recommend everything out there (not all carbon is created equal), but there are a few diamonds worth seeking out.
This piece is written to help any road cyclist or triathlete who wants to upgrade their ride without seriously damaging their bank account.
We'll be reviewing a handful of light, responsive and fast carbon road bikes, all available at discount prices. Specifically, we'll attempt to keep the budget below $2000.
Curious to see what's out there? Read on.
---
Carbon: strength and differences from steel and aluminum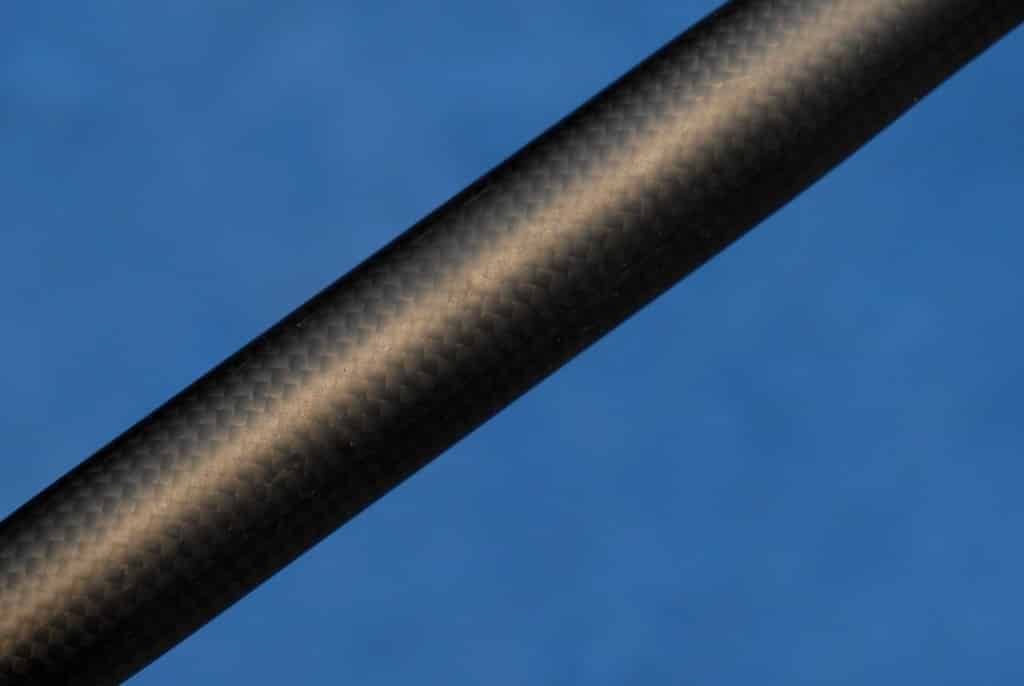 There's absolutely no denying that carbon fibre is a lighter material than steel. I've checked out bikes that you can lift with a finger, no joke.
With a bicycle that light, you will have a lot more energy when tackling a climb or passing during a race. It honestly feels like flying.
However, this is a big departure from metallic frames. Carbon is different in a few key ways:
Vibration: I've heard people claim that carbon generates frame vibration. In fact, it's known to do the opposite. It will soften your ride considerably, especially when compared to a super rigid material like, say, aluminum.
Impact Durability: Unlike a steel framed bike, an accidental impact, crash or other trauma to the frame is often catastrophic. A bad crash usually means the end of the bike. Carbon has a tendency to splinter, and you can't really repair it like steel (which can be welded and hammered back into shape.)
Does Not Oxidize: A major advantage in a carbon frame is the lack of oxidization (rust.) Both steel and alloy will oxidize to some extent, typically the parts not covered by paint and exposed to the elements. From a maintenance perspective having a rust-free ride is a huge boon.
Frame Fatigue: All bicycles are susceptible to frame fatigue. Basically, over time the impacts and wear of riding will slowly degrade a frame's integrity. However, carbon fibre frames typically experience very little frame fatigue, and most manufacturers offer long or lifetime warranties on them.
Best Full Carbon Road Bikes Under $2000
---
1) SAVA HERD6.0 Carbon Fiber Road Bike
SAVA HERD6.0 Carbon Fiber Road Bike
Sitting under budget and as a popular choice, SAVA's carbon fiber road bike is the perfect choice for those after a smooth and durable road bike!
Featured Specs:
The stiff carbon fiber used for the wheelset, seat post, frame, fork, and handlebar

Newest SHIMANO 105 R7000 speed with shifter lever, front derailleur, rear derailleur, brake, crankset, and freewheel

Aerodynamically contoured
Benefits
Our favorite feature of this bike is the handling! It was designed in the wind tunnel to ensure that the stays, seat post, and tube are aerodynamically contoured. It provides better torsion rigidity and better handling of the bike, perfect for high speeds and bumpier roads!
The bike also arrives mostly assembled, making it the perfect option for beginner cyclists or those who aren't that handy with a wrench!
Drawbacks
The lighter weight of this bike and the light tires are fantastic, but they can be a little tricky in the wind. They act almost like a sail, meaning in strong gusts of wind, you will need to pay close attention to your riding!
Extras?
The fully internal cable routing provides clean airflow over the entire bike. The airflow also helps the aerodynamically contoured bike perform better, making it a more enjoyable ride!
You can also enjoy pedals and the carbon wheelset included in the price too. It's outstanding value for money when you consider all these added extras!
Weight
SAVA's road bike weighs a measly 8.3kg or 18lbs, making it the ideal lightweight bike for use on the roads.
Verdict
It's at the top of the budget, but this bike is outstanding. The quality of the carbon is second to none, and the thought that has gone into creating this bike shows! Provided you pay more attention to the wind, you will find no other fault with the carbon bike. Why not enjoy a lightweight and easy-to-use bike today?
2) SAVADECK Carbon Road Bike
Available in various colors and sizes, we have another fantastic offering from SAVADECk that sits under budget for you today!
Featured Specs
Lightweight and stiff carbon frame that offers more compliance

SHIMANO speed control offers a smooth ride that shifts smoothly and effectively for enhanced durability

Fully internal cable routing for clean airflow over the entire bike
Benefits
The lightweight and stiff carbon road bike comes packed with wonderful features and benefits, offering more compliance than other bikes on the market. In addition, it features SHIMANO parts for an outstanding build without needing to drop thousands of dollars.
Like the other SAVADECK bike, this too is designed in the wind tunnel. Here you get a tapered head tube to strengthen the torsion rigidity and offer better handling. The rear suspension also ensures a smooth and durable ride at all times.
Drawbacks
Some customers found that the bike scratched quite easily, damaging its paint job. It can be a bit of an eyesore and means paying to have it repainted or a DIY job!
Weight
It's a lightweight bike, weighing just 9.8kg or 21.6lbs! You will enjoy a lightweight ride without feeling out of control like you do on other lighter bikes.
Extras?
You get an Alloy 40M wheelset, and Continental Tires included, offering you incredible value for money. It's not as high-quality as the previous SAVADECK bike but still offers that wonderful carbon road bike experience.
There are also pedals included in the price!
Verdict
For those looking to save a bit of cash, this under-budget carbon bike is a fantastic offering! It's a little heavier but will keep you firmly on the road. You will need to take care to avoid scratches but can enjoy a mostly assembled bike without needing to break the bank!
---
3) Brilliant L Train Road Bike

After an affordable carbon road bike that is also stylish? Check out Brilliant's L Train Road Bike!
Featured Specs
Grease fee Gates Carbon drive for a fantastic drivetrain

Incredibly fast stopping brakes for a safe ride

Frame and fork tested to European standards, perfect for rear and front fender mounts, as well as racks and brackets
Benefits
This fast bike is the perfect option for anyone looking to cycle to work with some style! There's plenty of gears that allow you to navigate hills, slopes, bridges, and anything your commute throws at you with ease!
It features Shimano's 7-speed drivetrain, too, ensuring that you are safe, speedy, and enjoying a smooth ride. Brilliant bikes are incredibly durable, but their low price is the real benefit, making carbon road bikes more accessible!
Drawbacks
You need to assemble the bike yourself, which can take about an hour. Thankfully, Brilliant sent you a step-by-step guide walking you through the entire process! It's also not as high spec as the other bikes on the list, but a fraction of the price!
Extras?
The bike comes with parts included for a complete set. The tires are a good width (32mm), and the frame and fork have been tested to European Committee standards, so you don't need to worry about quality or safety here!
Weight
It's a little heavier than the others we have looked at today, weighing 12kg or 27lbs! Thankfully, that's still light enough to carry, lift onto mounts, or walk-up apartment block stairs, but it's worth being aware of!
Verdict
Brilliant's bike is incredibly low priced considering the carbon design. The road bike is perfect for commuters and those after a weekend ride in the park, but be mindful that setup can take a while, and it isn't as high spec as others on today's list!
---
4) Priority Apollo Gravel

After a road bike that can also handle some gravel riding? Then its Priority's Apollo Bike for you! We might technically be cheating with this one, but we can assure you, it's worthy of its spot on today's list!
Featured Specs
All conditions braking makes it perfect for difficult to handle roads

Internally geared 11-speed hub for fast and easy performance

Aluminum and carbon blend for durability and affordability
Benefits
The drop handlebars and forward-leaning frame allow for a comfortable ride, perfect for those with a long commute! There are no derailleurs, caked cassettes, or chains to worry about, providing a smoother ride on any surface you wish!
The bike is incredibly fast and comfortable, as well as durable. The carbon fiber fork and frame ensure long-lasting use of the bike without worrying about dropping it.
Priority's bike features fast and ultra-responsive braking too, so safety is never an issue!
Drawbacks
The bike features an aluminum and carbon fiber blend, which some customers are not a fan of. While it doesn't impact the performance of the bike, the price can seem a little steep.
Weight
It weighs 24lbs, or 10kg, and feels incredibly light! It's easy to handle, and you will almost forget it has a heavy internal gear hub when lifting the bike!
Extras?
You get everything you need with this bike! The waterproof belt drive is a wonderful addition that will suit most people living in wetter states!
Verdict
It's slightly different from the other bikes included today, but one we had to mention. If your commute features more gravel or difficult roads, we strongly recommend trying out Priority's Apollo bike! It's sure to keep you on the ground and handle anything you throw at it!
However, if your commute features flat and easy roads, it's probably not worth the higher price point.
---
5) Felt FX Advanced GRX 600
This carbon frame bike is packed with high-end parts. Here's what to know about it.
Featured specs
2×11 drivetrain

Ergonomic top tube

Ideal for cyclocross
Benefits
The bike's fitted with both Shimano GRX shifting and hydraulic disc brakes to enhance its performance.

Its Shimano crankset is both lightweight and durable, with 46/30t rings that enable you to deal with steep climbs.
Drawbacks
If this is the carbon bike you want, you might be disappointed to find out that if you want it for off-road adventures you'll probably be wise to purchase a different bike. That's because cyclocross bikes can handle gentle off-road rides, and they shine when it comes to gravel, but they aren't the same as mountain bikes. It's been said that cyclocross bikes are similar to road bikes, but they just have a few extra features.
Extra Features
For extra comfort, this bike has a top tube that's been designed to be shoulder friendly.

You can get the bike in aquamarine or white.

The bike's sporty design shows that it's built for speed.
Frame & Fork:
This bike's 2 x 11 drivetrain means that it can tackle up-hill rides much easier than rival bikes.
It's got a very light carbon frame that makes handling it easier.
The added benefit of its frame is that it eliminates bumps and vibrations before they can affect you.
Drivetrain:
The Shimano 105 drive train makes this a robust and speedy choice while saving on weight.
Components:
Its Schwalbe X-One Allround tires are safe for use with low pressures and are made for cyclocross. They also offer excellent grip. But they're not designed for gravel or any kind of bumpy roads.
Weight:
At 20 lbs the Felt FX Advanced GRX 600 is a pretty light carbon bike with a full feature set.
Verdict:
It's right up there with the best and you won't regret this purchase if you're looking for a cyclocross bike.
---
6) Felt Advanced GRX 800
This Felt carbon bike looks the same as the previous Felt bike we featured, even down to its aquamarine color. It also shares many of the same features. These include a style thru axle, flat mount disc brakes, and internal mechanical or electronic cable routing. However, it does have a few differences. For starters, it's quite a bit more expensive.
Featured specs
1×11 drivetrain

Shimano GRX180 brakes

Internal cable routing
Benefits
With its 1 x 11 drivetrain, the Felt Advanced GRX 800 will be easier to ride up steep hills.

This bike has Shimano GRX180 brakes that have more advanced materials in their construction than other types. They contribute to a lighter weight while also giving the bike a top-notch finish.
Drawbacks
Despite the drivetrain improving the bike's performance in some ways, as mentioned earlier, it won't achieve the same level of speed as rival bikes when sprinting.

The bike's been equipped with 140mm brake rotors, which is less than the 160mm that's found in the GRX 600 model. Larger brake rotors can be better because they displace the heat that gets generated when you brake and can give you better control.
Extra Features
Just like with the previous Felt bike, this one comes in aquamarine or white.
Frame & Fork:
One of the features it shares with the GRX600 is worth mentioning as a benefit here: it's got internal cable routing that protects the bike against the harsh elements.
Drivetrain:
The Shimano 105 drive train makes this a robust and speedy choice while saving on weight.
Components:
Shimano GRX810 makes for an incredibly light and speedy drive train but it does come with a cost. If you want the cutting edge this is what you should be looking for. The breaks have also been upgraded from the GTX 600 meaning a more even and precise breaking speed giving you better control.
Weight:
At 19 lbs the Felt Advanced GRX 800 is a pretty light carbon bike with a full feature set.
Verdict:
The question is if you feel that spending quite a bit more for the bike is worth it since it does share many of the same features as what you can find in the Felt GRX 600.
7) Emonda ALR 5
Sitting at the top of our budget today is Emonda's ALR 5 road bike, and we are sure you will love it!
Featured Specs
Carbon fork absorbs road vibrations for a smooth and enjoyable ride
Flat-mount hydraulic disc brakes ensure fast stopping and a safe ride at all times

Shimano 105 drivetrain offers power and speed in

any weather
Benefits
It's a comfortable bike with no fatigue, allowing you to go faster for longer without feeling any side effects. In addition, the bike is packed full of high-end components, offering you a luxurious ride without the ridiculously high price.
The invisible weld technology creates a better connection with each junction to give you better strength while using less material for a lightweight and enjoyable ride. The carbon and aluminum blend provides stiffness while keeping the bike easy to maneuver.
The brakes are clean and lighter than others to ensure you always stop, even in harsher conditions! The weather can never be used as an excuse not to cycle now!
Drawbacks
Only two color options, some customers would have preferred a wider selection. You also don't appear to get any pedals with this bike, a cost that you will need to factor into your budget.
Weight
It's another lightweight bike, weighing 9.04kg or 19.92lbs. You will have no issues carrying the bike upstairs and should experience a lightweight ride with lots of motion and stability. What more could you want?
Extras?
The internal cable routing extends the life of your cables, providing longevity and fantastic levels of durability. You can also enjoy H2 geometry, which delivers a high-end quality you usually see in bikes twice the price!
Verdict
The ability to endure all weathers and road conditions while still providing a smooth and lightweight ride sets this bike apart from others on today's list! It's certainly worth the higher price point; just remember you also need to buy pedals!
---
Note: Due to COVID-19 some of the bikes below might not be in stock.
8) SAVADECK Carbon Road Bike Warwinds 3
That's right; we have another offering from SAVADECK! Their Warwinds 3.0 is a more affordable Carbon fiber road bike we think you will love!
Featured Specs
The carbon fiber frame, fork, and seat post is lightweight and stiff

SHIMANO speed control offers nine speeds for a smooth and effective ride

Fully-internal cable routing provides clean airflow over the whole bike
Benefits
There are lots to love about this bike! The SHIMANO SORA 2*9 speed comes with a shifter lever, front derailleur, and rear derailleur for a smooth and effective ride you can count on! It offers better control and smoother shifting of gears, fantastic for getting up steep hills!
It was also designed in the wind tunnel to ensure the bike is aerodynamically contoured to give you better torsion rigidity and better handling! It's a comfortable ride and one you can enjoy for hours without suffering fatigue!
Drawbacks
The chain needs to be tightened after every few rides; you will need to ensure you have time to do this.
Weight
The lightweight bike weighs just 9.8kg or 21.6lbs, making it ideal for road riding! It's light enough to carry home but will still keep you firmly on the ground as you pedal.
Extras?
As with other SAVADECK bikes, you get pedals thrown in with the price! This model features an Alloy 40MM bearing wheelset and continental tires for a smooth ride. You won't need to worry about the performance of these tires, saving you the cost of purchasing your own!
Verdict
It's cheaper than other SAVADECKs, but you wouldn't think so! Just brush up on your chain tightening skills before purchasing! You still get a mostly assembled bike of the highest quality that is sure to take your breath away!
---
9) SAVADECK Phantom 2
Sitting at the top of today's budget is SAVADECKs phantom road bike that we are sure you will love!
Featured specs:
TORAY T800 Carbon Fiber Frame, fork, handlebar, seat post, and wheelset for a lightweight and stiff carbon ride

SHIMANO Ultegra Groupset for a smooth and durable ride

Wind tunnel designed to increase torsion rigidity and offer you better handling in

any

weather
Benefits:
The Phantom 2.0 features an upgrade to others; SHIMANO's Ultegra groupset offers 11 speeds, a higher crankset, and a better freewheel than other models. In addition, it offers a smoother start and allows your ride to be smoother and durable; you don't need to worry about this bike breaking!
It also features a fully internal cable routing that provides clean air flow to the entire bike. Its' comfortable and easy to ride, making it perfect for commuting or weekend adventures!
Drawbacks:
The paint chips and scratches easily, especially when you are tightening other components.
Extras?
As always, there are free pedals included in the price. You also get a Fi'zi:k saddle, 800K Carbon Fiber 50MM beating wheelset, and Continental tires. These are superior and more high-end than the added extras you get on other SAVADECK bikes at this price point too!
Weight
Compared to other SAVADECK bikes, the Phantom 2.0 is light! It weighs just 7.8kg or 17.2lbs! As a result, it's ideal for lugging upstairs, lifting onto bike racks, and offering you the lightweight ride we all crave.
Verdict
For the price, you cannot go wrong. The components are high-end, and the aero wheels are perfect for any riding you want to do on this bike! However, the paint does scratch and chip easily, which can make the bike look less high-end. If appearances don't matter to you, then get SAVADECKS Phantom 2.0 bike today!
---
10) Schwinn Fastback Carbon Road Bike, 105
If you are after a fast and reliable carbon road bike, look no further than Schwinn's fastback carbon 105 road bike!
Featured Specs
Carbon frame with carbon fork and tapered steerer

Full SHIMANO speed drivetrain

105 dual-pivot caliper brakes offer a speedy and safe stop
Benefits
The lifetime warranty provides you with peace of mind while you ride. The components are all incredibly durable, too; you are unlikely to need replacements!
It features a black label carbon frame, fork, and steerer to keep the weight down and the quality high! The full SHIMANO drivetrain and compact crank, shifters, and cassette allow you to ride for longer and faster than ever before!
At this price point, it's a treat to see these high-quality components! In addition, it's a newer and superior model to the Fastback Carbon that came before the 105!
Drawbacks
You need to build the bike yourself, which can take some time, especially if you are a beginner. Select the shipping option to have it delivered to a local bike store, and they can sometimes build the bike for you. Be sure to factor any cost this can incur into your budget.
You also need to purchase the pedals yourself.
Weight
It's another lightweight bike! It weighs 8.5kg or 18.8lbs. The weight can fluctuate depending on the size of the bike, be sure to use their size chart and guide before purchasing and check the weight to ensure it's still light enough for you!
Extras?
The silicon gel bar tape is a nice added feature that compliments the handlebar nicely. It adds comfort to the handling of the bike and reduces fatigue over extended periods.
You also get Shimano WH-RS100 aluminum road wheels and tires included, although some customers switch these out for wheels and tires that suit them better.
Verdict
After a rigid and durable bike that can go the distance? Schwinn's is the one for you! It's perfect for more advanced and experienced riders; just remember to build in time to build the bike and the added cost of pedals before purchasing.
---
11) Priority Continuum Onyx
For those commuters after a bargain today, check out Priority's Continuum Onyx bike for a superior cycle without the hefty price tag!
Featured Specs
Shifter grip ensures you get the correct resistance no matter the incline

Front and rear lights keep you safe and visible for nighttime rides

Superior braking for safety and efficiency
Benefits
Despite the low price, there are lots of fantastic features with this bike. The rust-free gates, carbon belt drive, and internal gear routing offer less maintenance and give you more time to enjoy the bike! You won't need to worry about rust stains on your clothes!
The dual-piston hydraulic disc brakes and internal cable routing keeps you safe and worry-free while you cycle! You can stop quickly and easily, making it ideal for maneuvering traffic at rush hour and offers plenty of peace of mind. The added lights and reflective strips ensure you can cycle in the night worry-free too!
Drawbacks
You will need to assemble the bike yourself. Thankfully, there are pre-drilled holes that make the build a little easier. If you are unsure, it's worth popping to your nearest bike store who can do the build for an added cost.
The weight is also not listed online, making it hard to assess if the bike is suitable for you.
Weight
The bike's weight is not listed online, but we can assume that it will also be lightweight like others included on the list today as it's a carbon road bike. If you want the bike's weight before you purchase, it's best to contact Priority directly.
Extras?
You get a kickstand included which makes building the bike and carrying out any maintenance easy! You also get puncture-resistant WTB tires that allow you to ride further without any worry. These tires have been a favorite amongst customers and certainly add to the value for money you get here.
The reflective strips and lighting provided are a nice extra and provides you with peace of mind while you cycle. You won't need to worry about your safety with this bike!
Verdict
If you don't want to spend a lot but still want high-quality components, then the Continuum onyx bike is the one for you! Just be sure to factor in build time or the added cost of someone doing this for you.
---
12) Hearts Bio Carbon Road Bike
Completing our list today is a fantastic option from Hearts Bio. If you want a stylish bike that is also under budget, then check it out now!
Featured Specs
Toray T700 Supreme Carbon Fiber frame

SHIMANO Sora double system

Front and rear braking ensure your safety at all times.
Benefits
This bike is perfect for those after speed! You can cruise downhill or get up those tougher inclines problem-free here! The SHIMANO Sora system is here twice to offer 18 speeds and smooth shifting between them.
The included wheelset and tires are perfect for all road biking terrains and ensure a comfortable and pleasant ride. The option to upgrade your saddle to an ergonomic one is something we urge you to do; you will never look back if you like to cycle for extended periods!
Drawbacks
You might need to cut the saddle post depending on your height. There are a few sized options to choose from, and we recommend checking the sizes carefully before making your purchase.
You can cut the saddle post, of course, but it can be tricky, and you always run the risk of voiding your warranty!
Extras?
You get a lifetime warranty on the bike, providing you with outstanding peace of mind! You'll never worry again when you ride this bike! Enjoy a lifetime warranty on the carbon fiber frame and a one-year warranty on all mechanical parts.
It arrives semi-assembled, too, reducing the build time and getting you on the bike and on your way quickly!
Weight
Weighing just over 8kg (18.7lbs), this lightweight carbon bike is perfect for everyday commuting or weekend adventures. It's not too heavy to carry and can be mounted onto a bike rack easily! Never again will a bike weigh you down.
Verdict
It's attractive; it's affordable, it's packed full of features, what's not to love? We think Hearts Bio's bike is an excellent option; just remember to bring your assembly hats to the party!
---
Buyers Guide
Road bikes, at a quick glance, all look rather similar. They're lightweight, thin, with skinny tires. However, to a bike lover or someone who is just getting interested in cycling, there are many differences to determine.
We've shown you the 10 best full carbon road bikes on the market, but how do you choose between them? We'll aim to help you in the section below.
Frame Material
We're focusing on carbon in today's article, and for many cyclists, this is the only option for them. Carbon is the main material found in racing. It's not only the lightest of the materials you can choose from, but it's also incredibly stiff and sturdy.
It is flexible and changes the way the bike rides noticeably. Carbon bikes are also not confined to the traditional tube shape, giving you the ability to influence your rides better by choosing the right design for you.
Not all carbon frames are the same; however. Each manufacturer will have a different way of manipulating the carbon to make a difference on the bike's properties. For instance, some might focus on comfort as its main selling point while others will make their frame as light as possible no matter how it affects its other properties.
Frame Geometry
Road bikes will often either be classified as traditional or compact in terms of their geometry. Traditional road bikes will have a horizontal top tube, while a compact frame will have a sloping top tube.
Traditional frames are more stable and therefore better for beginners, while compact frames tend to be quicker and better with its responses. However, the geometry you choose will depend on your personal preference.
One thing to note is that compact frames are smaller than traditional frames due to their sloping top tube. While the distance between the handlebars and saddle might stay the same, the overall length will differ.
For example, a traditional road bike frame of 56 cm will have the same distance between the handlebars and saddle as a 52 cm compact frame. This might affect the comfort of your bike although the benefits that come with a compact frame could make up for them.
Brakes
One thing you should consider when purchasing any type of bike is the type of brakes you want – disc brakes or traditional rim brakes. Both options have benefits and drawbacks, with disc brakes having better stopping power, working well in both rain or shine, no matter how much dirt you're spraying onto your wheels.
Traditional rim brakes; however, are not as good in wet conditions. This is due to the brakes being on the wheel in a more compromised position. Rim brakes can also wear down your rims and will require you to replace the whole wheel eventually.
However, rim brakes are cheaper and easier to maintain. If you're looking for a cheap carbon road bike, you might want to consider rim brakes to keep the cost down.
Tires
The majority of road bikes will come with little to no tread on them, making them only ideal for smooth surfaces such as asphalt and concrete. The more tread there is on the tire, the more confident you might feel riding. However, more tread has the ability to slow your overall speed.
Road bikes will also come with wider tires between 23 mm and 32 mm thick. Racing bikes will have a thinner tire while endurance will be on the latter end of the spectrum. Wider tires will give you slightly more weight, but they will also cushion you more on uneven terrain.
Many people will say that you can easily change tires, and therefore it doesn't matter too much which tires your bike comes with. However, if you're aware of keeping the price low, you won't want to change the tires as soon as you get the bile.
So, you'll need to determine whether you want thinner or thicker tires for your carbon road bike depending on how you intend to ride it.
Price
The price of a carbon road bike can range all the way up to $10,000. Carbon is the most expensive material for a bike to be made out of, so these higher prices are not too surprising.
However, to someone who doesn't have $10,000 lying around for a bike, they can be rather disappointing. Luckily, the cost of carbon bikes have come down slightly in recent years, and now you can get a bike for under $2,000.
Cheaper carbon bikes have the potential to be made of lower quality materials and less reliable manufacturing techniques. For this reason, we wouldn't trust a carbon road bike much less than $1,000.
---
Frequently Asked Questions
Does a carbon road bike make a difference?
If you're looking for a bike that can travel as quickly as possible due to its lightweight and responsive performance, then yes carbon bikes will make a difference. Carbon is considerably lighter and stronger than the other common bike frame materials.
If you ask any cyclist whether carbon frames really make a difference, the answer will be a resounding yes. So, you need to determine whether the best frame is worth the additional cost.
Do carbon fiber bikes break easily?
Carbon is not a metal and therefore does not react to damage the same as aluminum or steel. However, this does not mean that it is easy to break. Carbon is surprisingly stronger than you might think, and it will take a lot to break a carbon bike frame.
A bike falling to the concrete ground might be a worry with such an expensive bike, but the reality is that there is too much in the way for the frame to get any impact on the hard ground. The pedals or handlebars will hit first, and these will have rubber coverings to prevent any damage.
Why are carbon bikes so expensive?
Carbon bikes take much longer to make than metal bikes and therefore will require more work to be put into them. The process is done by hand and everything has to be done professionally to ensure that the frame is usable and safe. This is the first reason why carbon bikes are more expensive than metal bikes that can be pushed out quickly.
Carbon is also more expensive than steel or aluminum – in fact, it's around five times the price of steel. Carbon comes in flat sheets that need to be cut and laid by hand into molds. There is much more labor involved, and adding the higher initial cost, it's no wonder that carbon bikes are so much more expensive.
How long will a carbon fiber bike last?
Many people believe that a carbon frame won't last as long as a metal frame, but this is not the case. As long as you treat your bike correctly and keep up with its maintenance, a carbon frame can actually last forever.
Carbon also doesn't oxidize or become weaker over time like metal does, so a carbon bike can actually last longer than any other frame. Just don't take a hammer to it.
Is titanium better than a carbon bike?
Titanium is stronger than carbon, but it is also much heavier. For a road bike rider wanting speed, titanium would slow you down much faster than carbon. Titanium is more durable than carbon, but as we said earlier, carbon isn't as easy to break as people first think.
---
Want deeper discounts on carbon road bikes? Try time travel
Carbon isn't cheap, and it likely never will be. It's a premium material and it's labour intensive to produce. However, you can still find steals.
My suggestion is to seek out older models. Bike shops carry old stock for years. High-priced bikes often take a while to sell. It's not uncommon to see a model on the showroom floor from a few years back, brand new and never ridden.
Why? Because high-priced models don't sell nearly as fast as $300 comfort bikes. They're aimed at a niche clientele, and sometimes that person doesn't materialize right away.
Honestly, there's pretty much no difference between a new 2016 model and more recent stock. Don't be afraid to haggle either.
Take advantage of the super inexpensive road bikes with carbon frames collecting dust at your local bike shop.
Alternatively, look at used bikes. An expensive carbon bike has probably been babied. You may just find an affordable, well-cared-for, second-hand bike in your area.
Overall, our #1 choice is the Kestrel Talona!
I hope this was helpful! Thanks for reading.